I think I am going to start a new little blog tradition called "Friday Favs!"  We already have the Friday tradition of  "DONUT DAY!!!" which is of course a FAV, so why not add another tradition.  I think I'm going to try to list an item, a product, an idea, a moment, etc…that is a favorite!
My first Friday Fav is…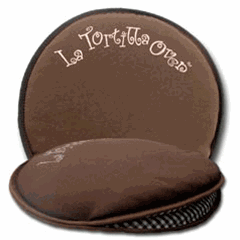 It is the best tortilla warmer ever!  The tortillas stay warm throughout our entire meal.  This is smaller than those styrophome or plastic warmers with lids.  It really works!  I used it again this week to make homemade taquitos and it just made me happy!
I bought ours at Mistletoe and Magic, but you can buy them online here.
.