This post is a month old at this point, but it's such a milestone for my babies that I must post it.
I have this little boy.  He is 8.5.  He is wild and he is ALL BOY!  He is rough and athletic and busy and completely scared of everything!  He is so cautious, analytical, and logical, and very much a worrier.  I guess he is a textbook first child.
A few years ago Preston got a bicycle for Christmas.  It had training wheels, and he never had any desire to remove the training wheels.  When he turned 6 we took the training wheels off, and at that point he just totally refused to ride his bike.  He decided he didn't really like to ride bikes and he was never going to learn because bike riding is boring!  That would be what most of us refer to as a load of bull…or an excuse!
A few months ago at church they had a bike "ride-a-thon" and my son ran as his friends rode and he told people he forgot his bicycle.  The boy did NOT want to learn.
Through blood, sweat, and tears, the child finally knows how to ride a stinkin' bicycle.  We had to get a little ugly, but Brad and I both MADE him learn.  Brad held him and ran with him, and Preston would try to give up, and he would give us a load of excuses.  All the while, Brad and I were telling him (quite forcefully) not to give up!  See, with Preston, everything comes easily.  He is smart and athletic, and most things just come naturally.  If something takes work, he tends to give up.  We want to teach this child to have determination to complete the task at hand…and that has been no easy task for this tired mama!
But the fact is, he did not give up, and neither did we, and now Preston (at 8.5) can ride a bicycle!
He can ride!
Without training wheels!
And I am so proud of him!!!
Now, somehow the same two people produced a child that could not be more different from our first born!  Lilly Katherine is 5 (almost 6) and she is happy-go-lucky, and lives somewhere in the clouds 98% of the time.  She flits and floats about and just loves life and all the new adventures each day brings.  My dad decided that if Preston could ride, we should take LK's training wheels off.  She, of course, assisted in that process with her plastic wrench.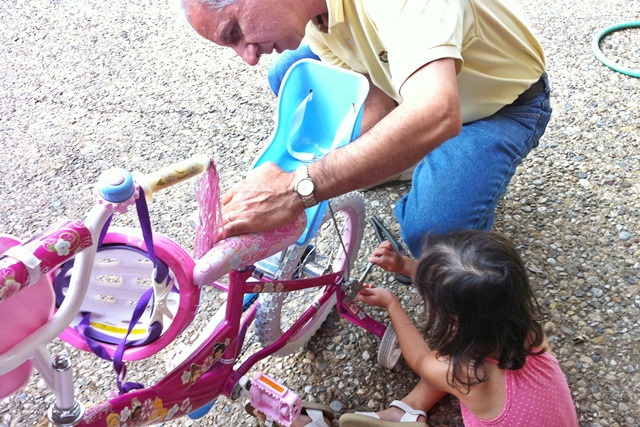 Lilly Katherine was not one bit worried about learning to ride.  However, Brad was trying to teach her and he finally had to call me to come do it.  He told me she needed someone that spoke her language…and that would be me!
LK would get on her seat, and start singing.  She could not focus on learning how to ride because she was too busy whistling while she worked!  I just held her and ran beside her as I CONSTANTLY repeated "balance!  Pedal!  Try to watch the road!  Balance!  Pedal!  Don't hit the curb!  Use the breaks!  Balance!"
And all the while she sang!
She finally was able to ride a few feet by herself, and then she decided she could take it from there.  She had enough of me trying to show her and she wanted to learn by herself.  That is how she learns!  She taught herself to talk correctly.  She taught herself to hula hoop.  She taught herself to stop sucking her thumb (however we have since reverted back on that one), and she taught herself to ride a bike!  This week she's trying to teach herself to dive into the swimming pool.  She learns best from a teacher she understands. :)
It is so amazing to watch her learn.  She never gets frustrated.  She remains determined and focused.  She sings and giggles as she works harder and harder until she gets it!  If she falls, she gets right back up and keeps going.  If she succeeds, she giggles and sings louder.  We have a video of her from the first day of riding and she was singing "We want a pitcher, not a belly itcher!  We want a batter, not a broken CRASH!"  as she crashed right into the basketball goal and just started giggling.
I love to see this will and determination used for positive things. :)  I pray all the time that she will be a strong woman and that she will always have this joyful determination to learn new things and conquer obstacles.
.
These two kids…I love them both.  They are oh so very different!
And now they both know how to ride a bicycle!!!
.
So after they both knew how to ride, we set out to test out their skills!  They rode to the park as I ran beside them with a stroller.  It was a wonderful adventure and we ALL had a great time, enjoyed some wonderful summer weather, and got some much needed exercise!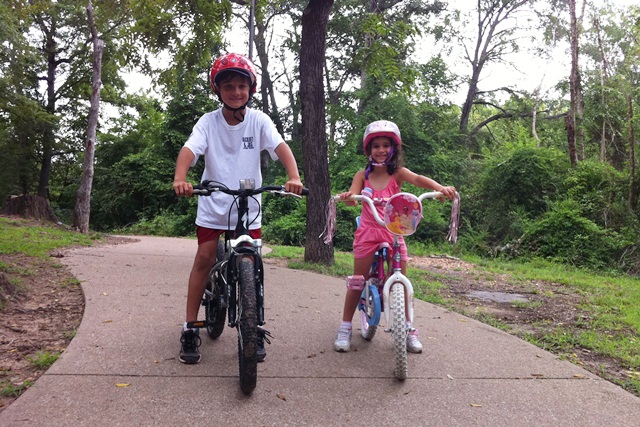 As much as I hate for my babies to grow up, I do love milestones like this where I can SEE them growing up.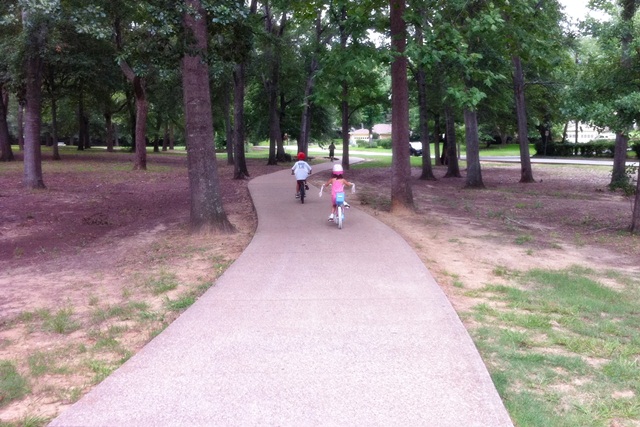 I have a million and five pictures to post from this summer, but we will be spending the next week soaking up every second of summer!  I am so extremely sad that summer is almost over.  I bet you will find us riding to the park and back a few times this week.
Happy last few days of summer!
-kate
.