There were several things that happened this summer that I never got around to blogging about, because we were so busy enjoying summer.  However, this is something that I kept thinking I would post and I have put it off WAY too long!
When I first started this fun little blog, I posted about having a heavy heart for my dear friend Kellie.  Kellie and I have been friends for about 7 years, and in that time I have seen her endure more hardships than any person should endure in a lifetime.
Almost 4 years ago, Kellie called me and said "I just want you to know that Mark has been diagnosed with brain cancer."
My thoughts were "WHAT?!?  How can that happen?  He's only 33 and has a 4 year old son and twin 2 year old boys."  I have to be honest, I got off the phone and thought, "Well, I'm sure he'll be okay.  Yes, it's cancer, but I'm sure they'll get through this."
I was wrong.
Mark and Kellie did everything they could to fight the very aggressive brain tumor, but only a few short months later, Mark passed away.  It was so hard to watch and I can say with certainty that Kellie was stronger than I!  She was a rock.  She mourned and was sad for her loss, but she never missed a beat with those boys.  She was super-mom all the time, and loved those boys enough for the both of them.  She kept her head up and kept going.
A little more than a year after Mark passed away, Kellie's dad passed away suddenly.
A few months later, her house was broken into while she was at work.  They took everything of value!  They even took her babies' piggy banks.
A few months after that, she got a call that her 42 year old brother died in his sleep.  He went to bed with what he thought was a cold, and never woke up.
I can not imagine losing my husband OR my father OR my brother, but Kellie lost all THREE in a short 18 months.
Still, Kellie stayed strong.  Of course she cried and had moments of "What the heck are you doing to me, God?!?!" but she continued to pray and love the Lord and know that somehow there was a bigger picture and a plan.
I would have failed this test!
I would have thrown in the towel, but Kellie kept her head up and kept going.
Kellie did not JUST keep going, but she kept going strong!  She went to work part-time for Brad, helping to keep our real estate business afloat for the past 3 years.  She has been a good friend to so many.  She continued to be a fabulous mother, teaching and training her boys to love the Lord and to be respectful and obedient and kind.   She has cooked and cleaned and payed bills and kissed boo-boos and made cupcakes for class parties.  She has wiped many tears and had many long, hard discussions with 3 little men that miss their daddy.  She has done every frustrating bedtime routine and changed every wet bed!  She has attended every school function and boy scout event and baseball game.  She has been a better mom than most of us that have a husband to come home to.  Kellie has truly been super-mom!
Well…
Fast forward.
Kellie started dating.  Now, if Brad were to leave me on this earth with 4 wild maniacs, I feel that I would never date again.  However, Kellie has the advantage of looking like a supermodel!  That is no exaggeration.  Not only is she beautiful, she is almost 6 feet tall and weighs less than my current 5'2″ body!  It's pretty disgusting!
For so many reasons, Kellie is the total package!  I knew that any man would be lucky to have her, but I also knew that she had 3 little boys to consider as well.
Kellie met Will.
Will was instantly impressed and had a little crush on Kellie. :)  Eventually he met the 3 boys.  Now, Kellie's boys are just about the most precious children in the world, and I hate to say it, but I don't always like other people's children.  (I know that sounds ugly, but it's just the truth!)  When Will met the boys, he connected with them immediately.  He told Kellie they were 3 little bonuses to the relationship.
Don't get me wrong, I was looking for things to doink him on…you know, flaws to pick at and reasons she needed to be cautious.  She had so much crap go on in her life in such a short time that I didn't want some guy swooping in, showing her the world, and then breaking her heart…or breaking the hearts of those three precious boys!
Well, time after time of being with Will and Kellie, I really couldn't find anything to doink him on.  Kellie started falling in love with this guy and he was falling in love with all 4 of them.
This past Mother's Day, Will told Kellie he needed to run to the store.  He grabbed the 3 boys and they went to buy flowers.  A little while later, Kellie heard a knock on the front door.  She opened the door, and this is what she saw…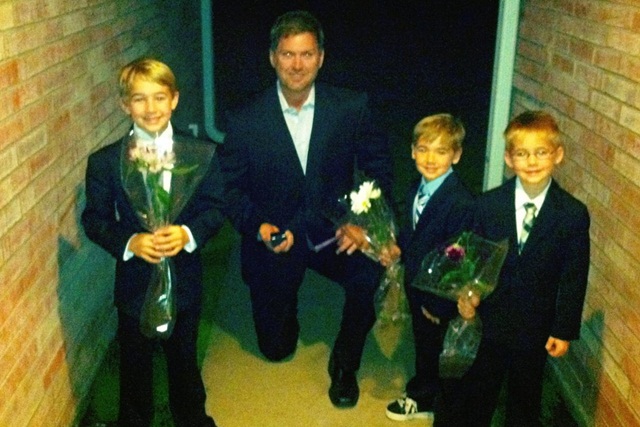 Will and all 3 boys were in suits on the front porch.  The boys screamed "Happy Mother's Day!" and Will said "Will you marry me?"
And Kellie….she said YES!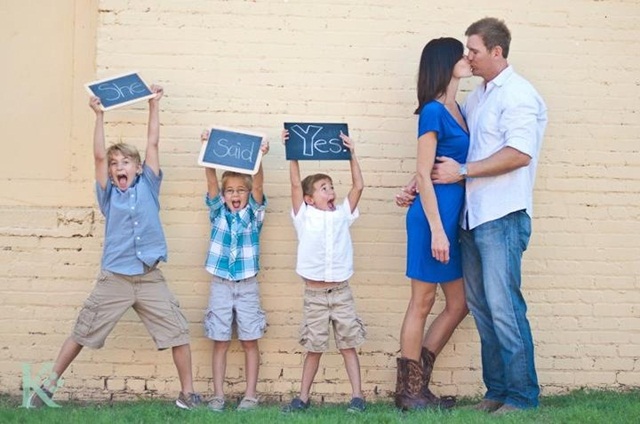 Picture taken by Brooke Karaki – KarakiPhotography.com
Will had the the ring custom made for her, and allowed each one of the boys to pick out a diamond for a special little part of the ring.
What a sweet blessing!  The boys immediately (as in moments after the proposal) said "Now can we call you Daddy?"  I have been crying the whole time I've been working on this post, but man!  I just can't help but tear up thinking about how excited those boys were to finally have a DADDY!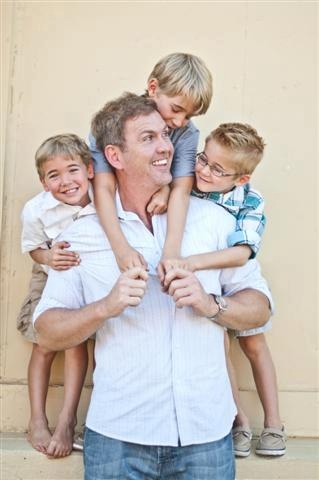 Picture taken by Brooke Karaki – KarakiPhotography.com
.
On August 7, Kellie and Will were married.  My beautiful friend became a beautiful bride!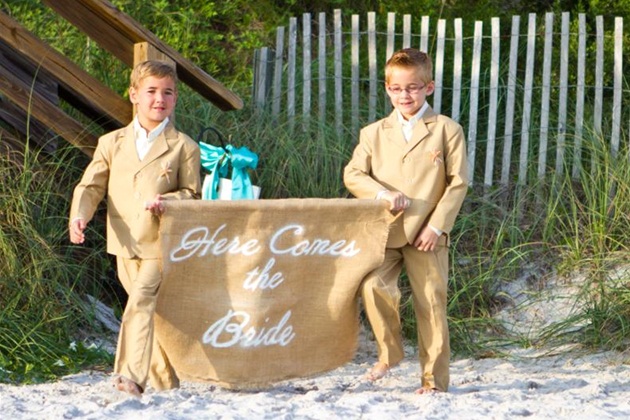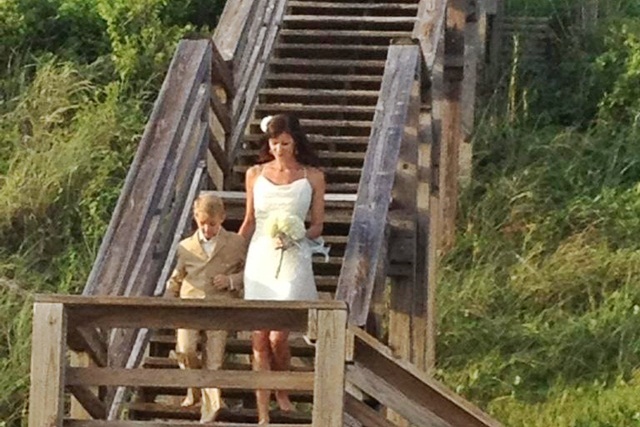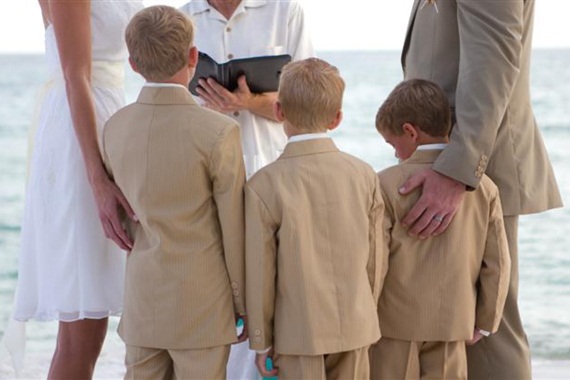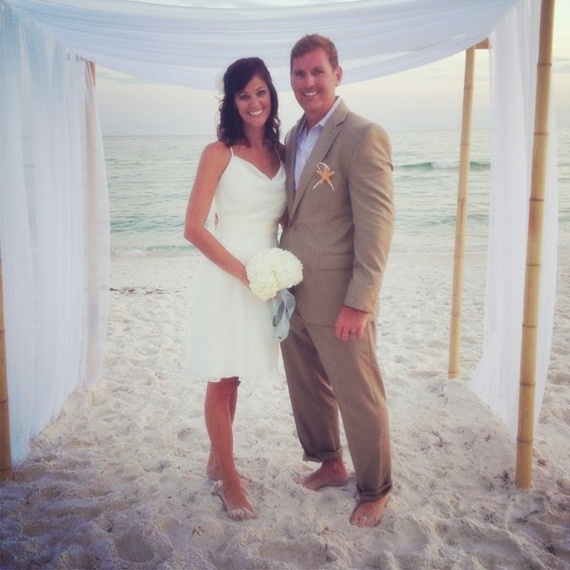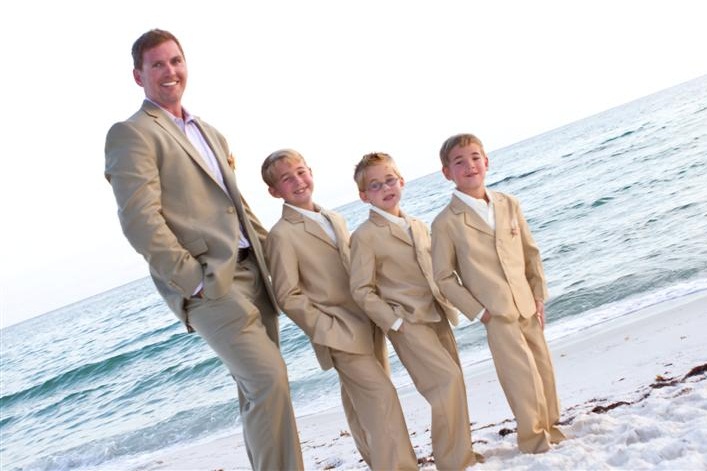 Kellie moved to Ft. Worth to be with Will…imagine that!  I guess she thought that relationship was more important than ours.  Friends!  Who needs them?  I'm kidding, but I tell you, I sure am sad she moved away!  I miss our weekly girls nights together, eating a bunch of junk food, watching Modern Family, Friday Night Lights, and just girl talk!
But what I want you to hear is this…
The Lord provided for Kellie and her boys.
Philippians 4:19 "And my God will meet all your needs according to his glorious riches in Christ Jesus."
He continually provided for them financially.  I can say this with full knowledge and conviction.  Kellie worked for Brad.  When the real estate market was down everywhere, my sweet hard-working husband was still busy!  His business stayed steady, and we saw how God was faithful to provide home sales for us, which also allowed Brad to continue to employ Kellie!  It was not an abundance, but it was sufficient!
He provided so many amazing people and friendships for Kellie and her boys.  Kellie had older women in the church that stepped in as mentors and "grandmothers" to her boys.  She had friends like Elicia, Monica, and Heather that stepped up and watched the boys at the drop of a hat.  She had a precious friend from Arizona, Lisa, that for some strange reason lost her job and couldn't find another one.  Her job hiatus was at such a crucial time for Kellie, and Lisa made herself completely available to Kellie, even staying in Texas for weeks!  She had a precious woman, Molly, who sat with her day and night at the hospital and waded through bills and paperwork and insurance junk trying to keep Kellie's life together.  Kellie had people she didn't even know bring food for months.  I saw so many people step up to love on this family.  Meredith and I provided junk food and fellowship.  We tried to go to Kellie's house every Wednesday night from the time Mark died until right before she was married, to hang out and EAT!  Occasionally our friends Tiffany and Elicia would join us.  There's no substitution for good girl time, and we all benefited from that.  This is a picture from a party we had for Will and Kellie months ago.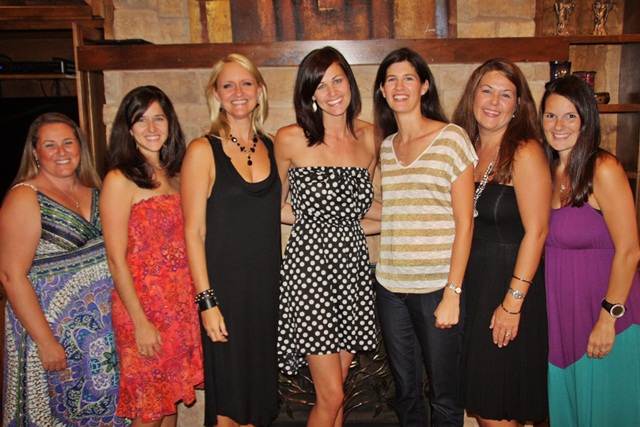 (Monica, Me-looking very postpartum, Heather, KELLIE, Elicia, Tiffany, Meredith)
And God, in HIS perfect timing provided the perfect man for them!  Kellie has a sweet husband, her babies have a wonderful daddy, and they are growing together as a family!  Through all of the hardships in her life, Kellie has seen God's provision and protection, and she is able to look at the past few years and speak about how the Lord has used some awful,terrible, horrible situations to protect her.  To protect her!  Isn't that amazing!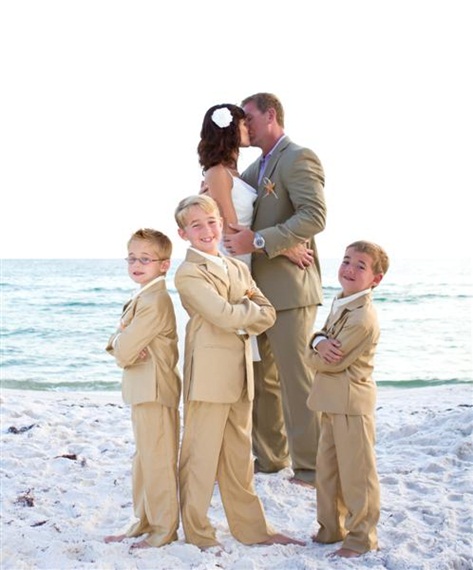 You know, God sees the big picture.  Even knowing the Lord and knowing he has a plan, it was hard for me to watch Kellie's life.  Kellie was a modern-day Job!  And she, like Job, remained faithful, and I know the Lord will reward her faithfulness.  He already is!  If Kellie can endure what she has over the past few years and look back and see God's hand guiding and protecting her, surely I can!
She is the perfect example of Jeremiah 29:11  "For I know the plans I have for you," declares the Lord, "plans to prosper you and not to harm you, plans to give you hope and a future!"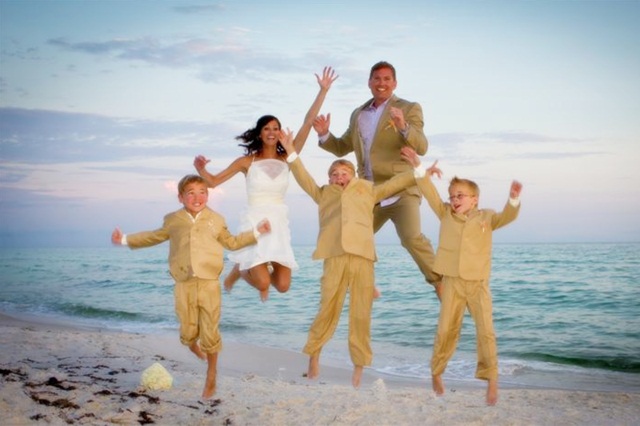 Will, you better take good care of my friend!
Kellie, I miss and love you, friend!  But I am so happy for your new life, your new start, and I pray that this is your "Happily ever after!"
-kate
.