Last year the kids and I made a "Summer Bucket List" and we did very few things on the list because I was so yucky feeling.  Thank you pregnancy nausea!  Last year we just survived!  This year, we are actually doing the things we said we wanted to do, and this was one left from last year! :)
So, last week the kids and I had fun making a little summer treat that is easy and delicious!  We made Ice Cream in a Zip-Lock baggie.  It takes very few ingredients, and it is a good way to let your maniacs release some energy and enjoy a cool treat during these blistering hot days.  Don't get me wrong, I LOVE SUMMER!!  I would rather have 95 degree weather all year long than be stuck in cold weather, but sometimes we have to find indoor activities like this!
The kids and I each made our own bag, and we learned a few tricks and tips along the way.

Recipe for Ice Cream in a Zip-Lock Baggie
You will need:
Half and half, Sugar, Flavoring, Salt, Ice, Large strong Zip-Lock bags, Small strong Zip-Lock bags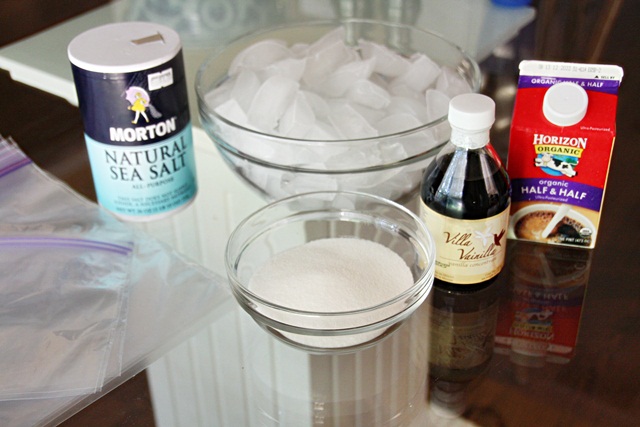 The maniacs did most of this by themselves.  I measured out the half and half, but they did everything else.  This was an easy recipe for them to be "hands-on"
Open a small baggie and add sugar.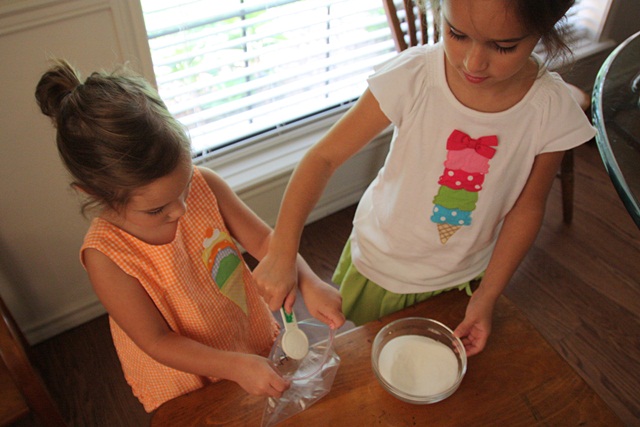 Then add 1/2 cup half and half.  Then add flavoring.  We used several different extracts because each children wanted something different, of course.  Choose from vanilla, almond, peppermint, or whatever extract you have on hand.  Just add 1/4 teaspoon extract to your baggie.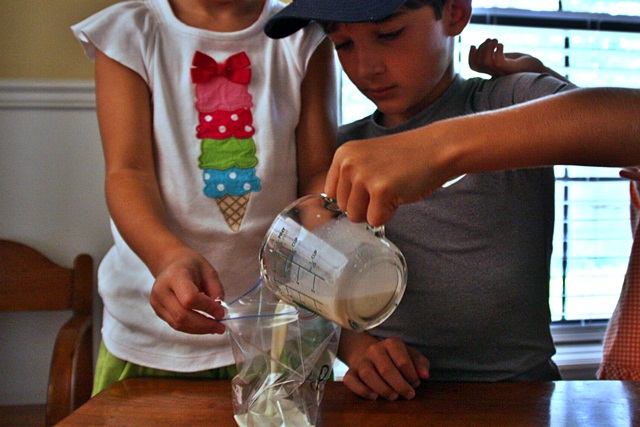 This isn't necessary, but my kids LOVE anything that is colored!  I let them choose the color and add a couple of drops of food coloring to their milk mixture.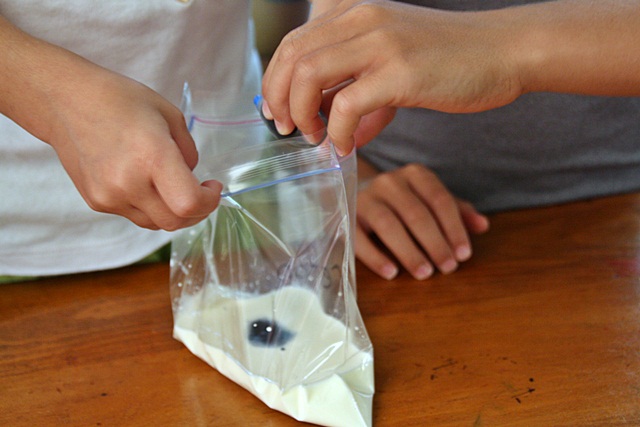 So proud!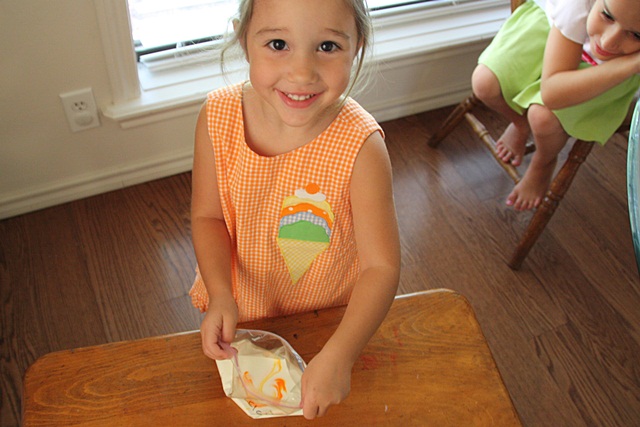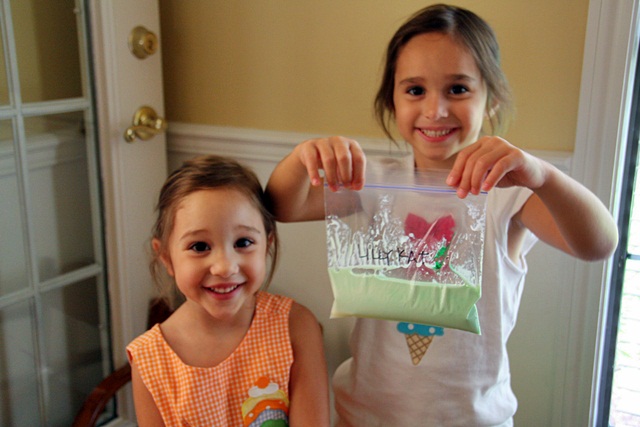 Seal the bags very tightly, and we even taped the bag closed.  However, I would advise you to then place this bag inside another small bag that is the same size just to give it added protection and a barrier between the ice.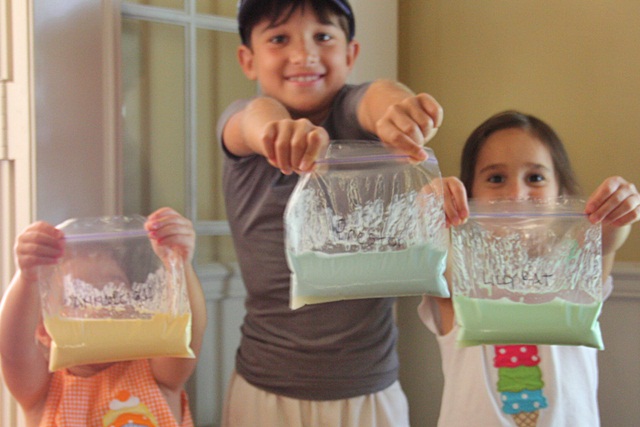 Fill the large Zip-Lock 1/4 full of ice.  Add 1/4 Cup coarse salt, like rock salt or I used sea salt.  The larger granules are better than plain table salt, but you can use table salt if that is all you have.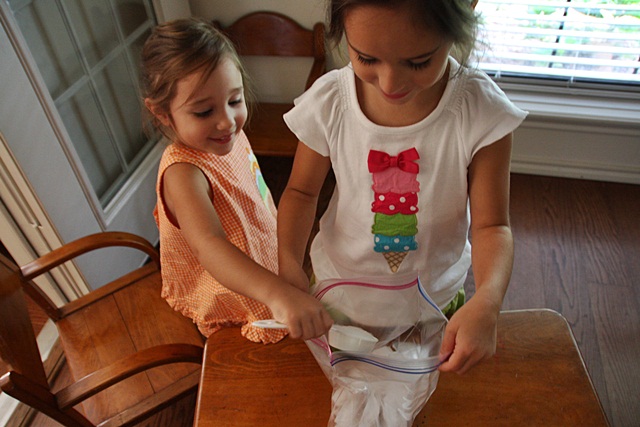 Place your small bag of "cream" inside the large bag on top of the ice.  Then add more ice to make the bag about half full of ice.  Crushed ice or smaller ice is easier to deal with than this large ice we used.
After you have sealed the bag very well, start shaking it up.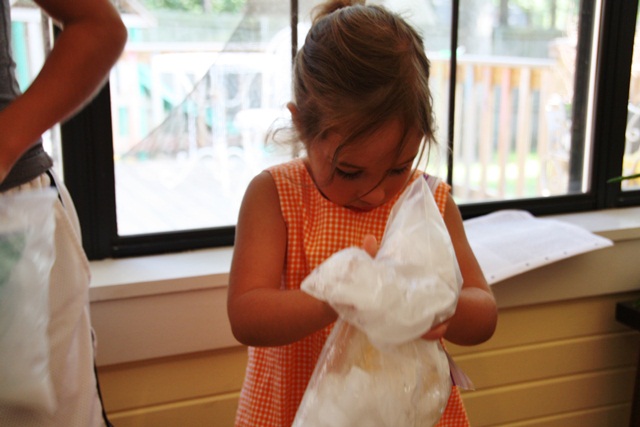 The girls shook theirs for about 3.5 seconds before they decided it was too cold to hold.  Brrrrr!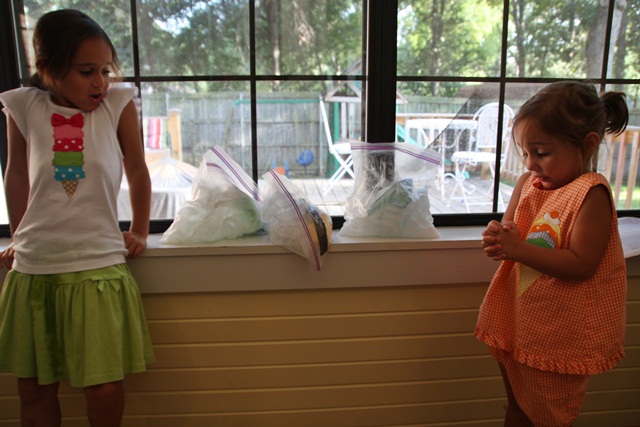 We found that shaking it inside a dish towel made it MUCH better!  I have also found that you can use a larger towel, wrap the towel in tape and toss it like a ball to each other.  This works great with Preston, but not so well with these little women!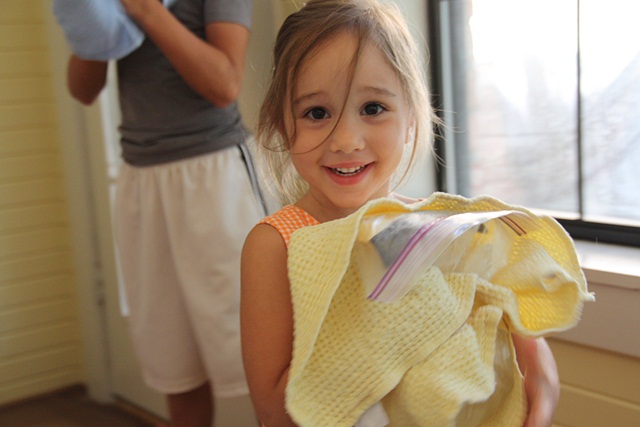 Shake!  Shake!  Shake!  My little man is SO intense about everything in life.  Ice cream shaking is no different!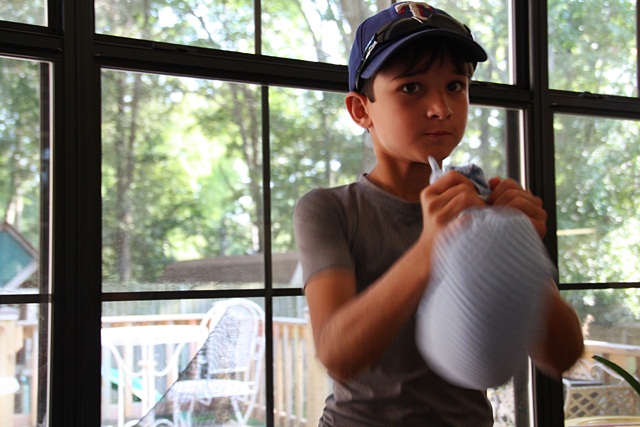 Lilly Katherine was singing the whole time…"Shake, shake, shake!  Shake, shake shake!  Shake your ice cream!  Shake your ice cream!"
Shake it for about 5-10 minutes.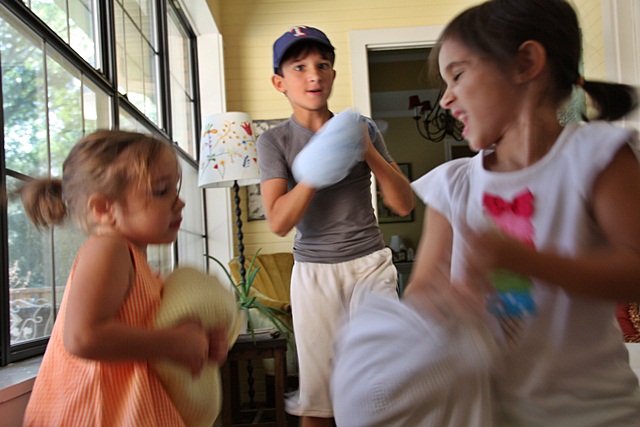 Shake it until it's firm.  If it is not firm, just keep shaking.  You will know when it is ready to eat.  It is fun to see the transformation from liquid to solid.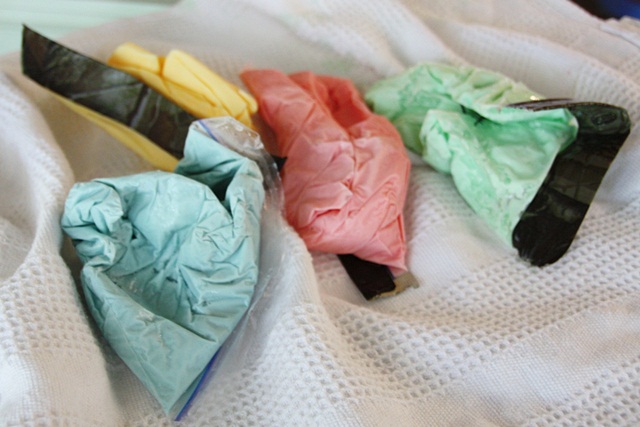 Open your bag and grab a spoon!  It's ready to eat!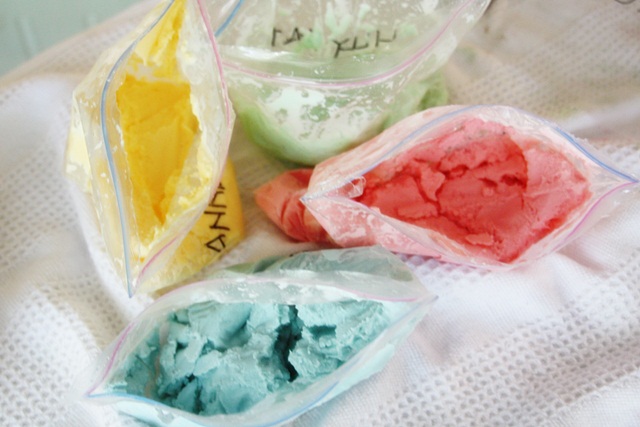 The maniacs loved getting to taste all the different flavors.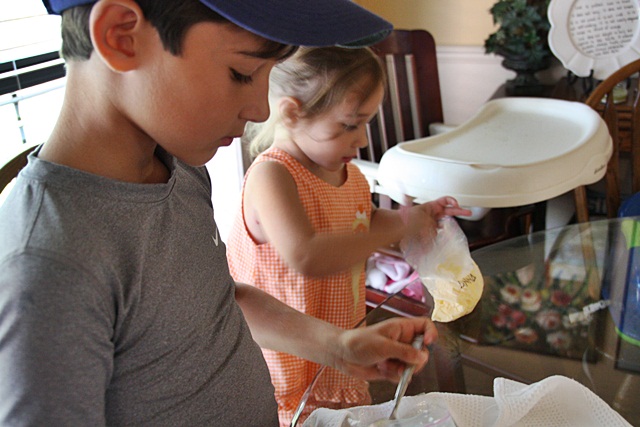 Mmmmmm!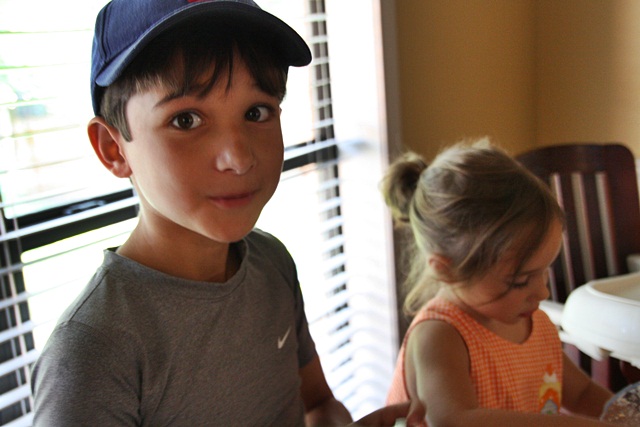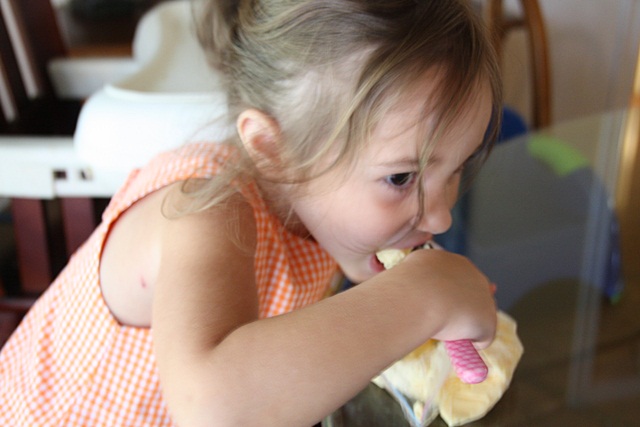 We will definitely make this again, but here are a few helpful hints:
Double bag the small bag for added protection before placing it in the large ice bag.
Use crushed ice or small ice if possible.
Wrap the ice bag in a towel to protect yourself from frostbite.
Recipe for Ice Cream in a Zip-Lock Baggie
This makes 1 serving.  This recipe is PER BAGGIE:
1/2 Cup Half and Half
1 Tbsp Sugar
1/4 tsp vanilla extract or flavoring of your choice.
1/4 Cup coarse Salt
Ice
Small Zip-Lock sandwich bags (not snack)
Large (Gallon) Freezer bags
In a small baggie, combine half and half, sugar, and flavoring.  Seal tightly.  Place small bag inside another small bag to protect it from sharp ice.  Fill large Zip-Lock 1/4 full of ice.  Pour 1/4 cup coarse salt on ice.  Place cream mixture baggie on top of ice, then add enough ice to fill the large bag about halfway or a little more.  Seal bag very well.  Wrap bag in a towel and shake your heart out for 5-10 minutes or until mixture is firm.  Open and enjoy!
Happy Summer!
-kate
.