First of all, I am a MOM.  I have had more bodily fluids on me in the last 24 hours than any person should.  Between my lactating self, a baby who squirts poo-poo and tee-tee on me, then spits up all over me, to a 3-year old who has decided she should pee all over the place again, to a daughter with a cough and a son with a cold who can't remember to cover their mouths, I've been covered in GOO!  I need a shower just thinking about it!
Second, I need to let you know that although sweet baby Georgia has been an absolute DREAM, and I can't put her down, and I'm more in love than I ever thought possible…things haven't all been smooth.  I never want to deceive anyone to thinking our lives are perfect.  Georgia is making the transition to 4 kids as easy as possible.  AnnaLeigh on the other hand…
Little miss sassy pants is having a HARD TIME (to say the least) adjusting to not being the baby of the family.  I'm doing all I can to love on her, but let's just say we're getting a good taste of what seventh grade is going to be like with this little diva!  We've gone from sassy to down right hateful.  She has pretty much screamed for the last 2 weeks.  It's been really fun.
I've been called a "bad mama" and I've been told (after punishing her for a hateful act towards her sister) that I "should-of-ent waked up!"  (That word is should-haven't…should have not). Her most favorite things to do lately are hit, kick, say "I'm not eva playin wif you eva again!" or hide things…like our REMOTE!  We went without a remote for 3 days, TEARING OUR HOUSE APART looking for it.  Brad finally broke down and bought a new one.  We used it for 24 hours when AnnaLeigh magically remembered where the old one was.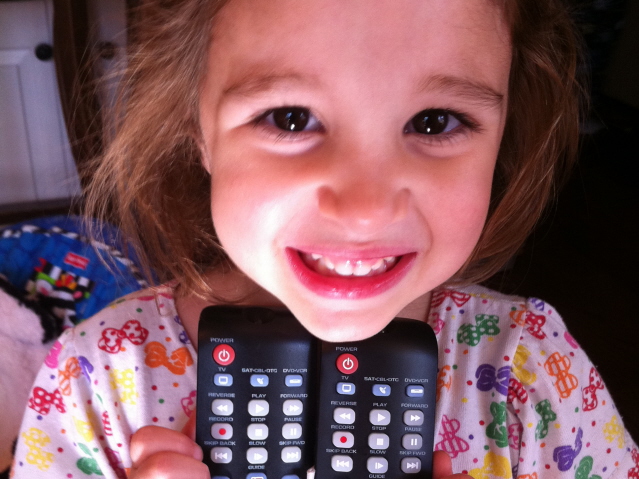 You should pray for her!
You should pray for ME! :)
We'll get adjusted…hopefully soon!
.
Speaking of Seventh Grade….
Seventh grade is such an awful year.  Such an awkward year.  Such a BAD year!
I would not relive seventh grade for all the money in the world!
But it was seventh grade that gave me the 2 most precious friends in my life!  I have been blessed throughout my life with many wonderful friends.  Some are friends for a year or two, some are friends for a season, and a very few are life-long friends!
Kimberly and Samantha are two of my life-long friends.  (We took a pic Friday, but my postpartum self does NOT need to be posted on the www at this point, since AnnaLeigh repeatedly tells me I still look "preg-nick."  This is a pic from a few months ago.)
Samantha, Me, Kimberly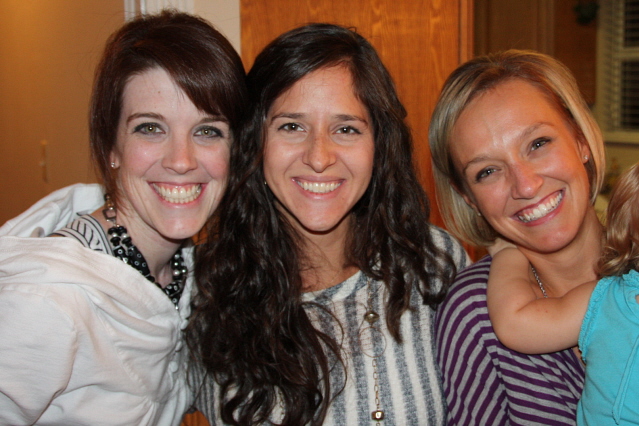 It's been said that if you have 5 true friends, you have a great life.  Well I'm certain I've been blessed far beyond that 5, and for that I am truly thankful.
However, Kimberly and Samantha have walked through life with me for over 20 years!  They have been by my side through the good, the bad, and the ugly.  Through woven belts, rompers, perms, braces, crushes, break-ups, drill team, overalls, bad hair, dorm rooms, all-nighters, Chi Omega, Baylor, vacations, weddings, children, fat days, skinny days, move in days and move out days!  They have basically ALWAYS been there for me…right by my side!
They are some of the most precious gifts God has given me!  I have prayed for my children, especially for my girls, that they would be blessed with BEST friends like I have been blessed with Kim and Sam.
Girls just need sweet friends!
Well, Kim and Sam drove in town last week to meet this little thing!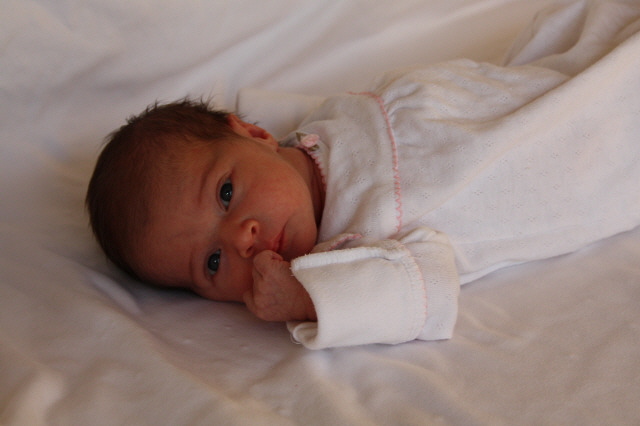 They came bearing gifts and giggles!  This is a side note, but so strange I have to mention it.  Kim, Sam, and I all have boy first, then girl, then girl (then I have little miss G!)  They brought their giggly girls with them, and I love that our girls will know and love each other.  I just wish we could play more often!
Here are a few pics of the girls.  I wish I had more, but I spent my time in adult conversation with my 2 bffs.  Plus the pics I did take were blurry, because my camera was on the wrong setting.  Oh well.
Starting with AnnaLeigh (in green) and going clockwise.  AnnaLeigh, Lilly Katherine, Clara and Millie (Kim's girls), Campbell and Chandler (Sam's girls).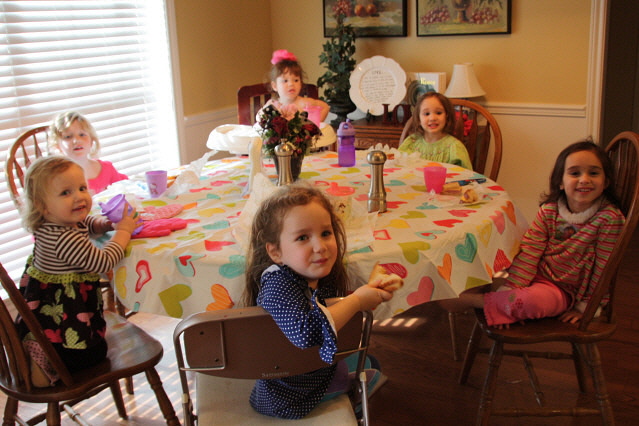 The big girls…Campbell (Samantha's oldest daughter), Clara (Kimberly's oldest daughter), and of course Lilly Katherine (my big girl).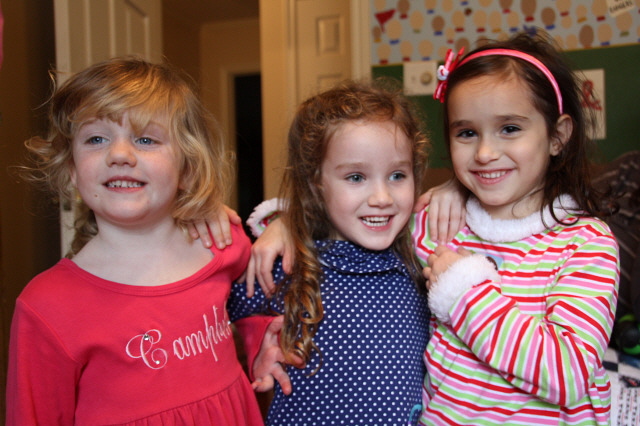 Samantha is so good about playing with the kids and hyping them all up!  It's her specialty!  "Aunt Sammy" is a much more FUN mom than I'll ever be!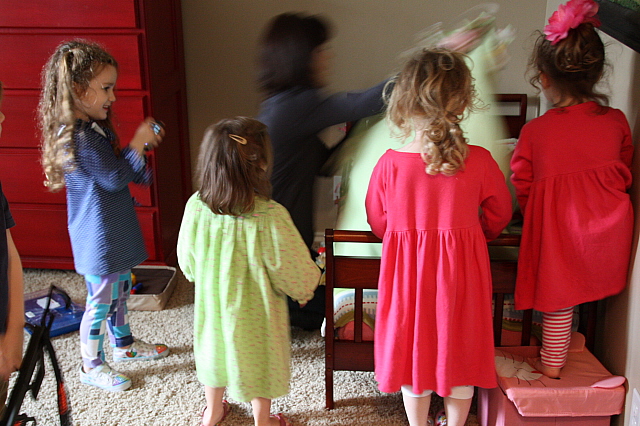 While Sammy was winding up the maniacs, sweet Kim was loving on Georgia.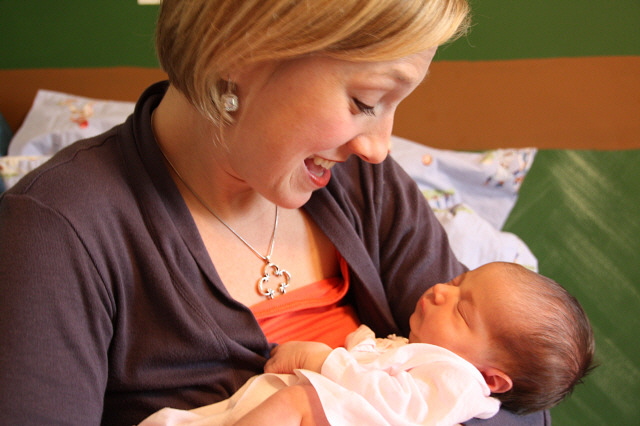 Sammy had some sweet Georgia time, too.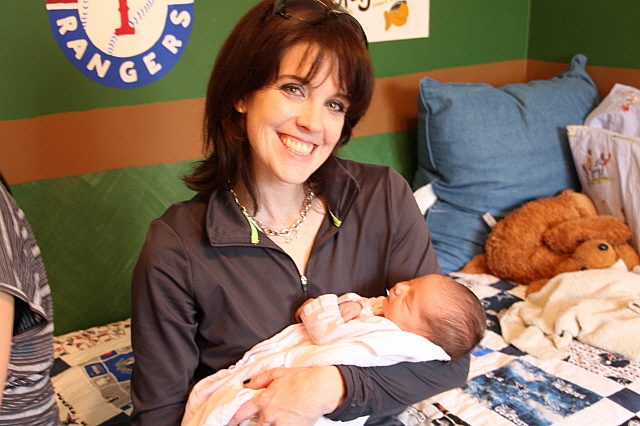 Before they left, our girls did several group hugs.  LOVE!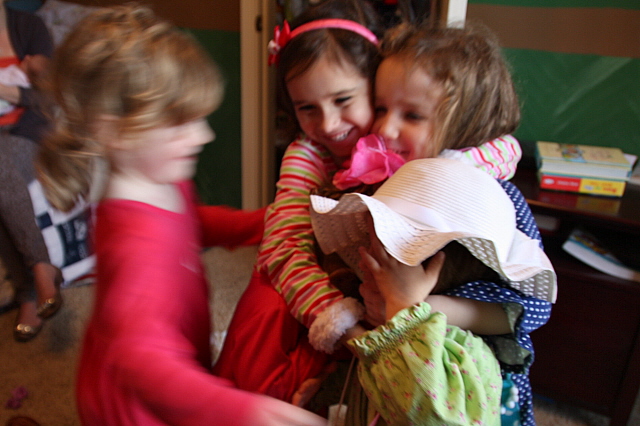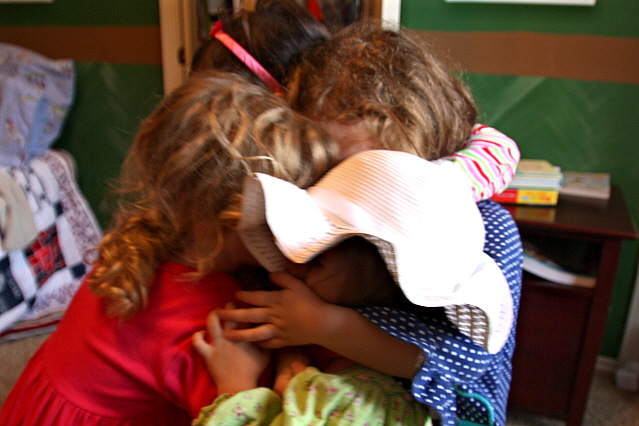 Lord, THANK YOU!  Thank you for so richly blessing my life with friends who have encouraged me, listened to me, loved me, stood by me, laughed with me, and been positive influences on me (most of the time!) :)  Thank you for their love for me and acceptance of me, and for the love that they show my family.  Thank you for our special bond.  Please, Lord, give my girls friends like Kim and Sam!  Thank you that you have blessed my girls with sisters, built-in friends.  I pray that they will love each other as friends, but as they grow (and as they deal with the emotions and hormones of seventh grade) please put special friends in their lives that will lead them closer to you.  Friends that will love them, encourage them, and be life-long friends.  Please help my girls to BE friends to other sweet girls.  I pray that they are the kind of friend to others that Kimberly and Samantha have been to me.
Thank you for Kimberly and Samantha.  Thank you for how they love their babies!  Thank you for how they love MY babies.  Thank you for allowing me to see them often (though I wish it were more often).  Thank you for the ability to pick up where we left off…always!
And, Lord, please help AnnaLeigh to straighten up so that she's allowed to make it to seventh grade!  Oh, and please help her to realize that she's only 3…and I don't need the seventh grade attitude quite yet!
AMEN!  :)

.
-kate