My maniacs are all precious and I love them all so much.  As a mother, each one holds a special place in my heart.
I love Preston, my firstborn.  He had my heart first.  Not only is he my firstborn, but he is my only baby boy.
I love Lilly Katherine, my firstborn daughter, for her tender heart and her love of doing things for others.  I love her because I understand her, and I know how and why she does what she does.  I get her.
I love Georgia because she will always be my baby!  I will savor her every move and try to hold onto everything knowing that she is my last.
And then there is AnnaLeigh!
My Pinky.  My middle baby girl.  My #3 baby.
Oh, how I love this little firecracker!  She makes me smile.  She has my heart!  She is easy to love because she is so lovable!  She is aggressive and feisty and funny and easily excitable.  She is a go-getter, our little "Supervisor" -  always keeping everyone straight.  She is dramatic and loud.  She gets out of anything with her father because she knows how to make him laugh!  She is a serious stinker, and I love her!
This world is better because AnnaLeigh Rose is alive.  Really!
And my baby girl, the one that promised me she would never turn THREE, just turned FOUR!  I'm not sure how it happened, but my sweet little ladybug is four!  It's like she woke up looking older on her birthday morning!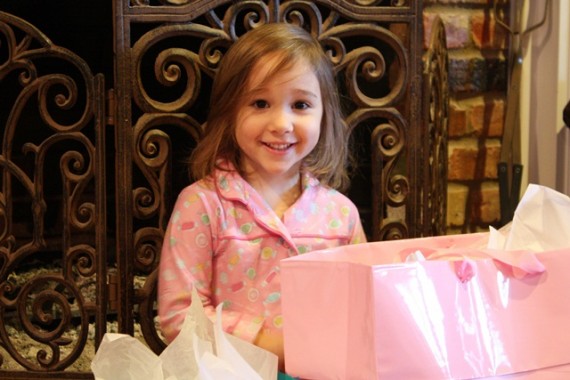 We gave her 2 gifts.  A sleeping bag, which she was so excited about….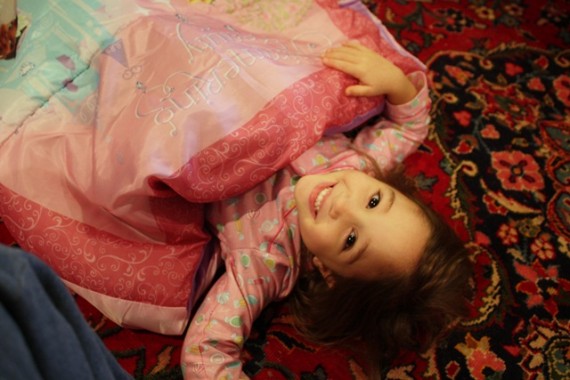 Then we had to stop opening, because these two yahoos could not say anything nice to anyone!  I made them do jumping jacks until they could smile, then they had to each hug AnnaLeigh and say "Happy Birthday!  I will have a good attitude."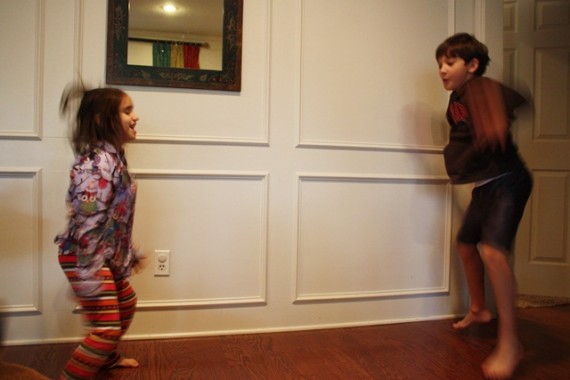 Then AnnaLeigh opened her doctor's kit.  She and Lilly Katherine wanted a Doc McStuffins Doctor's Kit for Christmas.  When I looked at them, I realized they were way overpriced and did not do much at all.  So I made her a kit out of real doctor "stuff."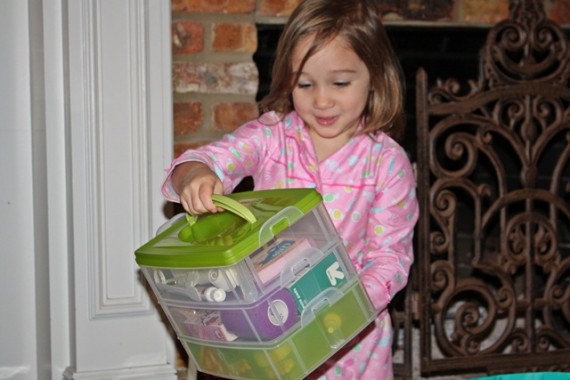 She loved it!  She immediately assumed the role of Dr. AnnaLeigh, calling me back to the room to be doctored.
"Mama.  Patient Mama.  I'm ready for you to be doctored."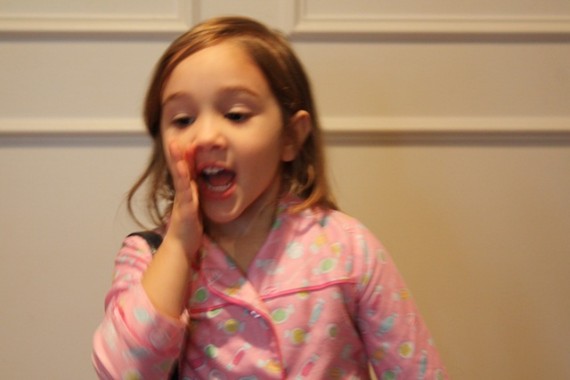 Then she and Lilly Katherine doctored all day long!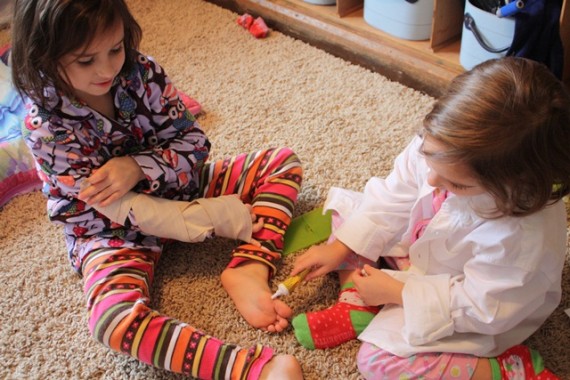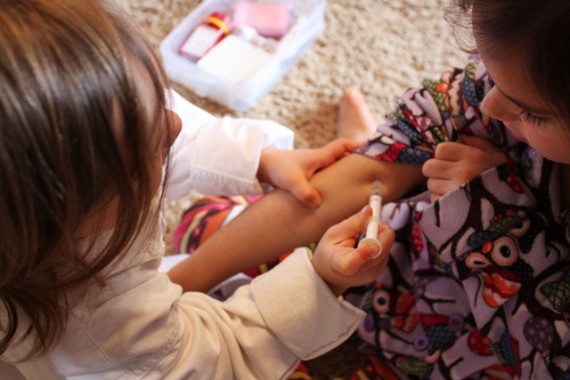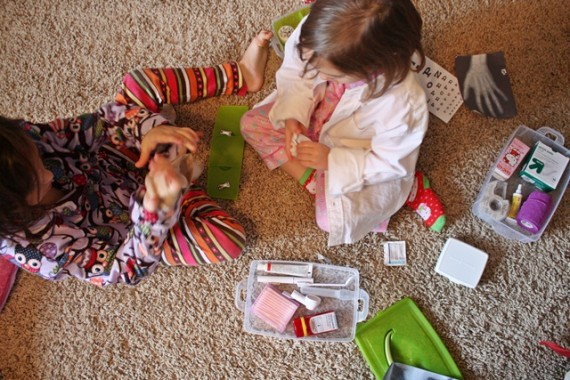 It was an animal infirmary.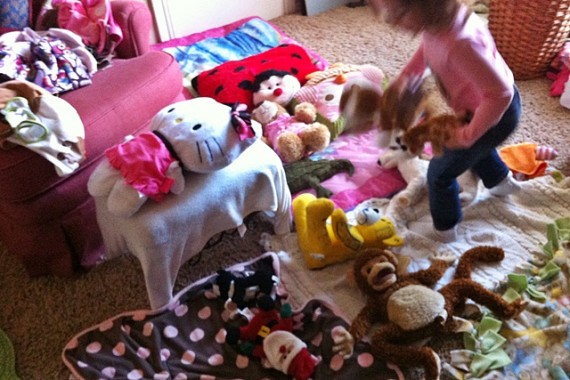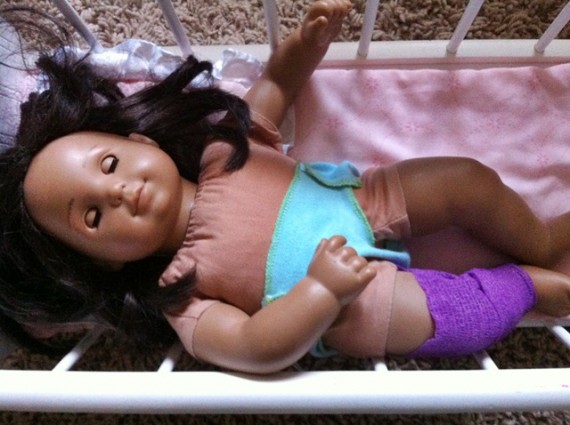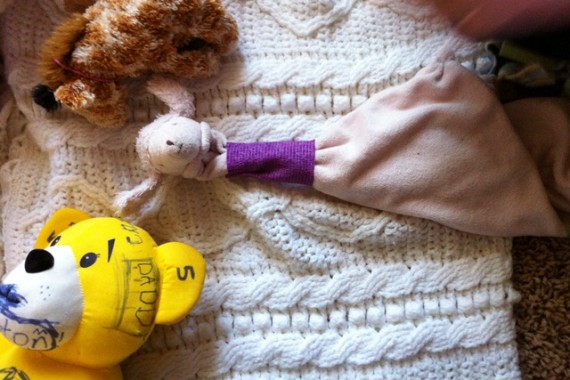 She wanted a ladybug cake, and I am holding out on her real cake until her birthday party…which is scheduled…uh…sometime in the spring! :)  She wants a party in the park, and i told her we can't do that in January.  Whew!  Out of another January party!
So on her birthday, I just made her a little cookie cake and tried to make a ladybug on it.  Again, pitiful, but she loved it.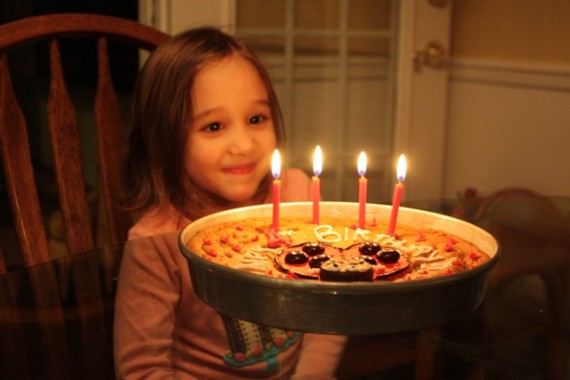 Happy Birthday Pinky!
I love you so stinkin much!
Lord, thank you for this little life.  Thank you for her spunk and her fire.  Thank you for her expressions and her imagination.  Lord, thank you for blessing our family and all who know this tiny woman.  It is my prayer for her that she will know you and love you!  I pray that she will listen to you and desire to follow you, and we both know listening and following are not her strengths. :)  Lord, thank you that she is such a leader.  May she always lead people TO you.
Lord, this baby was the greatest surprise you could have ever given me!  She lights up my life, and I thank you so much that you chose me to be her mother.  Please help me to love the way she needs to be loved, teach her the way she best learns, and train her in your ways.
Thank you for AnnaLeigh Rose!  Please guide her with your word, and my she make every decision with godly wisdom and discernment.   Lord, please bless this baby girl with sweet friends that love you.  Please put wise people in her life.  I pray that AnnaLeigh will be a good friend, kind and loving, compassionate and understanding.  And please bless her with the same.  I pray that you are already preparing a man to love her and be her groom; a man that loves you most, and will love this little firecracker second.
Lord, thank you so much for every day I have had with this little joy.  Please bless her with a long, happy, full life.  Bless her with good spiritual, mental, emotional, and physical health.  Thank you for AnnaLeigh! 
Amen.
.
-kate