It has been a few days since my last post, because I've been holding this sweet little peanut!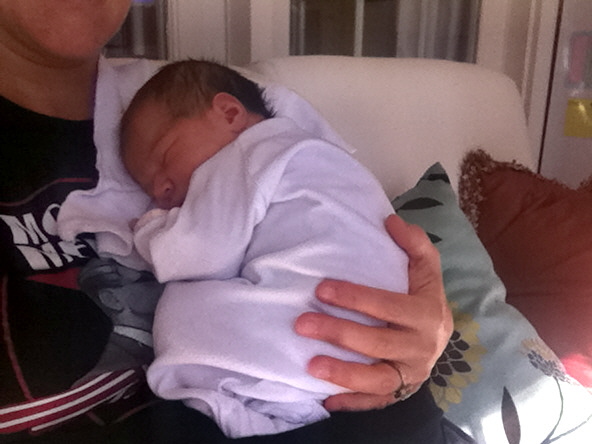 And kissing this sweet little body!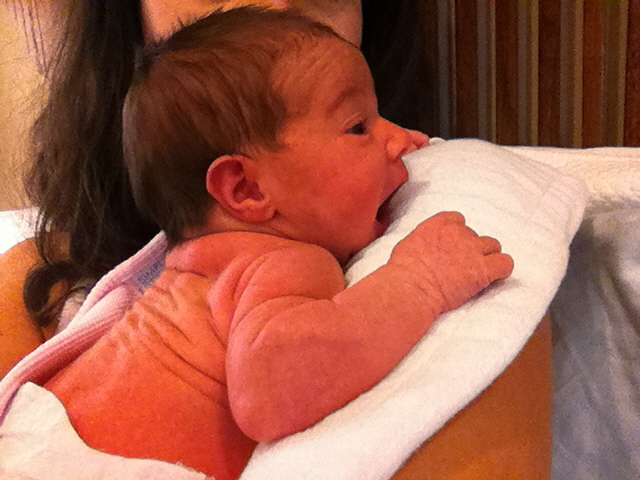 And loving on this sweet face!  (See that little dimple?!)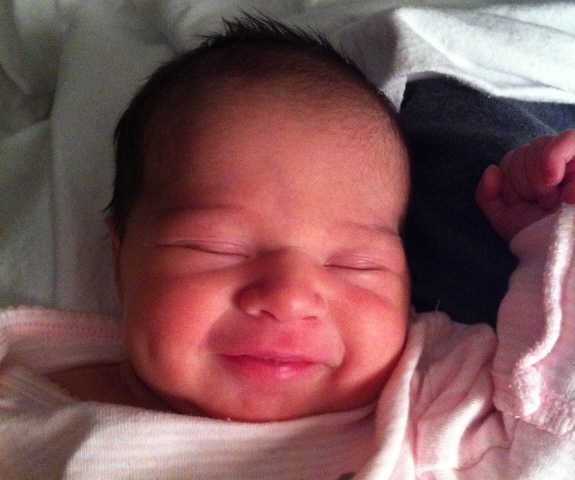 And managing to figure out life with these FOUR maniacs!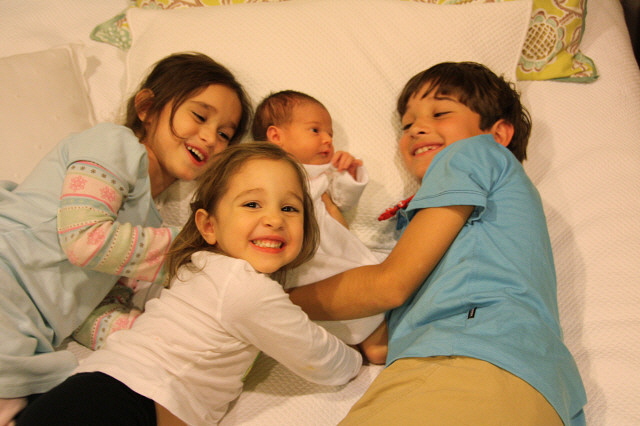 I'm trying to soak up every second…kissing on that little neck, smelling the sweet smell of baby lotion and spit up, squeezing every inch of her little body, and avoiding housework while holding all 6 1/2 pounds of my little Georgia!
We know this is probably our last child (I say probably because I know what our plan is, but the Lord may have another…and his usually wins), and it makes me want to savor ever single moment of this sweet baby girl!  So if you don't hear from me for a few days, that is why.
.
Now, on to my post…
What I learned last week is that birthin' babies ain't for sissies!
This labor and delivery story is very different from any of my other deliveries.  It was different in every way!  I've always gone into labor early, timed contractions for hours and then gone into the hospital, only to deliver a baby a few hours later.  I have always had an epidural…kind of.
Preston was 2 weeks early, and my epidural worked like a charm.  However, it made me itch like I was covered in poison ivy and I left the hospital looking like I had been in a clawing match with a bobcat.
Lilly Katherine was one week early.  My epidural only worked on one side for a long time, but by the time I had to "push" it was working completely.
AnnaLeigh was 4 days early.  During labor, my body progressed all the way to a 10 as the anesthesiologist was threading the epidural into my back.  I had a fast labor, and I knew I needed to push.  They laid me back before he got the medicine in the cath and the nurses confirmed that it was time!  However, the doctor wasn't at the hospital yet.  They decided since I had already paid for the epidural at that point, and it was in my back, they might as well give me the meds to hold me off until the doctor arrived.  I was so upset, because we pay CASH for our babies, and that was $1000 that I would rather not spend on a 15 minute epidural.  On top of that, it was a painful epidural, and my back was sore for days.
All that being said, I thought I might try this delivery without one.  I know how fast my body progresses, and I knew my body had made it to a 10 without meds, so I was seriously considering no drugs.
Well, in case you don't know, induced labor is much more intense than natural labor.  That's right.  I learned that the hard way!  I got my Pitocin at 6:30 am, fully expecting that I would deliver by noon at the latest.  HA!  I was only at a 4 at noon, and the contractions were coming on pretty strong.  I told myself I could go a little longer, giving myself time/contraction "mile" markers.  My mom, Brad, and my sweet sister-in-law Kara were there to encourage me.
Well, I'll spare you all of the lovely details, but let's just say I was in serious pain by the time I was at a 7…3 hours later!  I quickly progressed from 7-10 in a matter of minutes and I started motioning that the baby was coming!!!
They told me NOT TO PUSH until the doctor was there.  Let me tell you something, NOT PUSHING was one of the hardest things I've ever done IN.MY.LIFE!  Seriously, God tells you when it's time, and waiting is not an option!  I "panted" through 3 contractions and finally the doctor arrived.  As scared as I was, I knew I had to stop the pain and get that baby out!
I pushed though one contraction and it was the most horribly wonderful thing I think I've ever done.  Have you heard of the term "Ring of FIRE?!?!"  That's a fairly accurate description.  The head was out, and I decided then that the rest of the body was not coming out.  I was happy to have the head out, but I was done.  On second thought, my body told me I was an idiot!  Through a great deal of wonderful pain, out came what I would have sworn was a linebacker!
The doctor asked Brad if he wanted to announce what it was.  We both KNEW it was a boy as the doctor lifted this slimy, wrinkly, screaming little pinkish-grayish baby up in the air.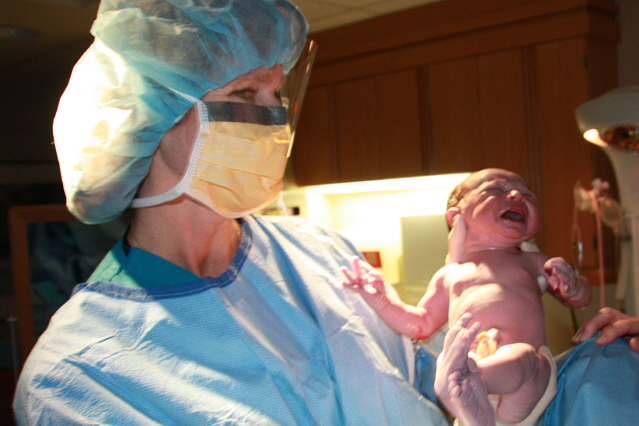 Brad hesitantly (because he was questioning himself) said, "It's a girl!"  We were both in shock, but I was in SHOCK!  I kept reaching for her because I couldn't wait to get my hands on that precious baby!
As they were cutting the cord, cleaning her off, and wrapping her up enough for me to hold her, I was reaching for my baby and the flood of every emotion I've ever felt in my life hit me all at once.  I started weeping uncontrollably!  I was a total basket case instantly!  It was as if all of the self-control I was able to maintain and all of the pain I was able to withstand for HOURS was released at once.  The floodgates opened and a SEA of emotions like I've never experienced GUSHED out of me!  Happy, relieved, proud, scared, surprised, thankful, joyful, exhausted, overwhelmed, blessed…a little bit of every emotion!  It was almost out of body as I cried and shook and longed to hold that precious baby GIRL!
They finally handed her to me and it was INSTANT LOVE!
INSTANT!
I couldn't wait to kiss her!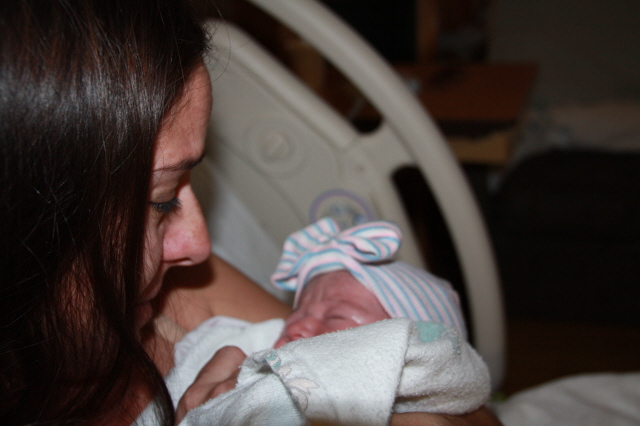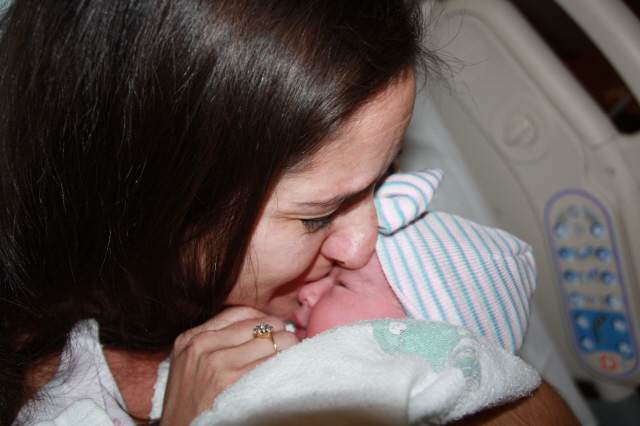 I loved on her and hugged her, and her proud daddy held her.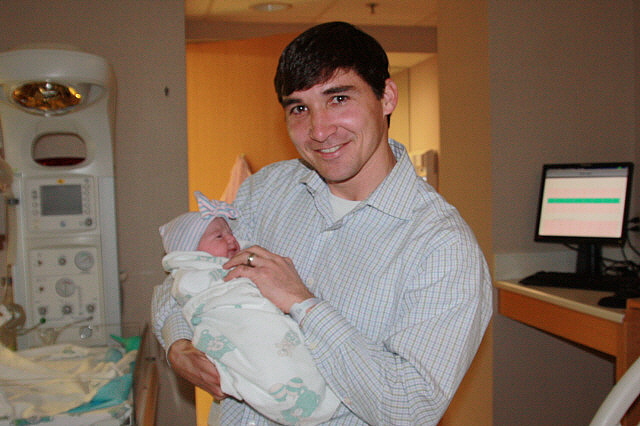 We named our sweet baby girl Georgia Sarullo, after Brad's dad and my grandmother.  Then we prayed for her, thanked God for her precious little life, and spent a few special minutes with her.  As we were doing that, there was a crowd waiting in the lobby to meet our new baby.  I am so thankful that Kara took pictures to capture all the details we missed.
This maniac was excited to find out what we had.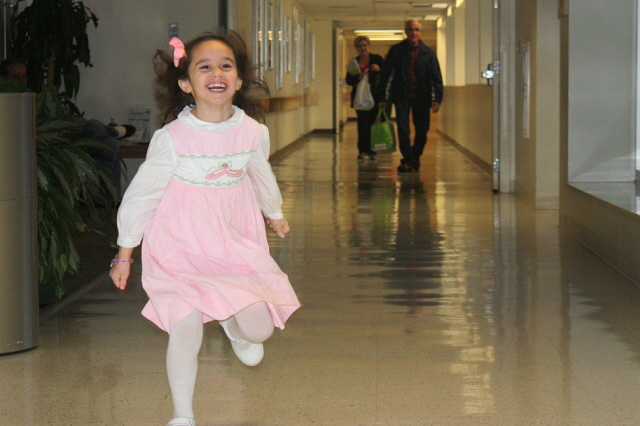 The cousins were all waiting (except Laurabeth)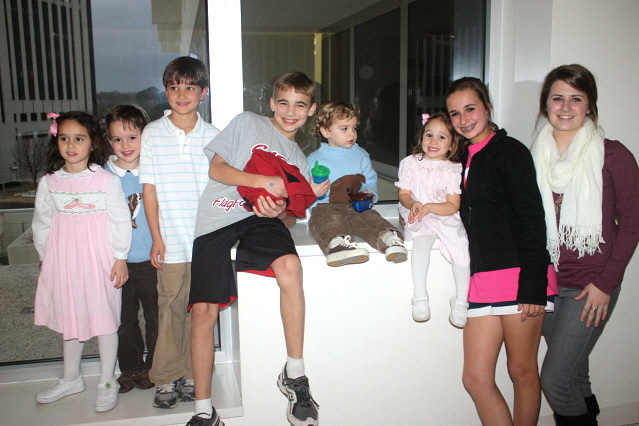 Grandparents were waiting.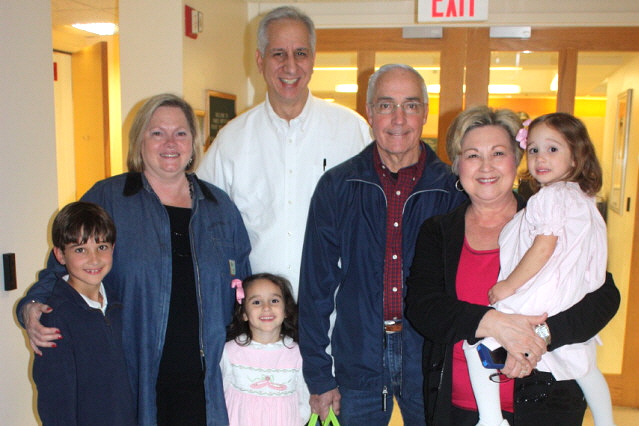 My babies were anxiously awaiting the call to come meet their new brother or sister.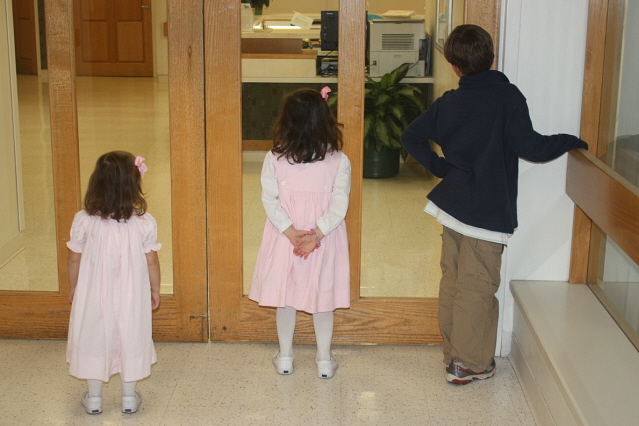 We called the kids in to come meet her first.  We gave them each their own camera so they could take pictures of "their new baby" and have their own special pics from her birth.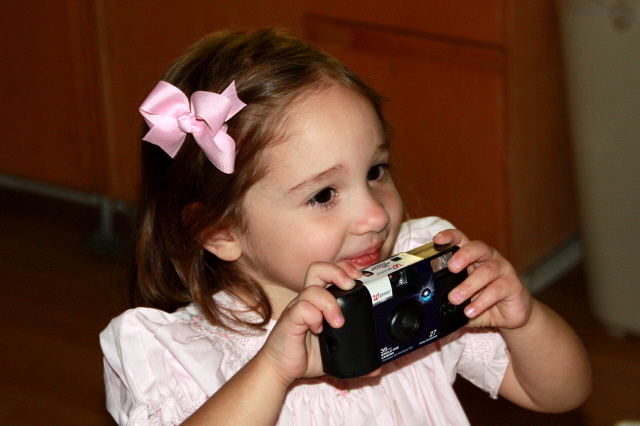 Of course, they didn't understand why they couldn't see the picture on the back after they snapped it!  Darn 35 mm cameras! :)
Preston, Lilly Katherine, and AnnaLeigh filed in and I looked at my handsome big bug, my only boy!  I wanted to tell him he was blessed with another sister and also blessed to be his daddy's only son!  I worried a little about how he would take it.  Let's just say my baby boy is in love with sweet Georgia!  He's just fine with another sister!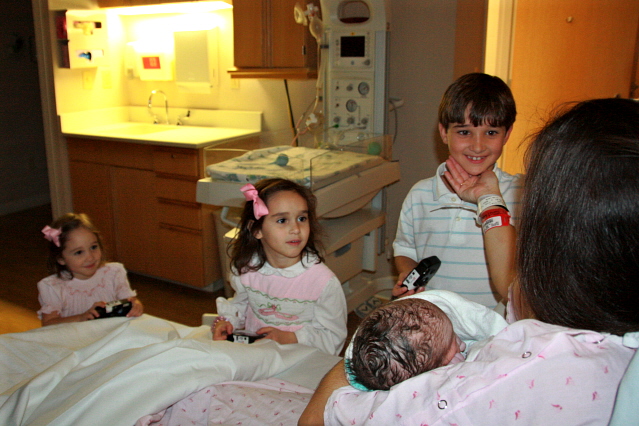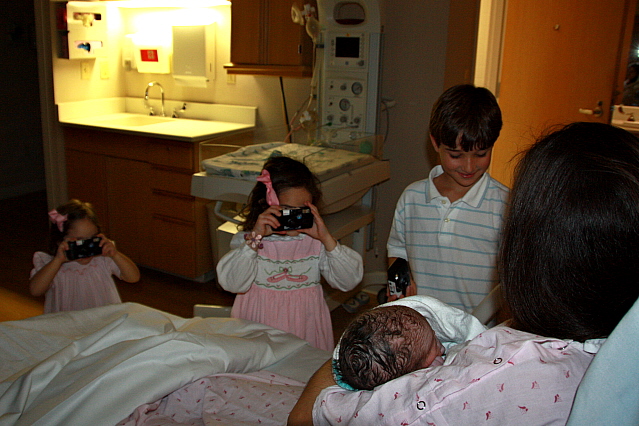 Then the whole crew came in.  The girls helped me announce what we had with little signs.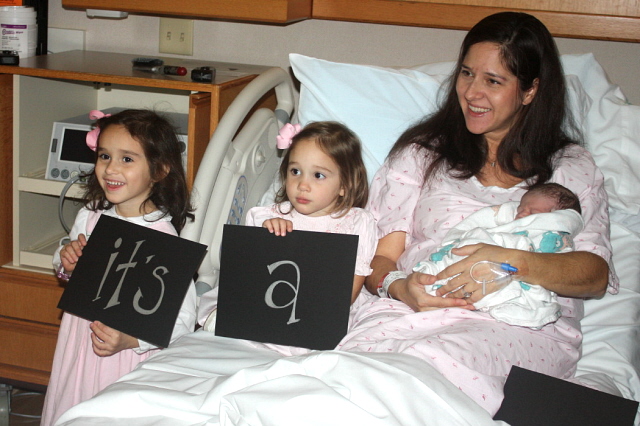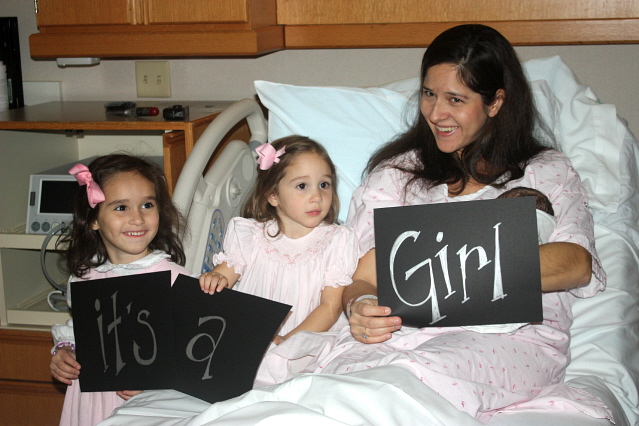 (The look on my VERY swollen face says, "Can you believe how wrong I was?!?")
Preston announced her name, Georgia Sarullo, and then we began passing her around.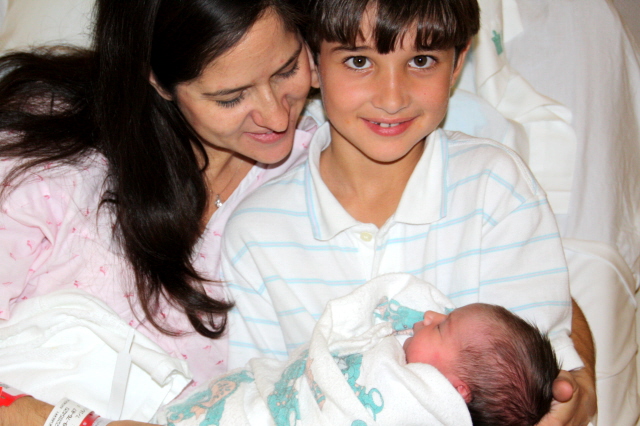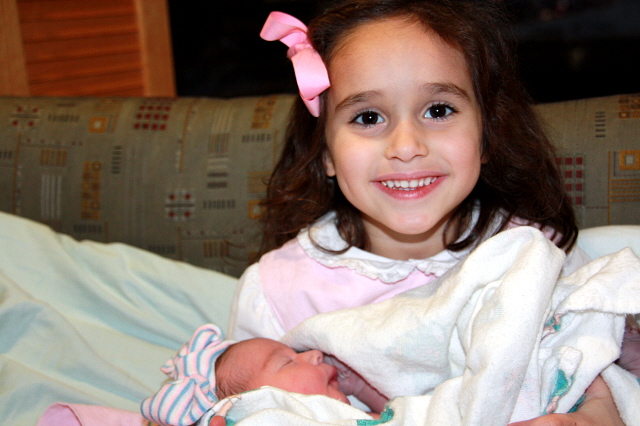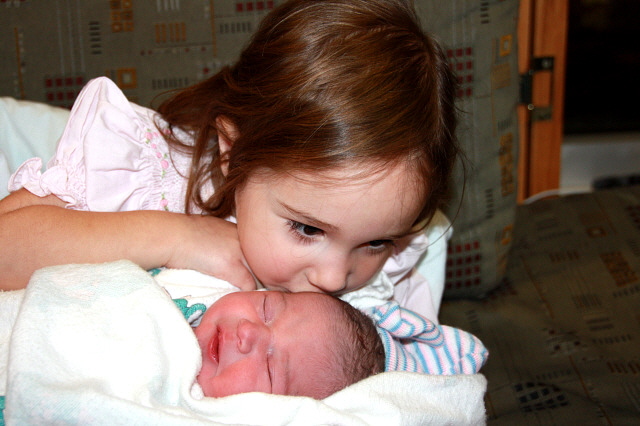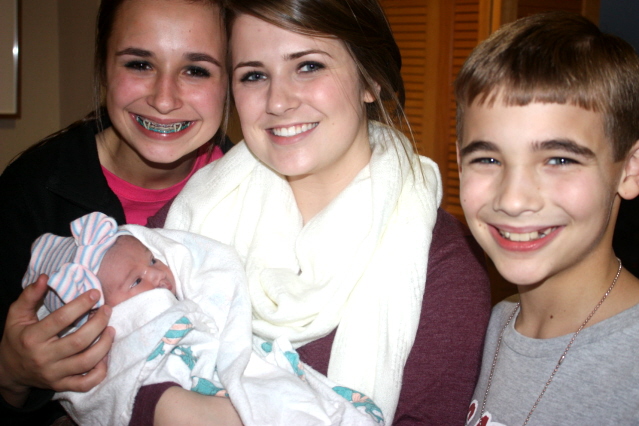 Georgia met her newest cousin, Laurabeth (just 6 days older) and they have already locked arms.  What a sweet bond these two cousins will have.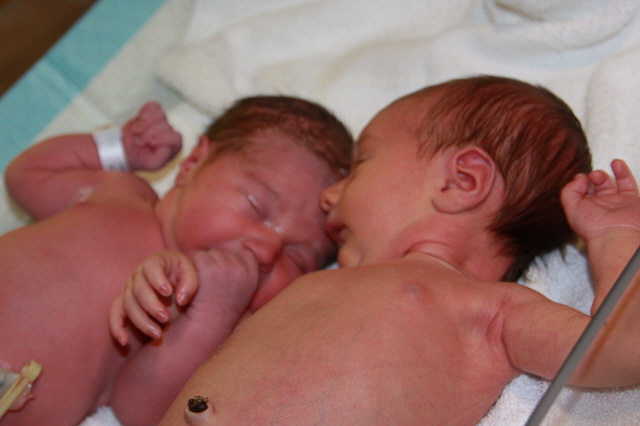 Laurabeth started licking Georgia's head, and since she hadn't had a bath yet it stressed my sister out just a little bit.  She quickly removed Laurabeth from "latching on" to Georgia's amniotic fluid covered head.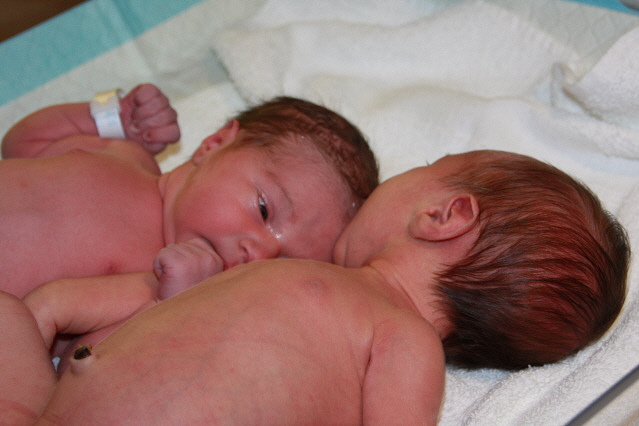 The nurse let the maniacs give Georgia her first bath!  This was a huge treat, however now AnnaLeigh feels she's capable of bathing her all the time.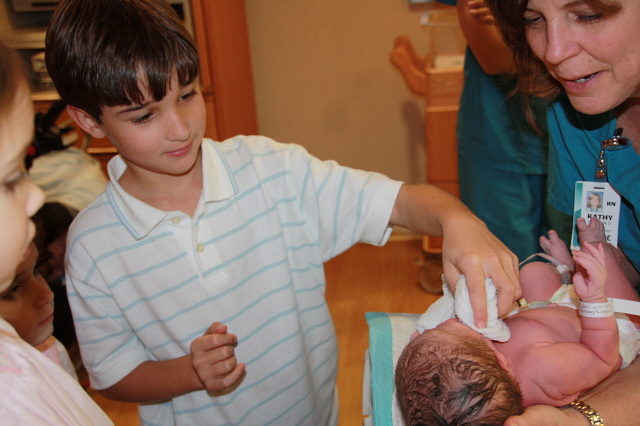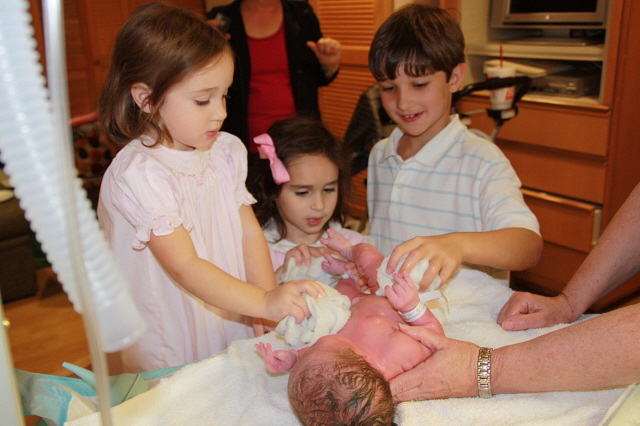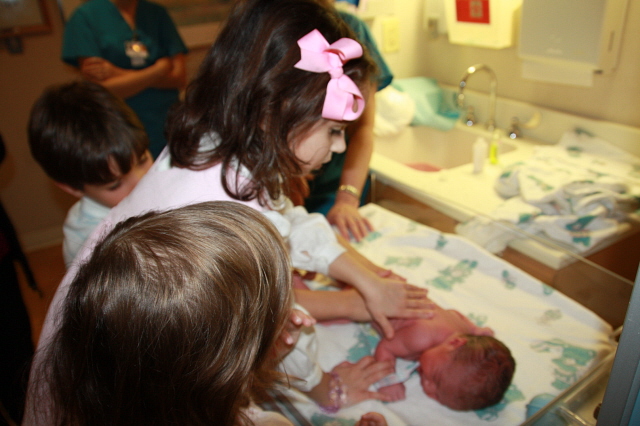 When she was good and clean, she got to snuggle with Laurabeth.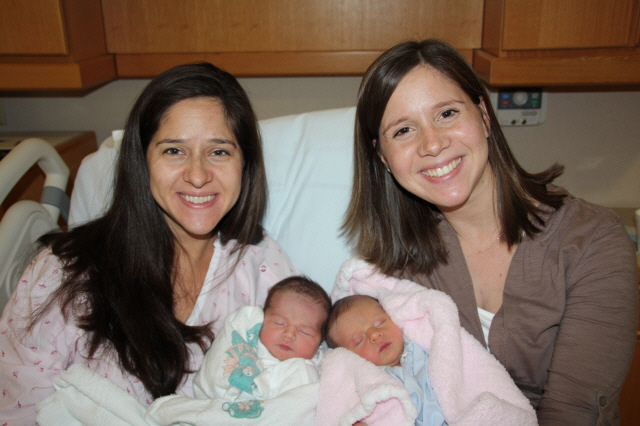 Getting ready to leave the hospital…
Georgia wore a very special outfit home…the day-gown that I wore home from the hospital when I was born.  My brother and sister also wore it, as well as my other three maniacs and Laurabeth.  The blanket was made by Brad's grandmother for Preston.  The bonnet is a precious gift from her Aunt Kara and Uncle Andy.  She will use it again on her wedding day.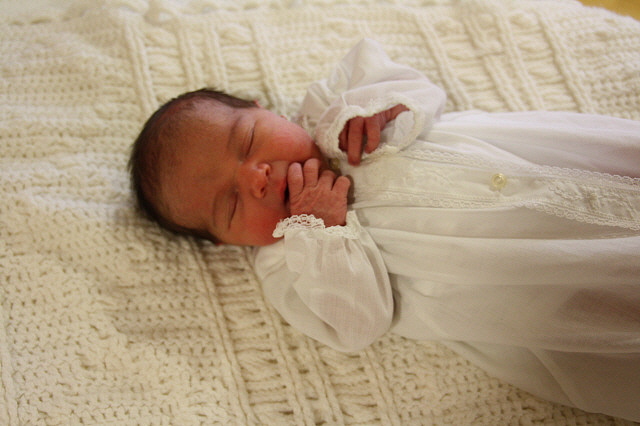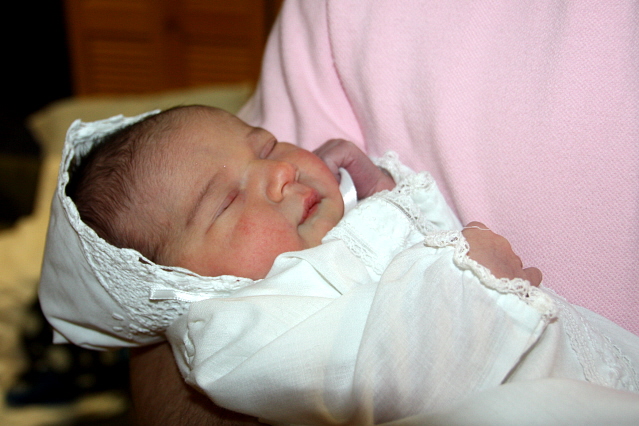 And due to the fact that i ordered this "neutral" carseat canopy a few weeks ago, I had to tell several people on the way out of the hospital, "No, actually I had a girl."  Guess I'll need to do something about that.  :)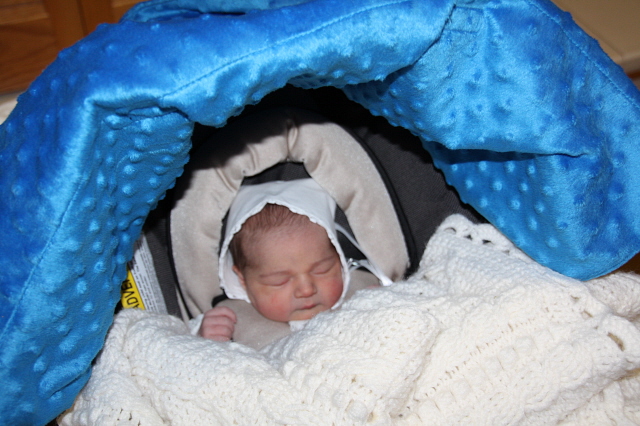 Welcome Home Georgia!  The maniacs were excited we were finally home.  It was much later than we anticipated, so the girls were already in their pj's.  It was a long few days for our parents as they watched over these wild ones.  Thank you everyone for all your help!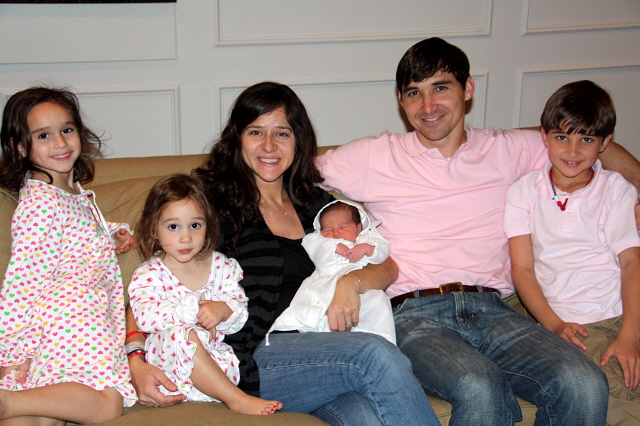 As for this pregnancy and delivery, would I change anything?  Not much.
I wouldn't be so sure of myself in thinking I was having a boy…or at least I would have kept my opinion to myself a little more.
Looking back, and I know that hindsight's 20/20, and I remember how miserable I was, but I wish I had been more patient and given my body a few more days to try to go into labor.  I truly believe that God's timing is better than mine and I lost sight of that.  I think the labor would have been easier if it had been natural.
I am glad I did it without an epidural.  It's not for everyone, and I don't judge anyone who gets one.  I've had 3 epidurals, and I'll tell you there is a reason people get them!!!  However, it was really amazing to feel and witness how God made our bodies to birth little babies.  He equips us for the job and labor/delivery can show you how fearfully and wonderfully made we are.  I don't know how you could experience natural birth and not know that there's an all mighty, all powerful, very creative GOD!  It was certainly not easy, but it was an experience like no other.
Am I happy to have a girl?
ABSOLUTELY!!!! I am THRILLED…tickled PINK!  :)  I honestly did not care if it was a boy or girl.  We have both already, but I just thought it was a boy.  I have said all along, I love the bond of sisters, and we live in girl world right now, so a girl would be easier at this point with all our baby dolls, lipstick, and smocked dresses.  Now, middle school is another story.  :)
I know that the Lord knows exactly what we need, and sweet Georgia is the gift he chose for us…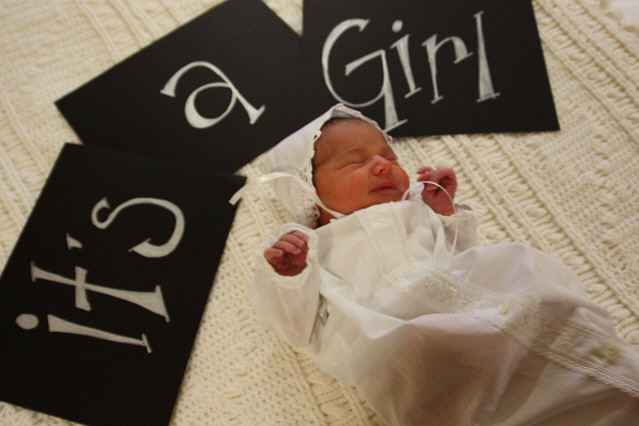 …and I love her with all my heart!
-kate
.