I am alive, and this is the longest hiatus I have ever had from the blogging world.  I know I am not alone when I say that Christmas time is crazy and somewhat overwhelming, and I love every second of it!  I can't get enough good food, family time, and fun with friends.
But at our house, we're still celebrating!
You see, for some strange reason and some very poor planning (or complete LACK OF planning) this is what our BIRTHDAY schedule looks like.
December 21: My dear husband, Brad
December 25: Jesus (Christmas!)
January 2: Preston
January 5: AnnaLeigh
January 24: Georgia  (Thank goodness it's at the end of the month, and CAN YOU BELIEVE MY BABY IS ABOUT TO BE ONE?!?!?!?)
So in one month, our one little family has 4 birthdays and Christmas.  I'm seeing another blog hiatus in my future…but hopefully not.
.
Well, Wednesday we got to celebrate my sweet baby boy's birthday.
And, my sweet baby boy was born yesterday!
Yesterday, in my mind.
In reality, he is NINE!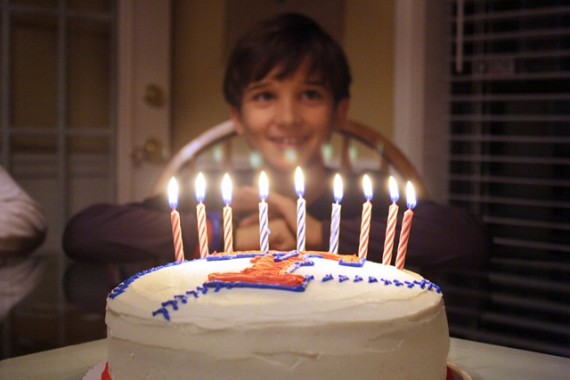 We just had a little family celebration, because he wants his party to be at the Ranger's game in the spring.  Thank goodness it's not in January!  We went to eat at Texas Roadhouse, and I think my son was mortified that I told them it was his birthday.  He looked scared to death the whole time he was on the birthday saddle, and as soon as it was over, he was back in his seat before I could blink.  It was hilarious!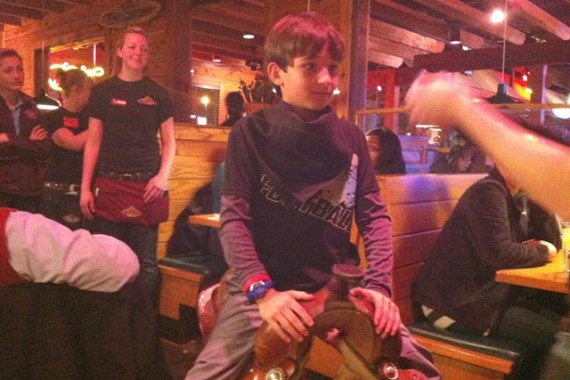 Then we ran home to eat a bite of cake with his buddy Walker.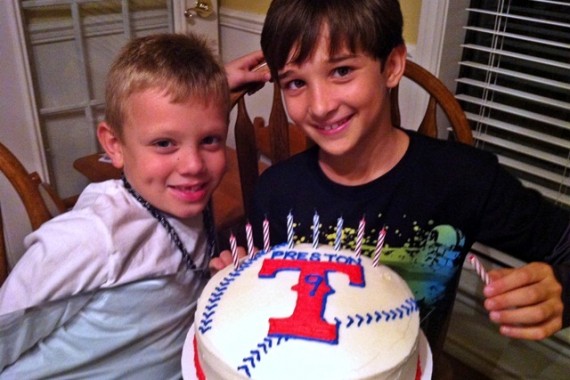 The cake was pretty pitiful.
Brad was home for lunch and as he was leaving, he said, "So I guess you're not making a cake for Preston's birthday?"
I took great offense of course, because I ALWAYS make cakes for my babies' birthdays!  I love making their cakes, and I love seeing their faces light up when they see their cakes for the first time.
So, in a sweet and loving tone I responded, "Of course I am making his cake, but his party isn't until April!!!"  To which my dear husband reminded me that we probably wouldn't be able to take a cake into the ballpark!
OH NO!!!  My baby had to have a cake!!!
So before Brad could get out the door, I was pulling cake stuff out.  I had 3 little maniacs wanting to help make this cake.  It was then that I realized why I make cakes in the middle of the night!  I love to cook with my babies, but my skills have never been more challenged or questioned as they were with that darn cake.
"Why are you putting butter in the pan?"
"Why are you putting paper in the pan?"
"I don't want paper on my cake!"
"Why are you making 3 cakes?"
"Why aren't you making a pretty cake this time?"
"That's not how you do icing!"
"You are using too much icing!"
"Why is the icing just white?"
"You just need to let me do it, Mama!  I know how."
"You had 3 cakes, now you only have one!"
"Why is it so plain?"
"You messed up!"
"I can do that, Mama!  Just let me!"
AGHHHHHHHHHH!
I finally decided that they ALL needed to watch Wildcrats so I could finish!  (Which, as a total aside, I really like that show and so do my kids.  It's very cool and educational!)
So it wasn't a fancy cake, but it tasted good and it was a mini-Rangers cake for my big 9 year old.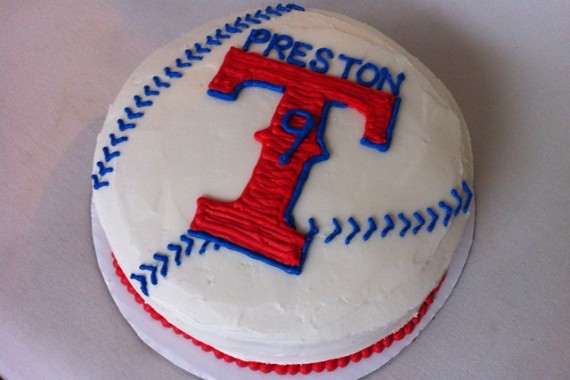 I am so thankful that this maniac has been in my life for 9 years.  He reminded me that he's "halfway out of the house!"  It makes me want to cry!  He is halfway to 18, and there are days that I'm not sure we are going to make it all the way to 18!  But if we do, he's halfway there! :)
I love that Preston is ALL BOY!  I love that he is rough and tough, although a little too rough and tough with the 3 little balls of estrogen that live here.
I love that Preston is my walking calendar, because I would be lost and late (LATER), and I would miss so much if he didn't keep me straight.
I love that Preston is responsible and self sufficient.  He is so good at taking care of what he needs to do without me asking.
I love that my girls have Preston as a big brother, and I know that one day he will step into the roll as the protector and encourager.  We're not there yet, but we're working on it! :)
I love that my 2 boys have each other.  I am so thankful that Brad has a son that is so much like himself.  They enjoy being with each other, and I am so thankful that they have the same hobbies, interests, and talents.  I am also thankful that Preston has a daddy like Brad, because there is no better example in the world of a Godly, hard-working, ethical, loving man!
I am a blessed Mama!  I am so blessed to be the mother of this wild little boy, a little boy that is quickly growing up before my eyes.
A boy that looks like this in my mind.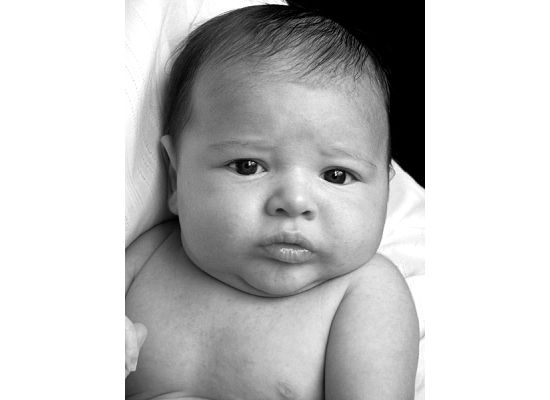 Or at the most, he looks like this…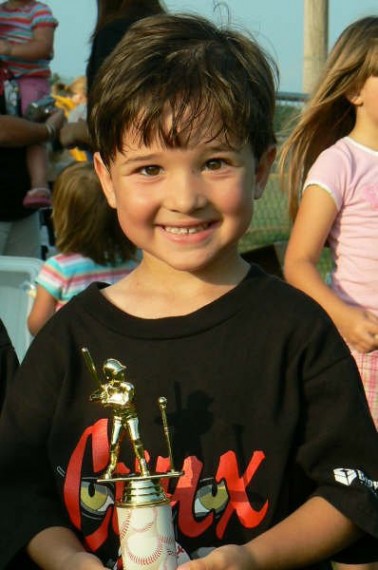 But in reality, this is what my baby looks like!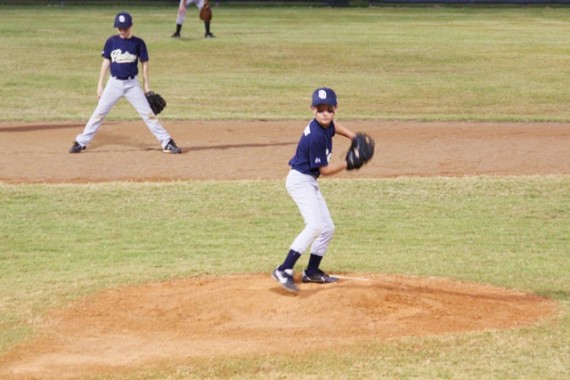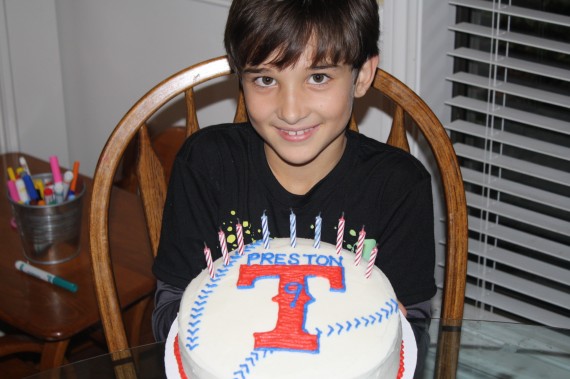 Lord, thank you for my only little boy!  Thank you for this first born, type-A, precious little man!  Thank you for his smart little analytical brain and his ability to throw and catch and his love for all things sports.  Thank you for his smile and thank you that he looks so much like his cute daddy.  Lord, thank you for giving me a child that challenges me to be a better person and a better mother!  Thank you for giving him a mother like me, so that I can teach him to be flexible.  (and stress him out!) :)
Lord, please draw this little man close to you, and I pray that he would seek you and know you and love you!  I pray, Lord, that he will have faith in you and that you would give him joy and love and that comes only from you!  I pray that you will guide him, and that he would listen to your guidance!  Please help Preston to make all his decisions with godly wisdom and discernment. 
Please surround him with good influences and friends that will make him a better person and hold him accountable.  Please, Lord, help Preston to be a good friend, a good leader, and a good example. 
Please protect him from harm, and protect his mind and body from the craziness going on in our world.  Please teach me how to best love him and train him to know you and to be the man that you want him to become. 
Thank you for nine healthy, wonderful, unforgettable years with this little love of my life! 
Amen!
Happy birthday, P!  I love you!
.
-kate
.