Preston's birthday was in January and we had a little family celebration then.  However, in typical Kate fashion, we had his party this past Thursday!  I was 9 months pregnant in January and miserable and he wanted a swim party, so we decided to celebrate his HALF birthday this year!  It was wonderful!
The party was hot and fun, and we are so fortunate to have a wonderful place to have a swim party.  Brad's parents always willingly open their home and their pool to us and to all of our friends, and our kids love to have parties there.
Preston decided months ago he wanted a Baylor party.  He actually wanted an RGIII or Brittney Griner party and asked if I could make an RGIII cake.  While I was flattered that he thought that was in any way possible, I assured him that it was not!  I told him I would make a Baylor cake, but it would not be a sculpted person, nor would either of those players be making an appearance at the party.  He was fine with it.
I did, however, call Baylor and tell them that I had an 8 year old having a party and asked it they could send me a few Baylor Magazines and any other little goodies for little guys.  They were WONDERFUL!  A box arrived a few days later with magazines, coloring pages, pennants, a rally towel, highlighters for all the kids and more, and it was all FREE.  Preston was thrilled, and I am positive he is SOLD on Baylor!  I also purchased shirts from the Baylor bookstore that were on serious clearance, and all that made for a pretty fun party favor.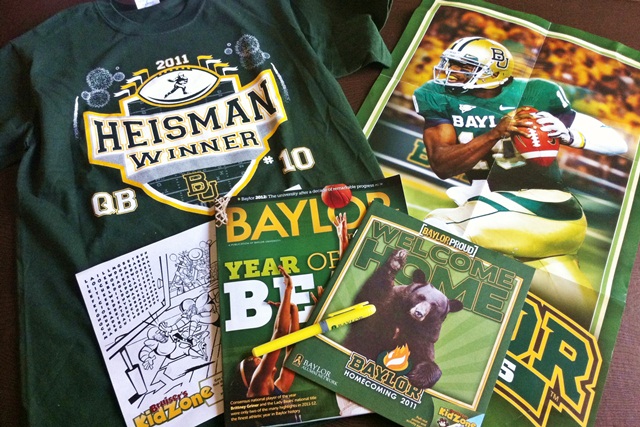 I wish I had more pics, but I think I was shooting in the wrong mode, because many of my pictures were too blurry to use. :(  Here are a few from Preston's 8.5 Baylor Birthday Party.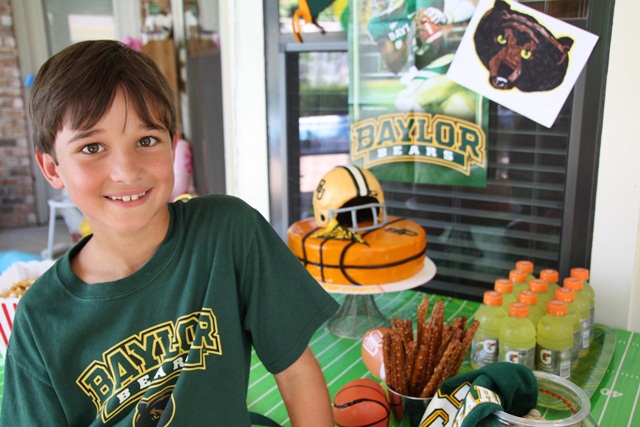 When we received our box of free goodies from Baylor, Preston (my child who does not color, draw, or create ANYTHING unless a teacher is holding a box of sharpened colored pencils to his head) took the Baylor Bear fan, and drew a picture of the bear.  He did an AMAZING job, and I had to hang it at the party!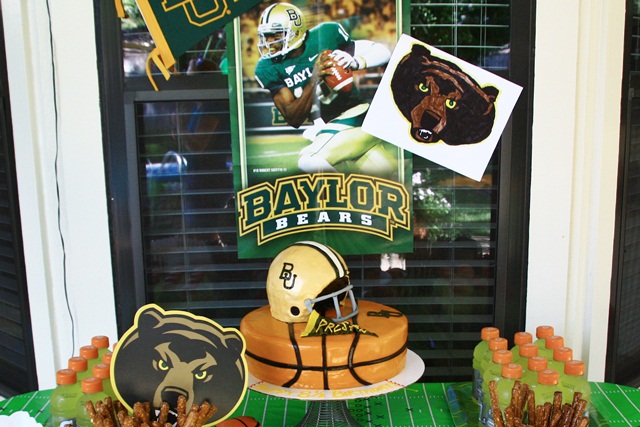 The cake…a Baylor baseball, basketball, football helmet cake.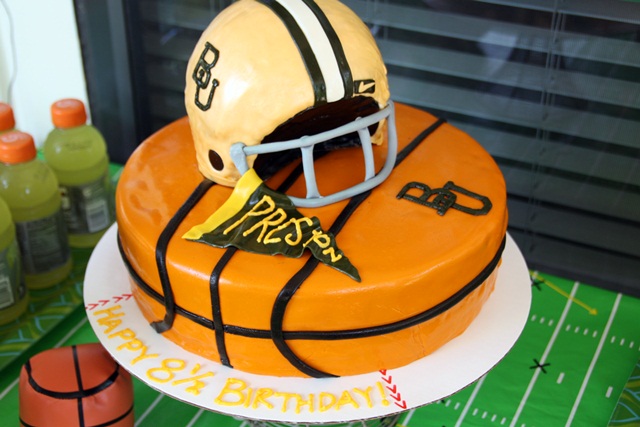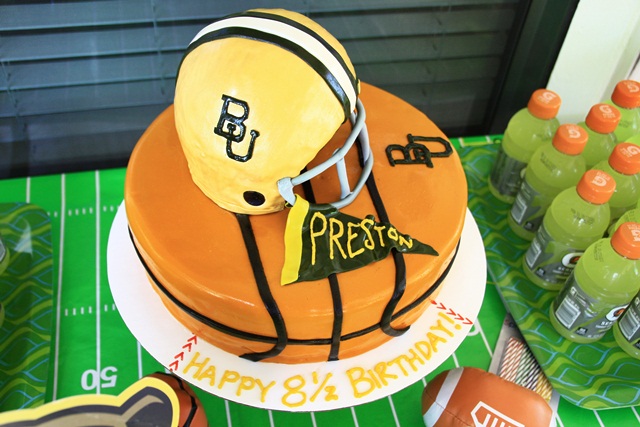 I told Preston he couldn't get in the pool until I had a picture of all 3 of the kids.  I got a quick pic of my kids, and about 5 minutes later I was taking pictures of Georgia and it hit me that I don't just have THREE kids!  I have FOUR now!!!  Wow!  Sleep deprivation setting in.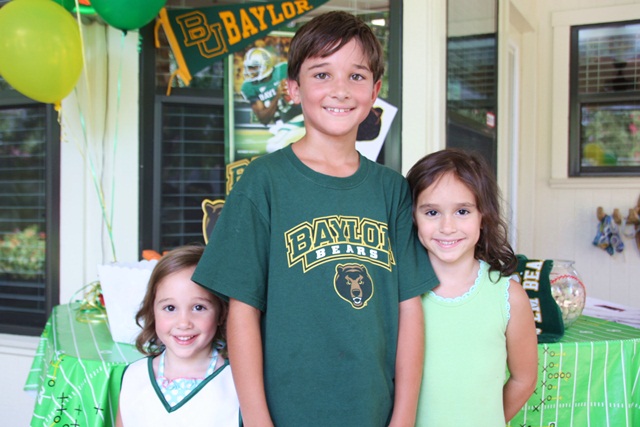 George (Granddear) and Georgia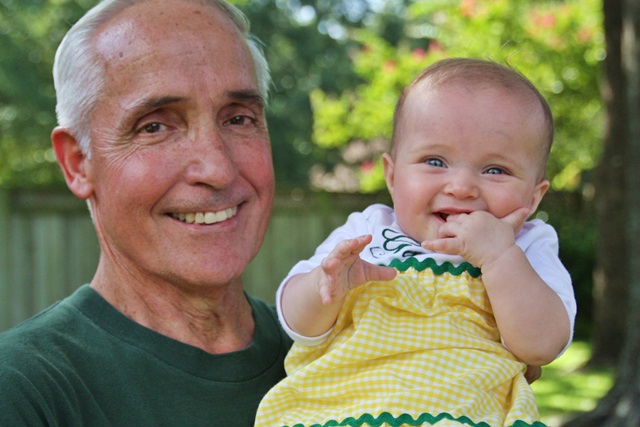 Nolan, Josh, Preston, and Michael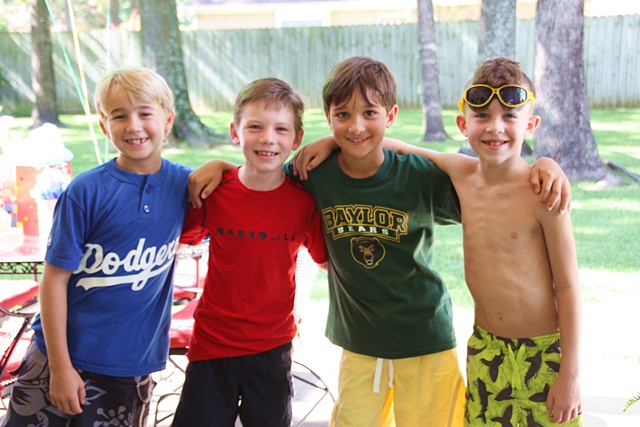 We got to use the field goal my brother-in-law, Alan, made out of PVC pipe for Preston a few years ago.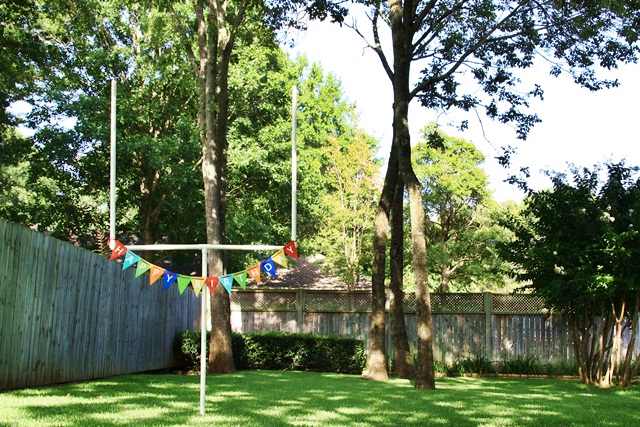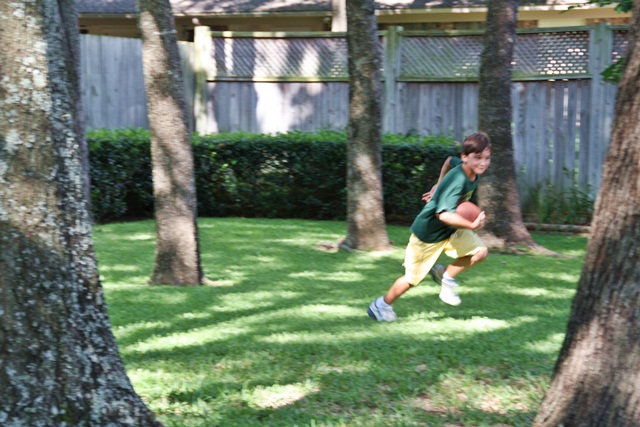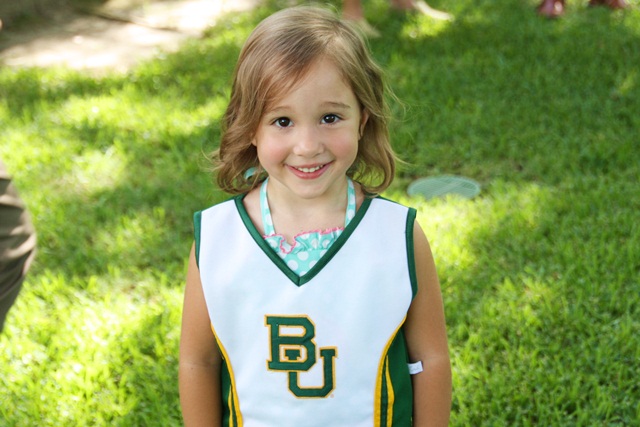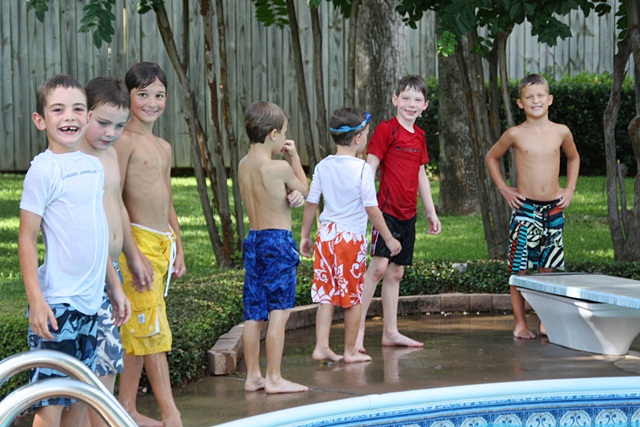 Ayden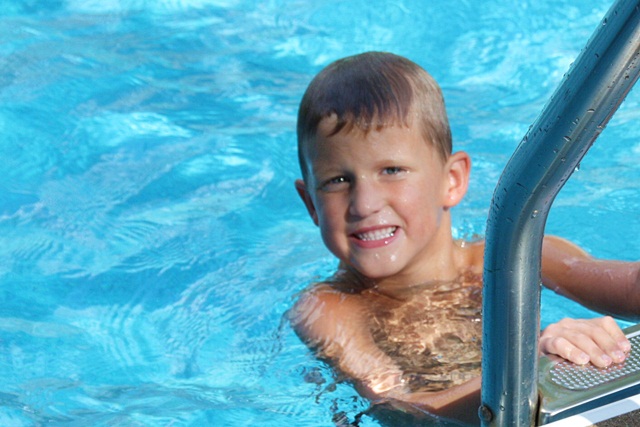 Preston's new trick!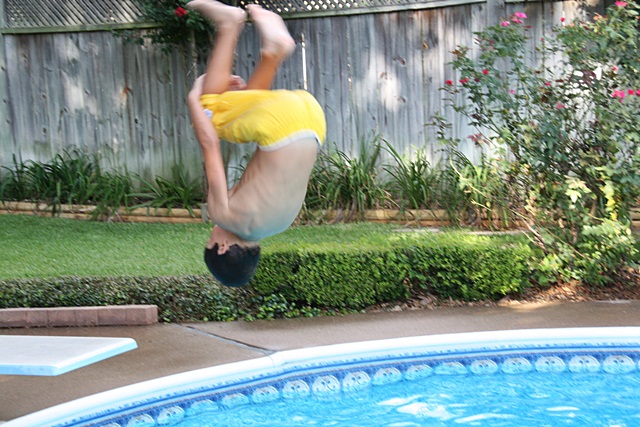 Will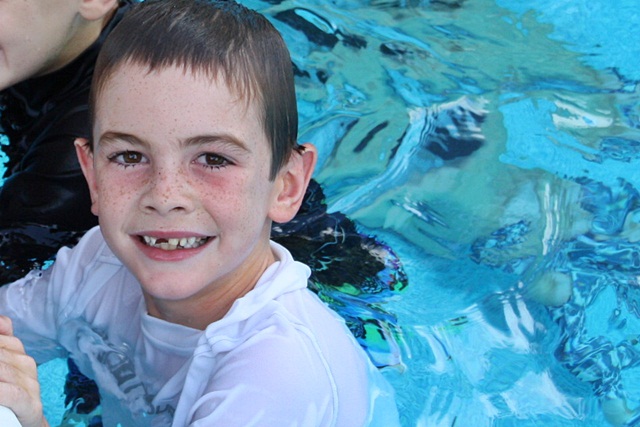 Papa and Claire entertaining Georgia…or Georgia entertaining them.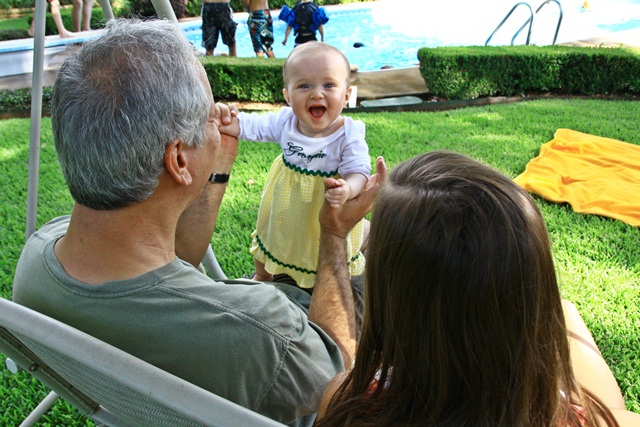 Charlotte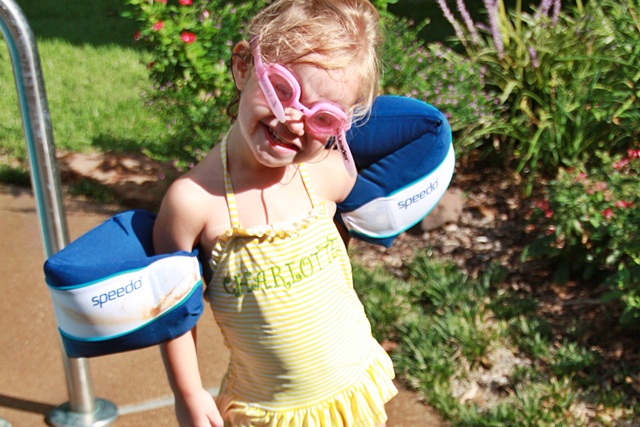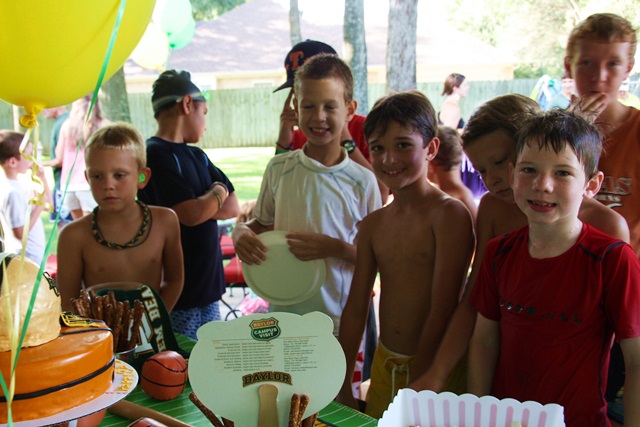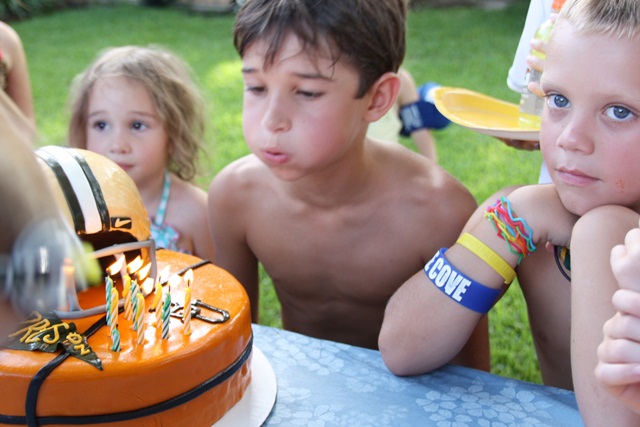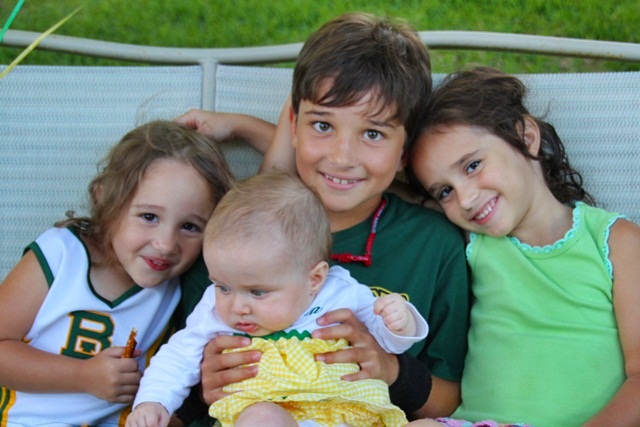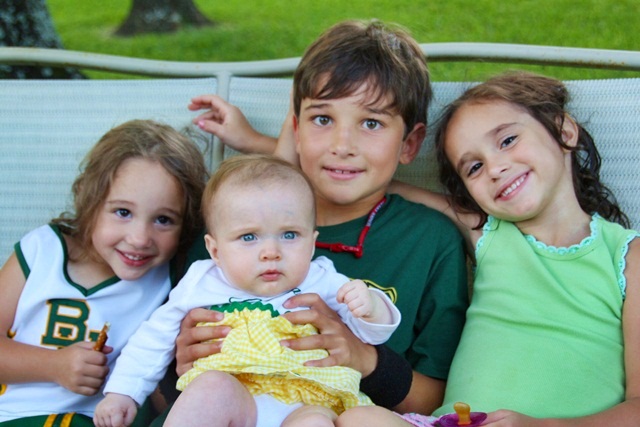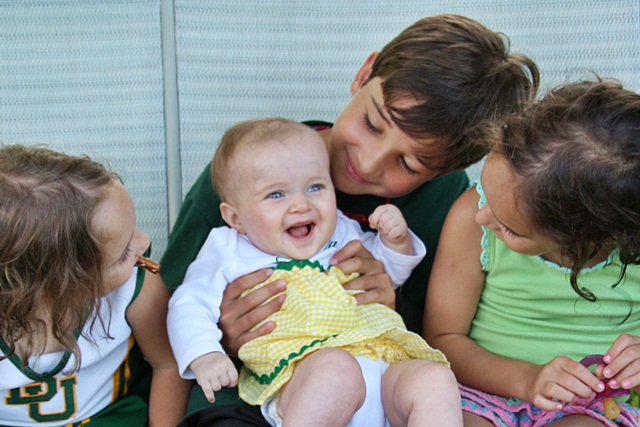 Happy half birthday, baby boy!
-kate
.