My wonderful husband is an extremely hard working Real Estate man!  He works almost every Saturday and Sunday, and for that we are thankful!  While we love that he is busy and keeps us all fed and clothed, we love the occasional break so that we can have some family fun.
Saturday morning, Preston had a job for us to do.  He had gotten FOUR balls stuck in a tree at his school.  He accidentally threw one ball into the tree, and then threw several more into the tree trying to knock the trapped balls down.  The tree was just EATING the footballs!  He got 3 footballs stuck, then decided to use a baseball to knock the footballs down.  The baseball even got stuck!  How in the world can a baseball stick on a branch!  Look at this!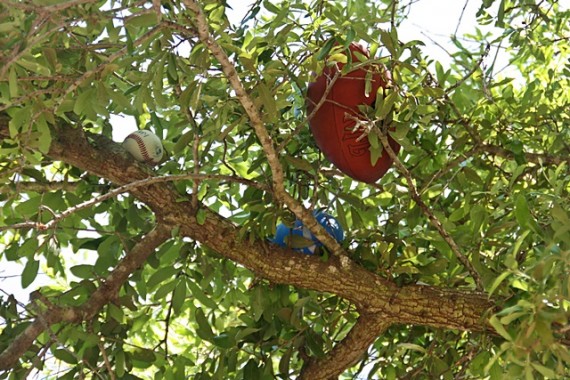 And the balls were way up in the tree!  Brad thought he would take a ladder and a pole and knock them out, but they were much too high, so he thought he would just throw the pole (which was like an old shovel handle) into the tree to knock the balls out…and the POLE GOT STUCK!  The tree sucked it up like velcro!  It was crazy!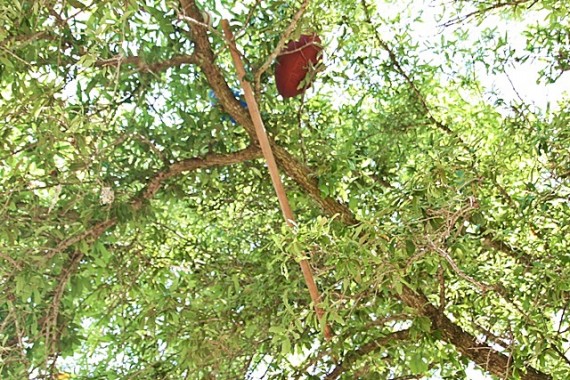 So dear Brad thought he would climb up a little and start shaking the branches to get the balls to drop from the tree.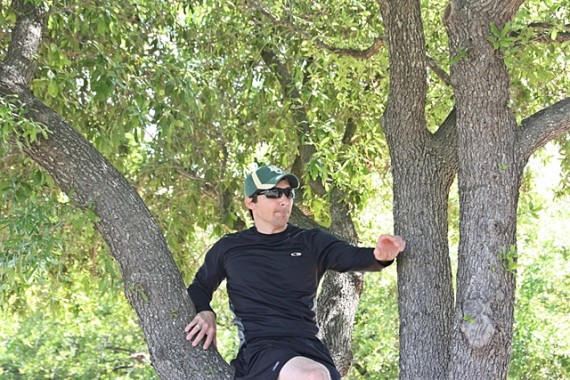 That didn't last long enough for me to get a picture! :)
Then this other 8 year old showed up and said he would get them out.  I never dreamed he would actually climb the tree, but in athletic shorts and CLEATS, he climbed that tree like a monkey!  He knocked the footballs and baseball loose.  We could not have done it without him!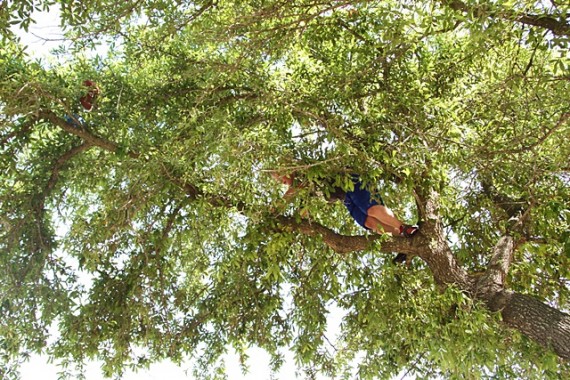 .
Then on Sunday, Brad didn't have to work at all.  It was a true blessing to have him home all day!  Don't get me wrong, we want him to have work and to be successful, but it is nice to have him around a little on the weekends.
The kids have been begging to go fishing, so we took them to our church and we had a great time!  They were actually vocal about how much fun it was…which is unusual!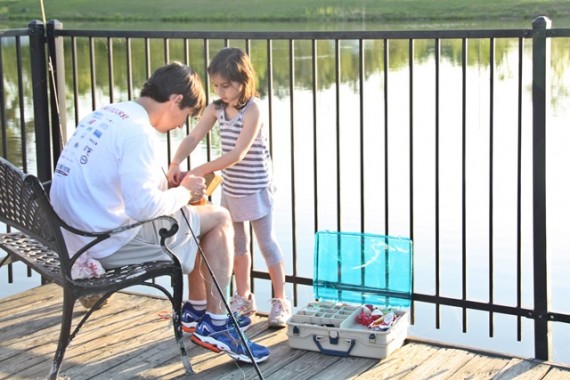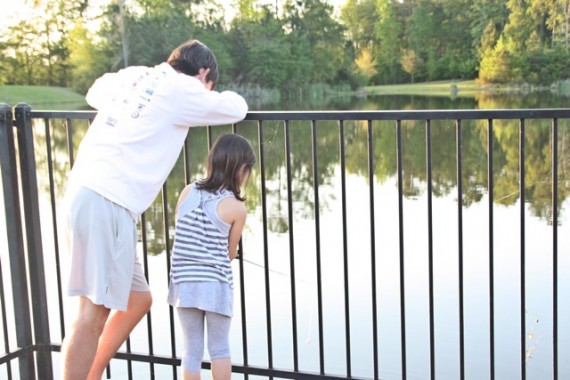 When did my baby start looking like a 16 year old?  I mean, she's acted like one for a while, but she is just looking so grown up!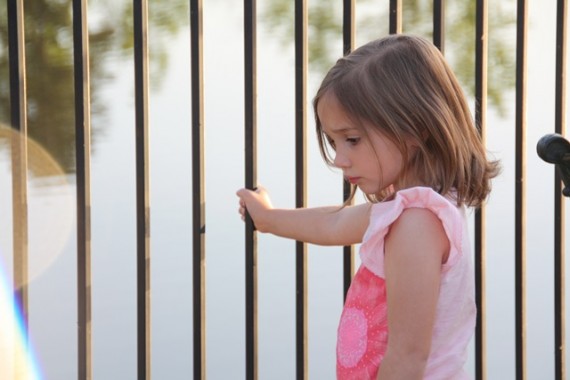 AnnaLeigh caught the first fish, and she was so excited!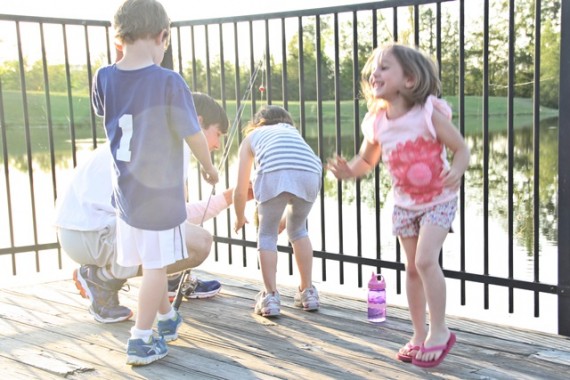 It was HUGE! :)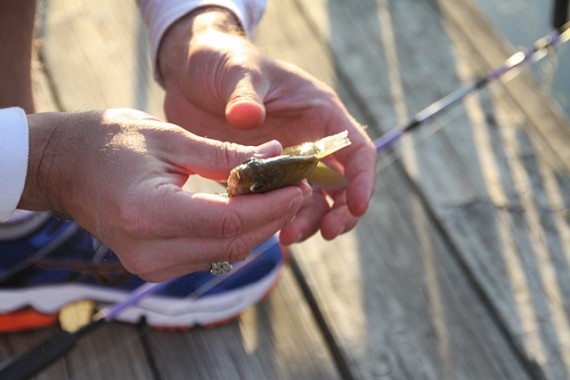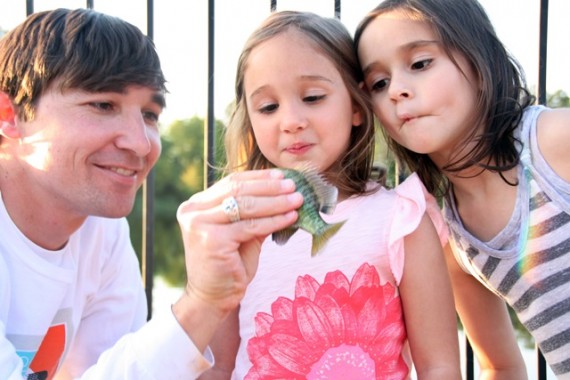 Then Lilly Katherine caught the second fish.  The picture below has to be one of my most favorite pictures ever!  It is so representative of my maniacs' personalities!  Lilly Katherine is so happy because she caught a cute little fish!  AnnaLeigh knew I was going to take a picture of the fish, and she wanted to make sure she was in the picture, posing!  Preston is so competitive that he had smoke coming out of his flared nostrils, with chest bowed, and though you can't see this in the picture, I am certain that his heart was pounding.  His sisters both caught a fish before him, but he would make sure he caught the last!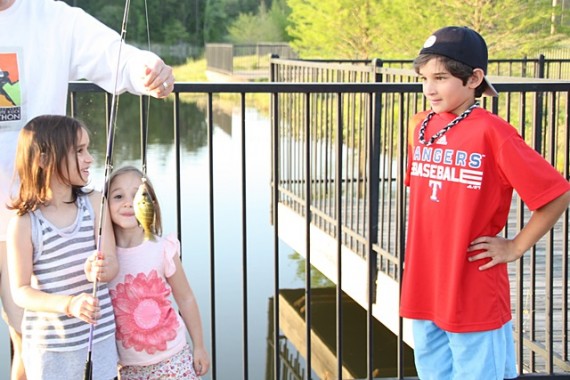 He "cast" his line right where the girls were, and he caught a giant fish!   He was happy!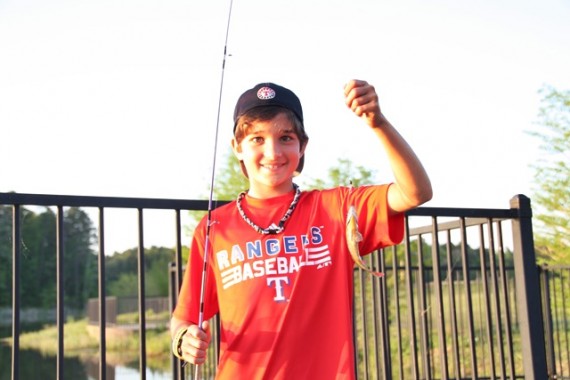 It was beautiful weather, we had fun with the whole family, and we were all thankful to get to spend time with DADDY!
"A righteous man who walks in his integrity—
How blessed are his sons after him."   – Proverbs 20:7

-kate
.