Okay, so this is the deal…
After 10 1/2 years in our wonderful home, we have been BLESSED with the opportunity to buy a house.  We have been praying for this move for YEARS, and it has been so clear that now is the time and this is the house.
We love our home.  We purchased it in 2003 from Brad's grandmother, a few months before I found out I was pregnant with Preston.  In our storage room Brad's grandfather's hat and calendar still hang right where he left them.  The calendar is still open to September 1996, the month he passed away unexpectedly.
This home is full of memories of Brad's grandparents as well as years of our own family memories.  This home has welcomed four babies into the world with warmth and safety.  This home has been the stage of many performances, many baseball and basketball games, many first wobbly steps, many sleepless nights, many warm fires, many giggles and smiles, and also some tears, temper tantrums, and tee-tee accidents. :)
The move is exciting and we really are thrilled, but it will be sad to leave the place we have called HOME for so long.
So I am going to try to give a brief (but you all know that I am not very brief) version of our story.
Our current home is a 3 bed/2.5 bath home with 1 living area.  It is perfect for us, and has served us very well.  Currently Preston and AnnaLeigh share a room and Lilly Katherine and Georgia share a room.  It works really well for us.  The only space that is tight is the closet that all 3 girls share, but most of that is due to the fact that they have way too many clothes!  As Preston gets closer to middle school, we know that he is going to need his own space.  I have always known that we would one day move, but Brad and I have never felt an urgency to do so.  I have said for literally years that we would know it when the time was right.  I have told my REAL ESTATE husband that we would know the house when we saw it.  We are both in real estate and we see every single house that comes on the market.  For years I have let myself into houses that I have liked, but none of them seemed to be "the one!"
My sweet, dear, MALE husband has always said, " I just don't think the decision is that emotional.  It's a house.  I don't think I will 'know it when I see it' because I can make any house work."  I would nod and smile and say, "Trust me…we will know it when we see it.  I know that the Lord has a house picked out for us."
So, for the last year, I have gotten more restless.  Not restless in our home in thinking that we have to move, but more restless wanting to know where the Lord wants us to go.  Preston is in public school, LK will be this year, and we wanted to make sure we were choosing a neighborhood that fed into a school that was a good fit for our kids.  Brad and I tried to do our research.  We talked to many people, visited many schools, and did a LOT of praying.
In December we even made an offer on a house close to where we live now.  It had a floorplan that was workable, and it was on the outskirts of a neighborhood we really liked, however it  was hideous and had a pool, which made me nervous.  Due to an error made by the other realtor, our offer did not get accepted.  It was such a strange situation, because we knew that the woman that owned the house really wanted us to have it.  Up until the closing date, she was hoping the other offer would fall through so we could buy it.  The second we found out about the error, I was certain that God protected us from that purchase and that He had an even better house picked out for us, and I was relieved to have such a clear answer.
We had decided that we needed to start looking south.  We were considering buying several acres, developing it into a neighborhood, and living out there.  This would be a big change for our family, but we started thinking that we needed to be southbound.
About a month ago, a group of us got together to pray for another family.  We were praying for their move and for their new house.  We were praying specifically and expectantly for several things.  As I was in the middle of my prayer (out loud in the group), I became so distracted with my own words that I could almost not finish praying.  I was thanking the Lord for their opportunity and thanking the Lord for the neighbors they would have and the automatic friends they would have on the street.  I was thanking the Lord for wonderful friends for their children and a safe neighborhood in which their children could run and play with kids that were such sweet kids.  I was asking the Lord to bless all the relationships that would be formed as the children grew up together.  And in that prayer, in communion with God, I felt an overwhelming sense (for the very first time) that all the things I was praying for these other children were exactly what God wanted for my babies.  It wasn't in any way a sense of jealousy of their situation, but simply a moment of complete clarity from God, regarding  where our focus needed to be.
Well, a few days later I heard that a friend of mine (that I had met at Bible Study Fellowship) was thinking about possibly selling their house and possibly going into missions and possibly leaving the country and possibly, possibly, possibly.
I figured it was a long shot, but I told her that if they ever sold, we would like to look at their house.  She let me in!
I could see everything that I ever wanted for my family was POSSIBLE with this house.  There are some things that we will change, but it was the first house we have ever looked at that all my dreams for our family's home could be a reality.  And on top of that, it was in a price range that made my dear husband happy.  Plus, I can see God's hand even in the little details…like the fact that it is attractive on the outside, it is a brick color that I like, it faces south, which sounds strange but I prefer north or south facing house, because I am weird!  It has a fabulous yard and a basketball goal worthy driveway (a MUST for Brad), and it's in the neighborhood we have always liked, and it comes with the best group of kids for our babies.
Brad and I went back together to see the house, and he immediately knew that this was "the house" for our fam.  He admitted that the decision was MUCH more emotional than he ever thought it would be.  It was so amazing to see such confirmation from him.  He is also positive that this experience has made him a better Real Estate agent, but I just don't know how he could get much better. :)
I will spare you anymore details, but I can tell you that a great deal of prayer went into the decision on our part and the current homeowners' part.  It was amazing to see God open doors (literally) for us with the house, and at the same time, we had the opportunity to pray for their family and the life changing decisions that they were going to make.  We prayed for them to have clarity, because although we were falling in love with the idea of this house, we were not sure they were even going to move…and if they did move, we didn't know if it was going to be in 4 weeks or 12 months.  We prayed for them to have a job opportunity that would be a clear directive from the Lord.  We prayed for timing and their children's hearts and our own hearts and pride and our attitudes and so many more things, and I am telling you that I saw things answered before my eyes!
The homeowners received clear direction and have an awesome opportunity to move to Portugal!  Talk about life changing!  And they are moving in 2 weeks!  Talk about some quick answers.  Now, God is not always quick to answer, but when He started revealing things to us it all fit together like perfect pieces of a puzzle.
I know that this is the house that the Lord has had ready for us for all these years.
After we finalized everything with the other family, we took our babies to see the house.  It was such a precious and exciting day, and of course I took some iPhone pics! :)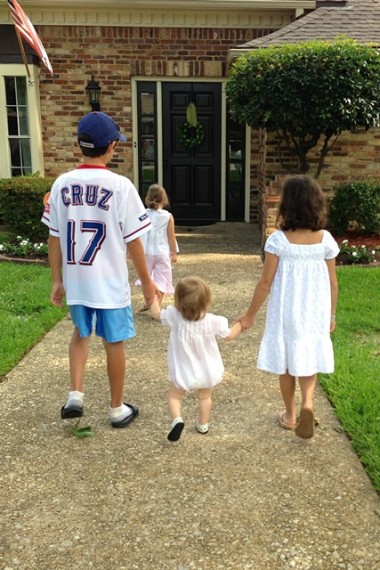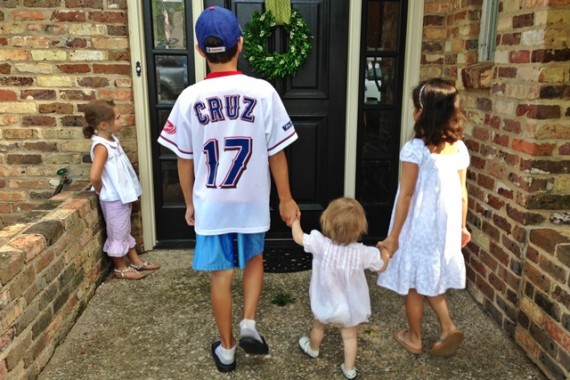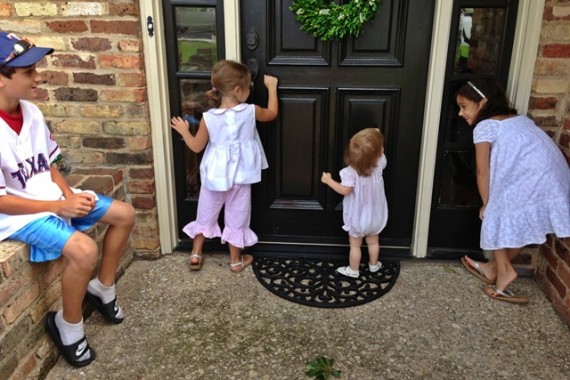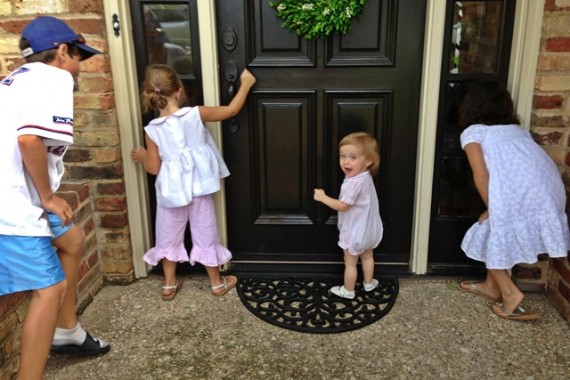 Preston is so excited that he is going to have his own room, and the girls are most excited about the perfect little cottage that is in the backyard.  They were in heaven!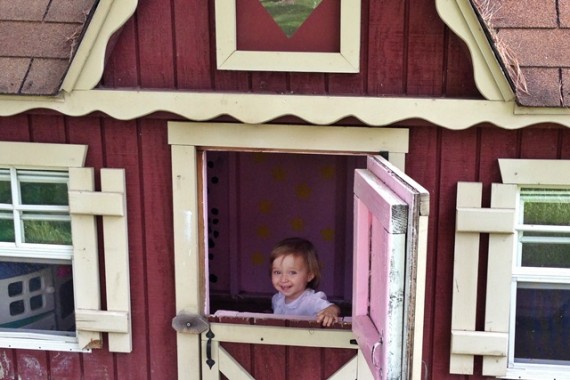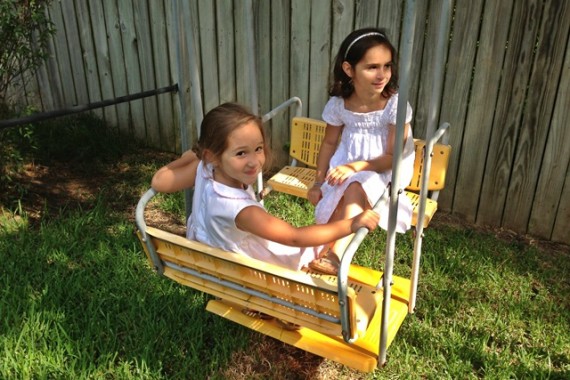 Now, here is my confession.  I spent all kinds of time in the Word and felt close to the Lord as we were going through the beginning stages of this process.   I prayed daily, hourly, almost every minute about the details of this home.  I truly felt His presence in the decisions we were making.  And then…everything worked out…and I…checked out!  I started thinking constantly about the house.  As of 2 weeks ago, I would officially call myself a Pinterest and Houzz ADDICT!  I mean A-D-D-I-C-T!
I have lost all self control!  I will spend HOURS, literally HOURS a day on Pinterest and Houzz.  They are fun and fabulous and so bad for me!  Let me tell you, my Pinterest house ROCKS!  Y'all are all going to want to come see how lovely it is…except that my virtual budget is a little different than my actual budget.  Funny how that happens.
I tell you all of that so you will know that every night I sit down to blog about this exciting news, and every night I decide that I will check Houzz "real quick" and the next thing I know it's 2 am!  Yes, I think i went to bed at 2 am every single night last week…because I was on HOUZZ!
I wasn't doing dishes.
I wasn't doing laundry.
I wasn't doing anything that would be beneficial to the 4 little faces staring at me all day long.
I was, however, designing a pretty amazing make-believe house…that will never actually come to fruition…at least not like my Pinterest boards.
On Friday, as I was doing my "Jesus Calling" devotional (you know, my 2 second devo, so I could quickly move on to Houzz) I was hit in the face with this.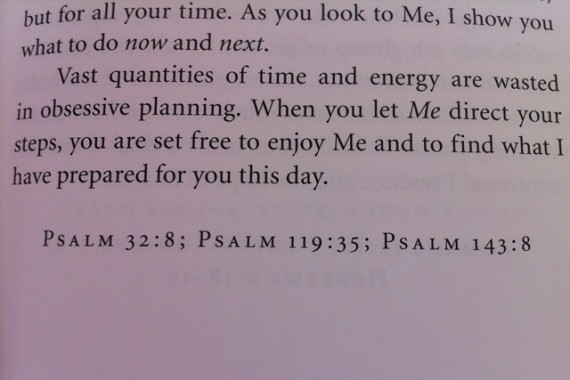 Apparently, I am much like my children.  I heard the Word of the Lord loud and clear, I recognized it as a warning and a teaching moment, and I even told myself I was not going to obsess over the house, and then I was up until 2 am again.
So, last night I sat down to do my Sunday School lesson.  I teach High School girls, and our lesson was based on Matthew 6:19-34, which of course starts with this sentence, "Do not store up for yourselves treasures on earth, where moth and rust destroy and where thieves break in and steal.  But store up for yourselves treasures in heaven…"
OKAY, GOD!  I see that I have a problem.  Then as I continued to read the text about "Do not worry about your life, what you will eat or drink…what you will wear," I noticed my note at the bottom, and as I read it I couldn't help but cry and thank the Lord!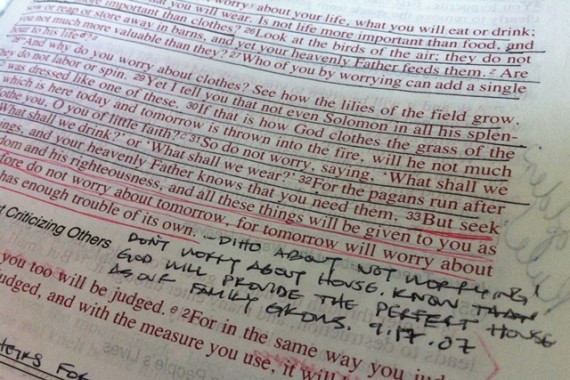 September 17, 2007!  Almost 6 years ago, I was claiming that God knew where we would live and had the perfect house picked out for us.
And He did!
And we are so excited.
And we are blessed beyond words!
But I have realized that the house does not need to become my God, but in everything I need to focus on the One True God and be so thankful for this amazing opportunity.  I will still have to make decisions, so I know I will have to consult Pinterest and Houzz…but not until 2 am, or all day long.  But I am so excited to move into the home in which we will raise our maniacs, and the home that they will refer to as "the house they grew up in."
-kate
.
Matthew 6:19-34
Treasures in Heaven
19 "Do not store up for yourselves treasures on earth, where moths and vermin destroy, and where thieves break in and steal. 20 But store up for yourselves treasures in heaven, where moths and vermin do not destroy, and where thieves do not break in and steal. 21 For where your treasure is, there your heart will be also.
22 "The eye is the lamp of the body. If your eyes are healthy,[a] your whole body will be full of light. 23 But if your eyes are unhealthy,[b] your whole body will be full of darkness. If then the light within you is darkness, how great is that darkness!
24 "No one can serve two masters. Either you will hate the one and love the other, or you will be devoted to the one and despise the other. You cannot serve both God and money.
Do Not Worry
25 "Therefore I tell you, do not worry about your life, what you will eat or drink; or about your body, what you will wear. Is not life more than food, and the body more than clothes? 26 Look at the birds of the air; they do not sow or reap or store away in barns, and yet your heavenly Father feeds them. Are you not much more valuable than they? 27 Can any one of you by worrying add a single hour to your life[c]?
28 "And why do you worry about clothes? See how the flowers of the field grow. They do not labor or spin. 29 Yet I tell you that not even Solomon in all his splendor was dressed like one of these. 30 If that is how God clothes the grass of the field, which is here today and tomorrow is thrown into the fire, will he not much more clothe you—you of little faith? 31 So do not worry, saying, 'What shall we eat?' or 'What shall we drink?' or 'What shall we wear?' 32 For the pagans run after all these things, and your heavenly Father knows that you need them. 33 But seek first his kingdom and his righteousness, and all these things will be given to you as well. 34 Therefore do not worry about tomorrow, for tomorrow will worry about itself. Each day has enough trouble of its own.