I have mentioned many times that I LOATHE mornings.  I am a night person!  For example, it's 12:44 on Sunday night and I'm eating a muffin and starting a blog post while washing loads and loads of laundry.  I go to bed LATE, and I love it…until the next morning.  Because of my bad night-owl habits, I try to simplify mornings as much as possible.  My kids and my sweet morning-person hubby have learned not to talk to me too early.  Bad things happen.
Morning for me often starts when my poor son is standing over me begging me to make his lunch so he can go to school.  I wait as late as possible, then I stumble into the kitchen half asleep, fix my coffee, sit down and try to open my eyes.  When I am able to stand without falling asleep on my feet, I make Preston's lunch and try to talk myself out of going back to bed…since there are usually 3 other needy little people standing at my feet.
I don't always eat breakfast, but when I do, I love things that are easy!  Many times I will have Granola Bars or Banana Bread on hand that I can reach for, but lately these little muffins are my most favorite breakfast/snack!
My friend Lisa made these delicious oatmeal muffins for me a few weeks ago, and I have made them 3 times since then, including tonight.  They are so very easy and delicious!   They took only 12 minutes to make, start to clean-up…and I'm slow!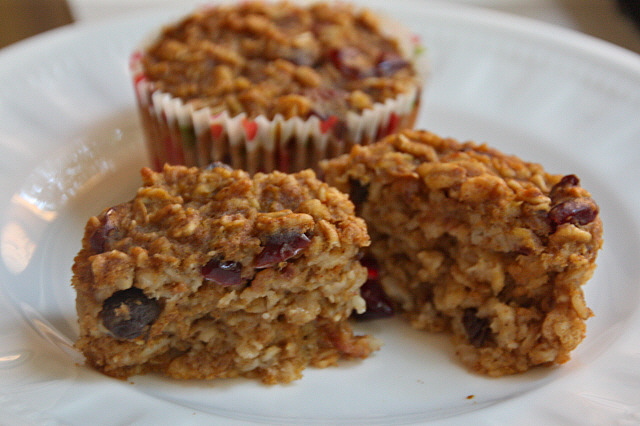 These little oatmeal muffins are just like a bowl of oatmeal in a muffin cup.  They are so delicious, fast, and healthy!
Recipe for Oatmeal in a Muffin Cup
You will need:  Oatmeal, Brown Sugar, Baking Soda, Salt, Cinnamon, Craisins, Milk (Regular Cow's milk or Coconut Milk), Egg, Vanilla, Butter, and either Pumpkin, Banana, or Applesauce (but not all 3!)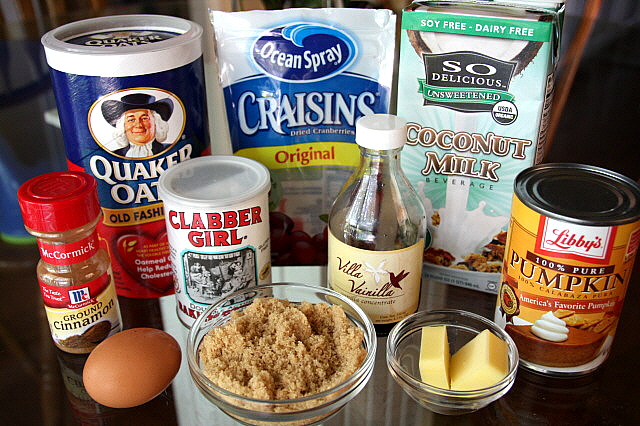 Mix all of your dry ingredients (oatmeal, brown sugar, baking powder, salt, cinnamon, and craisins) together in a large bowl.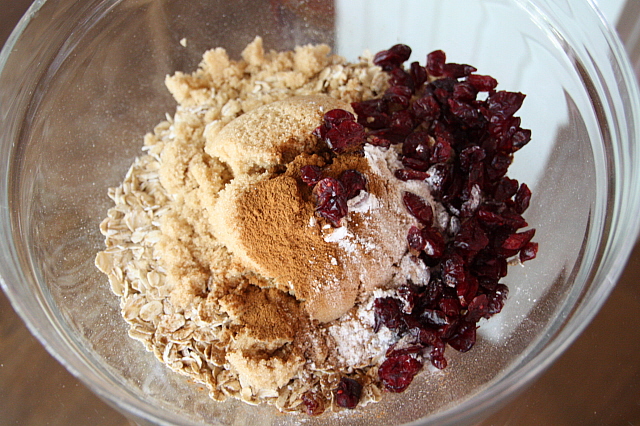 Form a well in the middle of the dry ingredients.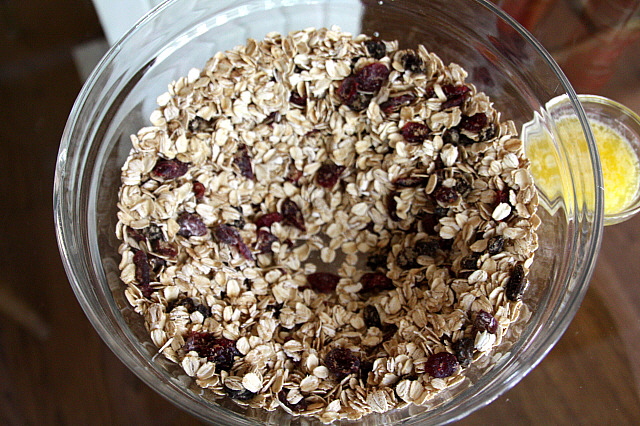 Beat one egg.  Add the vanilla to the egg, and stir.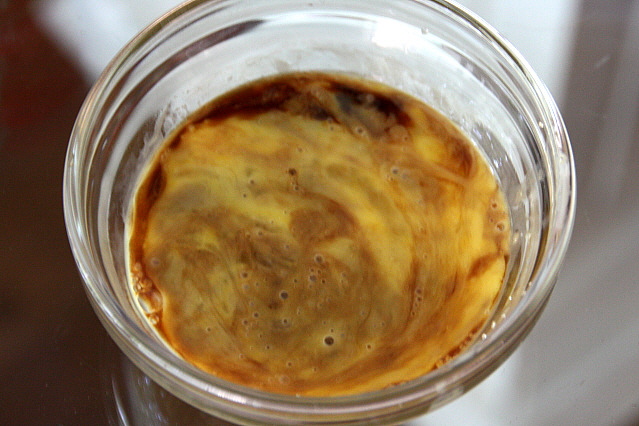 Pour the wet ingredients (Milk, melted butter, egg, vanilla) in the well.
I have never used Coconut milk in my life!  If you don't have coconut milk, just use regular cow's milk.  I just wanted to try something different, because my sister and my friend Elicia are always talking about using things other than cow's milk.
Coconut milk or cow's milk…I've made it both ways…it tastes great either way.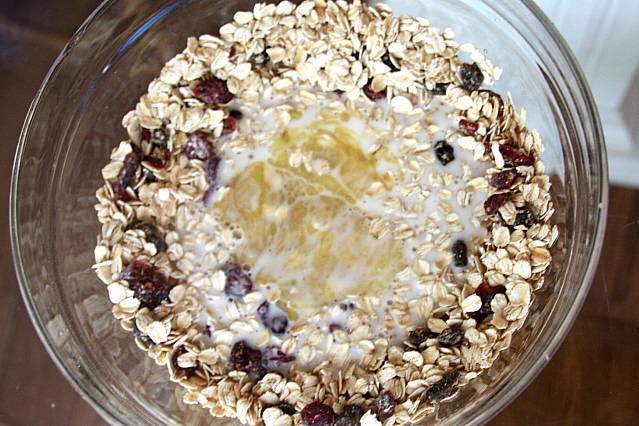 In these pictures, I used half a can of pumpkin puree.  You may use a variety of things for this step.  Use ONE of the following, or make up something crazy!
2/3 cup Canned Pumpkin Puree (about 1/2 the can)
or
1/2 Cup Unsweetened Applesauce
or
2/3 Cup Mashed Bananas (2 small or 1 large ripe banana)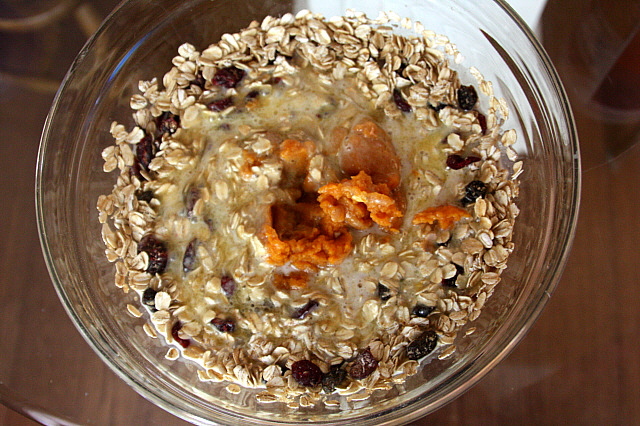 Stir all ingredients well.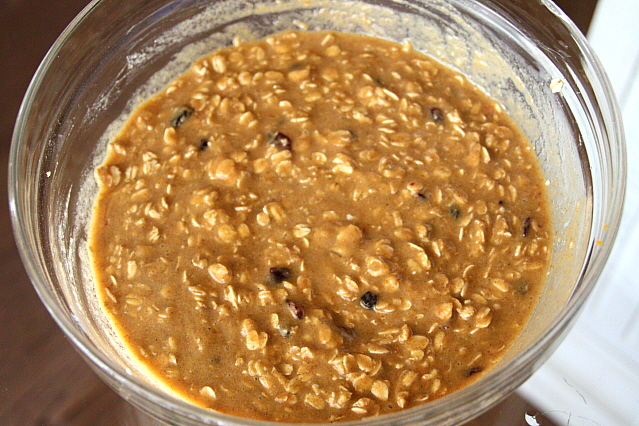 Fill 12 lined muffin tins evenly.  Bake at 350° for about 25 minutes.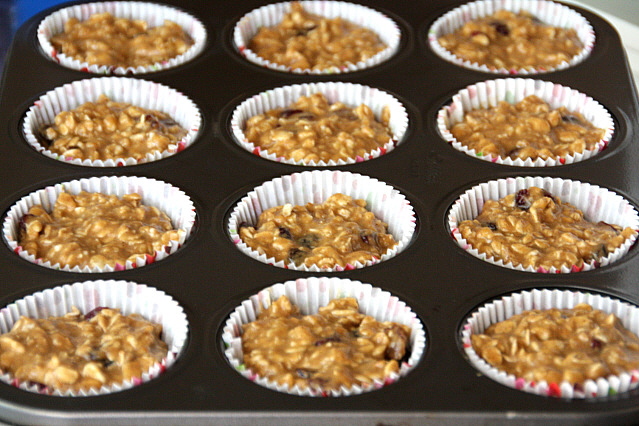 As I was making the muffins, this crazy maniac put on her sister's recital outfit, her jewelry, and "make-upped" herself, then told me to come listen to her show.  She has learned LK's recital routine and performs it all day every day, singing it at the top of her lungs.  It's become Pinky's theme song!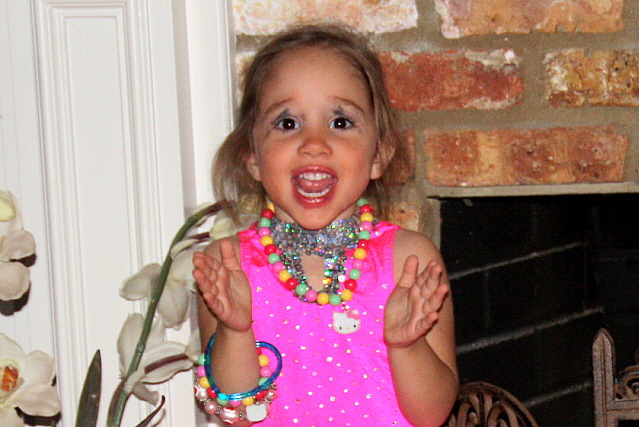 "I am a stah, a stah that's bwight!  I weawy am a gwamowous sight.  In the movies, stage, ow on tv, peep-oh wuv to wook at me!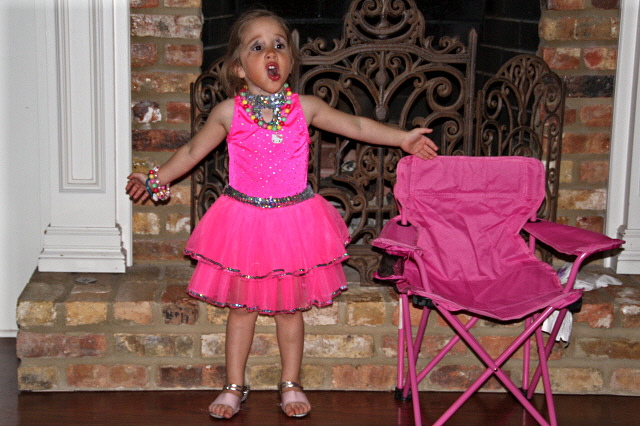 "…From my head down to my toes, I am a stah the ho wowd knows."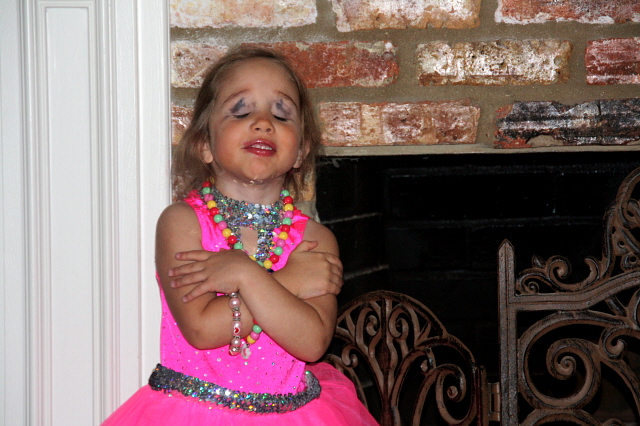 The girl is a mess!  A serious mess!
Back to the oatmeal muffins…
Take them out of the oven and let them sit in the pan for about 10 minutes, then remove them and let them cool on a cooling rack.  Otherwise, they tend to sweat too much and the paper gets a little soggy.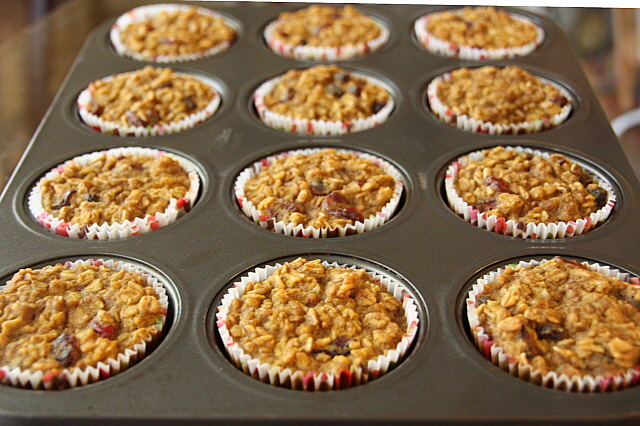 Enjoy!
Store them in the refrigerator.

Recipe for Oatmeal in a Muffin Cup
Ingredients:
2 Cups Oatmeal
1/2 Cup Brown Sugar
1 tsp Baking Powder
1 scant tsp Salt (more like 3/4 a tsp)
1 tsp Cinnamon
1/2 Cup Craisins
1 1/2 Cups Milk (Coconut milk or low fat cow's milk)
2 Tbsp Melted Butter
1 tsp Vanilla
1 Egg
Choose one of the following.  1/2 Cup Unsweetened Applesauce OR 2/3 Cup Pumpkin Puree OR 2/3 Cup Mashed Ripe Bananas
Combine the oatmeal, brown sugar, baking powder, salt and cinnamon.  Stir well.  Add the Craisins.  Stir.
Make a well in the center of the dry ingredients.  Beat egg and stir vanilla into the egg.  To dry ingredients, add milk, egg, vanilla, and melted butter.  Next add either applesauce OR pumpkin puree OR mashed bananas.  Stir until all ingredients are combined and fill 12 lined muffin cups.
Cook at 350° for 25 minutes.  Remove from the oven and let them stand 10 minutes.  Take them out of the muffin tin and let them cool on a cooling rack.  Store in the refrigerator.
Have a lovely Monday!
-kate
.