Last weekend, Brad and I loaded up the kids and drove to Baylor for Homecoming.  We planned on leaving our house at 7…HA!  Yeah, those that know me, know how laughable that is.  We left at 8:30, and managed to completely miss the parade.  We drove in the second it ended.  However, we got to see some great friends, and we had a BLAST!
We checked the floats out after the parade, and the maniacs decided that this was their favorite one!  It had many of the players and coaches that made this year "The Year of the Bear!"  Look how little AnnaLeigh and Lilly Katherine are compared to the people on the float.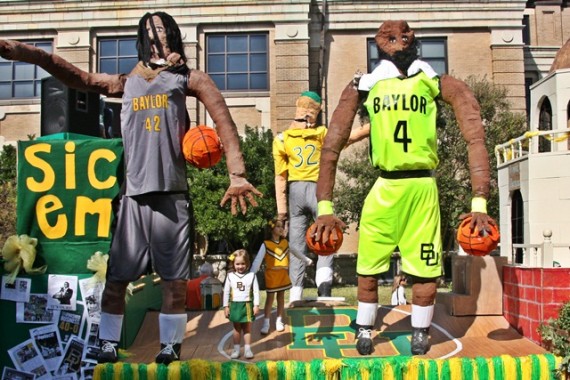 RGIII!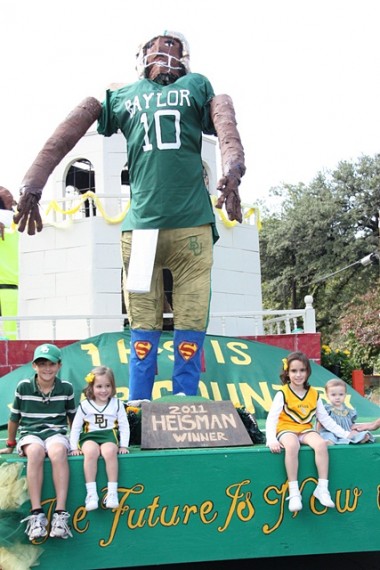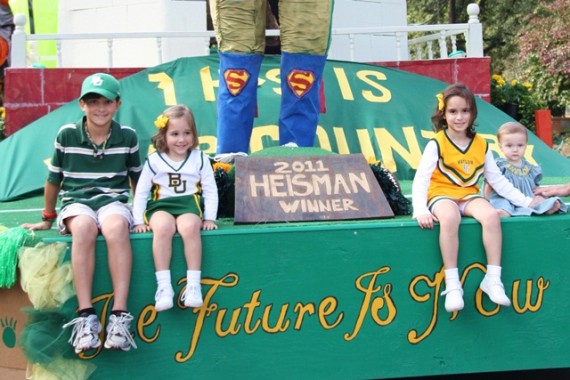 Judge Baylor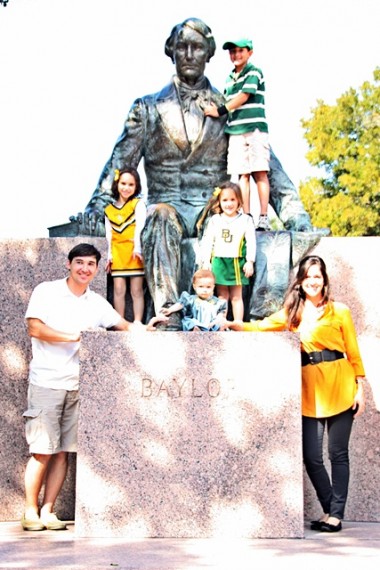 Then we went to the game!  Actually, Brad and Preston went to the game, and the girls and I just tailgated and hung out with some of the most precious women in my life!
(Ashley, Kristin, (me), Kimberly, Samantha)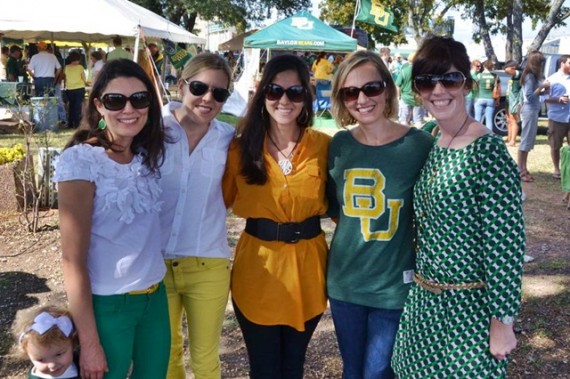 These women have been a blessing in my life for so many years!  I pray all the time that my daughters will have friends like these women!  We have shared oh so many memories together!  Love you, girls!
As we hung out, so did all our maniacs!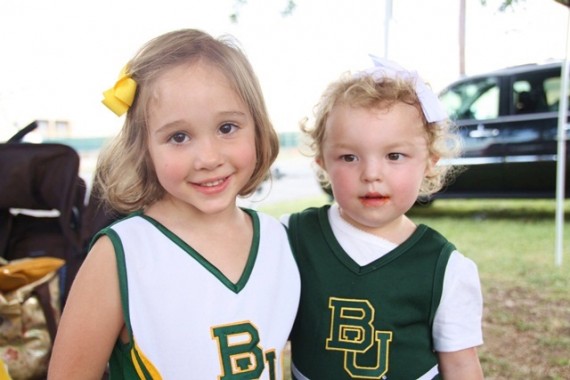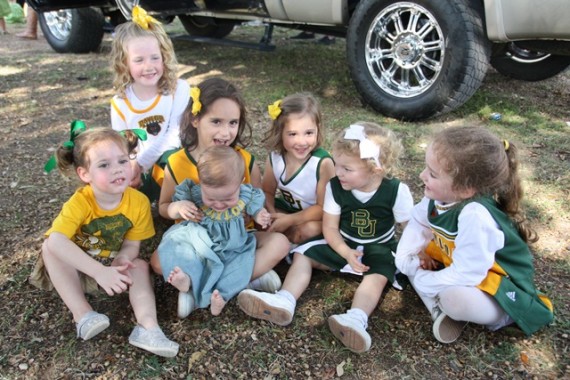 The girls cheered…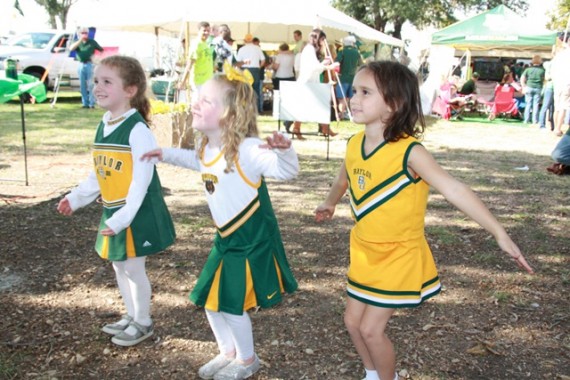 And the boys played football…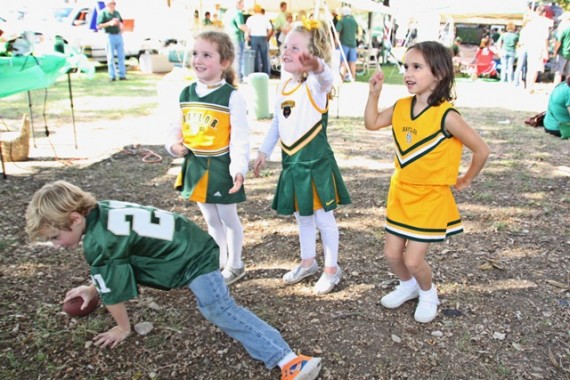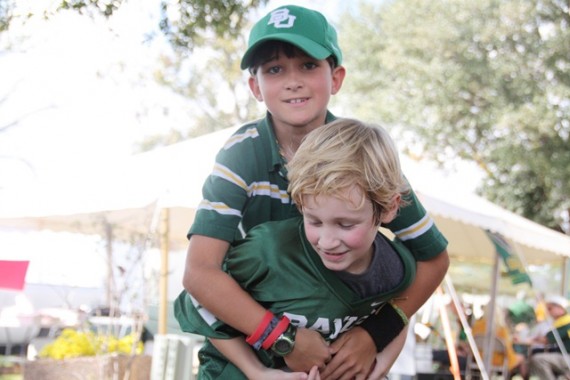 And sweet Georgia hung out with the mamas!  She was a perfect angel all weekend, despite getting little sleep and eating whenever I remembered to feed her.  Poor fourth child!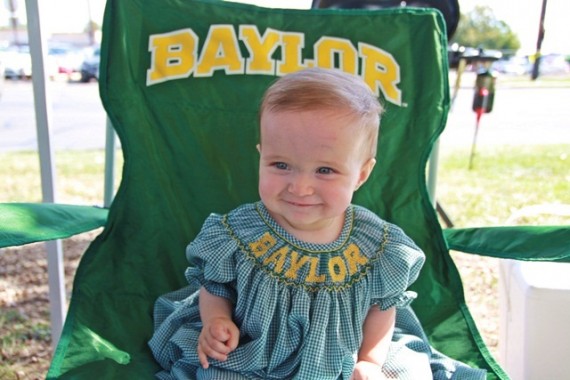 Allow me to add a little detail.  I have not smocked a dress since before AnnaLeigh was born…so almost 4 years!  I decided a few days before Homecoming that I wanted to smock Georgia a Baylor dress.  My dear, sweet, patient friend Mary Lynne helped get me started and encouraged me and reminded me how to thread a needle!  Then I basically didn't sleep the 2 nights before homecoming, and I finished the dress as we were pulling into Waco!  It may or may not have have looked like Lilly Katherine smocked it and it may or may not have been rigged and safety pinned in a few places, but Georgia wore it with pride!
My babe and my baby!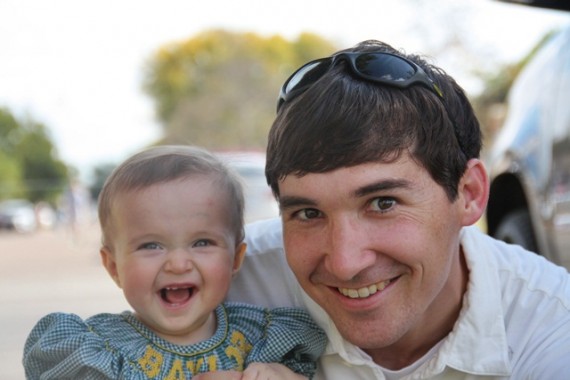 This is silly Jackson, and this is the ONLY picture I have of him!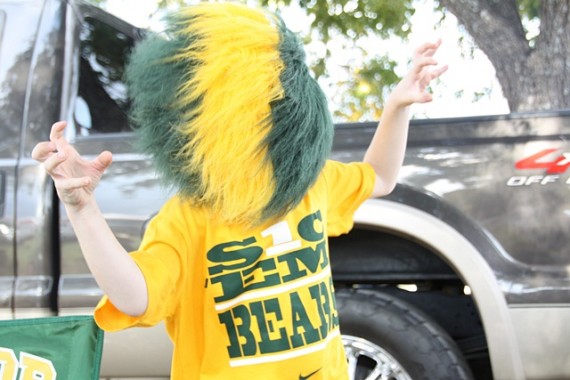 This picture makes my heart happy! Clara, Campbell, and Lilly Katherine have so much fun together, just as their mamas always have!  Kimberly, Samantha, and I have been pretty inseparable since middle school.  That's a lotta years!  I just pray our babies will have the opportunity to have the kind of relationship we have.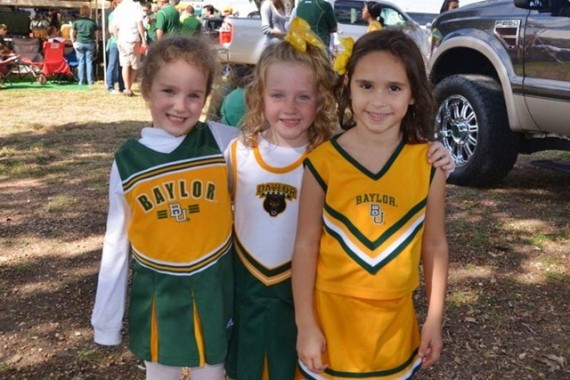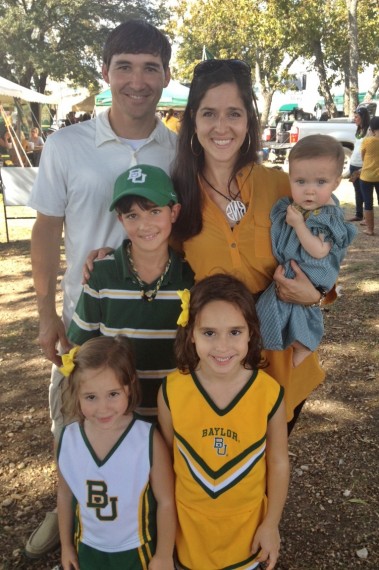 The game was delayed due to rain, but as we were leaving, we saw this magnificent sign from God!  I'm pretty sure he was just smiling down on Baylor! :)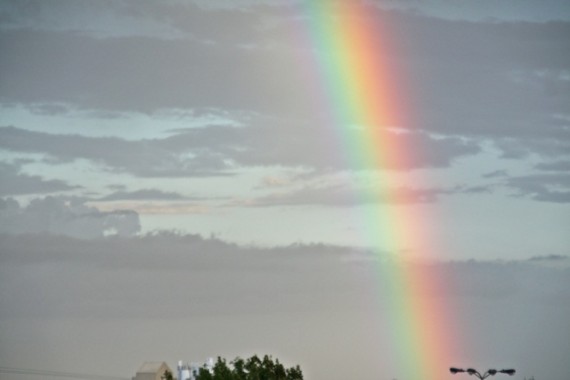 We stayed with our wonderful friends, Jordan and Blair!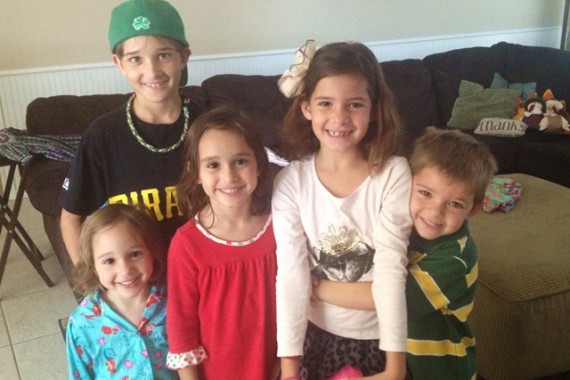 Our kids had so much fun together, with the exception of some love spats between Preston and their daughter, Keely!  We saw this on Keely's white board, and we were cracking up!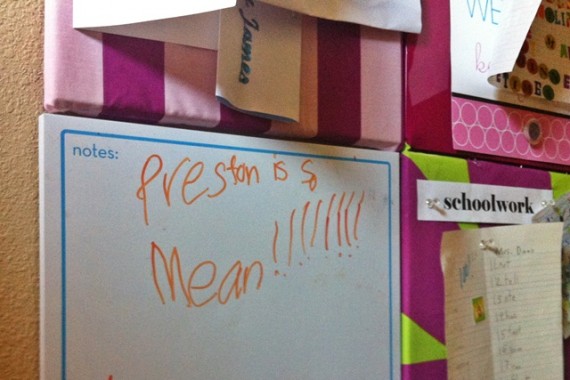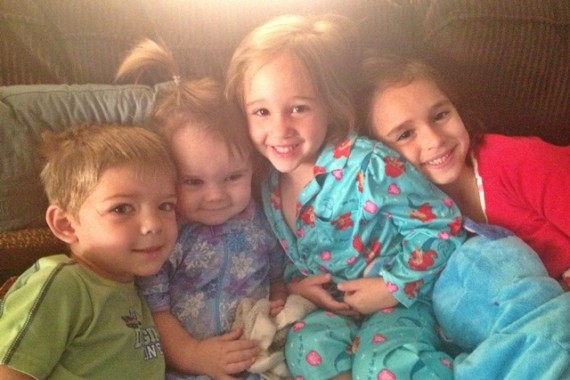 The next day we hung out on Baylor's beautiful campus.  I can't walk across campus without smiling and thinking of college and all the amazing memories made there.  I pray that my kids are really smart and get great scholarships…because four kids at Baylor…uh…maybe we should be pushing a different school!
Baylor has an amazing Student Life Complex that was built while we were there.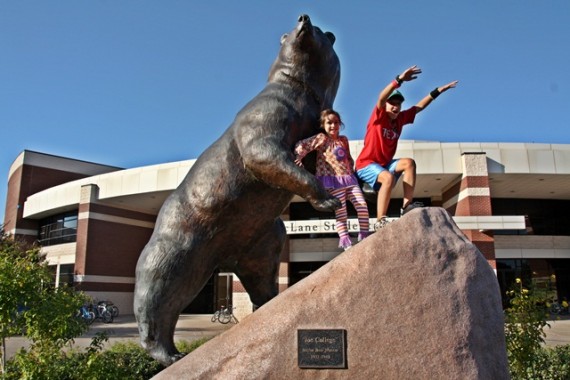 Preston did the rock climbing wall like a champ!  I was so proud of him for stepping up and doing it.  That was a big move for my cautious, logical first born.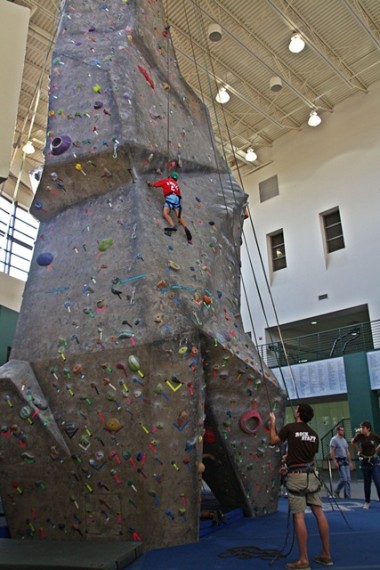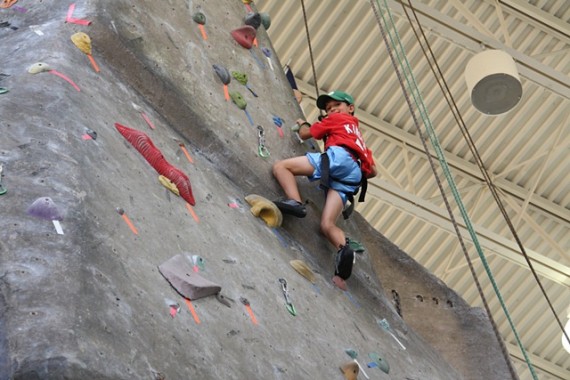 We can not go to Baylor without visiting the Bear Pit.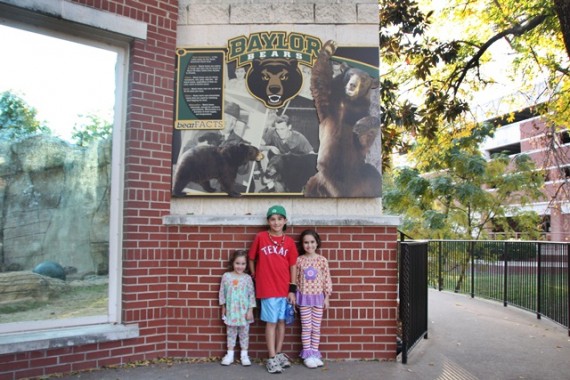 Words can simply not describe that maniac!  And I think Lilly Katherine was talking to the bears.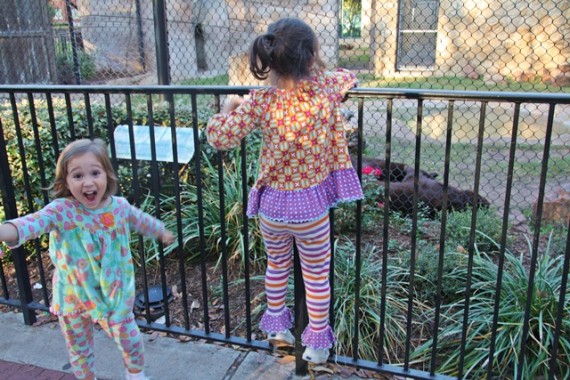 This lovely picture is the best one I got of the 4 maniacs at Homecoming…and it cracks me up!  P is actually doing as he was told.  G is screaming.  A is as dramatic as ever.  LK is half asleep.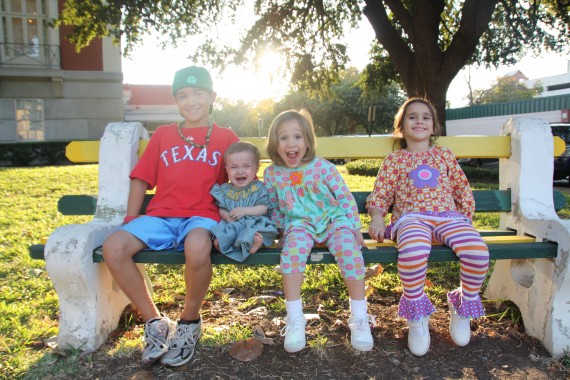 Speaking of half asleep, I'm there!  Off to bed!  Have a lovely Monday!
-kate
.