This is a family recipe that has been passed from generation to generation.  I don't remember my grandmother making it, but I remember my mom making it, and it's always been called Grammy's Chocolate Sauce!  Yesterday I taught Lilly Katherine how to make it.  I was telling her what I remember about my Grammy.
Grammy was my great-grandmother (my mom's mom's mom).  I don't remember much about her, but I do remember that she had a "mo-ly mo-ly mole!" (or two) on her face…and they were hairy and scary to me as a child.  I was telling Lilly Katherine about her and I said she was pretty short, but she was strong and feisty.  To which LK responded, "So she was like AnnaLeigh."  Why YES…much like AnnaLeigh!
Grammy passed away about 20 years ago, but they still talk about her at the nursing home because she escaped, then she jumped the fence and broke her hip.   She is probably still talked about in her old neighborhood, too, because she apparently left the house wearing NOTHING but her belt, her boots, and her necklace.  At least she was well accessorized!
I guess I come from a long line of crazies.  I don't have a prayer!
Well enough about Grammy.  This is her wonderful Chocolate Sauce!  Sometimes I eat it on ice cream.  Sometimes I just eat it!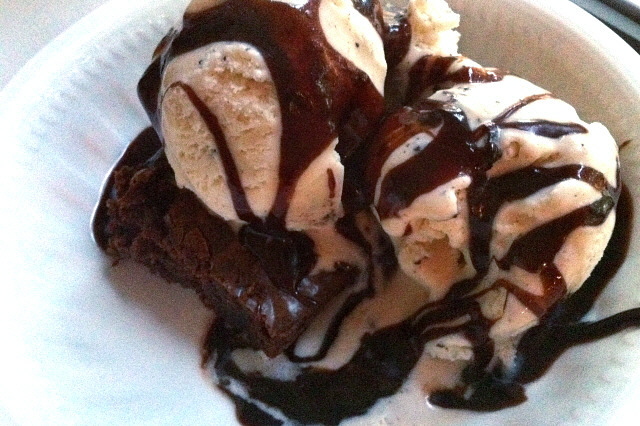 I make it all the time!  This recipe is so easy to memorize.  We call it a "fourth, a fourth, a fourth, a cup, and a teaspoon."  Not too hard to remember!  This recipe takes less than 5 minutes to make and uses 5 ingredients that you are sure to have on hand.
Grammy's Chocolate Sauce Recipe
What you will need:
Milk, Cocoa, Sugar, Butter, and Vanilla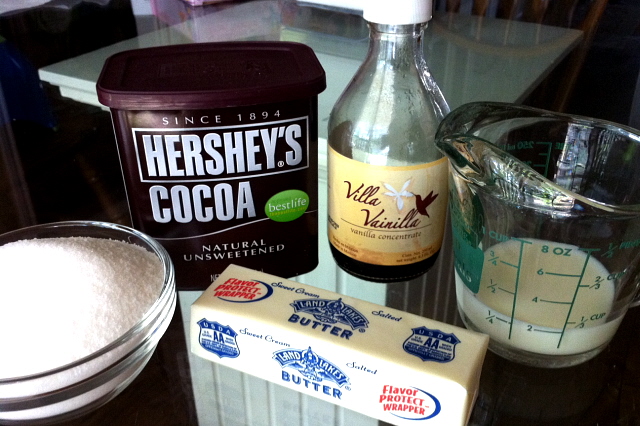 Place all ingredients in a saucepan.  Lilly Katherine did the entire thing for me so I could take poor quality pictures with my phone. :)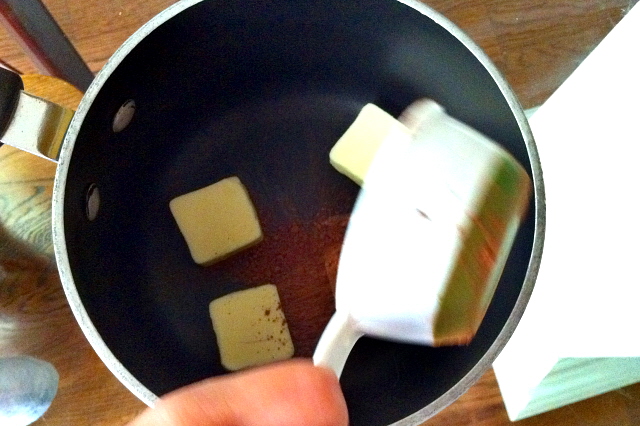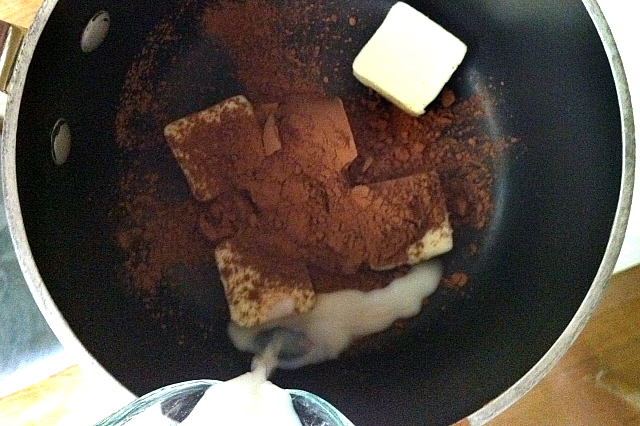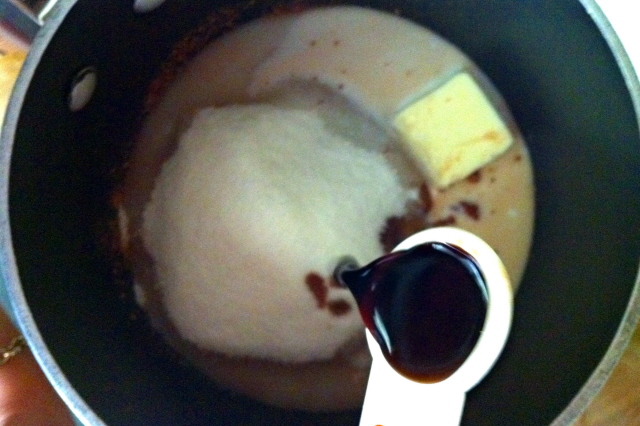 Turn heat to medium-high.  Stir frequently.
When the chocolate comes to a rolling boil (which will not take long), set the timer for 1 minute.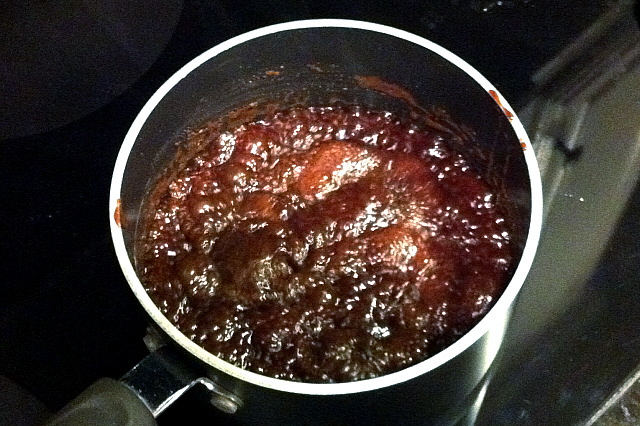 Boil rapidly, stirring occasionally for exactly one minute, then remove from heat.
Serve over ice cream or just eat it by the spoonful. :)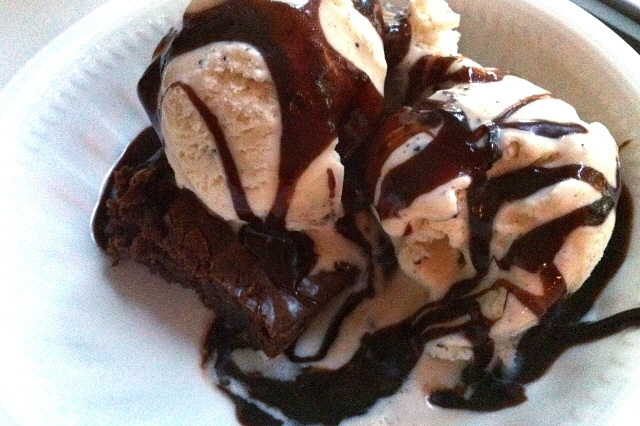 Refrigerate leftovers.  You will be happy to have leftovers, trust me!  Because the next morning when you wake up, this will be waiting in your refrigerator…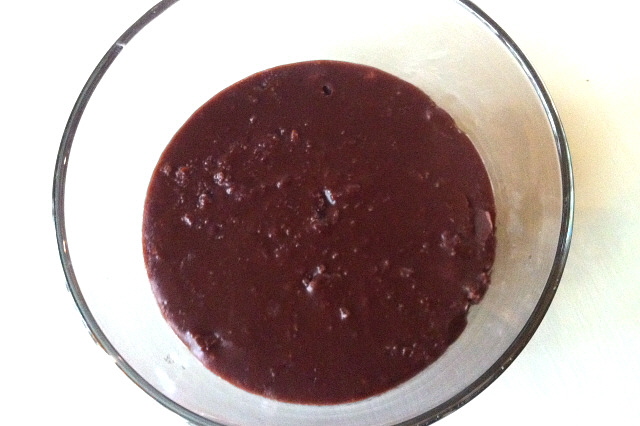 My favorite part about Grammy's Chocolate Sauce is eating it the next day…maybe for breakfast.  It solidifies in the refrigerator into a rich sugary fudge!  MmmMmmMmm!
You can only see the top of my head in the reflection of the spoon, but you can tell that I'm excited about that bite!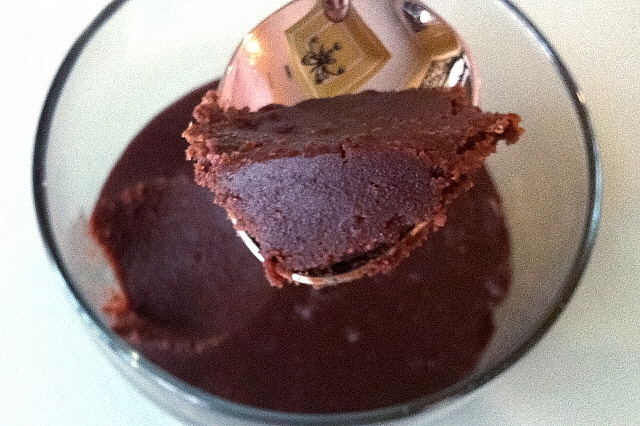 YUM!
Recipe for Grammy's Chocolate Sauce
Ingredients:
1/4 Cup Butter
1/4 Cup Cocoa
1/4 Cup Milk
1 Cup Sugar
1 tsp Vanilla
Place all ingredients in a saucepan.  Bring to a rolling boil over medium-high heat.  Let it boil for exactly 1 minute, then remove from heat.  Let it cool a few minutes before putting it over ice cream.  Refrigerate leftovers.
Eat the leftovers with a spoon (or reheat in microwave if you want to serve it over ice cream.)
Have a lovely ice cream and chocolate sauce filled weekend!
-kate
.