I've mentioned before that getting Preston to do his homework is often the hardest part of my day.  He is so smart, but he just doesn't like to sit still long enough to read.  I needed something to motivate him and a Reading Pillow sounded like a good idea.  A few months ago I ran across a similar idea in a magazine and tucked it away in my scattered little brain.  I can't remember what magazine…probably Family Fun, and probably a very old issue.  Sorry, I'm not sure.  Anyway, I decided to make Preston his own little Homework Pillow.  I'll do anything to motivate that child to read!  ANYTHING!
I gave Preston his new "Reading Pillow" for his birthday, and he seems to really love it.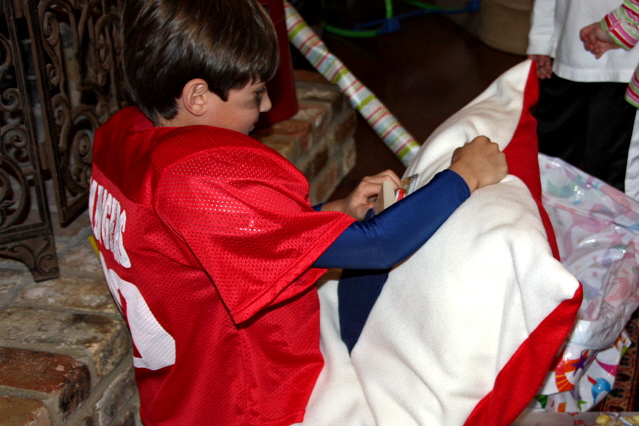 Remember his "Homework Nook" that's located in our bathtub? It has really worked out well for us.  It gives him his own space and he really does use it every day!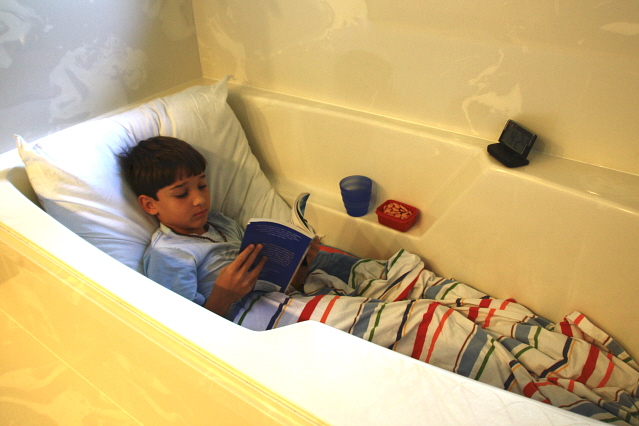 There was a naked white pillow in his nook, with no pillowcase on it.  I decided this was the perfect opportunity to dress it up a little…for less than $4.
I made him a Reading Pillowcase for his pillow.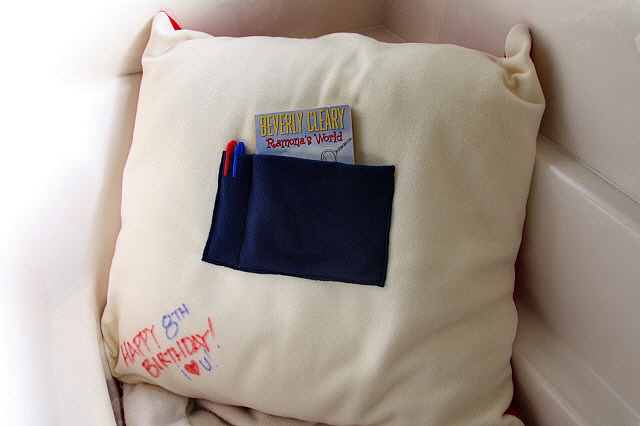 It has a pocket to store the book he is currently reading, plus a place for a sharpie or pen.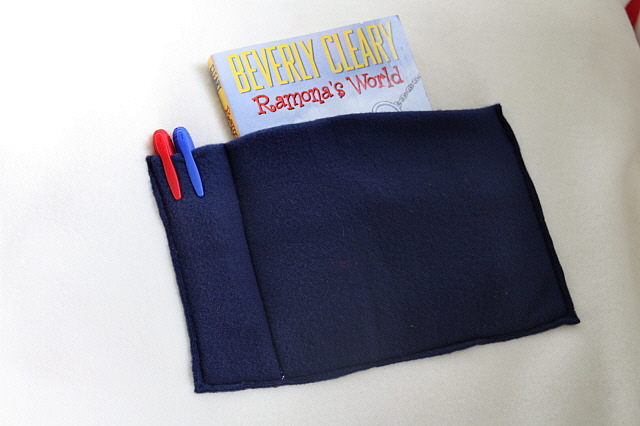 As he completes each book, he gets to WRITE THE TITLE OF THE BOOK ON THE PILLOWCASE!  :)  That's right!  He gets to write on his pillowcase the title of all the books he completes.
He can see his progress and it motivates him to finish reading his book!  It helps that this is his special pillow and the girls are not allowed to touch it, write on it, look at it, or breathe on it!
Of course my wonderfully type-A child wrote the title of his first completed book exactly where the book itself was placed.  My sweet son lives  inside a very small box, friends!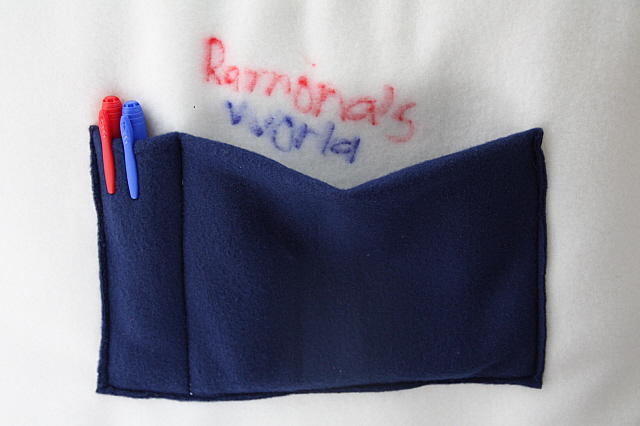 I wish I could show you how to make a Reading Pillow.  Unfortunately I did not take a single picture of this process…because at 2 am the night before my son's birthday (when I decided to whip this little puppy out) I was just trying to get things done!  :)
Select enough fabric to cover your pillow.  This Euro sized pillow took about 1 1/3 yards.  I used white on the front and red on the back.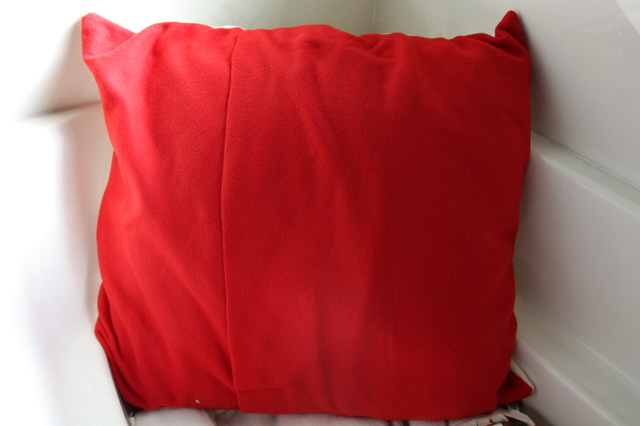 I used fleece because it's so cheap and easy to work with, however I've discovered that it's not very easy to write on.  If you choose fleece, you don't even have to sew the edges.  You could just knot it as we did these blankets.
Easy.  Cheap.  Motivating.  My kind of project!
By the way, WE ARE ONLY DAYS AWAY FROM MEETING BABY #4!!! :)
I know it's easier to care for this baby while it's safe inside my belly, but I'm so ready to see what Cletus the Fetus is, to hold it, to love on it, to kiss those sweet soft toes, and to see that sweet sleeping grin!  What a precious gift from God!  I'm having a contraction just thinking about it!!!
Happy Wednesday!
-kate