We had our annual church Easter Egg Hunt and Potluck Lunch this past weekend…always a fav for my fam!  It was so much fun!  My sister and I decided to stick around and take a few family pics after the festivities were over.
What do you get when you have 7 tired children who have been at church for 5 hours all dressed in their Sunday best- running around sweating and hunting Easter Eggs and playing with their friends and eating Easter candy? (besides a run-on sentence?)
You get pictures that look like this…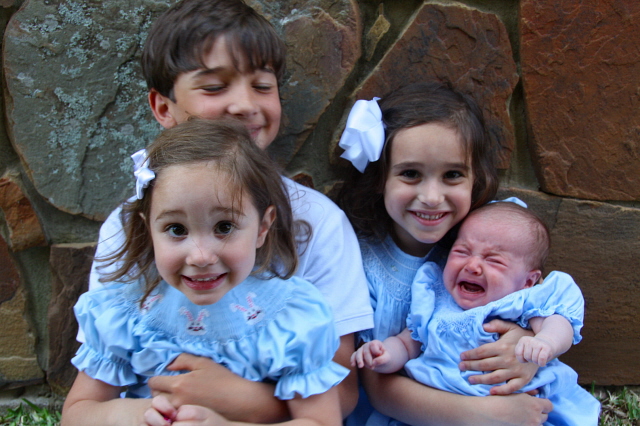 and this…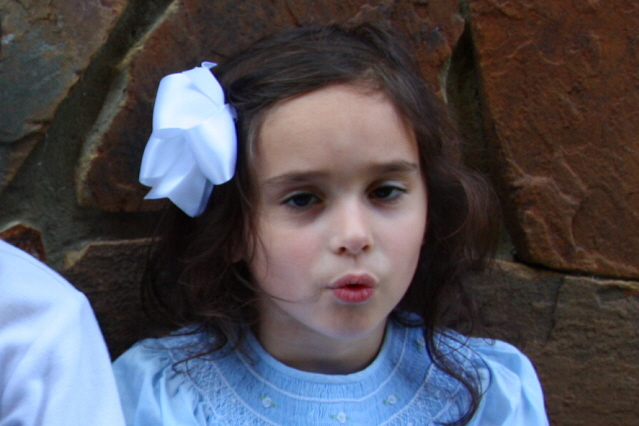 and this…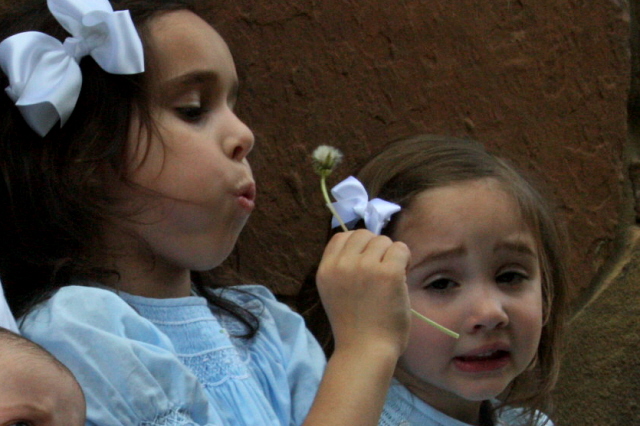 and this…my goodness, this was the only smile AnnaLeigh would give me.  It's FRIGHTENING!  She's in that lovely awkward stage of trying to find her "picture" smile.  We haven't mastered it yet.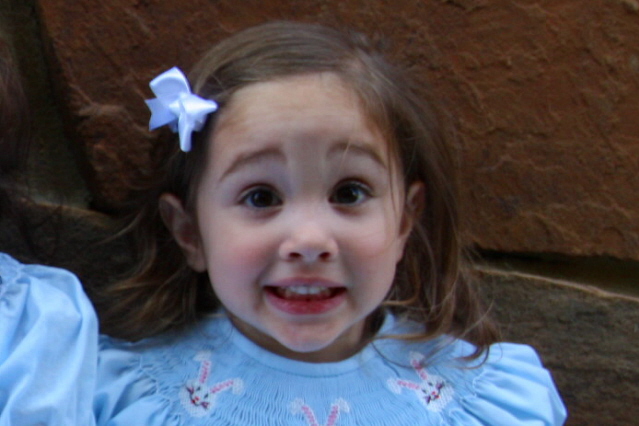 Of course, I sat my sister's kids down and told them to smile.  I took 3 pics.  They were all perfect!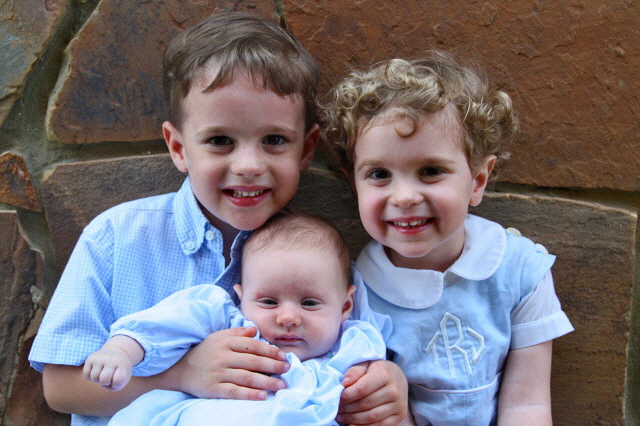 Here are the pictures from our day.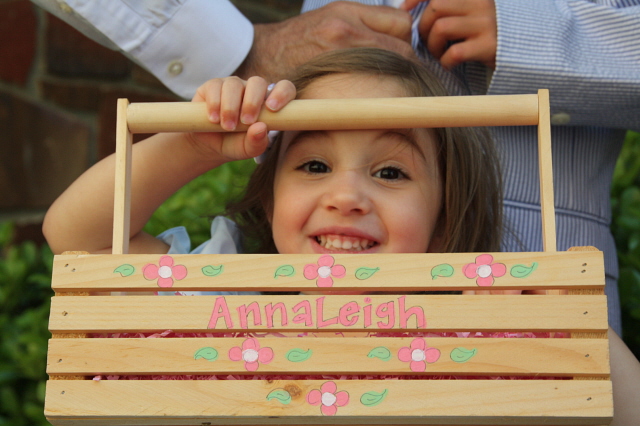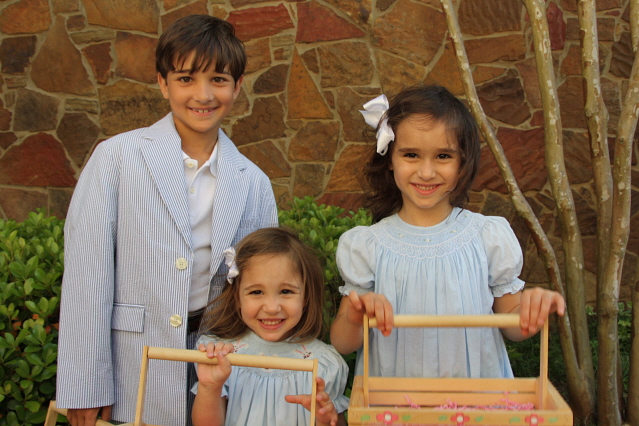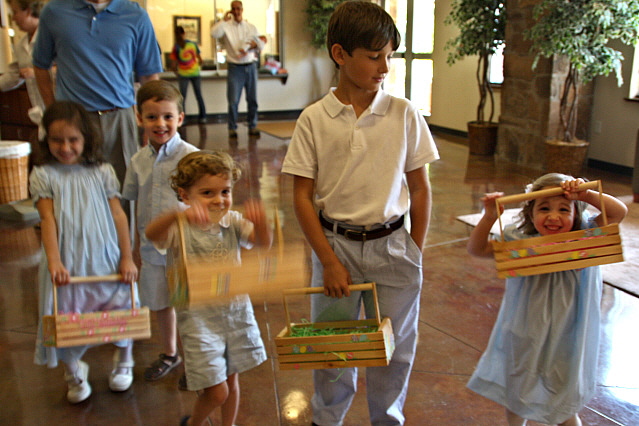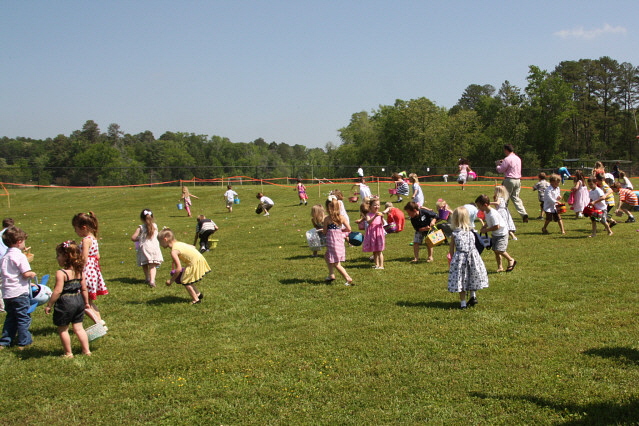 AnnaLeigh just picked up all the eggs that were falling out of the bigger kids' baskets.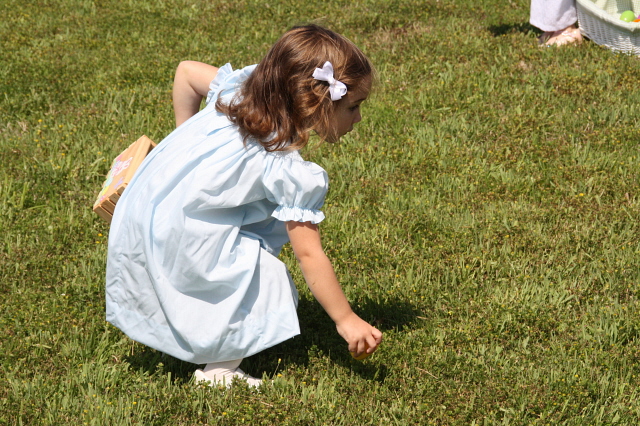 Lilly Katherine was so thrilled that she had a shiny egg.  With a smile on her face, she kindly donated an egg or two to children that didn't have many.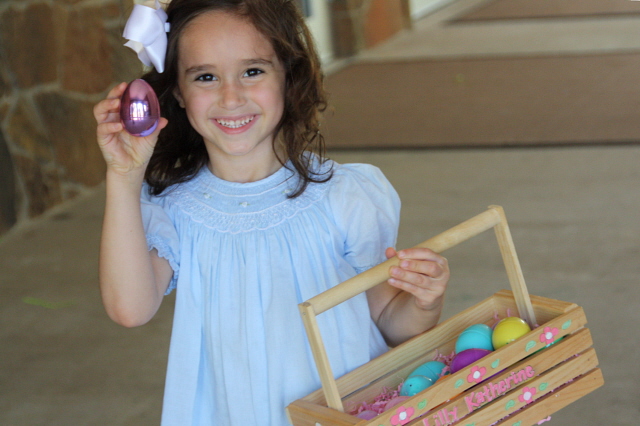 Preston had a strategy on how to get the most eggs.  He ran to the back and worked his way forward instead of starting where everyone else was.  My little analytical planner.  I love this type-A kid!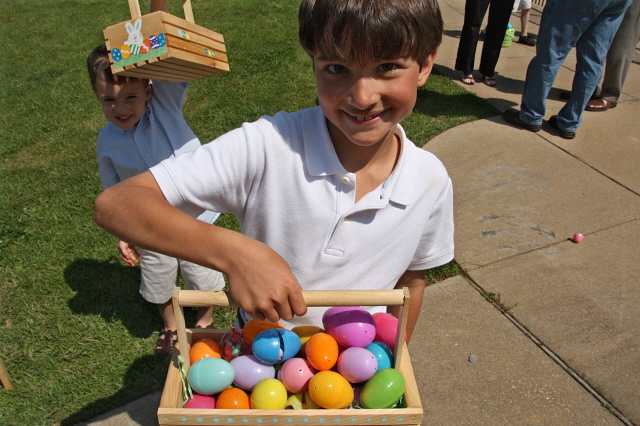 While these 2 were busy taking inventory…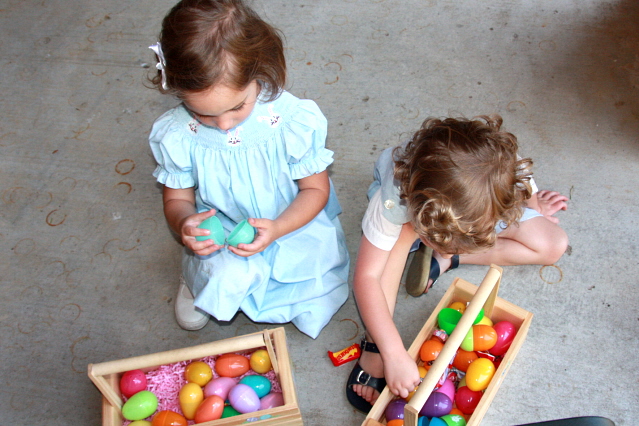 These 3 maniacs were messing with a caterpillar.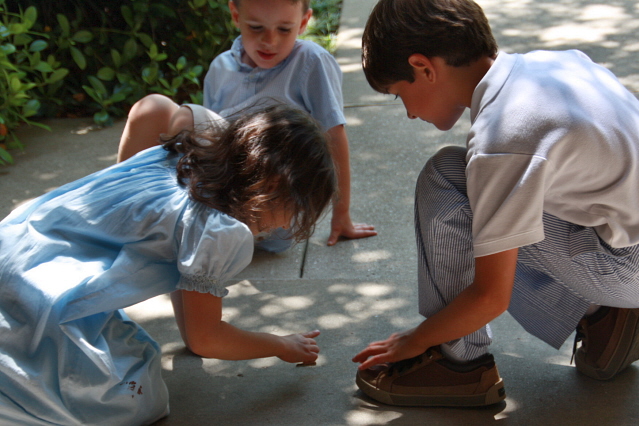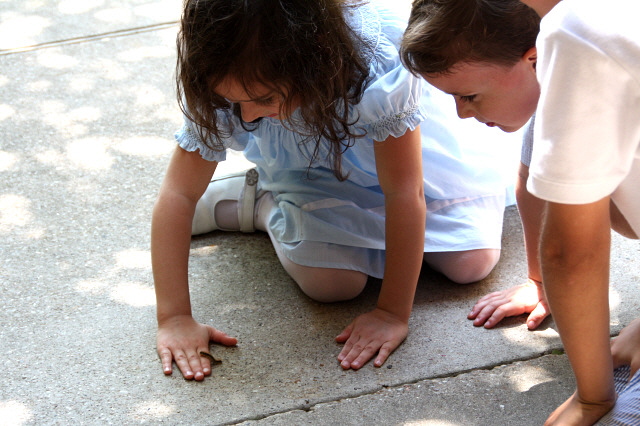 Sidenote:  I literally hate worms of any kind more than anything!  I cannot look at these pictures because it makes me GAG!  The picture above and below I had to post without really looking at them because it makes me have the heebie-jeebies!  I HATE worms.  Oh, I just got a full body shiver just typing that!  AGH!  These pics gross me out!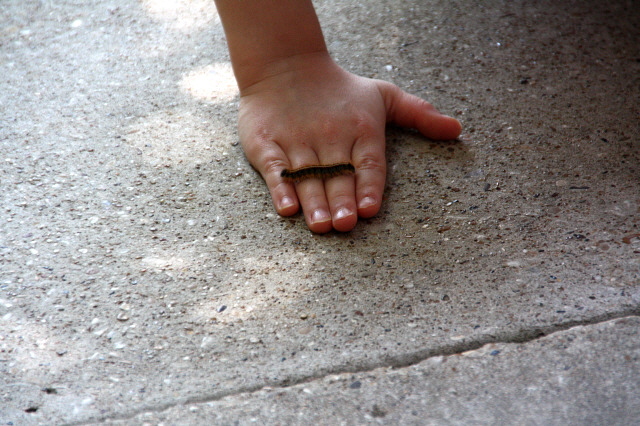 Sidenote #2:  My children think these things are called cal-a-pillas.  They also all three say cim-a-non, which has nothing to do with this post, but I love little words like that and I don't correct them.  I will one day.  Not today.
Here's my handsome hubby!
I feel like he should have a "Senior 2012″ stamped in gold at the bottom of this picture.  Except it would say "Senior '96!!!"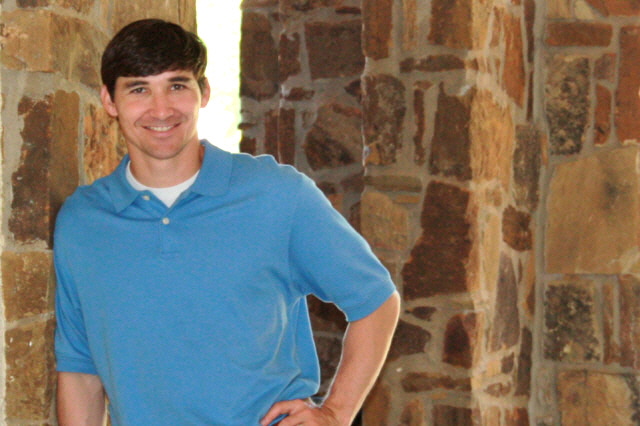 And this is the best family pic we got.  No lie!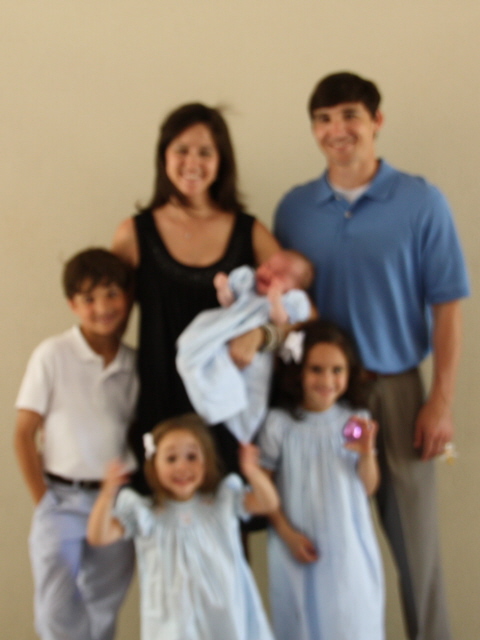 Ok, well there's this one, but let me point out a few things…
Brad has a pacifier on his finger.
LK is holding an egg, which she informed me today she did that on purpose so we would know this picture was from Easter.
AnnaLeigh is looking sassy as usual with her hands on her hips.
Georgia is screaming.
My face is round like Kelly Kapowski's in the later days of Saved by the Bell.  You know what I'm talking about!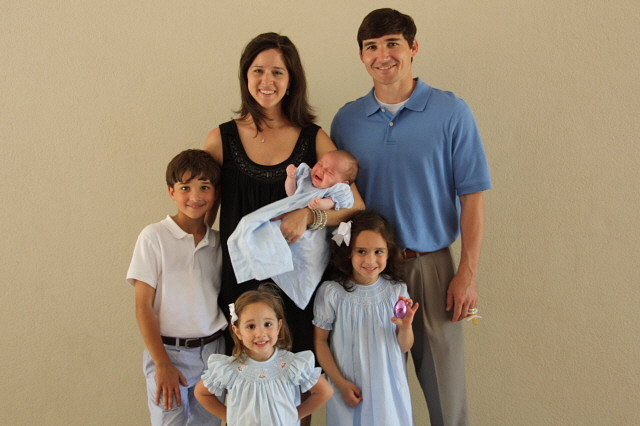 Moving on.
My skinny sister and our baby girls…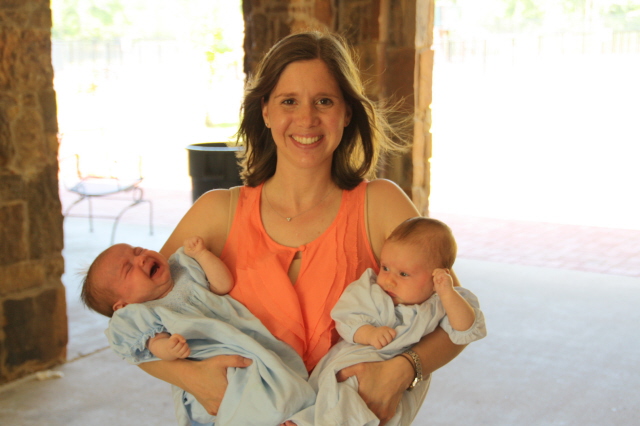 My maniacs…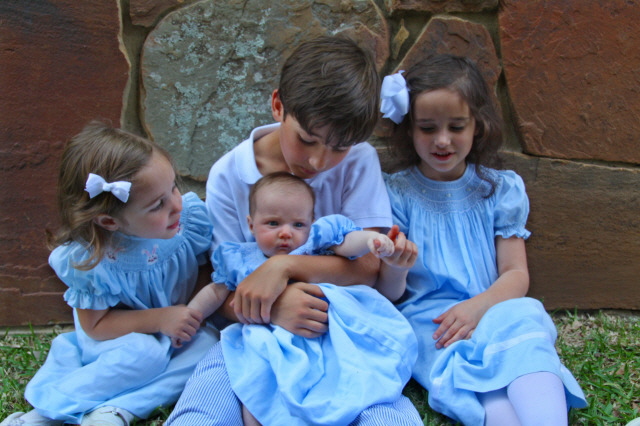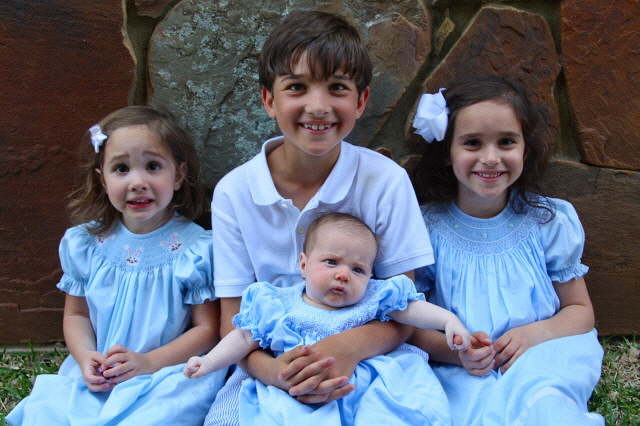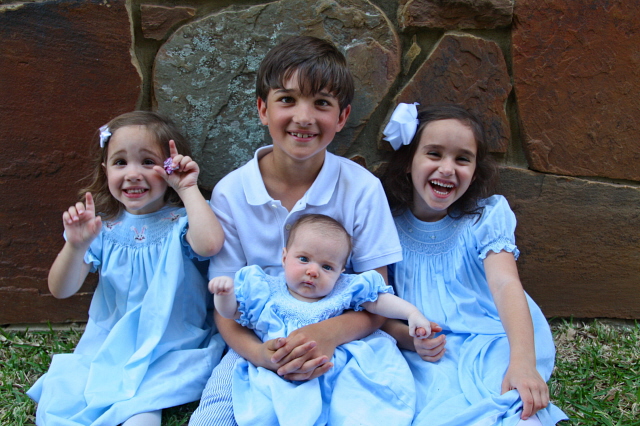 The whole crew…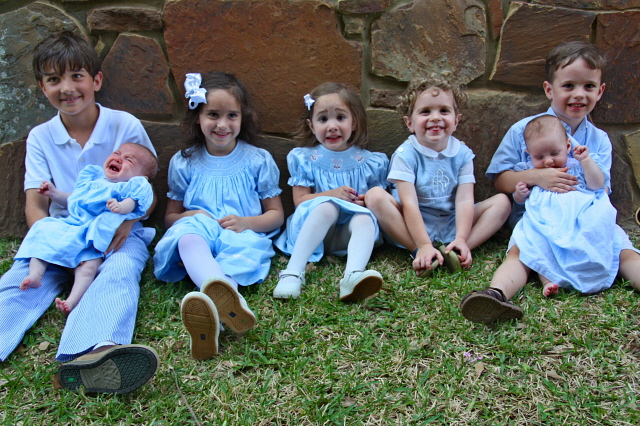 My beautiful blue-eyed baby girl!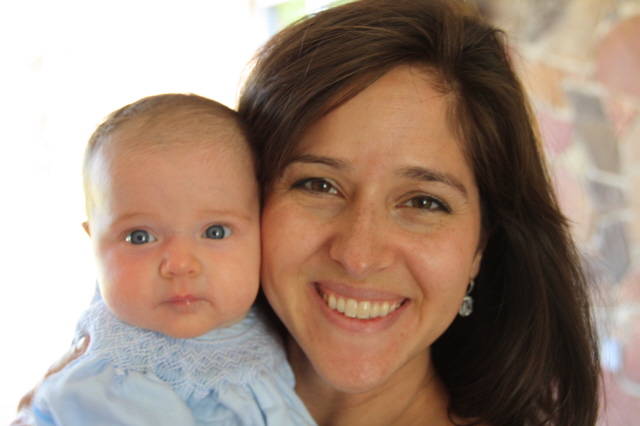 Have a wonderful Easter and remember that Easter is not about a silly bunny and bunch of candy stuffed plastic eggs, or even about getting cute pics of your maniacs.  Easter is a time to remember and reflect on the death and resurrection of our Lord Jesus Christ.  He suffered the ultimate price for me, for Brad, for Preston, for Lilly Katherine, for AnnaLeigh, for Georgia, and for YOU!  Know the truth about Easter.  Know that our LORD did not just die, but he ROSE!  He is alive and he wants you to know him!  Learn more about the true meaning of Easter here.
-kate
.