I have 4 babies, and 3 of them are girls.  Since the moment I saw the positive pregnancy tests, I prayed that any girls I birthed would be blessed with precious friends that would love them, encourage them, be kind to them, hold them accountable, and lead them closer to the Lord.  Especially for girls, my prayer was that they would be blessed with friends…as I have been blessed.
I can say with certainty that I have been blessed beyond measure with lifelong, amazing friends.
Well this weekend, two of these precious friends were in a horrible car accident.
I know so many of you can relate to this, but my college friends are irreplaceable.  Yes, I have made friends since college.  Amazing, wonderful, dear friends!  But there's just something about the women that you spend 4 years of your life with, that bond you forever as lifelong best friends!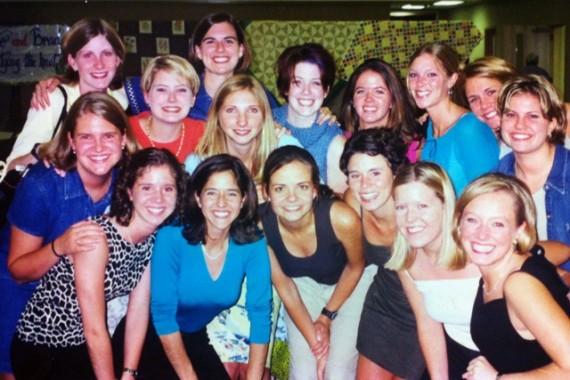 Of course we don't see each other as often as we should.  We have a million children between the few of us.  But all it takes is a second and we jump right back into feeling like we've never been apart.
We get each other.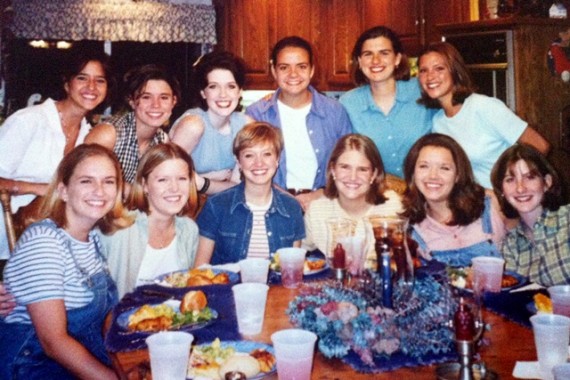 We know each other.  We know each others' home towns.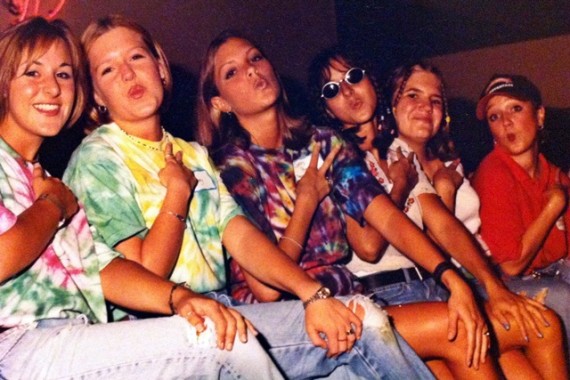 We know each others' maiden names…and not just because it's on Facebook.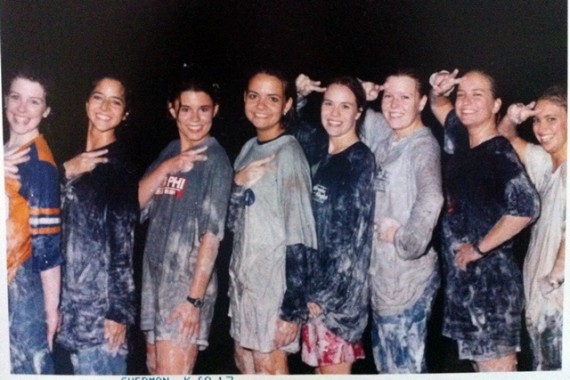 We know each others' struggles and quirks.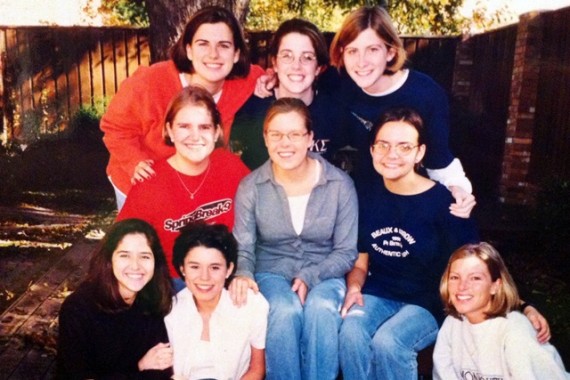 We know things…because we were together 24 hours a day…for years.
We know who fills coffee mugs full of ketchup and mustard for a snack and who has night terrors that wake the whole house up and who must clean her ears out every single day and who pops backs and who pops pimples and who is messy and who slept on a tiny corners of their beds because the rest of their beds were covered with clothes and books.  We know who showers every day and who should shower every day and who has a little gas and who claims she has NEVER!  We know who is responsible and who should never be allowed to pay the bills, and who would fall hard and fast for boys and who was skeptical and picky.  We know who can cook and who can eat and who works out, who makes messes and who cleans them up.  When we are hurting, we know who will cry with us, who will make us laugh, and who will punch the fire out of the offender!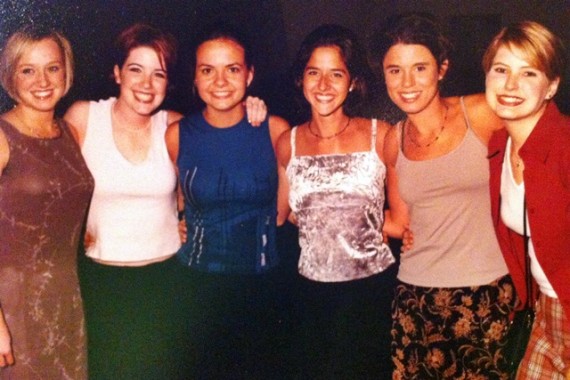 We know each others' family drama, skeletons in the closets, and Jerry Springer issues.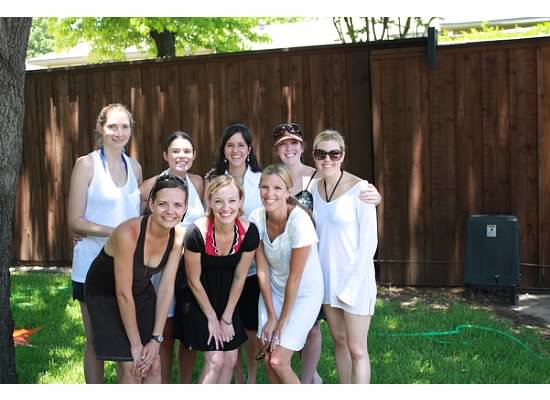 We helped each other through regrets and projects and deadlines.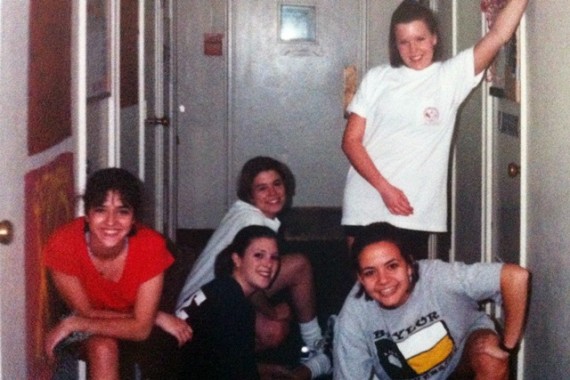 We owned a cat together…and a goat.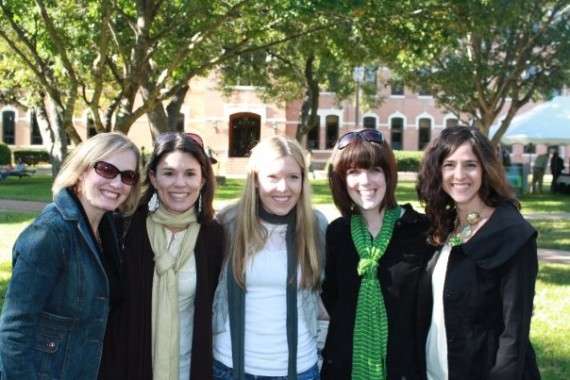 We know what makes each other sad and how to cheer each other up.  We watched each other make wise choices and sometimes we laughed at each others' walks of shame.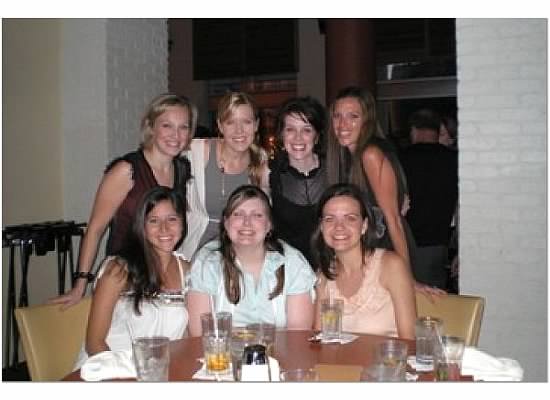 We watched crushes turn into relationships and sometimes we held each other as relationships dissolved.  We did more "drive bys" for each other than I can count.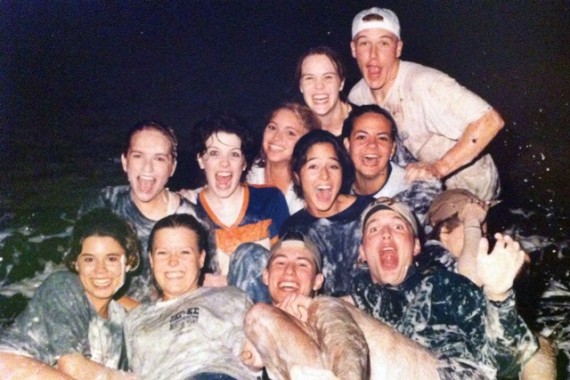 We talked through a lot of "what ifs" and "what might have beens" over Taco C, big gulps, gut packs, and cafeteria take-out.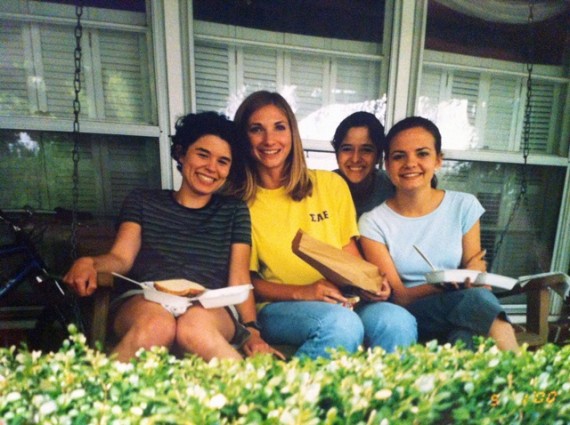 We cried on each others' shoulders when we fell or failed.  We celebrated each others' successes and accomplishments.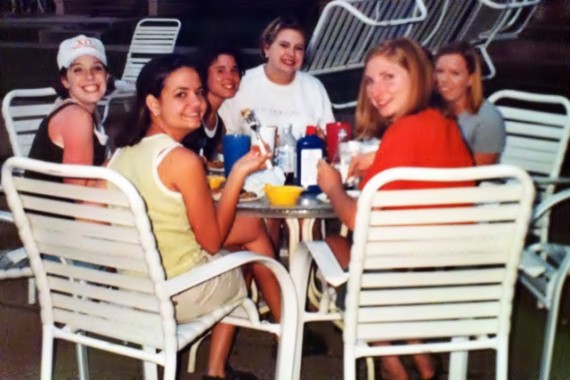 We baked cookies and muffins and rice krispie treats and shared so many bowls of batter that we should all weigh 400 pounds.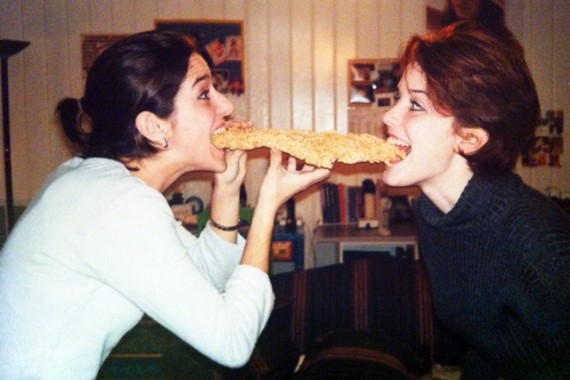 We learned how to pray together and learned the value of prayer together.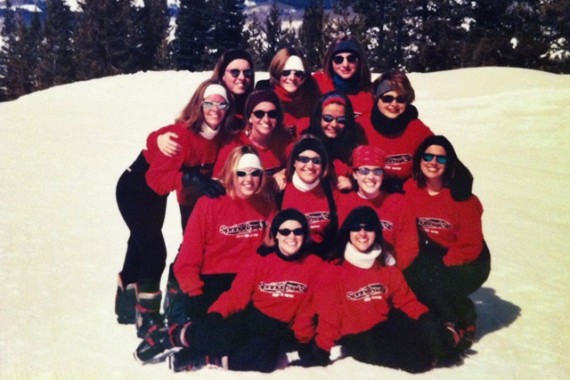 We grew from little girls into women together.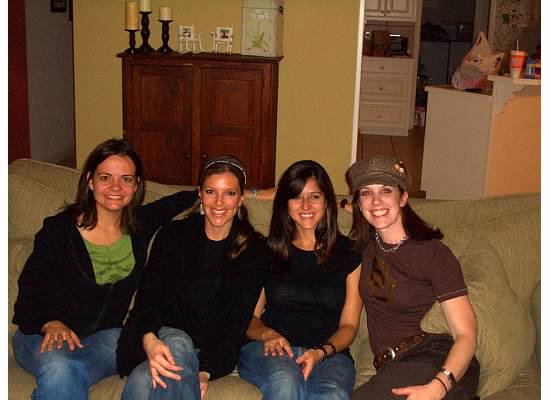 We have seen most everyone meet their mate, have giddy first dates and first kisses, and fall in love.  We helped plan engagements and plan weddings and celebrate wedding days together.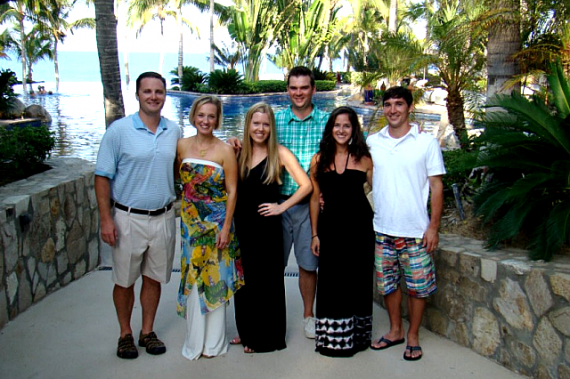 We have birthed babies that know and love each other (although not living in Dallas, my babies don't get to see them as often as I would like.)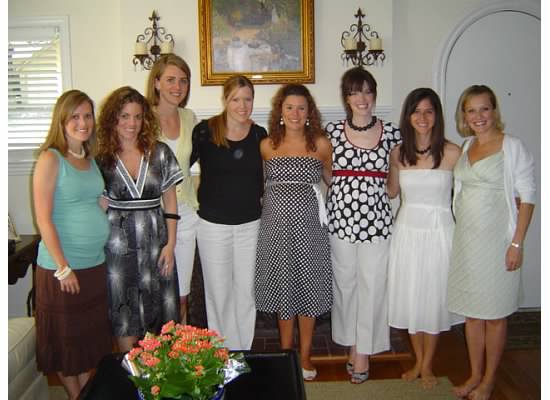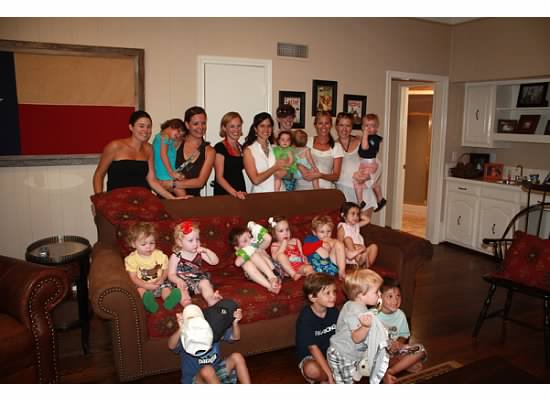 We love each other…the good, the bad, and the ugly…and we have certainly seen it all.
The photo below shows Ashley, Kristin, me, Kimberly, and Samantha.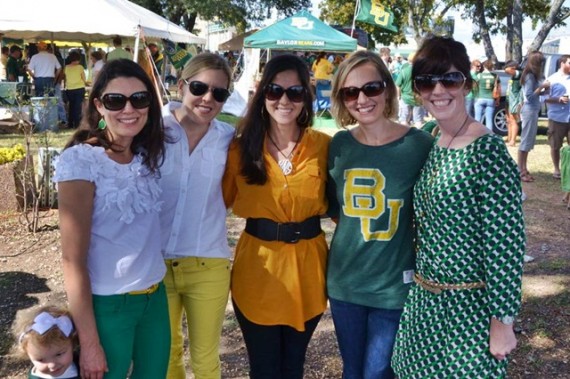 …and this weekend something horrible happened.
Two of my precious friends were in a horrible accident.  Ashley and Kristin live in Dallas, but they were outside of Washington DC for Ashley's little brother's wedding.  Friday, Ashley was driving she and 5 other people, including Kristin, Ashley's mom, and a few of her aunts, when a woman traveling the opposite direction veered into Ashley's lane, causing a horrendous crash.  All 6 people in Ashley's car were taken to the hospital.  Sadly, one of Ashley's aunts did not survive the accident.  Kristin was the only one fortunate enough to walk away, but not without bruises and injuries and the mental horror of the accident.
Sweet Ashley is in very critical condition.  She was 8 months pregnant, and she has lost her little baby.  Travis, her husband, and Ashley's daddy got to hold baby Charlie, but Ashley has been in a medically induced coma since the accident.  We were told that although Ashley lost her baby, the baby probably saved her life.  Ashley has had surgery to repair different parts of her broken and crushed body, but she has many more surgeries to come.  Her left side was basically crushed…her femur, hip, elbow, and shoulder will all have multiple surgeries.
She will one day have to face the reality that her life will never be the same.  She will awake to the very harsh realization that she is in a hospital, hundreds of miles from anything familiar; that her two children (Jack Henry and Finley) are in Dallas with friends and family, that she missed her only brother's wedding and her aunt's funeral, that her body is bound and broken, and that her tiny angel, Charlie, saved her life, was born, and has gone to be with the Lord.
She has a long, hard recovery ahead of her.  Hard mentally, physically, emotionally.
But Ashley is a fighter!
The Lord graciously spared her life, and though she is currently in critical condition, I have faith and confidence that He will restore her tiny body completely!  She is determined and I know she will push through for her babies and for her husband and for her whole family.  She is a marathon runner, a go-getter, and one of those people that just seems to be able to do it all.  She will pull through!  But it's not going to be easy.
At this point, I am begging for prayers for my friend, for her family, for the bride and groom (Ashley's brother), for the woman that hit them, for the doctors caring for her body, for the friends and family caring for her babies, and for her husband, Travis, to have strength through all of this!
Please join me in lifting this family up today and in the days, weeks, and months to come.  As I type this, Ashley is in yet another surgery, so I am just going to type my plea and my prayer to the Lord.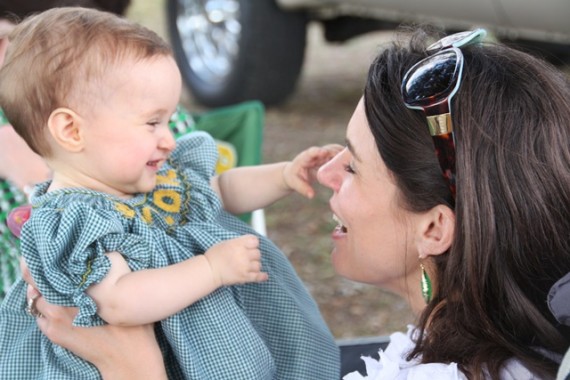 Lord, as I look at the picture of my precious friend and my baby girl loving on each other, i thank you so much for ashley!  thank you that she gets me.  thank you that we understand each others' struggles and insecurities.  thank you that you chose to spare her life friday, and i am begging that you will quickly heal her body.  Lord, i know that she is mangled and crushed and that her legs and arms may never be like they were on thursday, but please help the doctors to be able to restore her bones and muscles and skin and all the many parts of her body that they are working on, to be whole again.  to work properly again.  to function without constant pain or a constant reminder of friday's accident.
please, Lord, help the doctors and nurses to always have her best interest at heart and know that she is a mama and a wife and a young woman that wants to resume "normal" life again.  i pray that they will know exactly what to work on, when, and what parts of her body need the most immediate attention right now.  help her heart rate to come down a little more.  please keep her body free from infection or any illness.  please continue to heal her kidney and her abdomen.
Lord, of course physically, i want you to make her "Ashley" again.  i pray that she will run again.  i pray that you will give her the ability and strength and determination to strap on her running shoes and train again.  i pray that she blows doctors and statistics away with her recovery, her physical recovery.
Lord, i can't imagine how hard this recovery is going to be for her mentally.  it is going to try her and stretch her and strain her mind…but please, Lord, PLEASE give her the peace that comes only from you.  please give her constant reassurance and knowledge of your love and your presence and your hand.  help ashley see YOU in every part of this, and i know that is going to be hard sometimes. 
please give her sweet husband strength.  he is going to need enough for both of them.  help him to understand her cries and her pain and her struggles.  help him to hold her and love her through it all.  give him a sensitive heart to the anguish that she will endure over the next year.  Lord, i pray that this accident will bring out the strengths of their marriage.  that they would see, because of this, why they love each other so much.  please help travis as he plays mama and daddy and care-taker and house-keeper and all the many hats he will wear.  help him to not tire, and when he does, please provide the people he needs to assist him, rejuvenate him, and keep him strong.
thank you, Lord, for all the friends you have placed in ashley's life.  thank you for all the people that love her and care about her.  thank you for all the people lifting her up in your name, around the country.
thank you for her 2 precious babies.  please protect them as ash and trav are away.  please give them peace and help them to have "fun" and protect them from knowing all the details of what is actually happening.  Lord, let them welcome their mother home with open arms as quickly as possible.  please help them to maintain a sense of normalcy and help the people caring for them to try to do things as much like ash and trav would as possible.  comfort them as they are without their parents.
thank you for sending sweet charlie to save ashley's life.  thank YOU for saving her life.  thank you for providing so many to help her get through this.  thank you that she knows YOU as her Lord and Savior!  Thank you that she knows you have a plan for her.  may she never forget that you DO have a plan for her. 
help her to feel all this love from all over the world that is directed at she and travis. 
for now, help her to rest peacefully and to heal.
thank you, Lord, for my sweet friend!
amen.
-kate
20 "Now to him who is able to do immeasurably more than all we ask or imagine, according to his power that is at work within us, 21 to him be glory in the church and in Christ Jesus throughout all generations, for ever and ever! Amen."  -Eph 3:20-21