My little Georgia Sarullo is named after two very special people…Brad's dad and my wonderful Italian grandmother, MamaSara, whose maiden name is Sarullo.
This picture was taken 5 months ago when MamaSara was recognized for faithfully serving the Lord as the church organist for SIXTY-SEVEN years.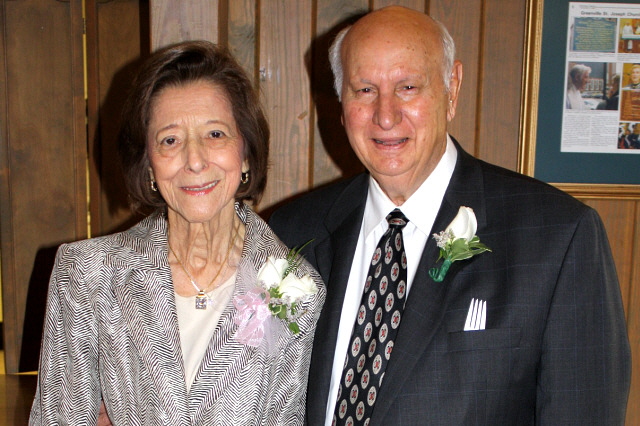 (I love that Papa is ready for cake with a fork in his pocket!)
One month after that photo, MamaSara fell and her health has rapidly declined.  I know Georgia will never have the opportunity to know the amazing woman we have all been blessed to know, but she will take with her a special treasure being MamaSara's namesake.
In December we thought we were going to lose MamaSara.  She had a brain bleed and she got to the point where she couldn't walk or talk.  My grandfather, who is so completely devoted to his wife of almost 60 years, elected to do a brain surgery that the doctor advised against.  The doctor told them she would never walk or talk again and would likely never go home.  She awoke from her surgery giving praise to God and telling my grandfather that she loved him.  It was a beautiful testament to her life as she is completely devoted to the Lord and to my Papa!
Through what I see as a miraculous recovery, she is home.  Due to the horrible disease of Alzheimer's, she is not the same woman she was in the above picture, but she walks, she talks, she eats, she loves God and she loves her family.
I have too much to say about MamaSara to squeeze it all in this post, but I love her so very much.  I have wanted to go see her, and I couldn't wait until Georgia was old enough for the LONG road trip.  Brad and I knew it was not going to be easy, but it was so important to me.
The trip to Oxford, Mississippi is about 8 1/2 hours if driven straight through.  Well, when you're traveling with an 8 year old, a 5 year old, a 3 year old, and a nursing newborn, there WILL BE a few stops!  We loaded the kids up and prayed for safety, speed, and silence. :)  Maybe not silence, but at least a peaceful ride.  The trip was better than we ever dreamed it would be.  Seriously it was so smooth!  Georgia was wonderful!  She cried the whole time we were in Mississippi, but she probably only cried a total of 30 minutes in the car.  Praise the LORD!
When we got to MamaSara and Papa's house, I hugged MamaSara, my grandmother who has always looked impeccable.  Her hair, make-up, clothes, and jewelry have always been perfect.  She is still beautiful, but now she has a "hospital haircut" from her brain surgery, and she is so cold all the time that she wears whatever layers Papa can find to make her comfortable.
I grabbed her hand and took her to the table to meet Georgia.
I said, "MamaSara, I want you to meet Georgia.  This is Georgia Sarullo."
She looked at me and said, "Oh my goodness, I'm gonna cry!"
I said, "Well, she's named after you."  Then that precious frail woman wrapped her thin, strong arms around me and hugged me so tight and for so long as tears just streamed down my face.  I looked at my cousin Amy Lauren and as she wiped away her tears, she said, "Well that was worth the drive, wasn't it?"
It was worth every second!  It was a moment I will never forget and will treasure always.
Then MamaSara said, "Give me that baby!"  She spent the next little while hugging, kissing, and loving on Georgia.  She just kept saying, "I love you so much!"   Thanks to my phone, I have it on video.  What a precious unforgettable weekend!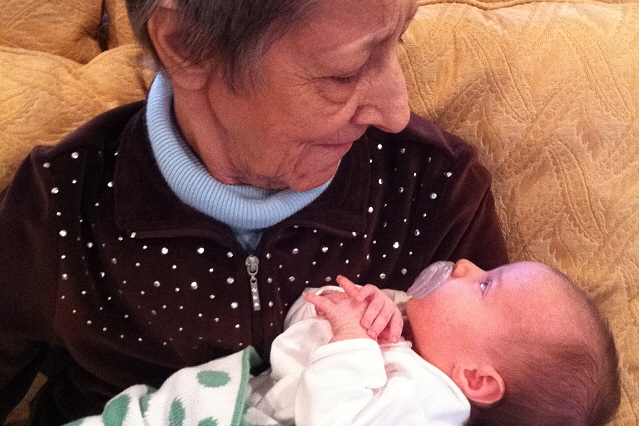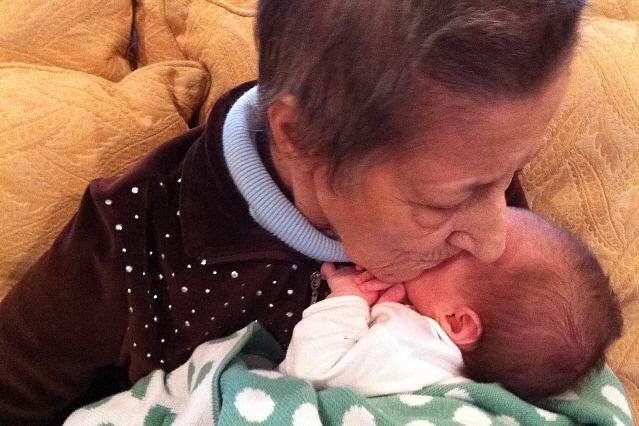 She called Papa in to come hold Georgia.  How blessed I am that my babies know so many of their GREAT-grandparents!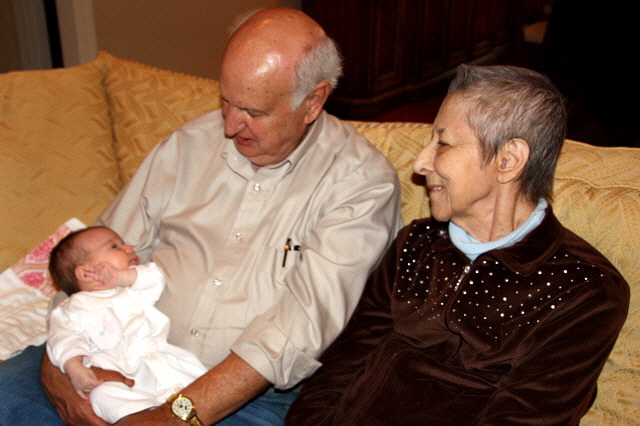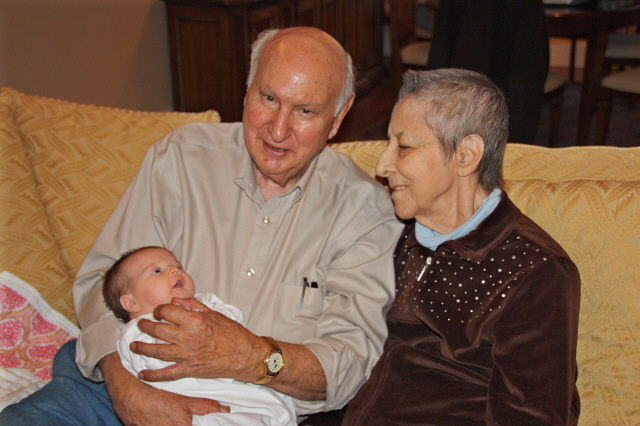 We stayed with my cousin Amy Lauren.  Her daughter Rosemary is 11 days older than Georgia. She is so squeezable and happy.  I just love her little rolls!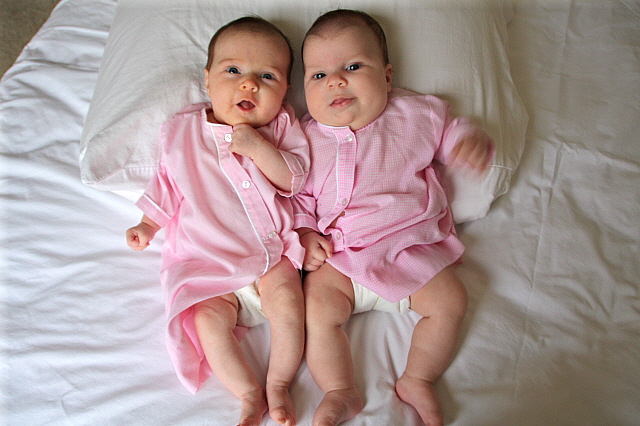 This picture was taken on our last visit in November.  My sister, Amy Lauren, and I were all pregnant, and none of us knew what we were having.  We all had girls within a few days of each other.  So fun!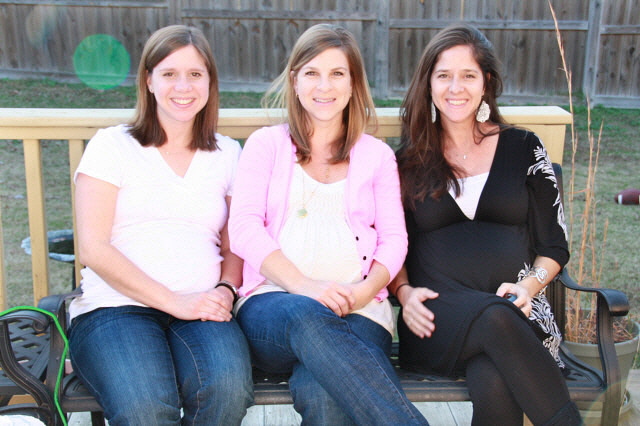 The kids had so much fun playing together.  Please notice the differences in BOYS and GIRLS!  Boys are so wild and so rough.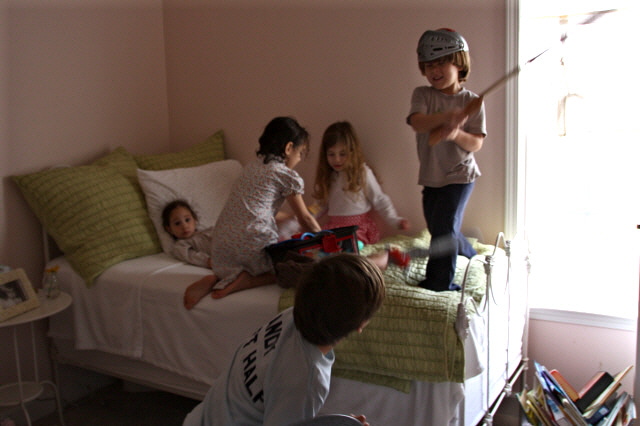 Preston and Noble – tried to kill each other…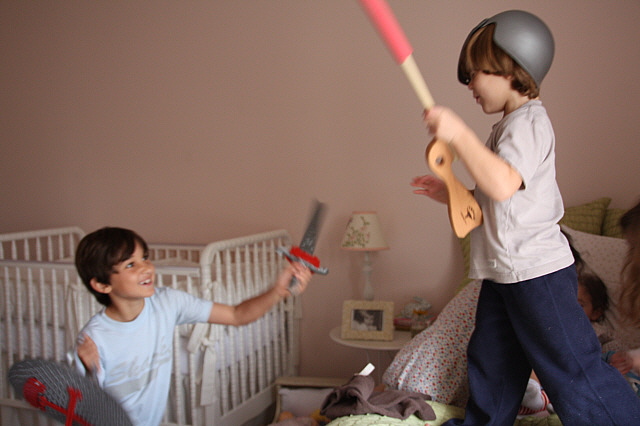 AnnaLeigh, Emma-Kate, and Lilly Katherine – tried to heal each other…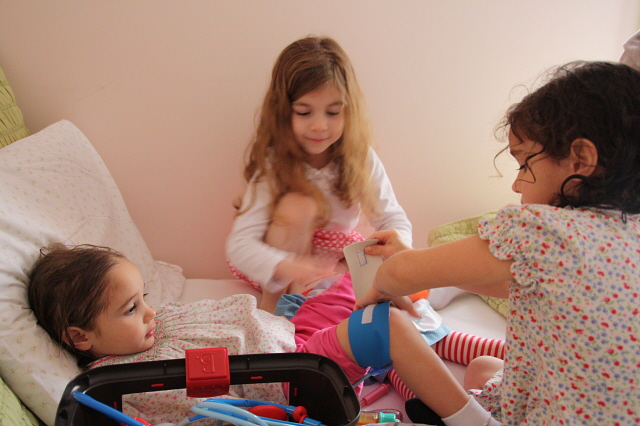 The boys used a truck to try to run over the photographer (me)…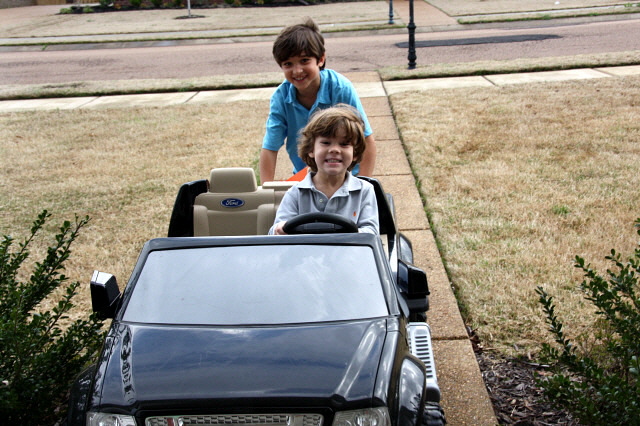 The girls used chalk to create the game of hopscotch…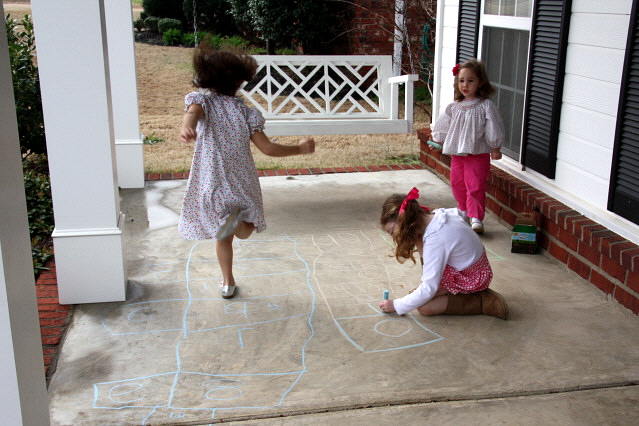 The boys played basketball outside…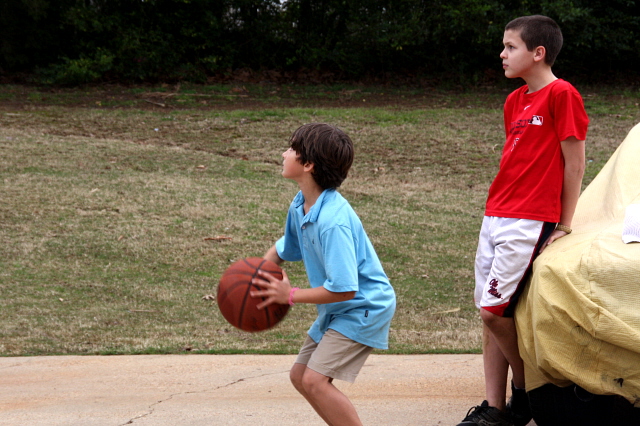 The girls sat on the floor and played with a bird inside…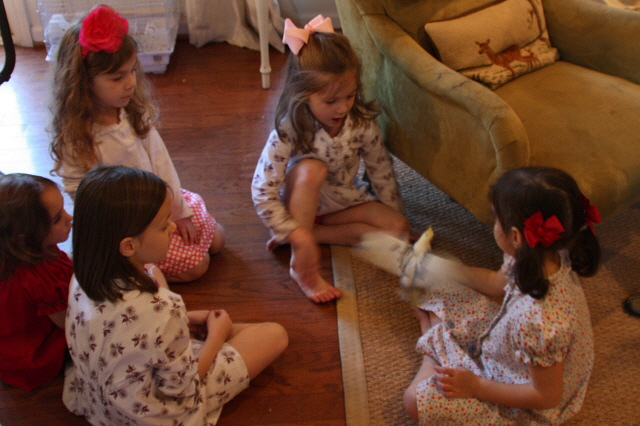 The boys had a wrestling match…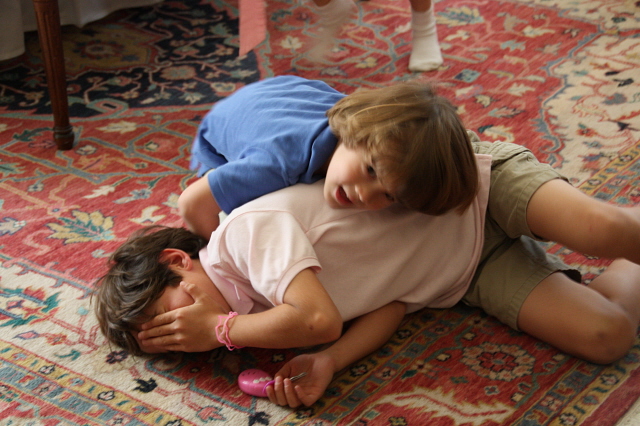 The girls had a dance party…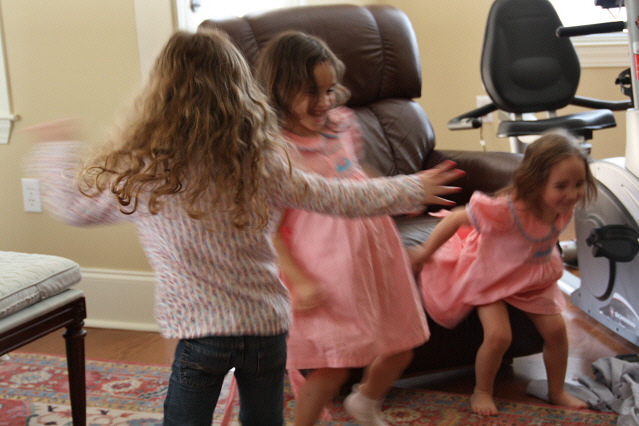 I am just glad everyone had fun!
My cousin Franci always has random livestock living at her house…in the middle of a subdivision in Oxford!  She's had pigs, bunnies, birds, chickens, dogs, bees…you name it!
Well, this time they had several little chicks and the girls (especially Lilly Katherine) fell in love with them.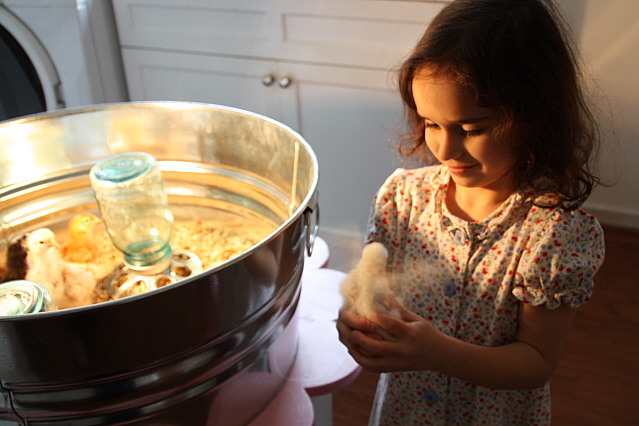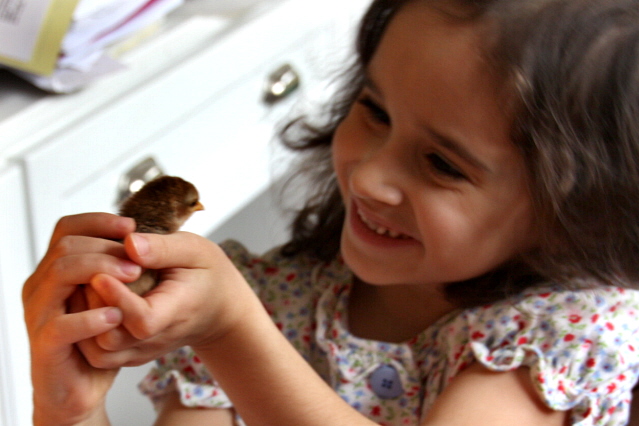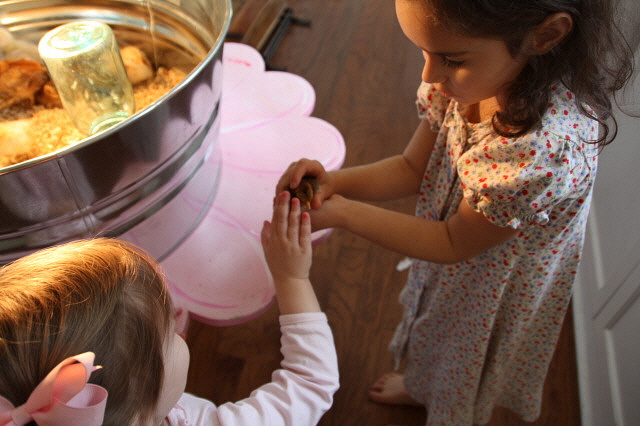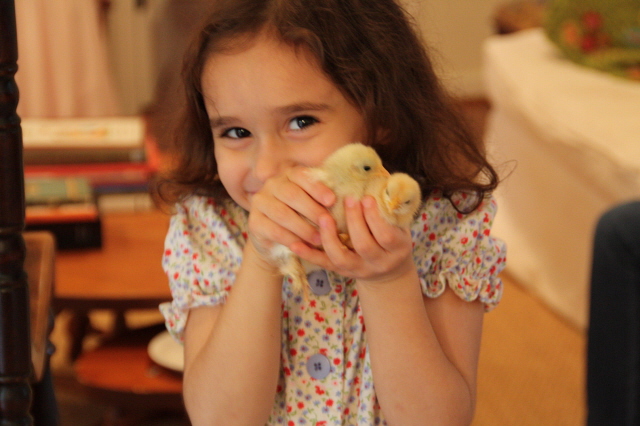 The girls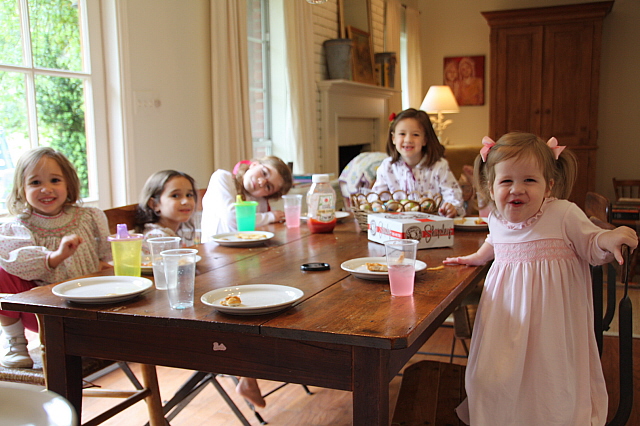 Georgia and Rosemary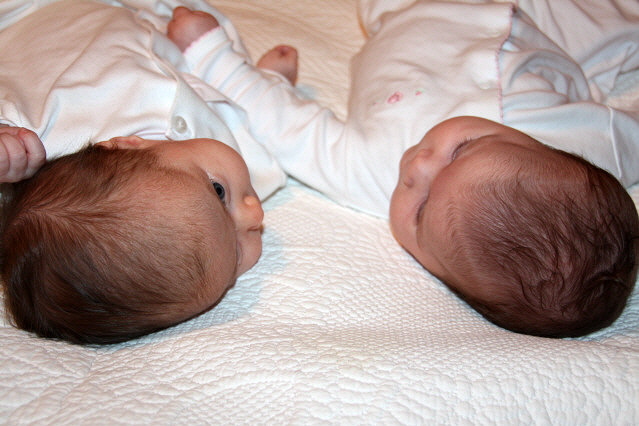 Noble.  I would steal this little man from Amy Lauren in a heartbeat!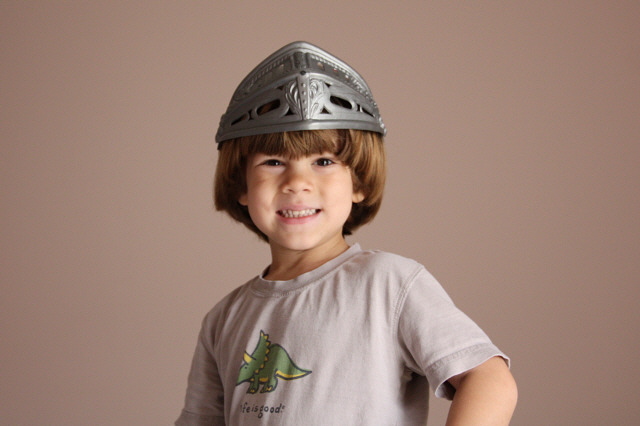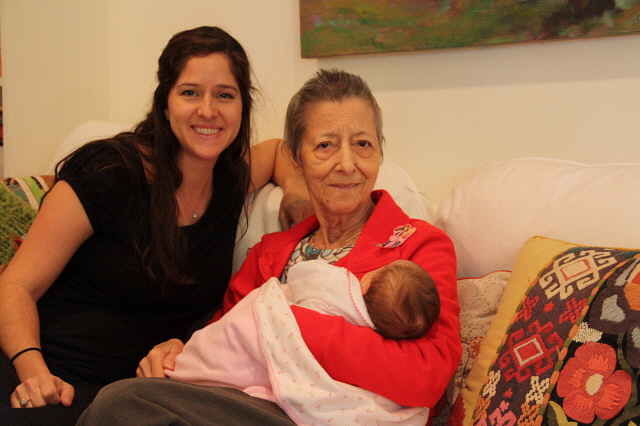 AnnaLeigh could NOT stop loving on MamaSara.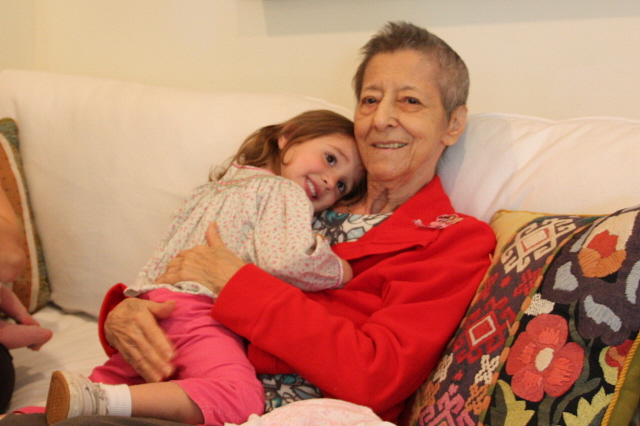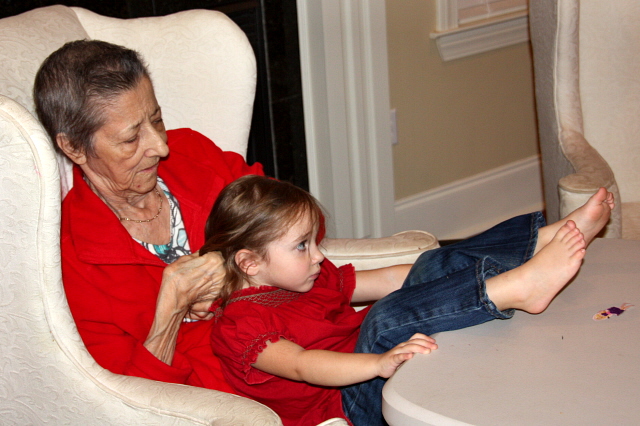 Sweet memories…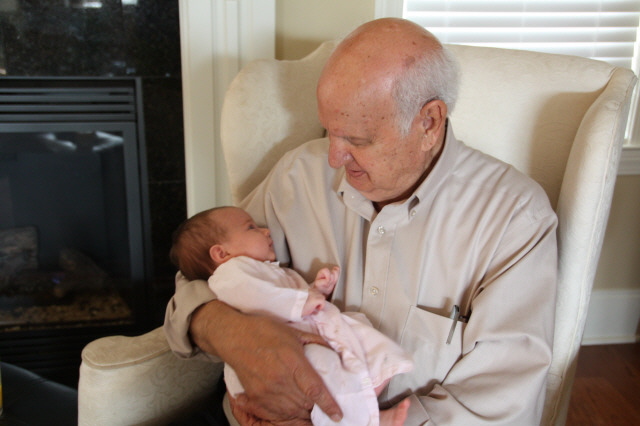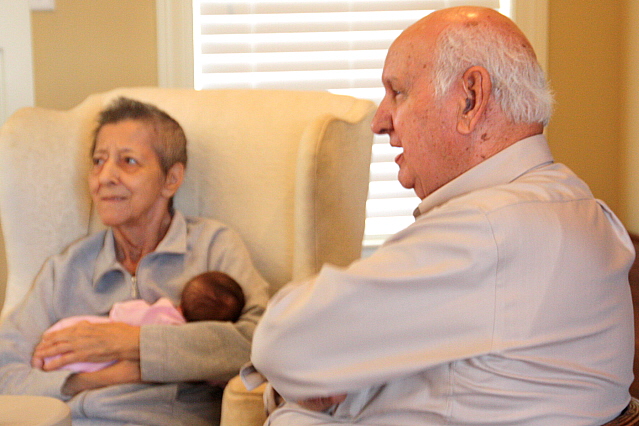 And the reason for our trip…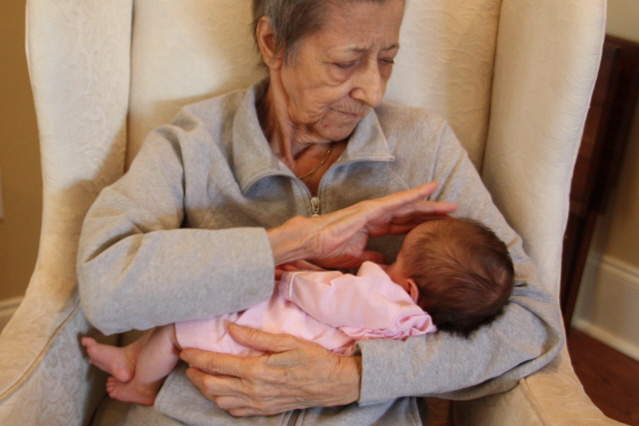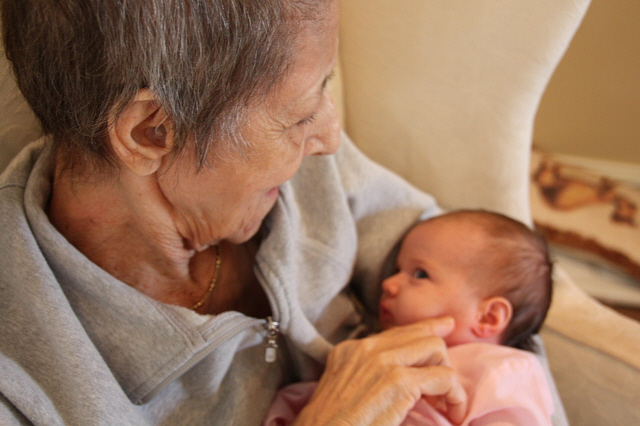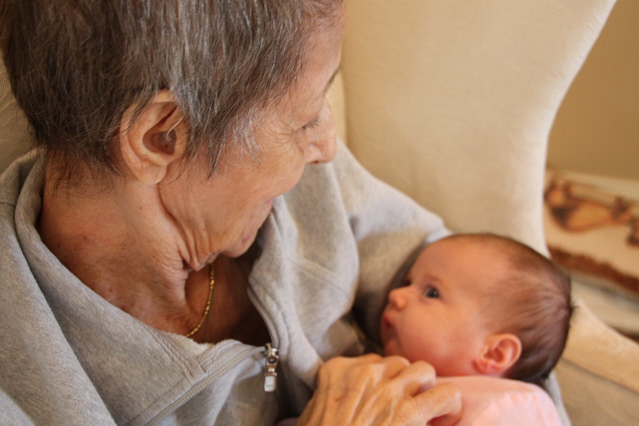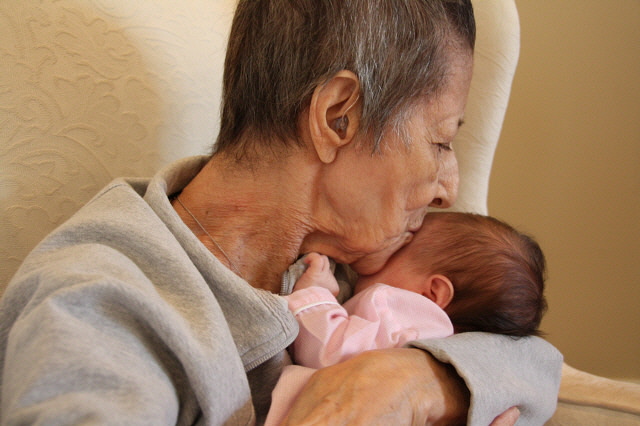 MamaSara and Papa, thank you!  What amazing examples you both are to our entire (enormous) family!  We love you very much!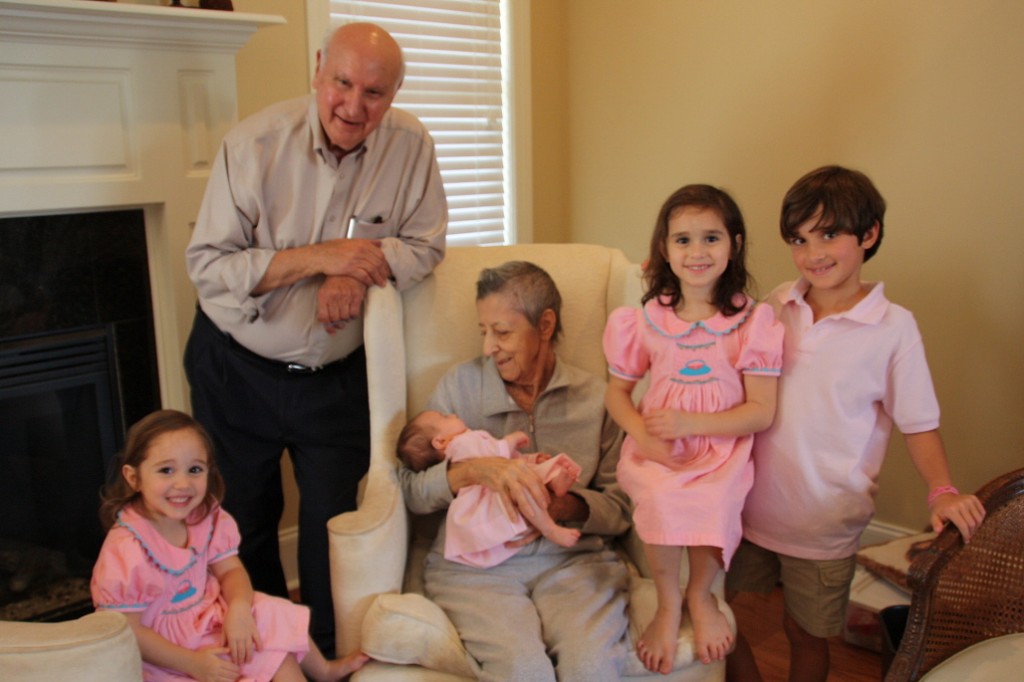 28 Her children arise and call her blessed;
her husband also, and he praises her:
29 "Many women do noble things,
but you surpass them all."
30 Charm is deceptive, and beauty is fleeting;
but a woman who fears the LORD is to be praised.
31 Give her the reward she has earned,
and let her works bring her praise at the city gate.
-Proverbs 31: 28-31
-kate
.