In August, we went on our third annual "Griswold" Family Vacation with my parents, my sister and her family, and my brother and his wife.  We had a blast!  With the ages of our kids, we have found the easiest thing to do is rent a big ol' house and just hang out together.  We went to Mansfield and found a few local things to do for fun.  We don't need fancy!  We went to Hawaiian Falls, The Fort Worth Botanical Gardens, The Dallas World Aquarium, and spent time swimming, golfing, playing dominoes, and just hanging out!  It's just nice to have a change of scenery…and to all be together.
I am about to post 4 million pictures, but I had more on my phone…that was erased…that our "forensic detective" is still trying to recover.  Here are a few from my camera.
Pretend like you are seeing several pictures from Hawaiian Falls like these pics from last year.  My HF pics from this year are in cell phone outer space for the time being.
We went to the Fort Worth Botanical Gardens and the grounds were lovely!  It was HOT, but beautiful!  We got to see two weddings, and there were 2 little girls super excited to see "princesses" at the Gardens!
We took about 452,000 family pictures.  My brother-in-law's sister, Anne, took the pictures.  Anne did a TON to help out the whole weekend.  She came and stayed with us, which is always a treat…especially because the kids love Aunt Sugar!
The big kids…Truett, AnnaLeigh, Preston, Lilly Katherine, Caleb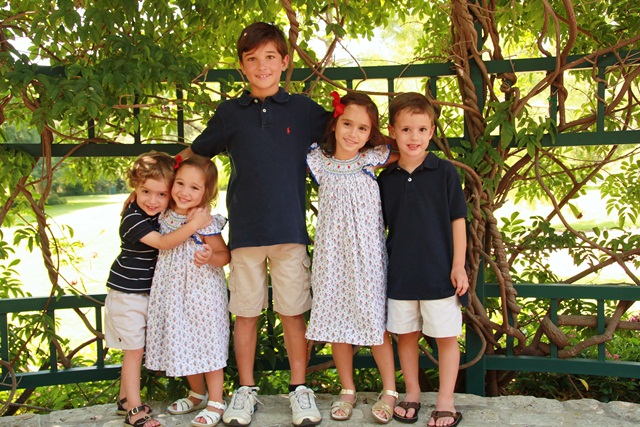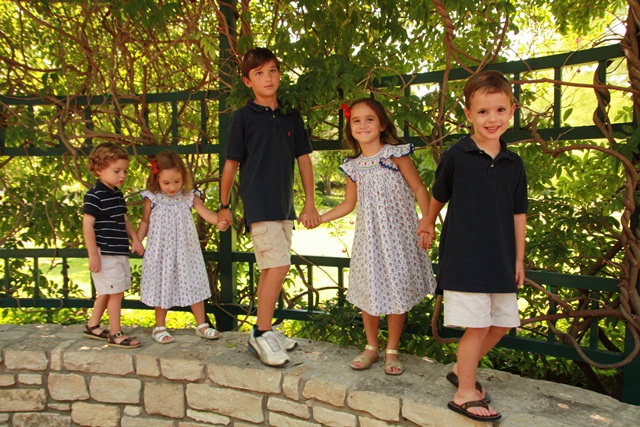 My dad and sweet, happy Georgia!  Look how white my baby is next to her Papa's Italian/Lebanese skin!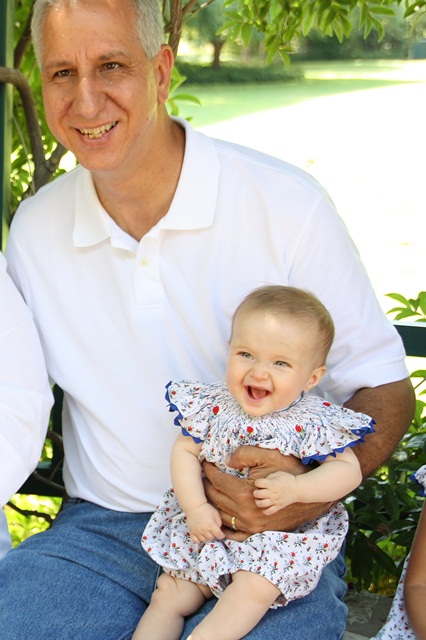 The whole crew!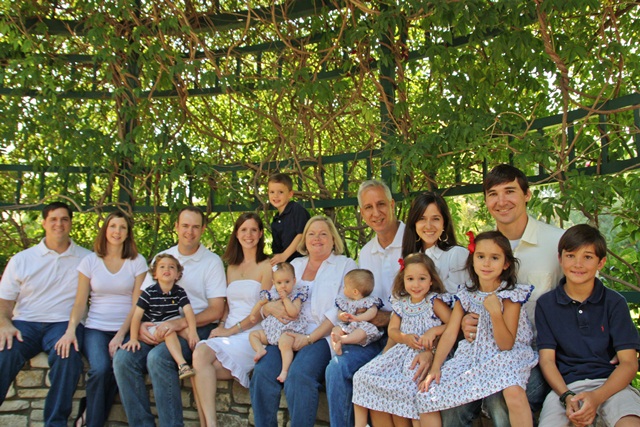 Mimi and Papa with all the grandkids.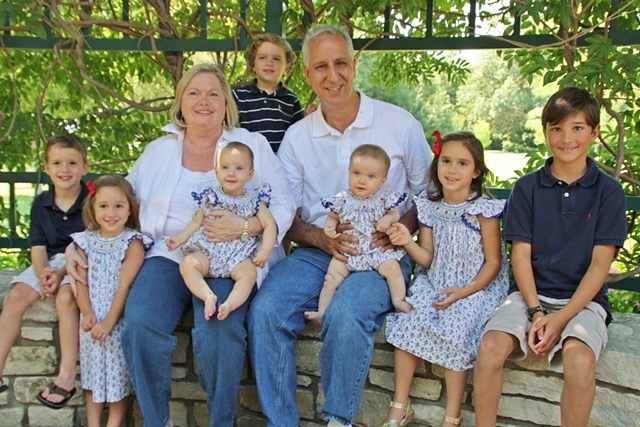 AnnaLeigh, Laurabeth, and Mimi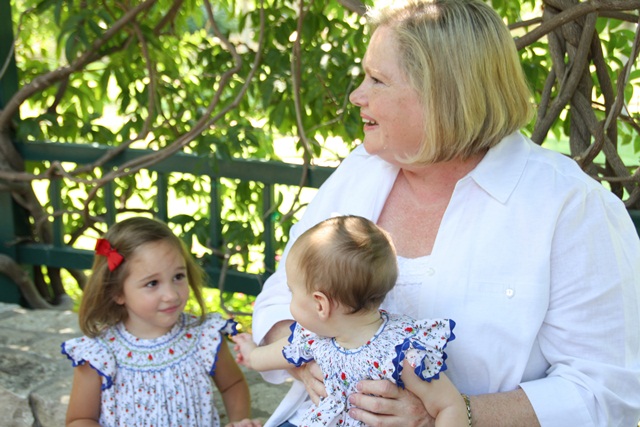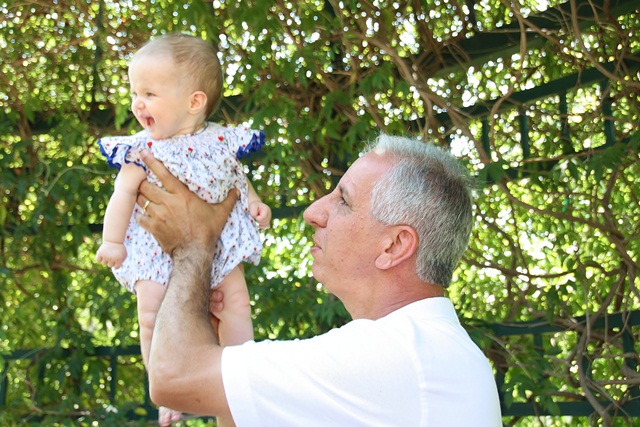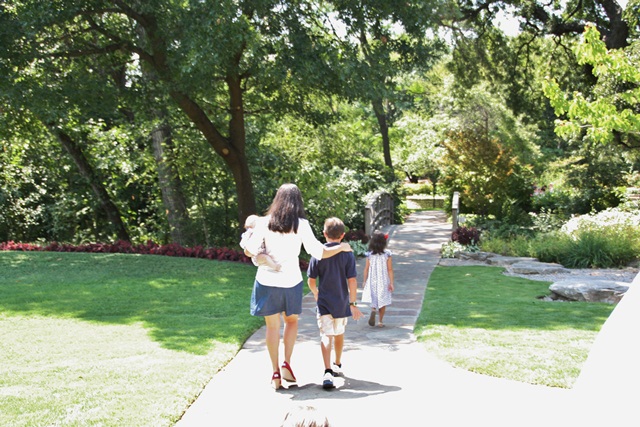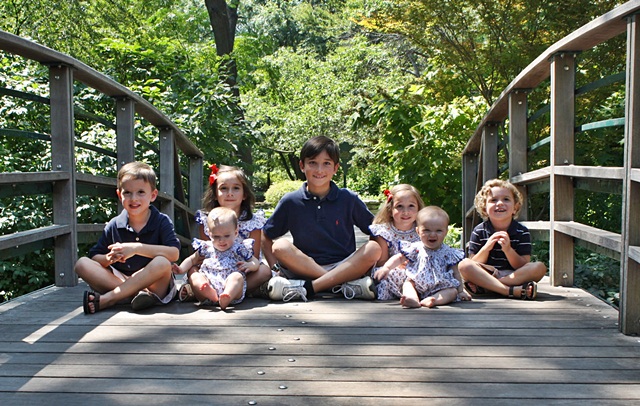 My little (big) brother and Georgia.  I can't wait to hold HIS little baby girl in a few short weeks!  He's just a little excited!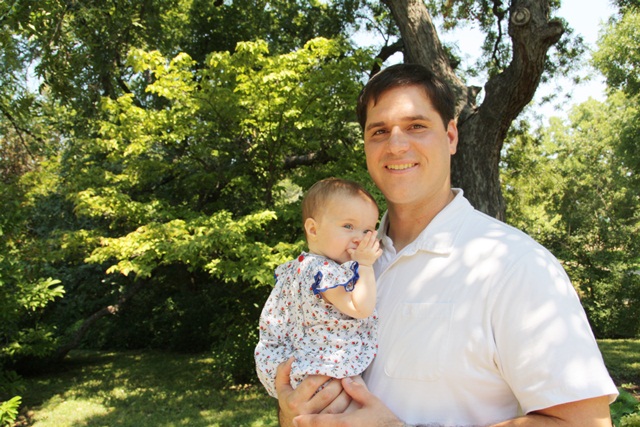 Exploring.
Ashley (the baby), Taylor (the middle), and me (the oldest and wisest!), my mom and dad.  We don't have a picture like this and I love how you can see that Ash looks more like my mom, I look like my dad, and Taylor is a mix.  Genes…they are crazy little things!
This is our newest family member!  Taylor, Kelly, and their sweet baby girl.  They haven't decided on a name, but I'm pushing for the name Kate!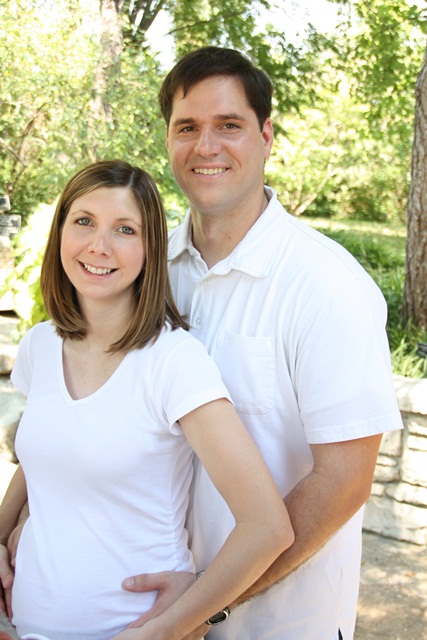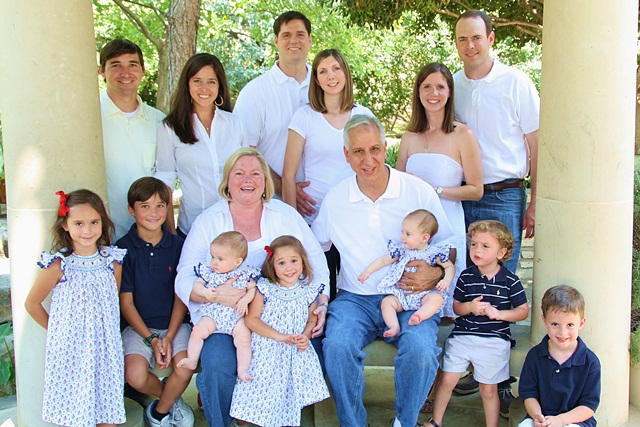 And this is how we got through the 1,000 degree photo shoot…FRUIT SNACKS!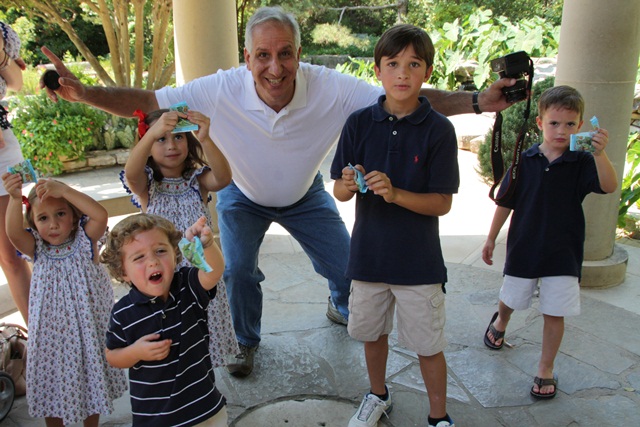 And now, our little fam!  In my mind we are going to take another family picture closer to Christmas to use as a Christmas card pic.  Who knows if that will actually happen, since I am "that person" ordering my cards from Shutterfly on December 20, with rush shipping, optimistically thinking that I can receive them, stuff them, address them, stamp them, and get them back in the mail so they will be delivered the 24th or at the latest, the 26th (which of course people would assume it was late because the mailman just didn't get it there in time!)   But my point is that if this ends up on a Christmas card, pretend like you never saw this picture! :)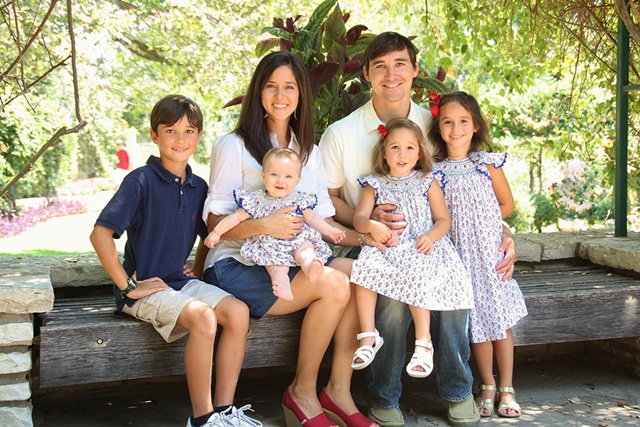 Laurabeth and Georgia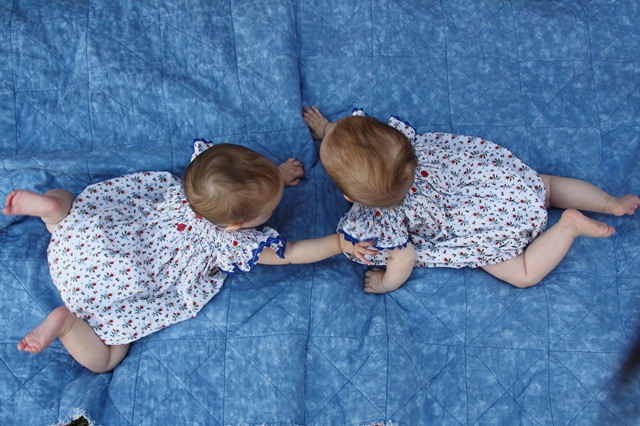 My dear brother has never chosen the easy way.  He is the middle child in so many ways.  He went to Baylor, but did not stay long.  He left there and went to New Mexico to "find himself," then he decided he was tired of everyone telling him what to do, so he joined the Air Force.  Ironic?  That is Taylor!
Taylor is smart!  He can do anything that he puts his mind to!  He knows random things about just about everything.  He can talk to a wall…for hours.  He loves animals, to the extreme.  He is big and giant and goofy, but his heart is even bigger!  He will be a great daddy!
Taylor did not chose the easy way (nor has he ever), but when we were on vacation we wanted to celebrate him for a wonderful accomplishment!  Taylor started going back to school while he was in the military.  He got his undergraduate degree, and decided he was not finished.  The boy who always hated school just got his MASTERS!  I don't know how he has done it, but we wanted to have a little redneck celebration for him to show him we are proud of him.
My mom brought a (much too small) high school graduation cap and gown, and he was told to put them on.  My dad played the "graduation song" and we did a fake ceremony.  It was short and sweet, but fun to celebrate Taylor!  Congrats little bro!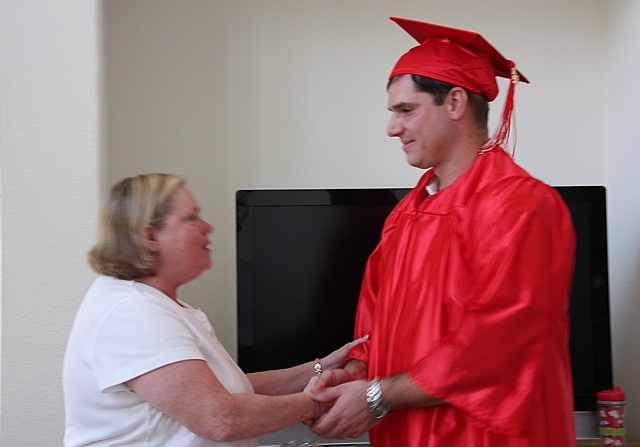 Turning the tassel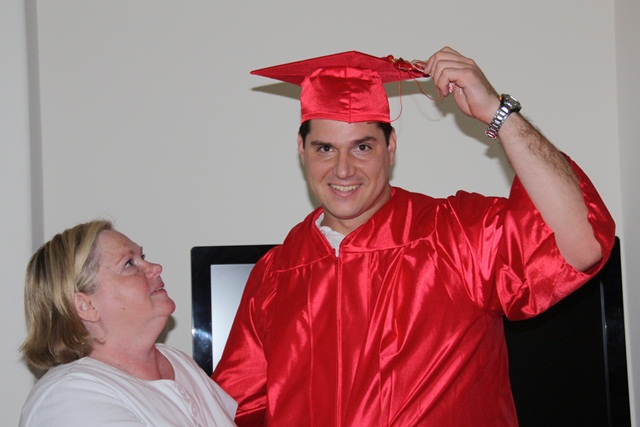 And of course tossing the cap!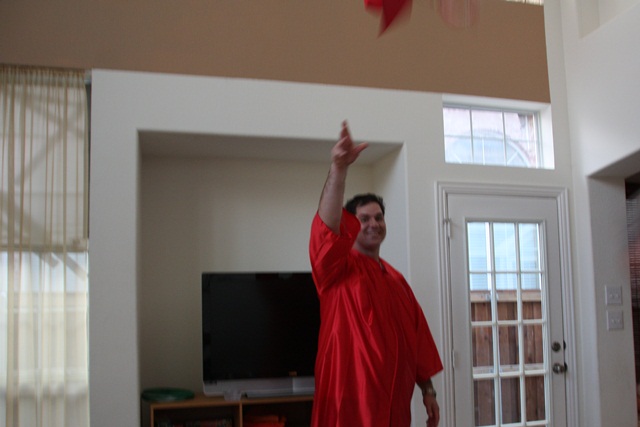 Congrats to my favowite bwudda! :)  Love you!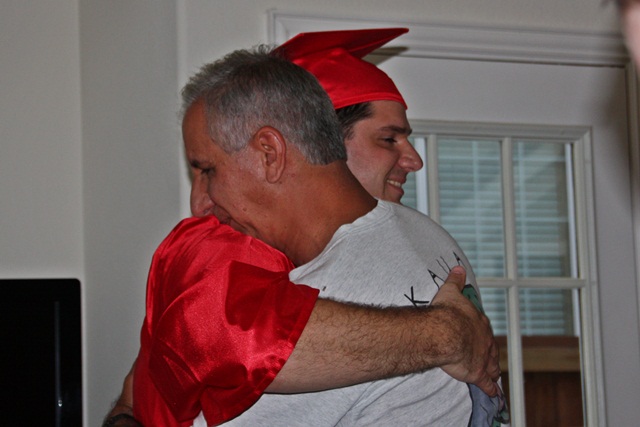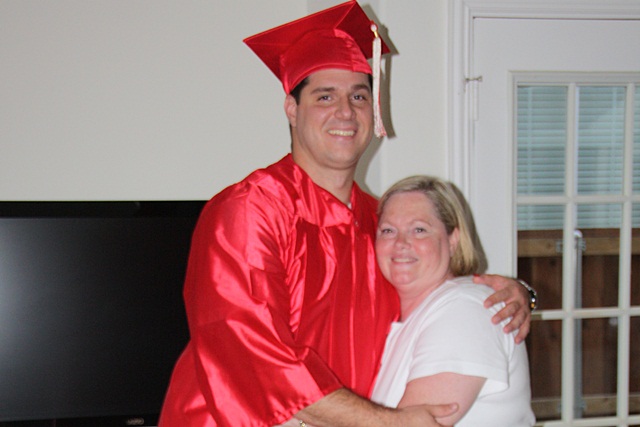 These maniacs didn't know why they were proud of him, but they were fine to get a free hug!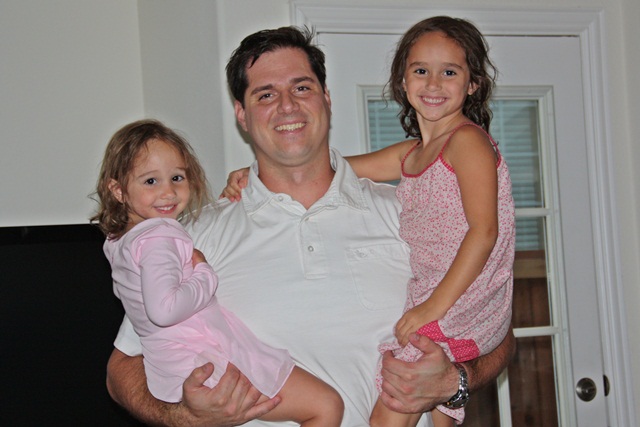 On our way home we went to the Dallas World Aquarium…and apparently so did the rest of Dallas.  It was amazing, and I want to go back, but Sunday afternoon at the end of summer is not the time to go!  We still had a great time and saw some amazing creatures.  The Lord sure is creative!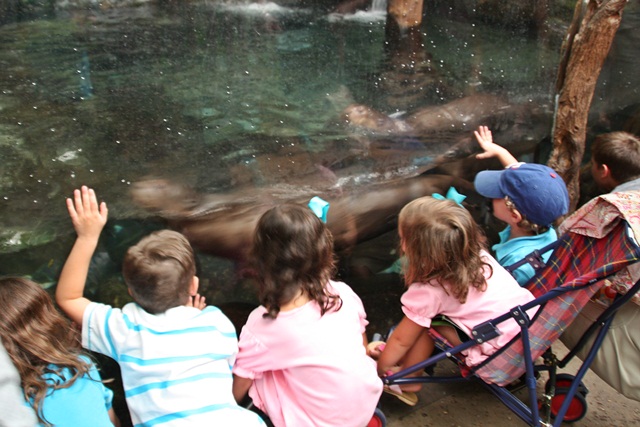 Look at those beautiful dark eyes!  I love this baby!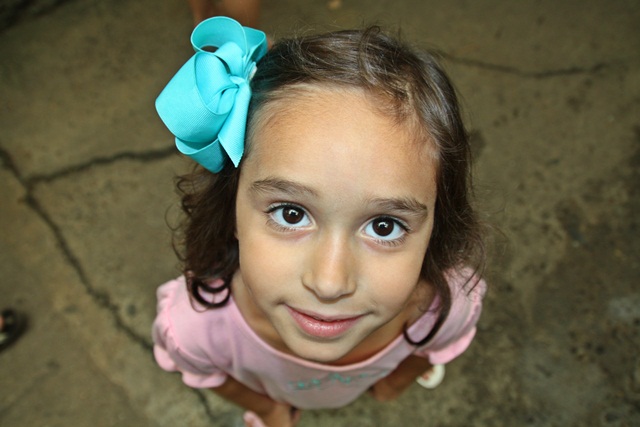 We tried for another family pic.  HA!  AnnaLeigh was in quite a mood at the DWA.  The picture below was probably her happiest moment and it all went downhill from there.  I'm pretty sure there were some people ready to call CPS due to her out of control screaming, kicking, hitting, and flailing accompanied by my attempt to "train" and "teach" and eventually to just shut her up!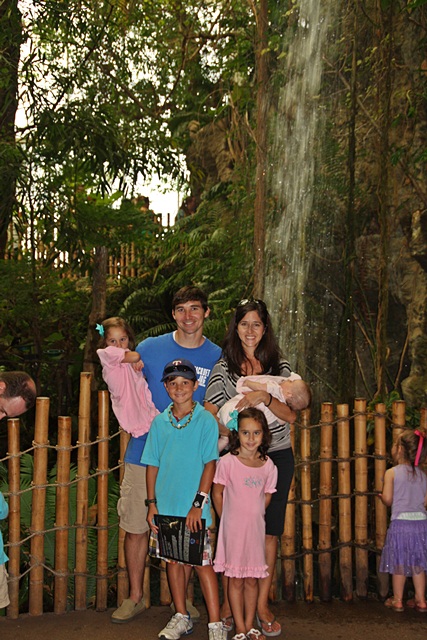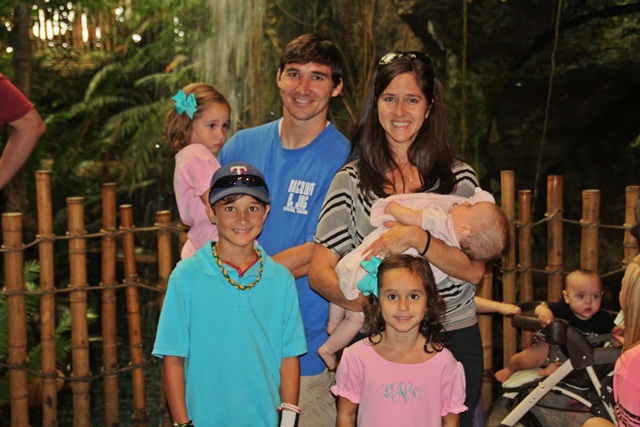 Long weekends make for tired babies, and AnnaLeigh was not the only tired child.  Georgia toured the whole building just like this…and I loved it!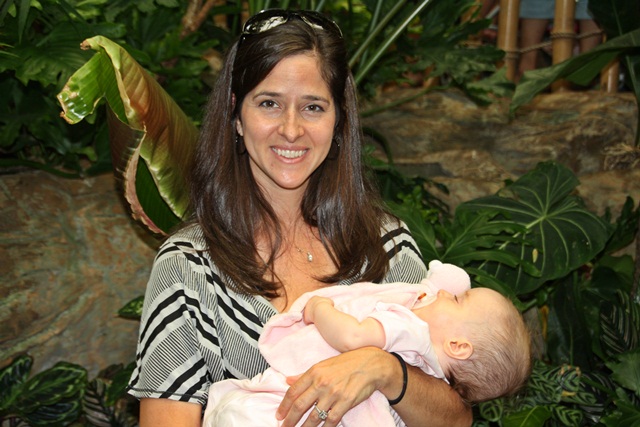 Preston's favorite!  The manatee.  It's a crazy looking thing!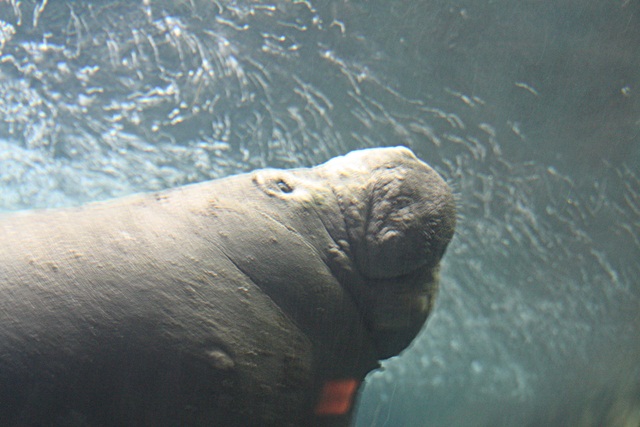 But speaking of crazy…this Alice in Wonderland looking thing has the strangest looking "face" on the underside.  How can you look at this shark and not know there is a GOD?!?  A funny, creative, imaginative, orderly GOD!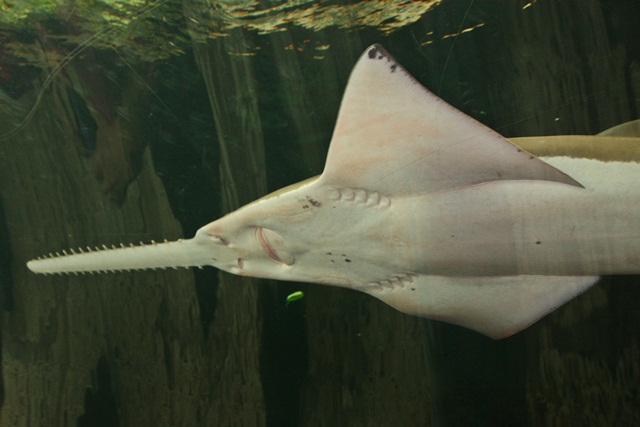 We had a wonderful weekend!  Thank you Diddy and Mama for everything!  Thank you Anne for all your help and your sweet gift to our babies.  Thank you Linny for all the fun toys for everyone!
I just can't imagine being more blessed!  Thank you LORD!
The End!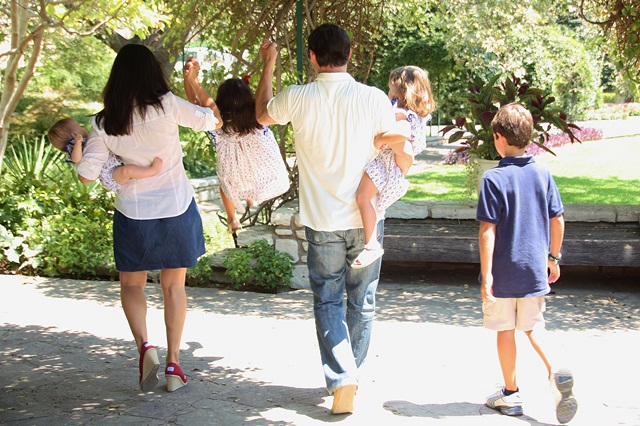 Kadiddlehop!
-kate
.