Saturday we celebrated my baby girl's first birthday.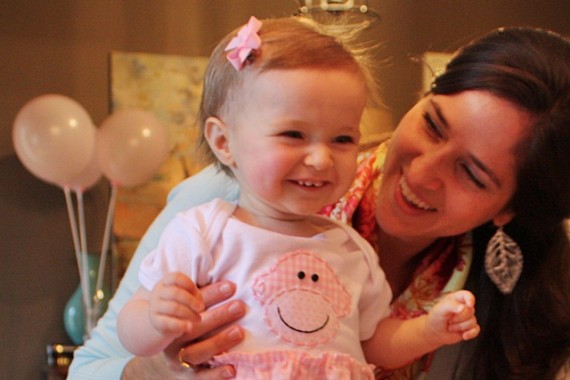 This is little Miss Georgia Sarullo at 12 days old, and Georgia at one year.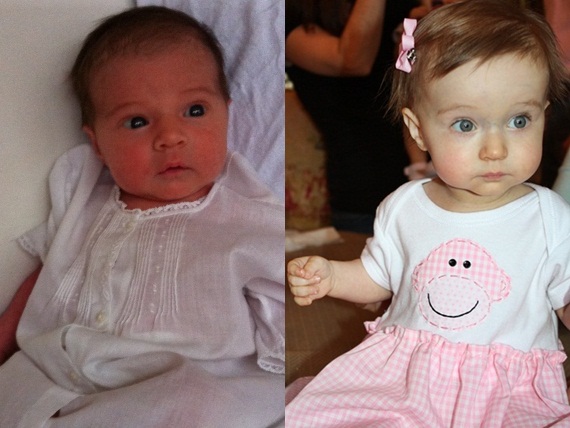 How is that the same kid?  How is that big baby girl my little newborn?
CRAZY!
I'm telling you, I know I say this over and over, but I truly can't believe how quickly Georgia's first year flew by.  It seems like this and this happened about 3 weeks ago!
SERIOUSLY!  3 weeks ago!
But Saturday we celebrated my baby girl's first year of life with a little family party.  We shared the party with my sister's baby girl, Laurabeth, who is just 6 days older than Georgia.  I love that these 2 are going to be almost like sisters growing up together.
Georgia and Laurabeth both sleep with the same kind of lovie, a sweet pink lovie monkey.  They love them, so we decided to have a Monkey birthday party for our little monkeys.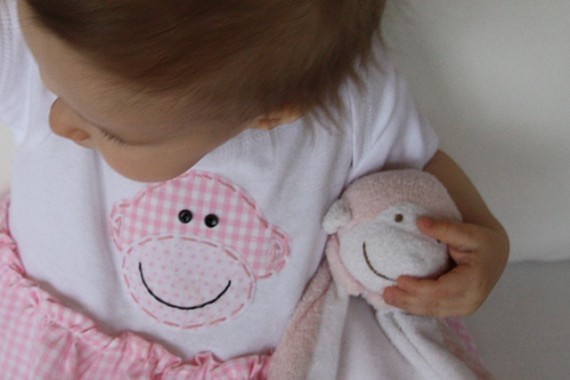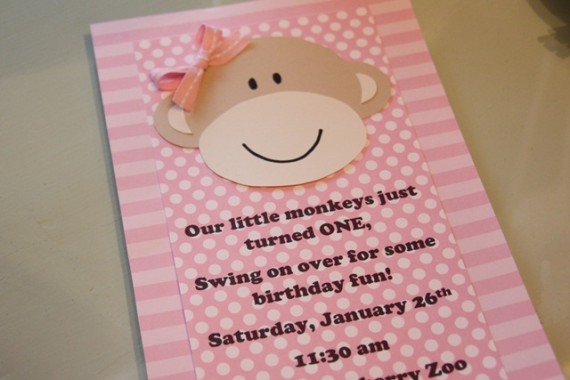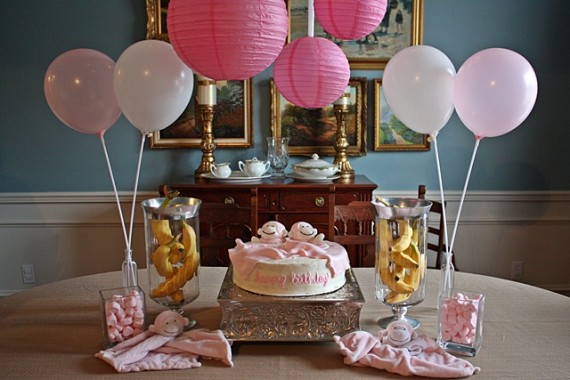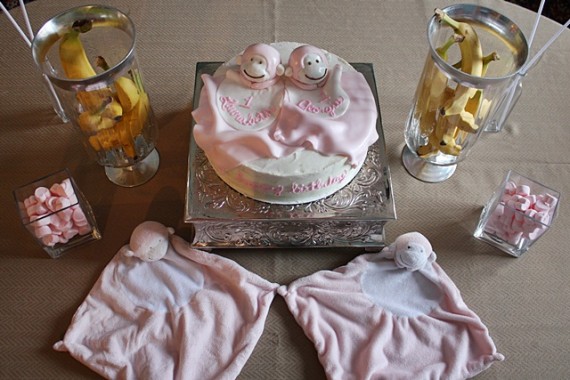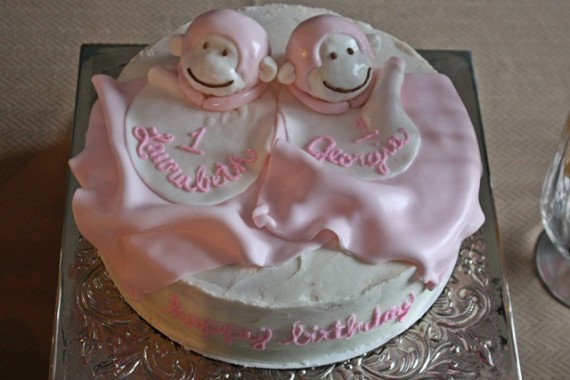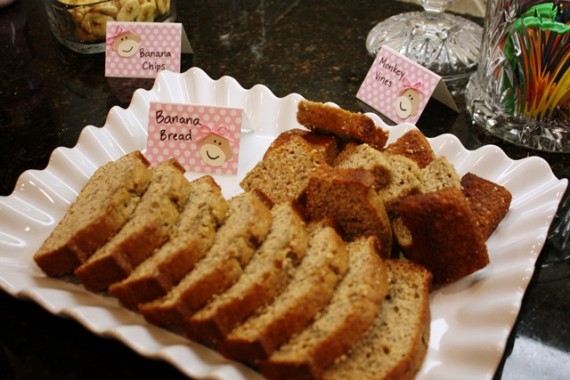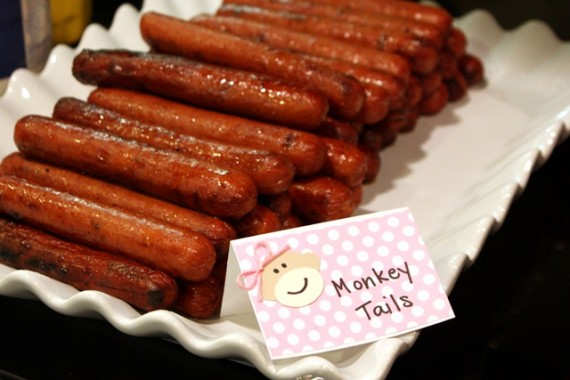 We used Curious George books as the guest books, and let everyone write a little note for each of the babies.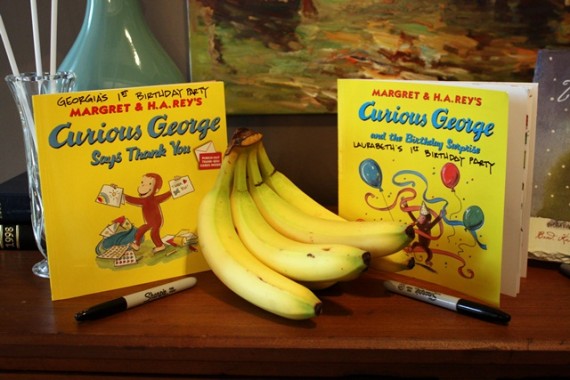 This was the first time that AnnaLeigh had ever written her name out for me.  Yes, she is four, but she is the third child, and she REFUSES to write her letters.  she loved signing Georgia and Laurabeth's books, and she did a great job.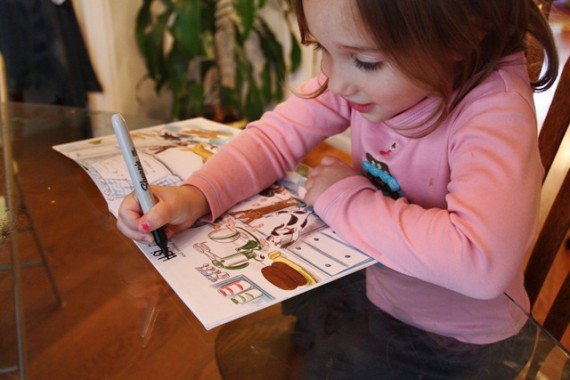 We'll get the left to right thing another time.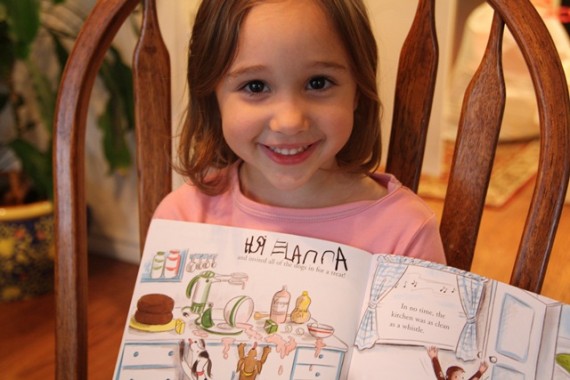 Laurabeth LOVES her lovie monkey!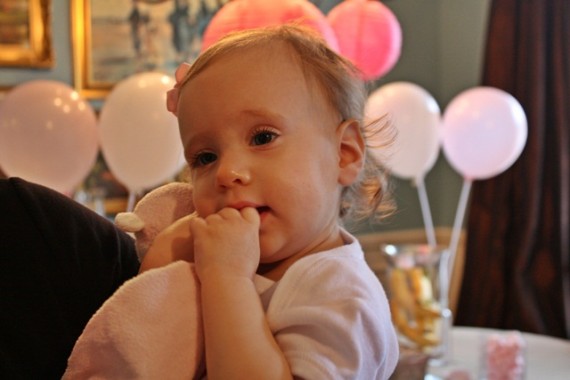 This is my sister and her little growing family…and she is PREGNANT with #4, due in June.  Yes, we are all crazy!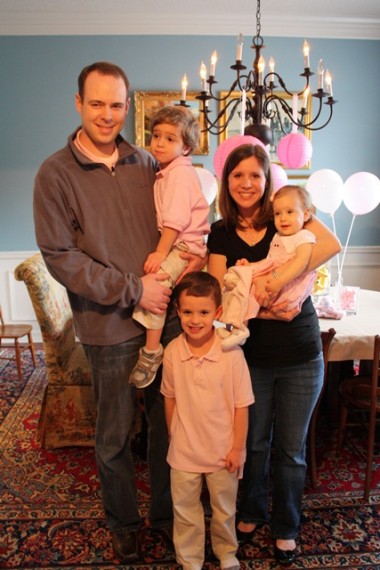 My Uncle Carroll and Aunt Barbara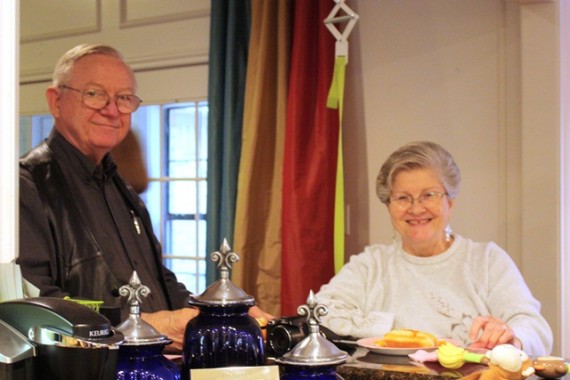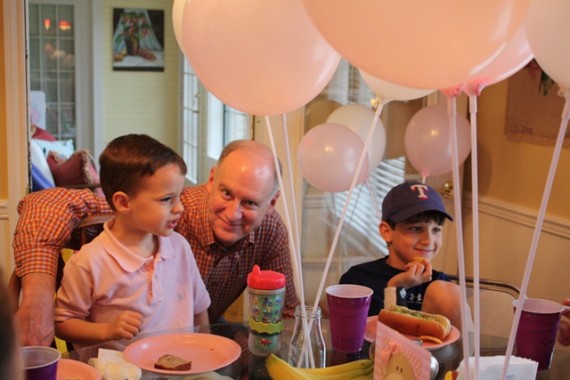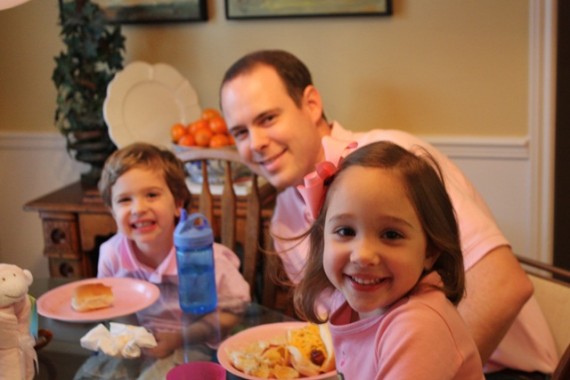 This is "Aunt Sugar" and she is my brother-in-law, Alan's, sister.  She is a wonderful part of our family and she loves our kids so much!  She and Georgia share a birthday, so I put Aunt Sugar's name on the back of the cake.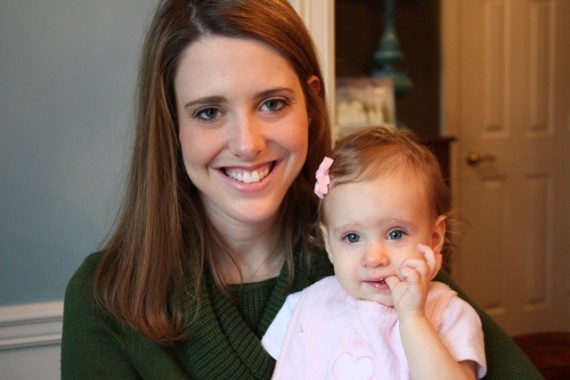 When Georgia saw the cake, she was so excited…which of course made this mama very happy!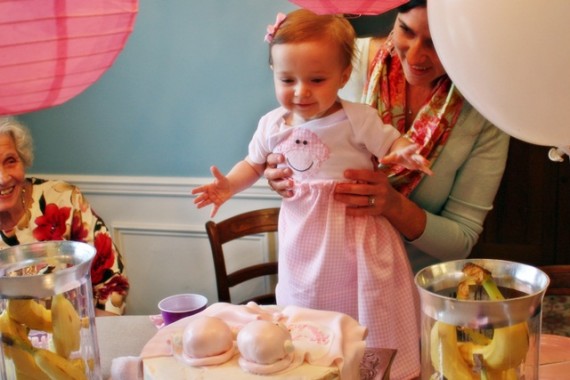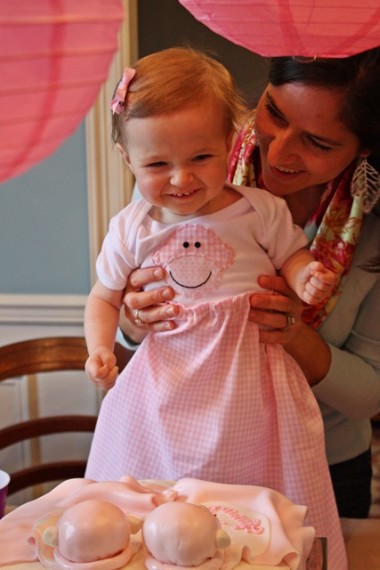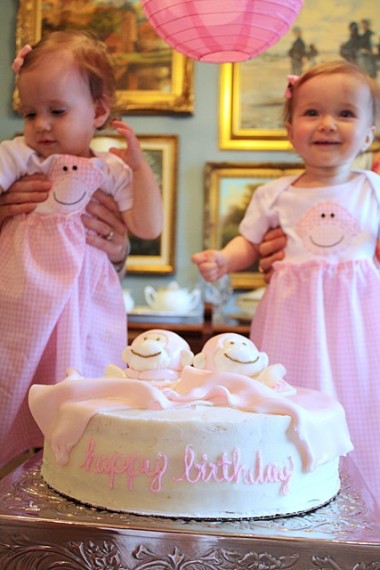 Laurabeth is always picking on poor Georgia…stealing something.  "Oh look!  A bow that I can eat!"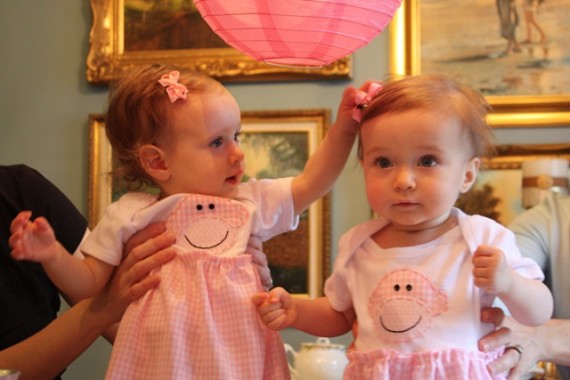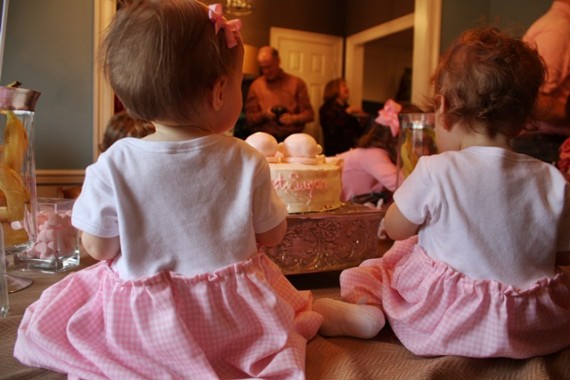 We told Laurabeth and Georgia to grab the monkey's head.  We had to make special "cakes" for them, because Laurabeth is allergic to eggs and Georgia has FPIES (but we think she is growing out if that quickly).  We couldn't let them eat regular birthday cake, so they ate rice krispie monkey heads covered in fondant.  Sugar, sugar, and more sugar…with a little butter.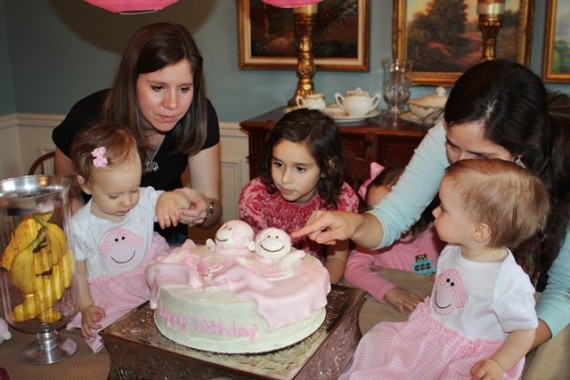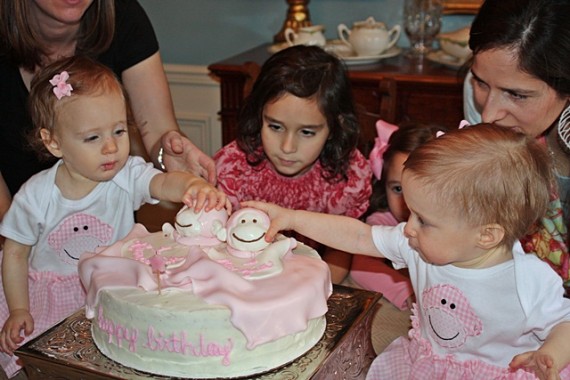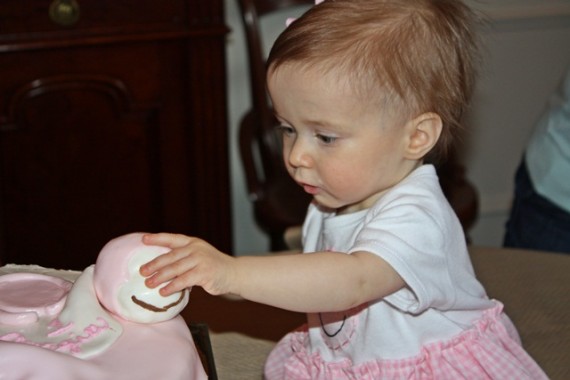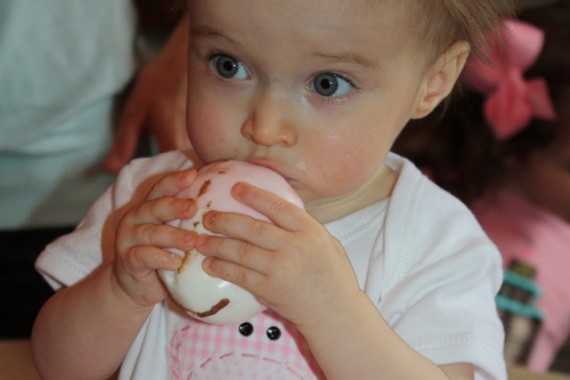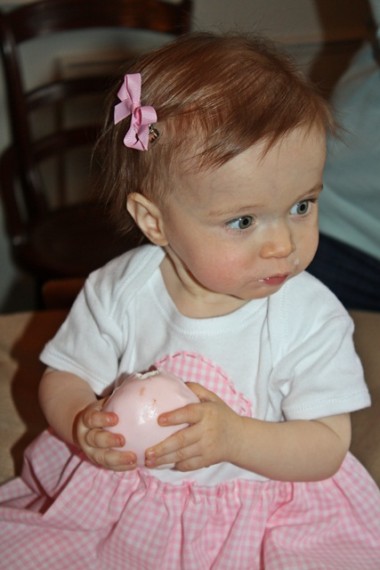 I think I like this!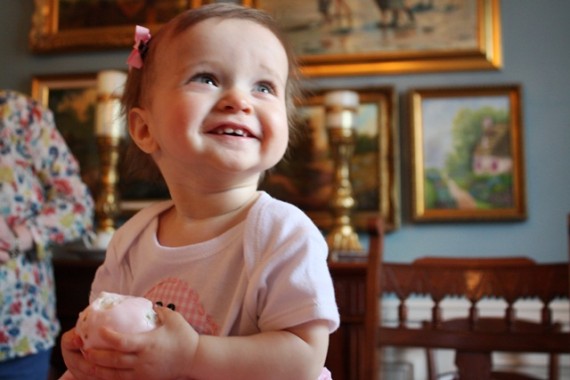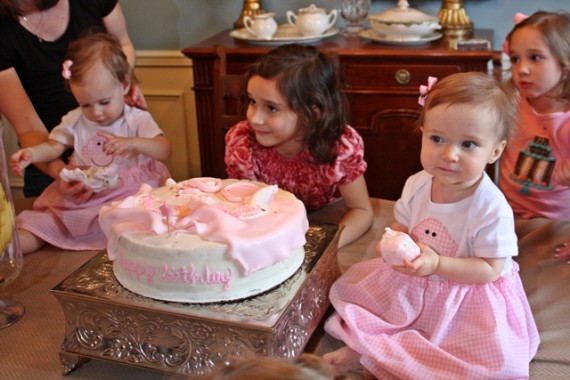 My mom was teaching Georgia new tricks.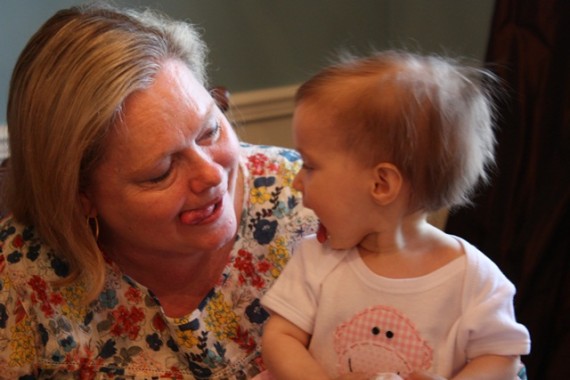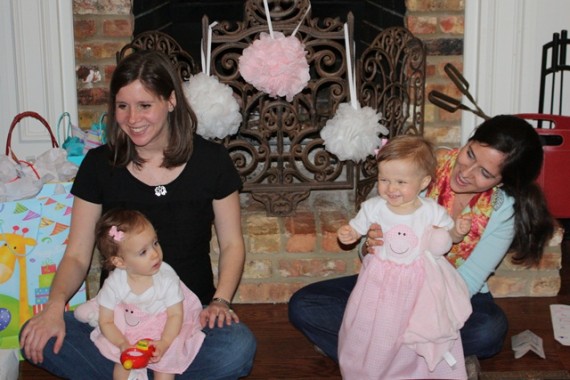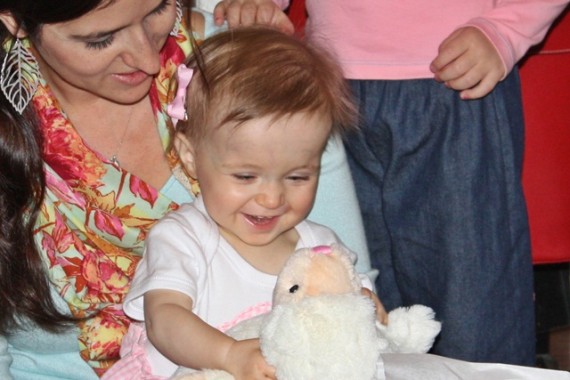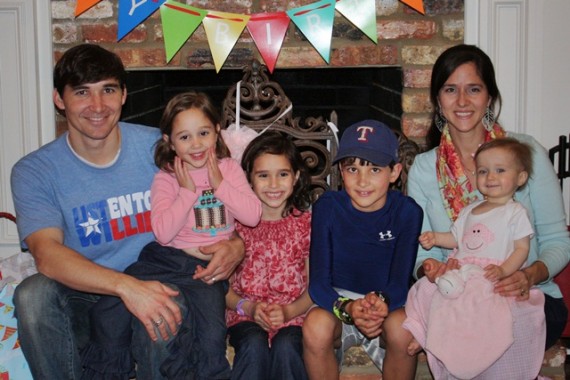 I know this is a gross picture of me, but it is precious of my baby girl and my cute hubby…and I love these two!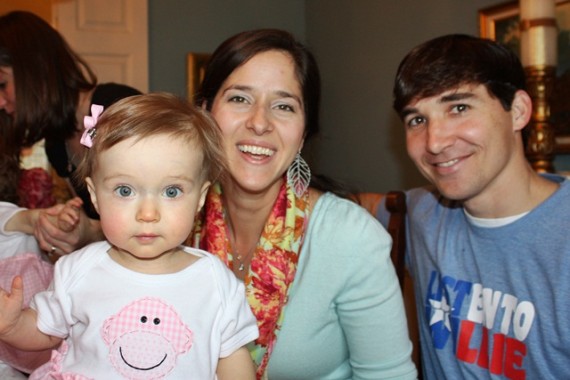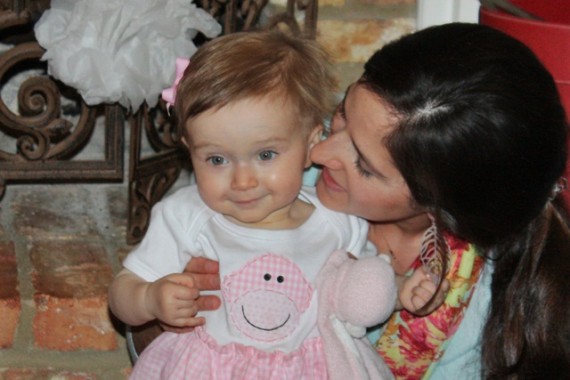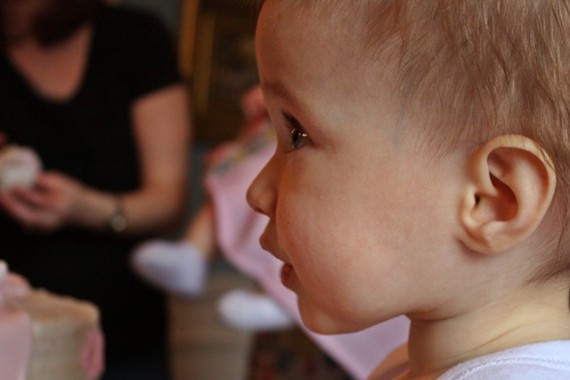 My sweet baby girl, you will never know how much I love you!  You are the perfect little exclamation point to our crazy family!
You are fun and funny.
You are my tiny baby girl, and I am so thankful you are so little at a whopping 15 pounds, although I would be okay if you gained a pound or two and slept through the night.  It's time!
You are a great eater, and you love to play with toys…as long as you can see me.  I love holding you all day and hugging you every chance I get.  You like to stiff-arm me, but I still manage to steal several kisses an hour.
You are treated like a toy by 3 wild maniacs, and you do a great job of rolling with the punches…literally.  Thank you for being tough and holding your own around here.  You are going to need to keep that up…for another 15 years or so.
You are a true joy to me, and I am so thankful the Lord chose you for me to love!
.
Lord, thank you for this little piece of heaven.  Thank you for her fire and her fun little personality.  Thank you for her ability to hold her own and still roll with our crazy schedule.  Thank you for protecting her in this wild family.  Thank you for 3 girls that can be best friends, and thank you for Laurabeth, a precious best friend for my little Georgia.   Thank you for the love that Preston has for his baby sister, and I pray that they will have a special bond as oldest and youngest.
You have blessed me far beyond what I can hope for or imagine, and I thank you!  Please bless this sweet girl as you have blessed me…with a wonderful Godly husband, and good health and a precious family that knows you and loves you. 
Lord, thank you for her health and that her little body is fearfully and wonderfully  made.  Thank you for her precious wrinkled nose and her silly little teeth.  Thank you for her little pink toes and her wild hair.  Thank you for her sweet soft skin and her round little belly.  I could eat this little baby up, and I pray that you help me to never forget what it feels like to hold her little body in my arms.  Lord, help me enjoy each new moment and each new phase, and help me to savor this special time.
Lord, my prayer is that Georgia would know you and love you!  Please draw her near to you and help me to teach her and train her the way that she needs to be trained and loved.  Please give me the wisdom to parent my little love, and I pray that her sweet heart would be obedient to you (and to me!) :)
Lord, thank you for Georgia!  Oh, how I love her!

Amen!
.
-kate
.