There once was a beautiful little princess that had a smile as bright as the sun, eyes that sparkled and danced like the stars, and a dimple that could light up a room.  Everywhere she went she smiled, and the world smiled back.  She was a joyful little princess.  She loved to sing and dance and talk and play, and all the while she smiled.
One day, the little princess decided to boogie board across the living room floor.  It was an ingenious idea, or so she thought.  The little princess, being as coordinated as her mother (the queen) should have known that boogie boarding could lead to some sort of mishap…and that it did!  The little princess lunged forward and dove for the pillow in which she was using to slide across the floor.  However, she misjudged her dive and missed the pillow altogether.  The little princess and her beautiful smile and her beautiful dimple and her perfect little white teeth went down, down, down and smashed into the hard floor.
It was a royal catastrophe!  She cried buckets and buckets of tears as the queen tried to console her, to no avail.  When the tears subsided, the little princess was taken to a kind dentist who told them all would return to normal soon, and they would live happily ever after.  However, something the kind lad did not mention, was that her beautiful pearly white tooth would soon be replaced by a dreary shade of gray!
A week after the incident, the joyful little princess smiled just as much as usual, but now she would carry the scar from her ingenious idea with her everywhere she went.  And the vain, superficial queen was just thankful that her happy little princess was okay…and that the little gray tooth was a baby tooth!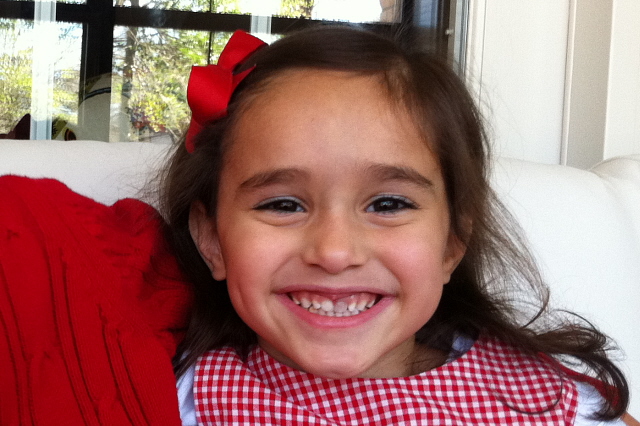 And the little gray-toothed princess and the superficial queen lived happily ever after.
THE END.
-queen kate
.