It's Friday morning.  The kids hear the garage door and they start chanting, "Nut-nuts!  Nut-nuts!"  They know that their sweet daddy is going to come through that door with little white sacks filled with sugary goodness.  AnnaLeigh calls them "Nut-nuts" so now the big kids call them that, too.  Friday is "DONUT DAY!" around here.
.
The kids get Donut holes and Brad brings me an apple fritter…aaaaand McDonald's coffee.  Simply the best!  I'm sipping on it as I type.  You just can't beat the $1 cup of  joe from Mickey-D's!  Isn't he the best daddy and hubby in the world?!?!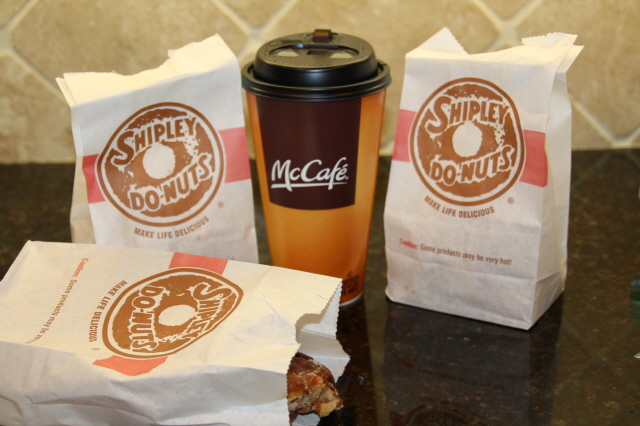 Brad gets our goodies on the way home from his middle of the night basketball game.   He says he plays basketball in the morning.  I say anything before 7:00 am is NOT morning.  He wakes up at 4:30 several mornings a week to play ball, run, work out, etc.   I.DO.NOT.DO.MORNINGS!…unless I'm still up from the night before.  There have been times where we've crossed paths as I'm going to bed and he's waking up.  CRAZY!
.
Anyway, Brad plays basketball, then gets donuts.  This morning, Lilly Katherine said, "Daddy, do you have to win at basketball to get donuts?"  Oh, she cracks us up!  Today I'm going to start a new category called "Real Quotes" that will be filled with LK-isms!
.
I'll leave you with this pic…of my cute hubby.  This pic is just a couple of years old, but he pretty much looks the same.  He just gets cuter with age!