I have not posted a recipe in FOREVER!  So, it's time to post one!
But first…
My dear, precious husband knows how to make me happy, happy, happy!  Brad is truly the best husband in the world, and one of the sweet gifts he got me for Valentine's Day was this coffee cup…probably hoping that I will wake up a little happy, happy, happy-er in the mornings than I do.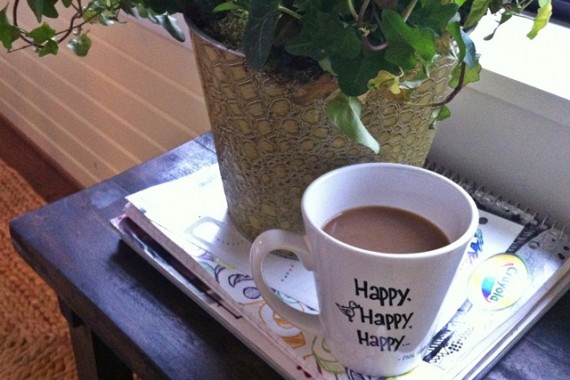 And just in case you have a child that decides she wants to
"Pwactice huh wettahs"
(Practice her letters) on your computer screen…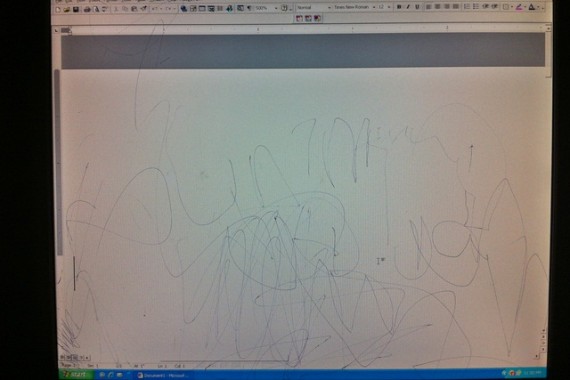 Windex doesn't touch it.  409 doesn't work.  BUT the Magic Eraser is truly MAGIC!  It took every bit of pen off of my computer screen, with ease.  And a certain little maniac will never make that mistake again!
.
Moving on.
We love salmon.  It was on sale.  I bought a lot of it!
I think salmon is one of the easiest things to cook, and it is hard to mess up!  I usually just put it on foil, put a few thin slices of butter on top.  Sprinkle it with Nature's Seasons, Montreal Steak Grill Mates, and Garlic Pepper, then squeeze a little lemon on it and grill until it flakes easily.
We enjoyed salmon with baked potatoes, green beans, and this salad, but I had leftover cooked salmon that I needed to use.
So, I made Salmon with Jalapeno Caesar Pasta Salad…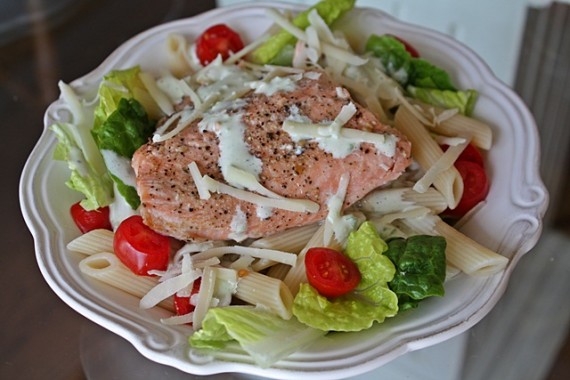 Of course, you could use chicken or steak, but we prefer salmon.
You will need:  Romaine Lettuce, Penne Pasta, Parmesan Cheese, Tomatoes, Salmon (or chicken), and Jalapeno Caesar Dressing (Recipe for dressing below)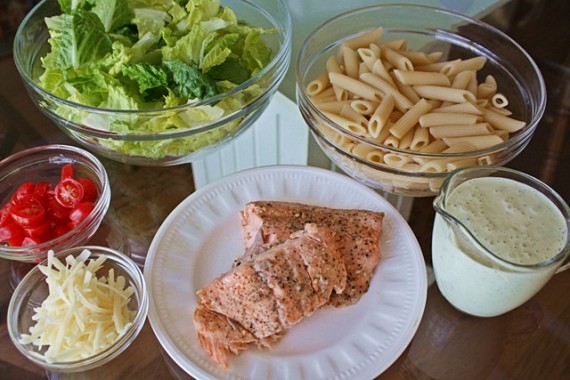 While you are cooking the pasta, make jalapeno Caesar dressing.  It is so easy, and adds so much to the salad.
Recipe for Jalapeno Caesar Dressing
You will need Caesar Dressing, a Jalapeno, a Lime or a Lemon, and Freshly Ground Black Pepper.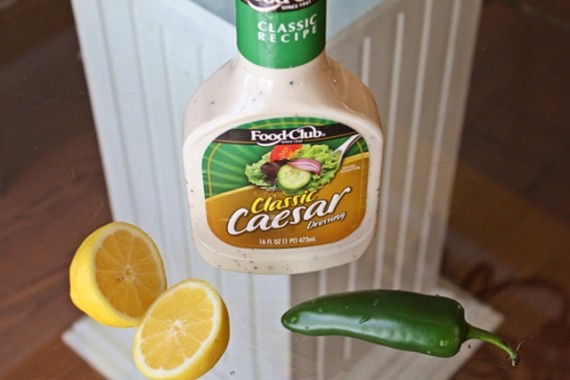 It is best if you choose a Caesar dressing that you are already happy with.  I used what I had, but a good Caesar would have been much better.  Also, a lemon will work, but a lime offers much more flavor, so use a lime if you have one.
I did not.
Roughly chop the jalapeno with seeds and place it in a food processor.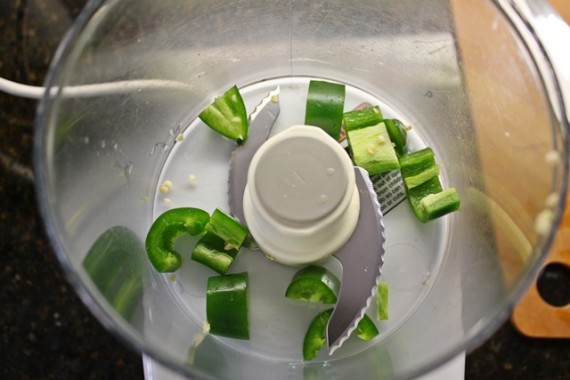 Add 1 cup of Caesar dressing, the juice from one lime (or lemon), and freshly ground black pepper.  Process until smooth.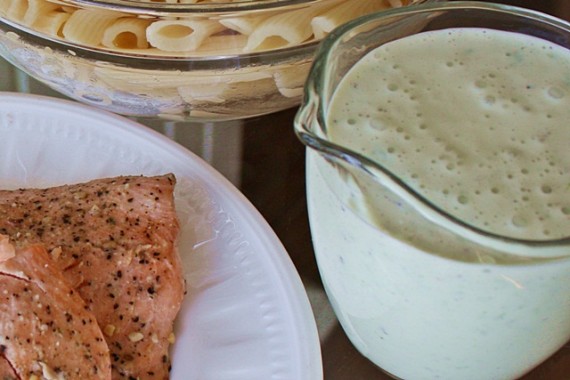 Then you just combine the amount of lettuce and pasta that you want, and add tomatoes, Parmesan, Salmon, and dressing.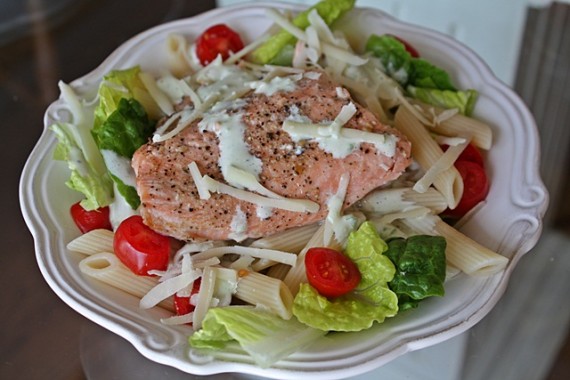 So easy.  So delicious!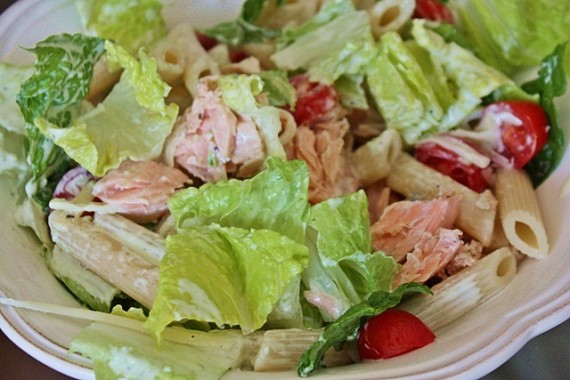 Recipe for Salmon with Jalapeno Caesar Pasta Salad
Ingredients:
Romaine Lettuce
Cherry or Grape Tomatoes
Penne Pasta
Parmesan Cheese
Salmon or Chicken
1 Cup of good quality Bottled Caesar Dressing
1 Jalapeno
Juice from 1 Lime or 1 Lemon (about 1 Tablespoon)
1/4 tsp Fresh Ground Black Pepper
Cook pasta according to package directions.  Meanwhile, roughly chop jalapeno.  Place jalapeno, Caesar dressing, lime juice, and fresh ground black pepper in a food processor and process until smooth.
In a large bowl, combine the amount of lettuce and pasta that you want.  Add the tomatoes, Parmesan, salmon, and dressing for your big, fat, yummy, Jalapeno Caesar Pasta Salad!
Enjoy!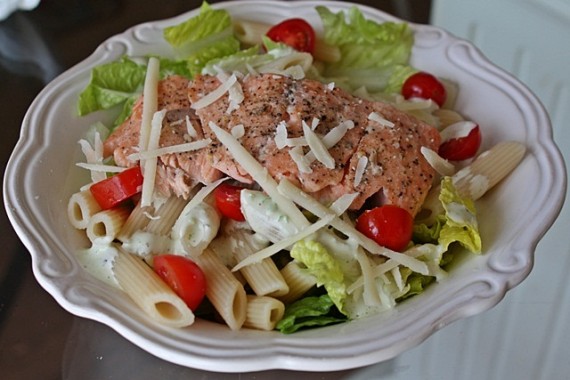 Upon posting that last picture, my stomach has started growling.  It's 12:30.  I have a cookie cake in the kitchen.  Hmmm.  I think I'll have one little bite of it…just to make my tummy be quiet.  :)
Happy eating!
-kate
.