I have never gotten this behind on my blog, but I have been so busy that I have had absolutely no time at all for blogging!  We have had crazy weeks with swimming, baseball camp, spending time in Mississippi, enjoying families that have come to visit us in Texas, hosting parties, and all the fun stuff that comes with summertime!  It's been wild and fun, and quite honestly…I'M WORN OUT!  I'm so tired I can barely keep my eyes open, but I have a quiet house and I would rather blog while I have the chance than sleep.  (I don't know where LK gets it!)
So where do I start? I think I'll just do a cell phone pics post to start the catch-up process. The Mississippi trip could be 15 posts alone, so I'm skipping that for now.
My little brother (Taylor) and his sweet wife (Kelly) live in Oklahoma.  (Georgia looks a little crazy in this pic.)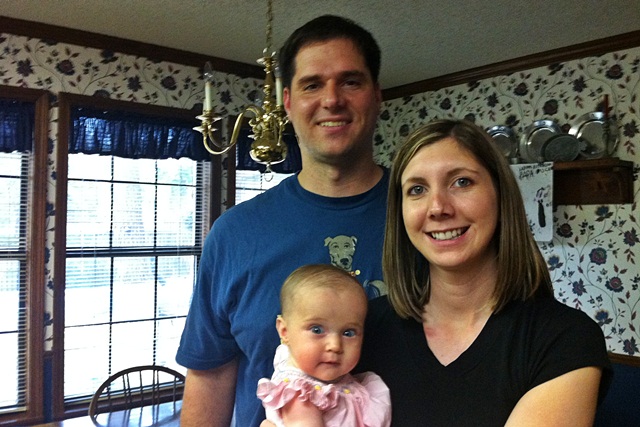 They came in town 2 weeks ago to share some pretty exciting news with us!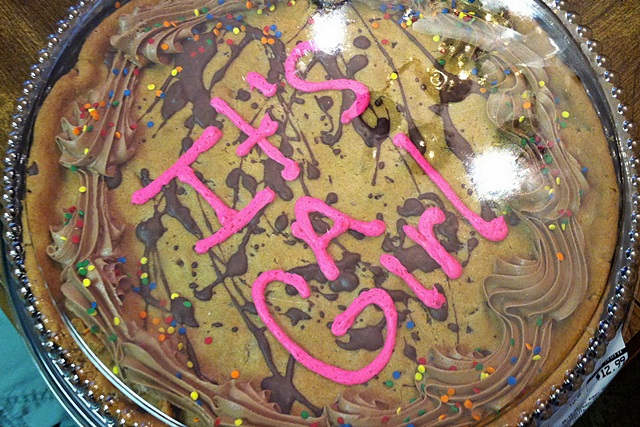 They are going to have a little girl, due in November!  Crazy!!! That means that my sister, my brother and I all will have little girls born in 2012!  What a blessing!  We grew up with so many cousins that we loved to visit and play with, and I am so happy that Taylor and Kelly are adding some crazy kids to the mix.  I'm even more excited that it's a GIRL!  Taylor, I'm praying that you have a child just like you!  Sorry, Kelly!  :)  Maybe this child will be perfect like most first-borns are, then you can have a little Taylor for #2!
.
For Father's Day this year I wanted to make my dad a meal that he only gets when he goes to see his parents.  I made several of our favorite foods from MamaSara and Papa's house…the best Lebanese and Italian cooks I know!  Maybe one day I'll post these recipes.  For now I am posting pics because it was a pretty delicious meal and reminded me so much of my sweet MamaSara.  In fact, my sister and mom gave me the best compliment they could possibly have given me when they said, "It smells like MamaSara's house in here!"  Oh how I treasure that smell!
So, to any of you who can appreciate Lebanese or Italian foods…I made stuffed squash, spaghetti with homemade spaghetti sauce, Kibbee (Kibba, Kibbie, however you choose to spell it), cucumber and tomato salad, and stuffed artichokes.  The only things missing were fresh baked bread, canolli and divinity!  Next time…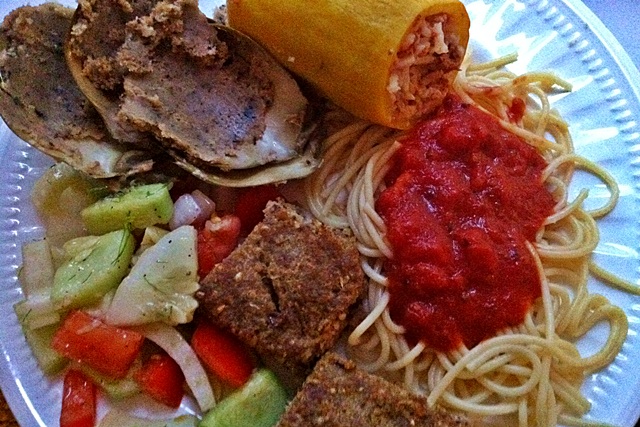 .
This is something else we have been up to.  My dad was taking the training wheels off of Lilly Katherine's bike.  He started taking one off, and she ran inside, grabbed the plastic wrench from the play toolkit and ran out to "help" him.  I'm telling you, this child can be so stinkin' precious!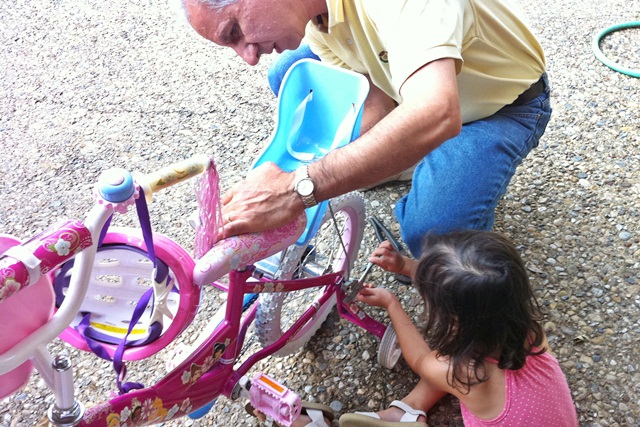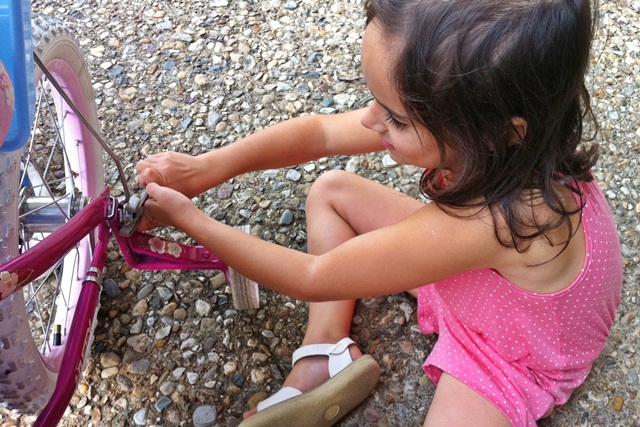 .
We got to spend some time with the Williams twins.  They are so cute!  Georgia is 5 weeks older than Thomas and Henry, and about 5 pounds lighter…well, almost. :)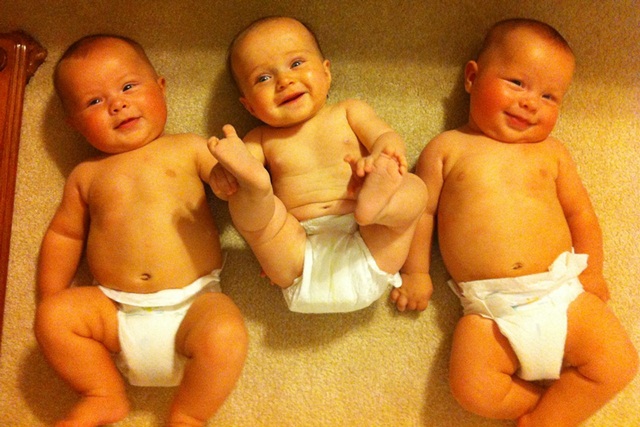 .
This beautiful little face was looking up at me.  She was promising me that she is never going to grow, never going to say "NO!" and never going to leave my side…ever!  I think the others told me that too, but they lied.  She's not lying!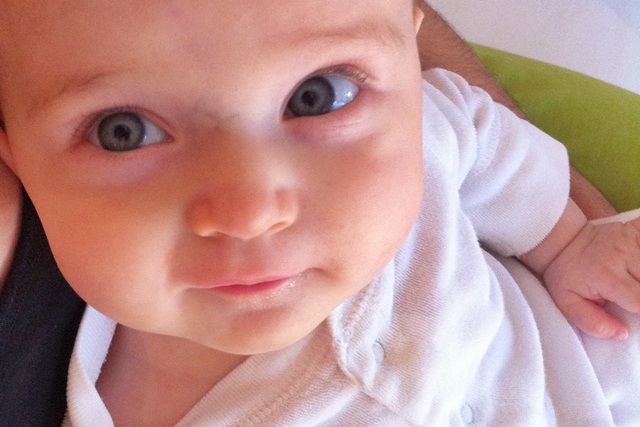 Sidenote:  When AnnaLeigh was 2 she used to always tell me "Mama, I'm not going to grow up!  I'm going to stay 2 fowevah and evah and nevah weave you."  One day she got in trouble and was in timeout and she started screaming the only mean thing she could think of to say to me, "I AM NOT GOING TO STAY TWO!  I AM GOING TO GWOW UP!  I AM NOT GOING TO STAY WIF YOU FOWEVAH!"  It was hilarious!  And yes, she got in trouble for being ugly to her mother…after I had a good long laugh in the kitchen.
.
And this is my new obsession.  As a nursing mom, the iPhone is such a fun toy!  My Aunt Teresa introduced me to the fancy little time-sponge and I have wasted far too long on it the past week.  It's a fun app!  Have fun!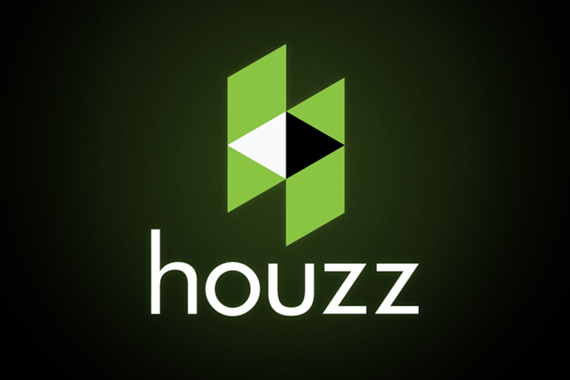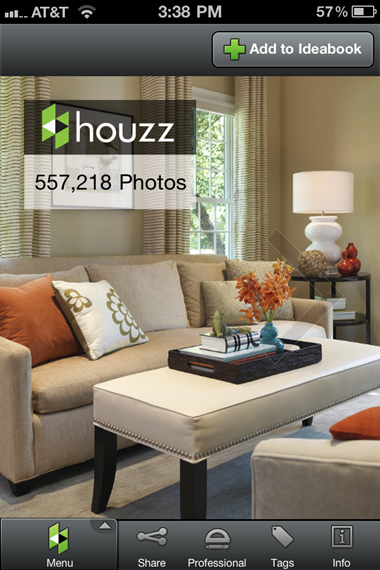 The kids are now awake.  The rain has started falling.  Time to put the computer up.  Much more to come.  For now, have a happy Wednesday!
-kate
.