My sweet baby girl is 12 days old already, and I love her even more today!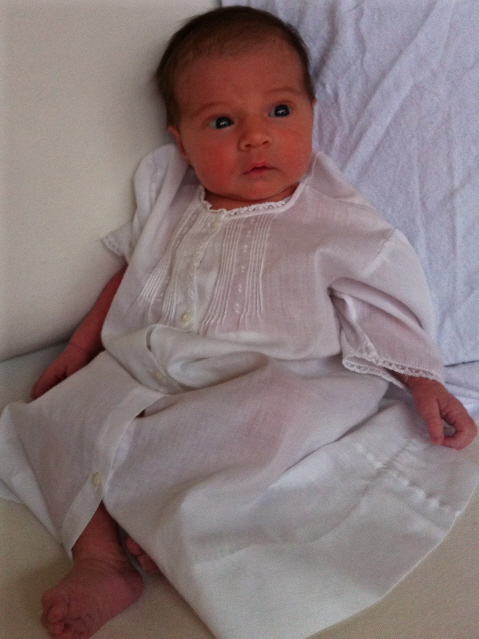 She is so sweet, and rarely cries…except when I'm ready to go to bed.  Some of that is due to the fact that I simply can't put her down.  I hold her 99% of the time.  Brad asked me a few days ago, "Did you hold Preston this much?" and my pitiful response was, "Absolutely not!  I was afraid I would mess him up if I held him too much.  I didn't want to spoil him!"
Isn't that sad?!?
My advice to any new mom is HOLD THEM!  I know what the books say.  Preston was a BABYWISE baby!  I worked full-time, he was in daycare, and I left work to nurse him twice a day.  He HAD to be on a strict schedule, so I read Babywise, used it, referred to it, stressed about it, and I just knew I was ruining his 2 week old life if I made any missteps.  Well, this is my fourth child and my philosophy has changed a little.
HOLD THAT BABY!
What I've learned is that your little angel (and my little Georgia) will be bigger TOMORROW!  They grow every single day.  One day you'll look up and realize that you can no longer pick up that sweet little baby.  It's a sad day.  I can barely pick Preston (8) up, and I know my days of being able to lift him are numbered.  Not that I lift him often, but just to know that I can never pick him up again makes him seem so much bigger…older.
So for that reason, I will hold this baby!  I will hold her, love on her, kiss her, squeeze her, and I will be perfectly happy to spoil her rotten!  Of course I want her to learn how to go to sleep without me holding her, but she's 12 days old…I have time for that later.  Now, my house is the thing that may be suffering from my new way of thinking.  Eventually I will have to put my little bucket o' love down and pick up my bucket o' cleaning supplies.  Sigh!
The other wonderful thing that has made it possible for me to constantly hold little miss Georgia is that we have precious friends who have provided so much for our family!  Our friends have brought food every single night since we've been home from the hospital.  I cannot tell you what a blessing it has been to have so many delicious meals, and I have some new recipes that I can't wait to share with you!  Thank you to all of you who have provided for us this past week!  Brad and I are truly grateful and appreciative!
Other than wonderful meals, we have received so many sweet gifts.  It's been fun to see GEORGIA written and monogrammed on several little pink things.  I love gifts with my babies' names on them, because we have so few of them.  I guess that's because we never know what we're having!
I just had to post a few pics of some of the gifts I have received that were cute and unique.  With this being my fourth, I was surprised at the things I had never seen before, like these…
A Stroller made out of diapers!  I've seen diaper cakes, but never a STROLLER!  Some of the precious women at Brad's office, Sheryl and Penny made this, and I know it was a labor of love!  LK and AnnaLeigh think this is for their babies. :)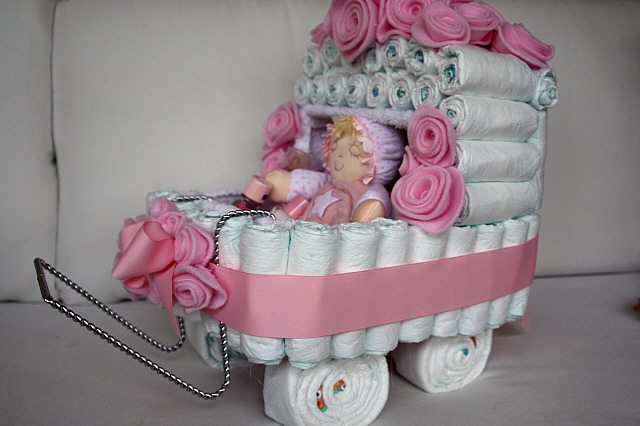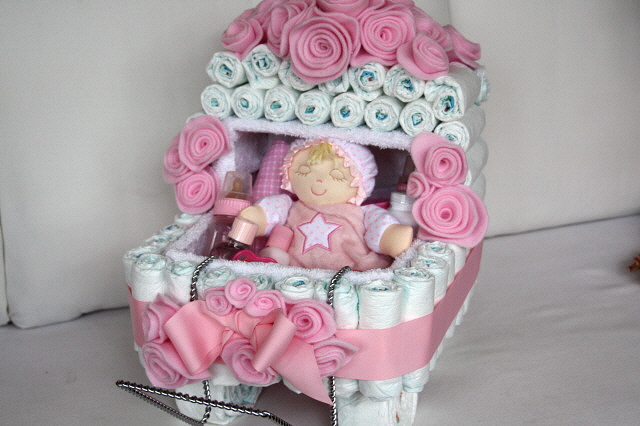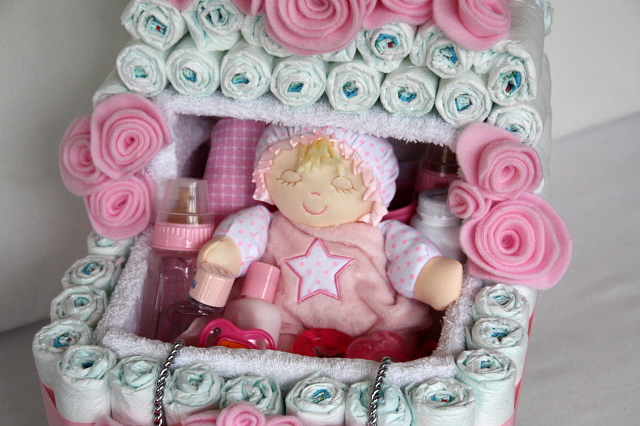 Dominique brought her fabulous cookie cake to the hospital the night Georgia was born for all of our family and friends to enjoy.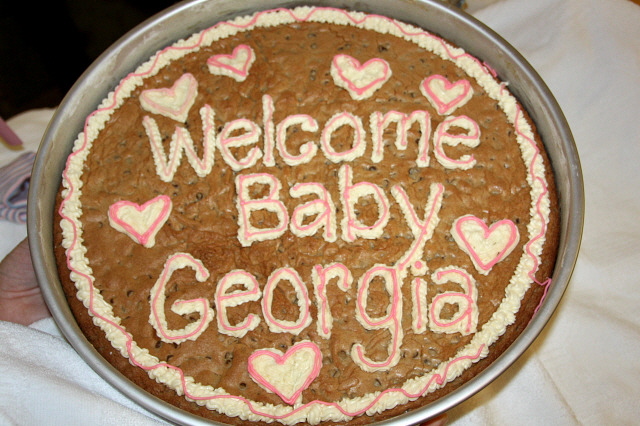 Meredith and Carrie brought a meal and these AMAZING cookies that our friend Amanda makes.  She brought 6 little (actually they're big) pink crowns with Georgia's initials on them.  I ate 5 of them.  I couldn't help myself, they were just too darn good!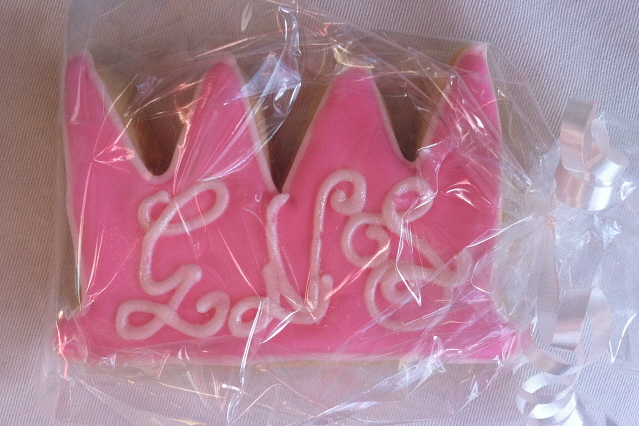 Michael and Lisa sent a cookie bouquet, and they were so sweet to have a cookie made for each child.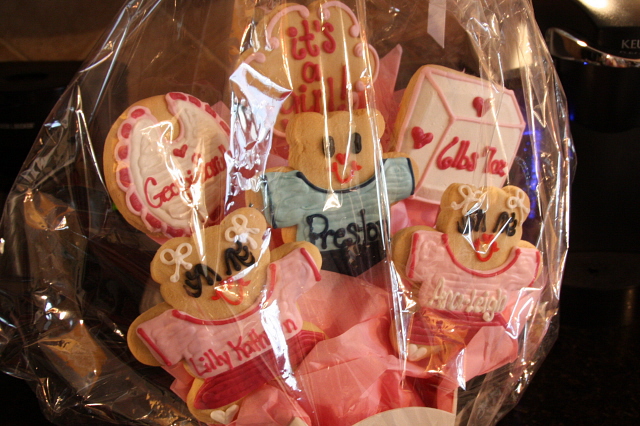 It made these 2 maniacs very happy, despite the forced smile on AnnaLeigh's face.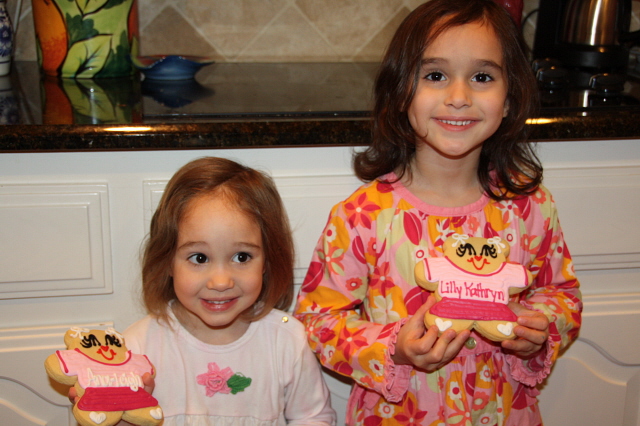 When Laurabeth was born 6 days before Georgia, our wonderful friend, Peggy, brought Ashley these cute little panties.  I was a little jealous because I could picture a sweet little 7 month old girl crawling around with a tush full of ruffles, and I knew I wouldn't have a ruffly baby girl.  HA!  When Georgia was born, sweet Peggy brought my baby girl her own pair of ruffle panties.  They're MudPie, and they will be so cute on those 2 little bottoms!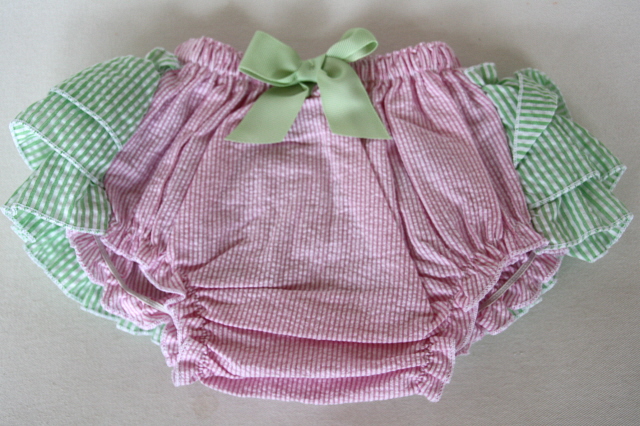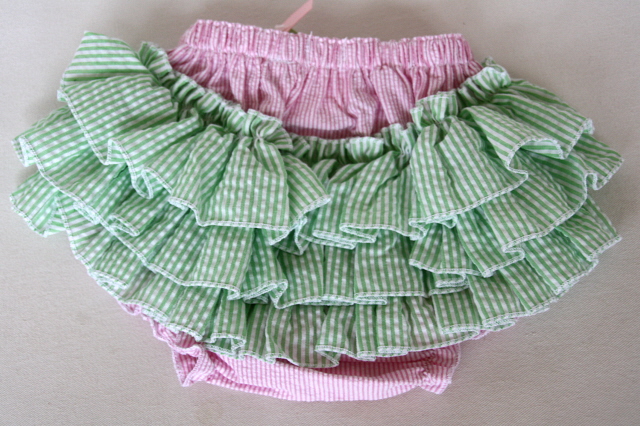 Okay, now this is a gift that I know many of you will want to copy!  This great gift was given to me by Angie, a friend that I really wish I knew better!  Our husbands play basketball together in the middle of the night (4:45 in the morning) and we run into each other occasionally.  She is always doing crafty things for people, and I know if we ever got to hang out we would have so much fun!  This is called a Memory Can, and I've never seen one before, but I will definitely be copying her idea…you should too!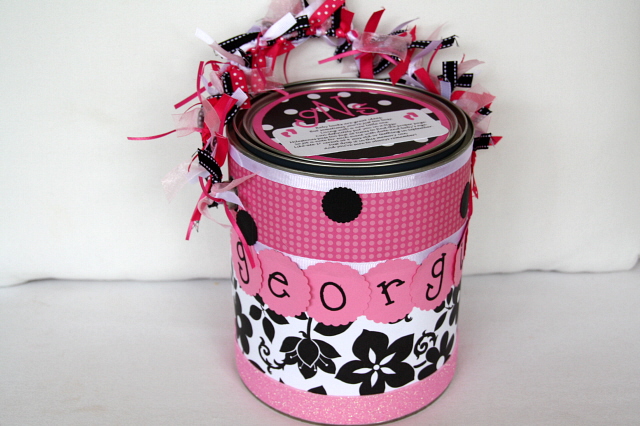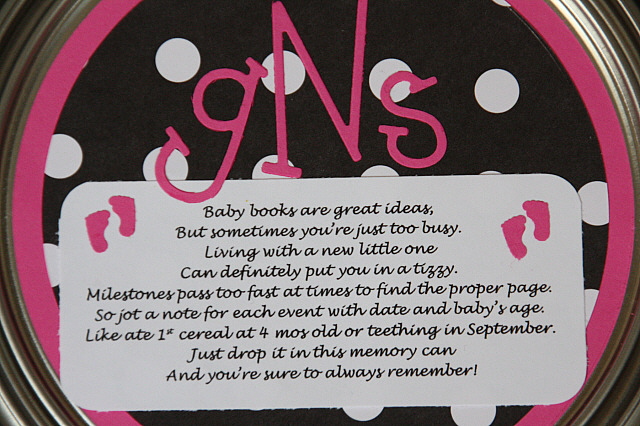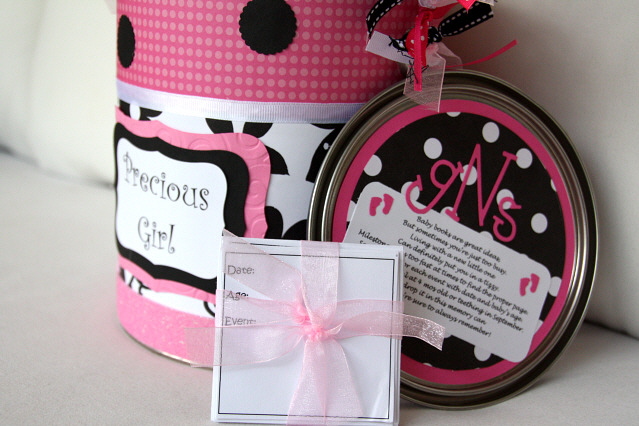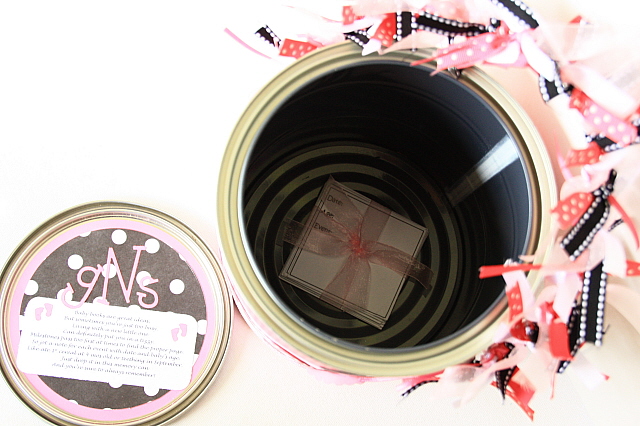 My two bestest friends in the whole wide world, Kimberly and Samantha came in town to meet Georgia last week.  That is truly one of the best gifts you can give!  More on that later.  They brought loads of monogrammed goodies for Georgia, and this was one little treasure that I'm sure most of you have heard of.  I have never had one of these little guys, but I'm so excited about it!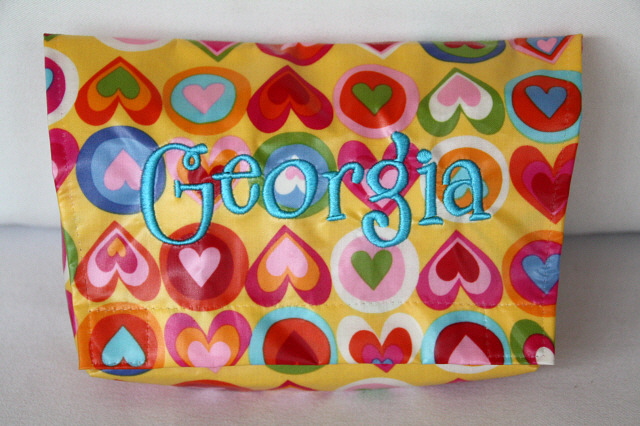 You put your wipes and a few diapers in it and keep it in your diaper bag.  As the baby gets older, this is all you have to lug around.  For me, this is a great alternative to having diapers bunched in my purse with goldfish crumbs smashed in them!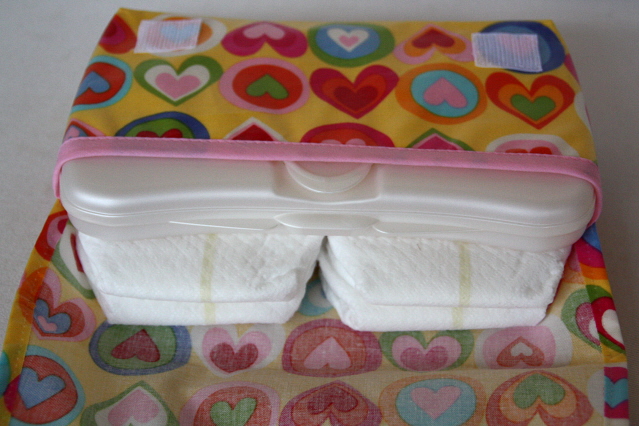 My friend Holly organized all of our meals, plus she made us  PW's Cinnamon Rolls and PW's Apple Dumplings and some yummy enchiladas!  And let me not forget to mention that one day last week my friend Amy called to ask what I wanted from Starbucks and she left a hot Starbucks coffee at my door.  That's certainly a treat no mom would pass up.  My friend Elicia is also so good about offering Starbucks.  When you're stuck at home with little ones, sometimes that's just the pick-me-up you need.
Lastly, I have to tell you about the gift that my amazing hubby gave me.
(MEN: make a mental note of this!!!)
Brad had a bracelet made with 4 diamonds on it, one for each child.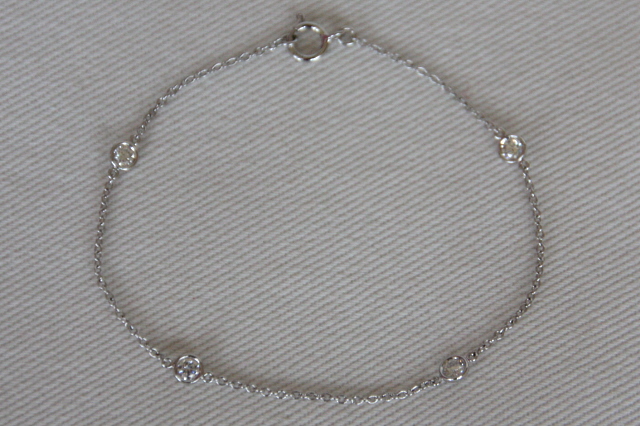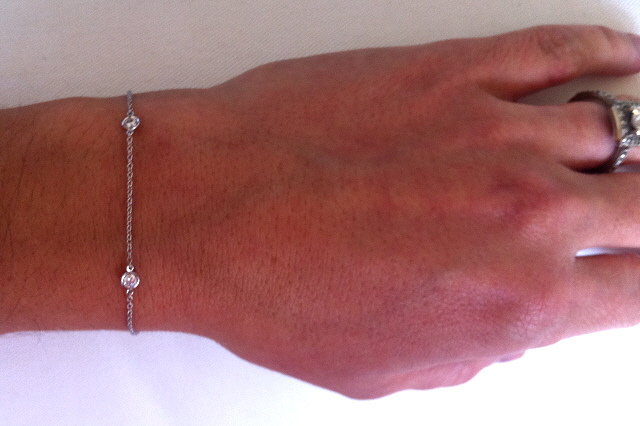 It's dainty and beautiful, and I love it!  It was a wonderful surprise, and the perfect "push present!"  My dear husband has been there for 4 babies now, and he has finally figured out that his bratty wife would like a little "thank you" or "good job" for carrying and bearing his children.  It took several children for him to learn (and maybe a little help from my friend Kellie), but I would say it was worth the wait!  Thank you, babe!  This beautiful gift was a true surprise and much better than flowers!  You went above and beyond and I love it!  I will wear it everyday, always!
.
Thank you to all of my sweet friends!  Thank you for blessing my life and my family!  We truly appreciate all the thoughtful gifts and meals you have given us!
-kate
.