I have tons of random things floating around in my head, so I am just going to dump them in a post.
Happenings of last week….
Friday I was at home trying to get ready for Georgia's birthday party.  I was doing laundry and baking cakes and making dresses and there was evidence of all my many projects all over the house!
ALL.OVER.THE.HOUSE!
So, it was 10 in the morning, and I was just minding my own business, baking cakes, and trying to keep peace between 3 little maniacs.  I was busy working in the kitchen…in my pjs and my fancy new house shoes, looking pretty scary!  All three girls were still in their pjs.  All of the sudden, my house FIRE alarm starts going off.  I had no idea why.  I had taken the cakes out of the oven, and nothing else was in the oven.  There was no fire.
We don't have a house phone, except in the garage, and I heard it ringing and knew it was the alarm company.  I ran out to answer it and assured them there was no fire.  They told me that it was protocol to send the firetruck, and then she said the firemen were already on their way.
HOLY COW!
We live literally 2 blocks from the fire station.
I panicked!
I screamed at Lilly Katherine and AnnaLeigh, "Run to the window and tell me when the firemen pull up."
I ran to my bedroom and threw on a bra and clothes as fast as I could, and I was shaking trying to get them on so quickly.  The girls screamed "THEY'RE HERE!" and by the time I could run to the door, the firemen were standing there…in full fireman equipment…and hats…with the big ol' firetruck at my house.
I thanked them for coming and told them there was no fire.
They said they had to come in anyway.
GLORIOUS!
So, these kind gentlemen had to walk through every room of my house, AND my attic, checking to see if there was a fire.  All the while, Lilly Katherine, AnnaLeigh, Georgia, and I followed along, as I apologized profusely for our living conditions.  In my defense, I was working on many projects.
So, here's a snap shot of what the dear firemen saw in every room of my house.  This is "Project Monkey Dress" or a better name would probably be "A fabric store threw up in my dining room!"  Keep in mind that the party was at my house Saturday morning, so it was all cleaned and put away before everyone arrived.  No, I did not sleep much Friday night.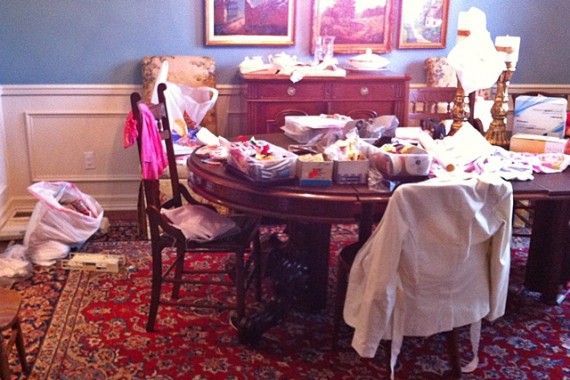 After the poor firemen were gone, I realized that I am so thankful that they arrived so quickly.  I pray I never need them, but if I do, they are right around the corner.  And I am VERY thankful for how thorough they were and how kind they were.  The world is better because of people serving in rolls such as that.
And don't you worry, I was telling myself the whole time they were here, "Kate, they have seen worse.  They have seen worse!"
.
Also last week…
I decided to try a little Pinterest jewel I discovered.  HA!
I found this this great hair secret on Pinterest that was going to solve all of my problems, and I could not wait to try it out.
My hair was going to magically change into beautiful wavy locks while I slept, with these few easy steps.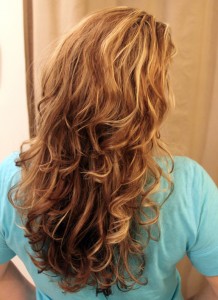 Well I should have known things were not going to turn out well when my sock bun was not the cute little bun in her picture, but instead it looked like a monster was attacking my head.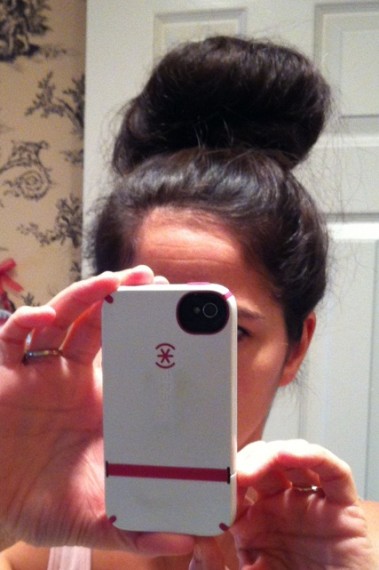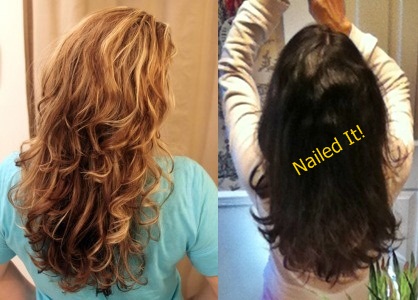 So, what I learned is that if you have a MOP of hair on your head, as I do, your hair will not be beautiful round waves as seen in the above left, but you will look more like I did in the above right, which looked an awful lot like this…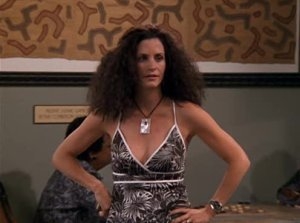 And that really is what I looked like.  Brad was even laughing at me, and he never laughs at my big head o' hair.  Soooo, give the sock bun thing a try if you have thin hair, and follow the link, because she gives good instructions.  You can have my sock.  I don't think I'll be trying this again.
Good luck to you.
.
Also last week…
We were at church Sunday night for a parenting class that Brad and I are attending.  We are trying to get any good advice we can on raising these 4 wild ones!  Brad worked out before church, so he was wearing his athletic shorts and a fairly short t-shirt.  When our class ended, he went to pick the kids up from their classes, and our kids always react so differently.  Lilly Katherine runs, hides, and tells us "NO!" because she would rather stay there forever.  AnnaLeigh, on the other hand, will run screaming "MAMA!!!" or "DADDY!" with arms wide open, ready to jump into our arms.
On a few occasions she has gotten so excited to see us that she has excitedly BITTEN us.  Once, she bit me on the bottom so hard that I screamed and felt I hit the ceiling like a cartoon character.  Another time she excitedly bit Brad…but it wasn't his bottom…it was somewhere more tender.  :/  He doubled over in pain, and she clamped down so hard it left a bruise.  I was laughing so hysterically!
This Sunday night, Brad got to AnnaLeigh's classroom and she ran screaming, "DADDY!!!"  She ran up to him, hugged him, and PULLED HIS PANTS DOWN in the church hallway!
His hands were full, and he struggled to grab his shorts from his knees and pull them to his waste!  The saddest thing is that I MISSED IT!  I'm so sad I wasn't there to witness this moment help my dear husband.
It's always something.  Always. Something!
And lastly…
We had Georgia's first birthday party last week, and I just wanted to put a pic of all of my babies at their first birthday party.

Oh my how I love that crew!  That wild, crazy, loud little crew!
Happy Friday!
-kate
.