Sunday morning, Brad woke me up with a phone in his hand and he said, "Kate, your mom wants to talk to you."  I tried to open my eyes, and I groggily stumbled out of my bed to go sit in the floor of the closet, so I could talk on the phone and not wake my sleeping baby.
My mother told me that my sweet MamaSara had passed away in her sleep Sunday morning.  I am positive that as MamaSara stood before the Lord, he said, "Well done, good and faithful servant!"  While I am happy that her body is now whole and free of pain and free of cancer and free of the confusion of Alzheimer's, I will forever miss this woman!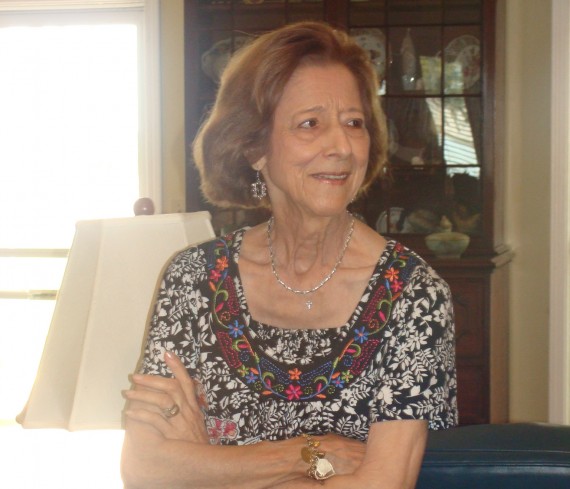 Every facet of my life has been marked by her…from the perfume that I wear, to the food that I cook, to the colors in my home, to the colors that I wear, to the dishes that I use, to the words that I choose, to the way I serve the Lord, to the way I love my husband.  She has touched literally every aspect of my life, and for that I am truly grateful.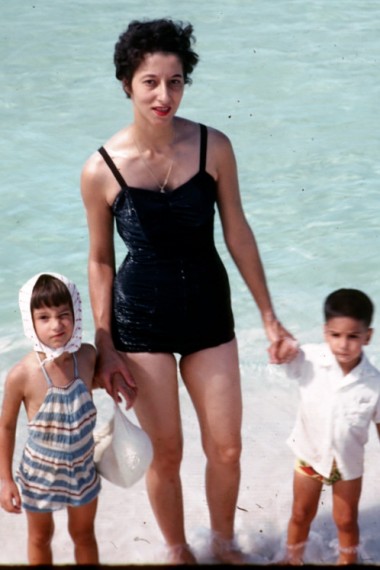 MamaSara was adored by everyone that knew her.  She was such a servant to our family, constantly cooking amazing feasts for us and cleaning up after us.  If you fixed yourself a drink, you better hold onto it, because she had some kind of internal sensor that went off if a cup hit the counter, and she immediately put it in the dishwasher.  I did not receive that gene.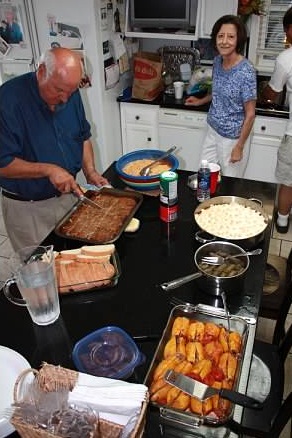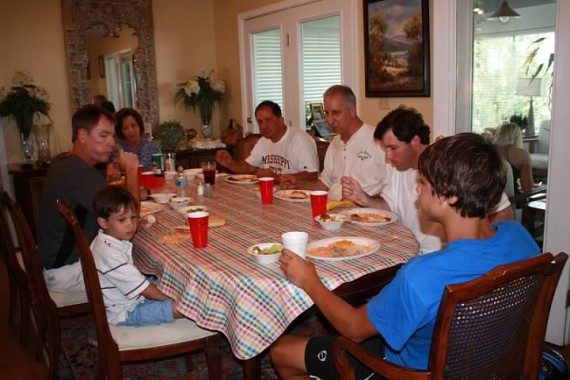 She served her church from the time she was 14, until October 2011, at the age of 81.  She faithfully played the organ for 67 years, every single week, and at every wedding and funeral that she could attend.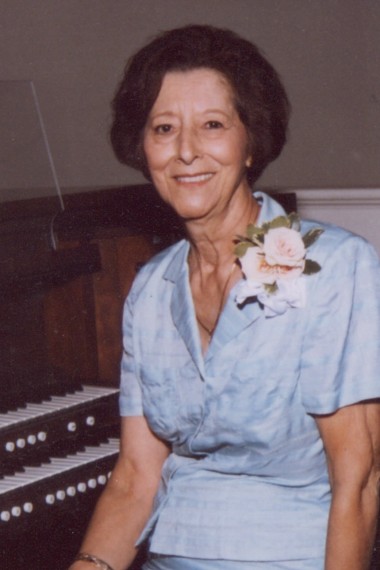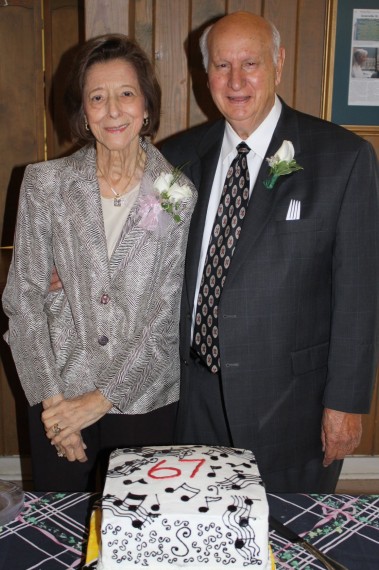 The most precious part of her funeral was the music.  They had recorded MamaSara playing the organ a few years ago, and every single note played at her funeral was played by MamaSara's strong, talented, beautiful hands.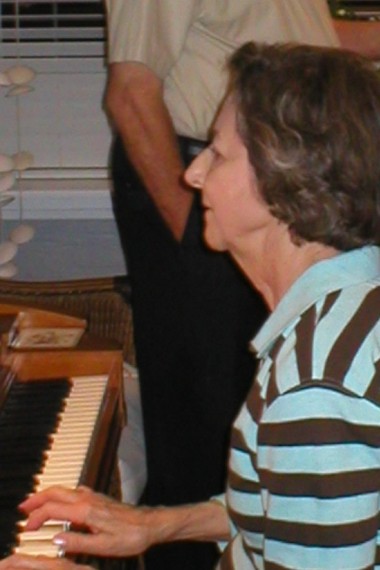 I will miss her hands.  Even when her mind was gone, her hands remained the same.  I could still see MamaSara in her hands.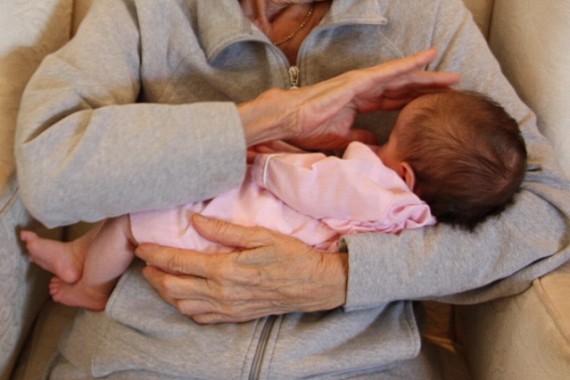 My grandmother was a woman of class and grace and beauty.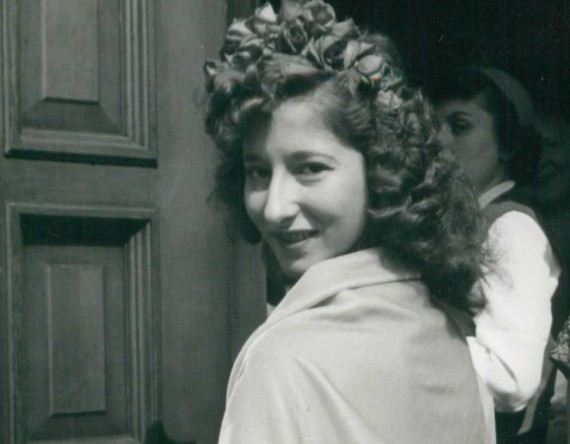 She did not involve herself in drama or gossip.  If she heard us say something unkind about someone, her response was, "Well, just pray for them."  And everything she said, was with a thick, southern, Mississippi accent.
Every phone conversation I had with MamaSara involved her asking about every single member of the family, and always ended with "Well, kiss Brad for me, and kiss those babies for me, and tell your mama and daddy that we love them.  I love you, honey."
I can still hear her saying it.
She couldn't come visit without bringing a little treat, that she always called "a little happy."  And my MamaSara loved to shop, or "bump around," as she called it.  That woman could sniff out sales from miles around.  She loved only the finest things, but only if it was a good deal.  My dad always joked that she would buy a dead dog if it was 75% off.
In our hometown, there were "SAKS" sales, and MamaSara is famous for buying a single Farregamo shoe at one sale, hoping that one day she would find the mate.  She found a solo match at the next sale.  It was a size off, but she made it work.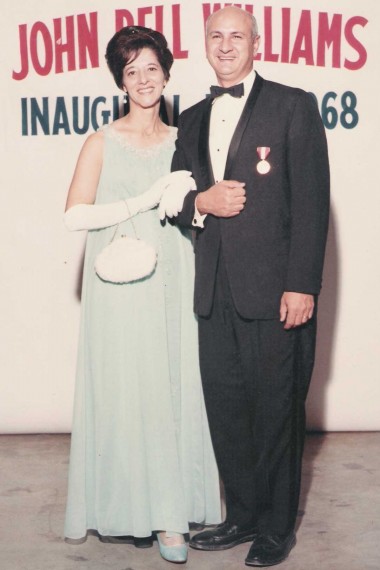 I loved to call her to ask cooking questions.  She never had exact answers or measurements.  Just a little bit of this and a little bit of that.  My cousin Amy Lauren and I have compared a few recipes of hers and you would think that they were from two different people.  She just cooked things until they tasted right, and her food ALWAYS tasted wonderful!  She and my papa have cooked many fabulous Italian/Lebanese meals together for our family.
MamaSara loved to fish with her grandbabies and she loved to play the piano with any babies that would sit with her.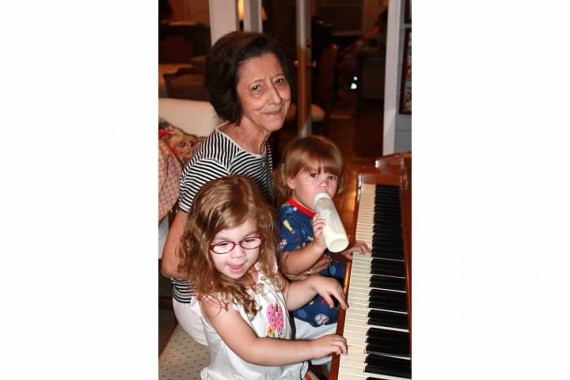 MamaSara loved to hold babies.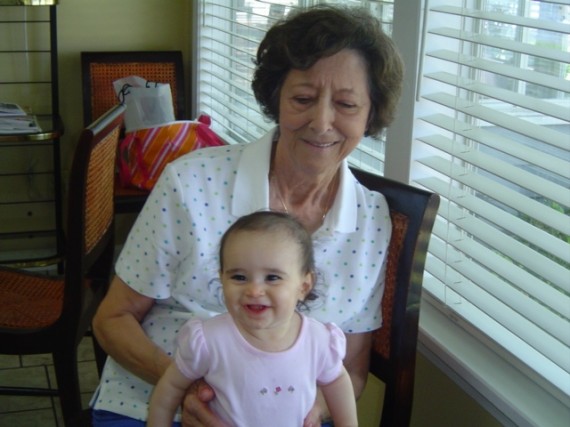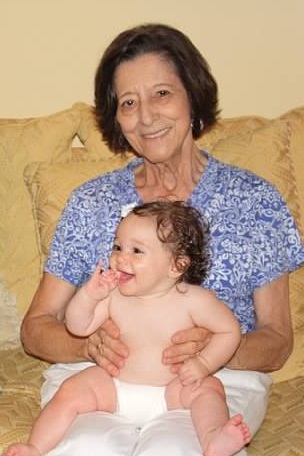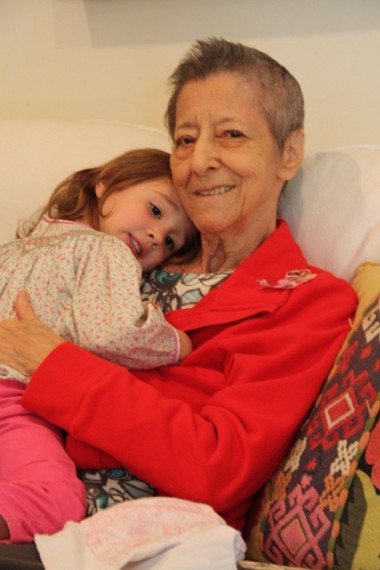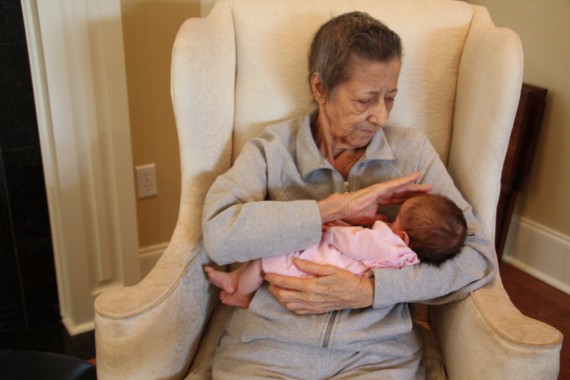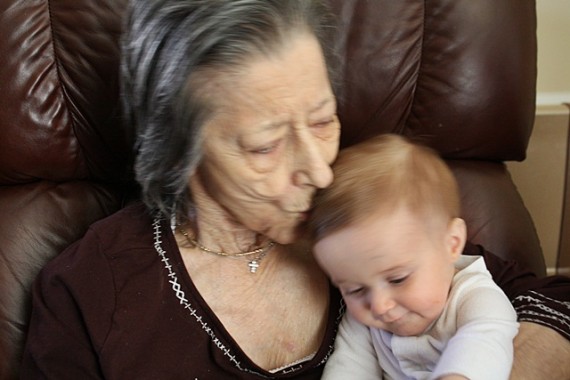 MamaSara loved for us to come visit, and she would wait up for us no matter how late it was when we arrived.  She would greet us at the door and want to start feeding us immediately…even at 1 in the morning.  And when it was time to go back home, she would walk us out kissing us and hugging us, and trying to give us any food she had in the house so we wouldn't starve on the way home.
MamaSara loved her family!  Her children certainly arise and call her blessed.  She was a wonderful mother to 5 children.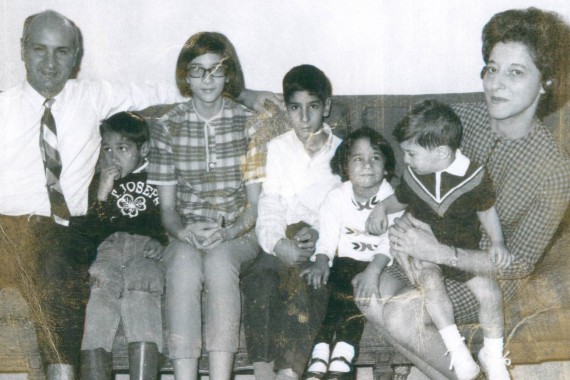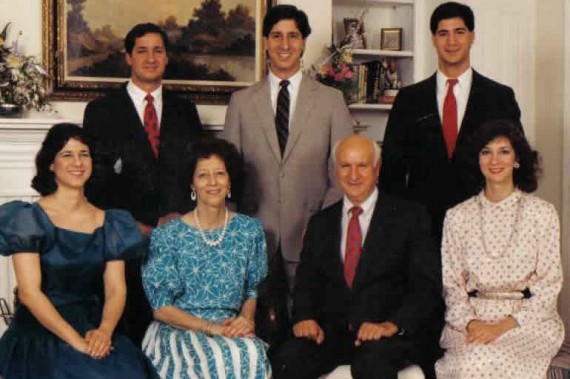 She was a wonderful grandmother to 16 grandchildren.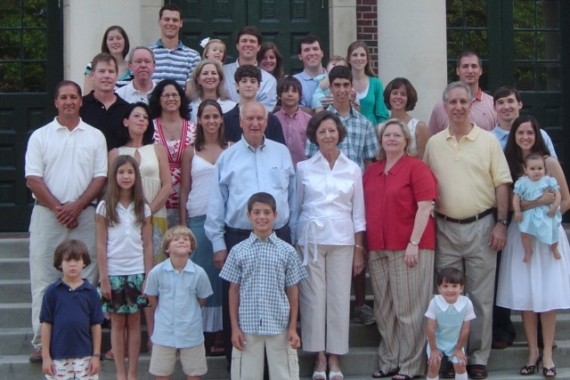 And a wonderful great-grandmother to 24 great-grandchildren (with 4 more on the way).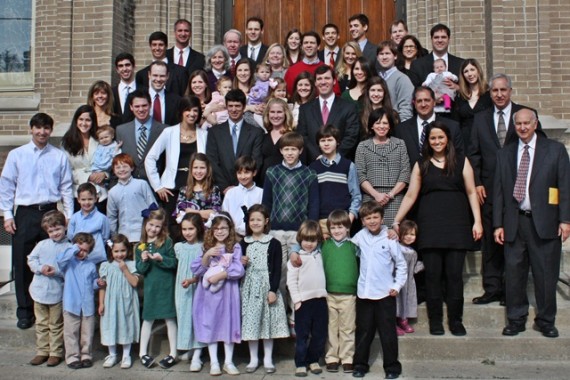 She has left quite a legacy!  MamaSara and Papa instilled incredible morals and values in their children, which have been passed throughout the generations.
MamaSara loved Papa!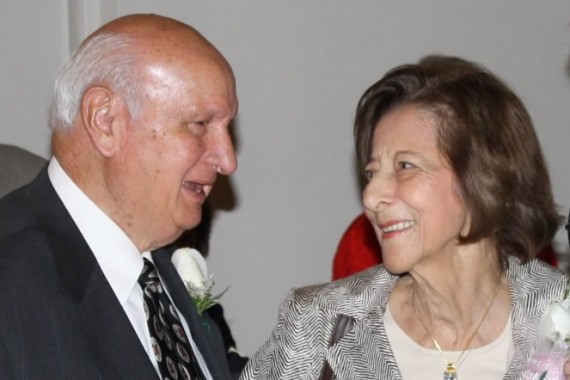 MamaSara and Papa were married for over 60 years!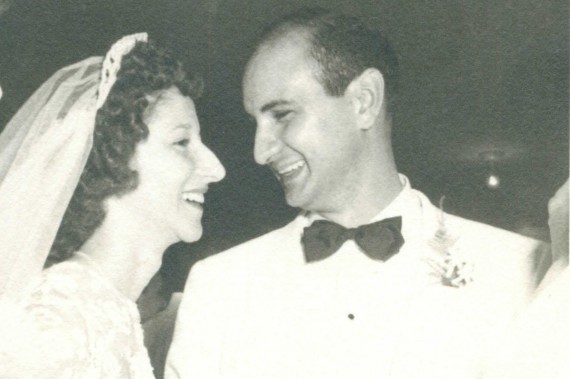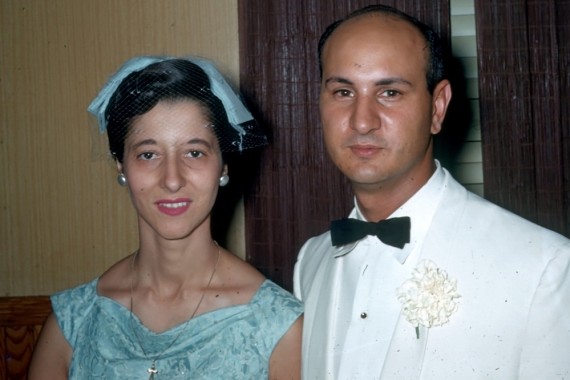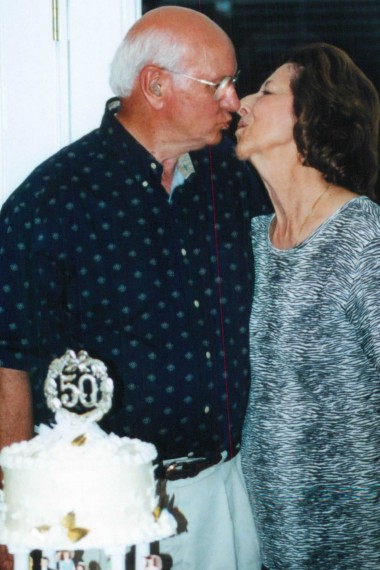 She loved her husband, and I know that the reason she was alive this last year, was so the whole family could witness the love they have for each other.  Papa cared for her every single day.  It was a 24 hour job, and it was a HARD job!
They moved in October 2011, and her health spiraled downhill from there.  She had cancer and Alzheimer's.  Papa talks about how it was a blessing that she had both diseases and not just one.  I know that sounds strange, but it was truly a display of God's mercy on my sweet grandmother.  If she had cancer alone, she would have been in excruciating pain.  But she did not have much pain at all, because her brain was so greatly effected by Alzheimer's.  If she had Alzheimer's alone, she would have lived longer, but it would have been a sad, sad, confusing life to live.  With both diseases, she was relatively pain free, and she only suffered about a year and a half.
My Papa was the perfect example of "in sickness and in health…until death do us part."  I have never seen anyone love another person as he loved MamaSara.  He told her he loved her a million times a day.  He brought her sweet gifts, and took care of her every moment of the day.  She was uneasy if Papa wasn't around.  She asked for him, and wanted him near her at all times.  Papa was the only person that she always knew.  Even until the end, she would poke at him and tease with him.  They had the kind of love that the Lord wants us to have for our spouse, and I pray that Brad and I will love as they have.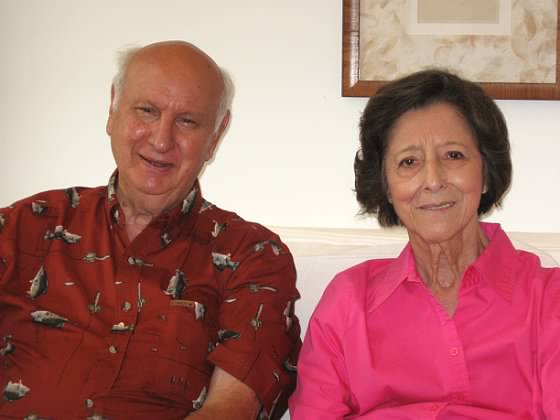 MamaSara will be missed.  I am thankful that I have peace knowing that I will see her again one day.  I am thankful for the Lord, and that our life here on earth is just a moment in time compared to eternity.
May my hope be in the Lord and my focus be on the Lord, as I strive to be the kind of woman that MamaSara was.
I love you, MamaSara!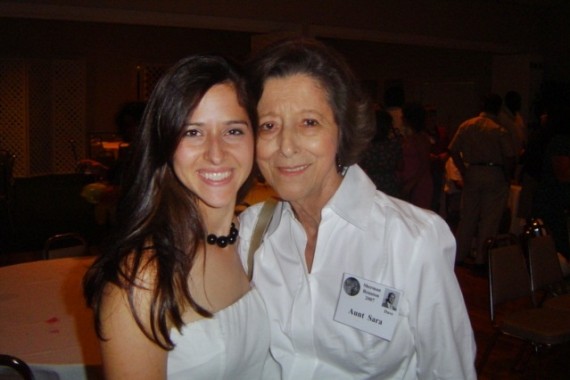 -kate
.
Proverbs 31: 10-31
The Wife of Noble Character
10 [c] A wife of noble character who can find?
    She is worth far more than rubies.
11 Her husband has full confidence in her
    and lacks nothing of value.
12 She brings him good, not harm,
    all the days of her life.
13 She selects wool and flax
    and works with eager hands.
14 She is like the merchant ships,
    bringing her food from afar.
15 She gets up while it is still dark;
    she provides food for her family
    and portions for her servant girls.
16 She considers a field and buys it;
    out of her earnings she plants a vineyard.
17 She sets about her work vigorously;
    her arms are strong for her tasks.
18 She sees that her trading is profitable,
    and her lamp does not go out at night.
19 In her hand she holds the distaff
    and grasps the spindle with her fingers.
20 She opens her arms to the poor
    and extends her hands to the needy.
21 When it snows, she has no fear for her household;
    for all of them are clothed in scarlet.
22 She makes coverings for her bed;
    she is clothed in fine linen and purple.
23 Her husband is respected at the city gate,
    where he takes his seat among the elders of the land.
24 She makes linen garments and sells them,
    and supplies the merchants with sashes.
25 She is clothed with strength and dignity;
    she can laugh at the days to come.
26 She speaks with wisdom,
    and faithful instruction is on her tongue.
27 She watches over the affairs of her household
    and does not eat the bread of idleness.
28 Her children arise and call her blessed;
    her husband also, and he praises her:
29 "Many women do noble things,
    but you surpass them all."
30 Charm is deceptive, and beauty is fleeting;
    but a woman who fears the Lord is to be praised.
31 Give her the reward she has earned,
    and let her works bring her praise at the city gate.