This is a regular item at our house.  I make banana bread as often as I can, but as quickly as we eat bananas, I can't make it often enough.  I stole this recipe from my sister-in-law (Kara) YEARS ago, and I use it to make Banana or Zucchini Bread.  They are interchangeable.  This recipe is the not-low-fat version. :)  I am going to make Zucchini Bread in the next week or so with my healthy version of this recipe…so you will have them both.
Ingredients…very basic.  The most important ingredient is the rotten very ripe bananas.  If they are not ripe enough, they will form hard clumps in your banana bread that don't taste good.  The ripe bananas give it a rich banana flavor and make banana bread so moist and delicious!
Other than bananas you need…Flour, Sugar, Oil, Eggs, Vanilla, Cinnamon, Salt, Baking Powder, and Baking Soda (you will not need the two little legs in the background).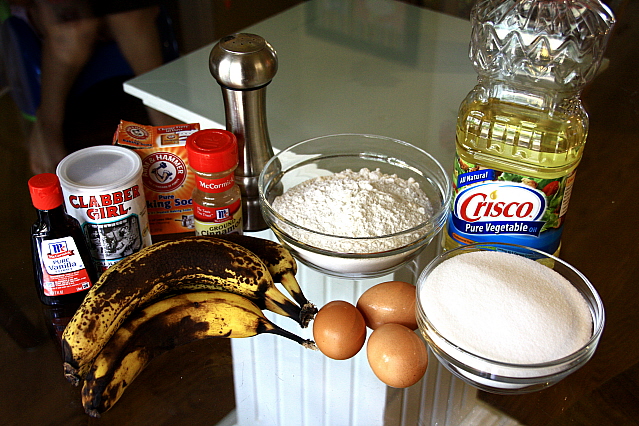 Add the eggs to your mixer alone.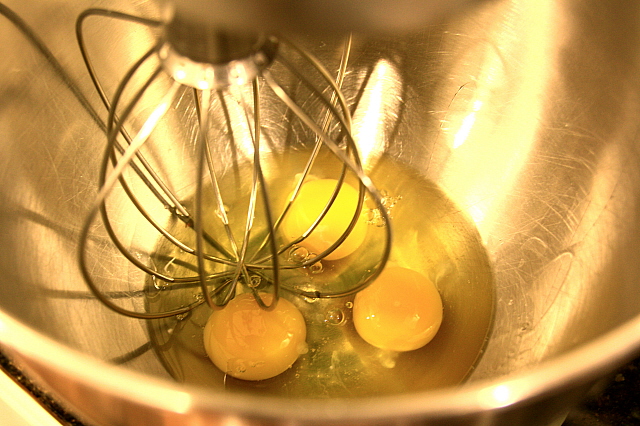 Beat well.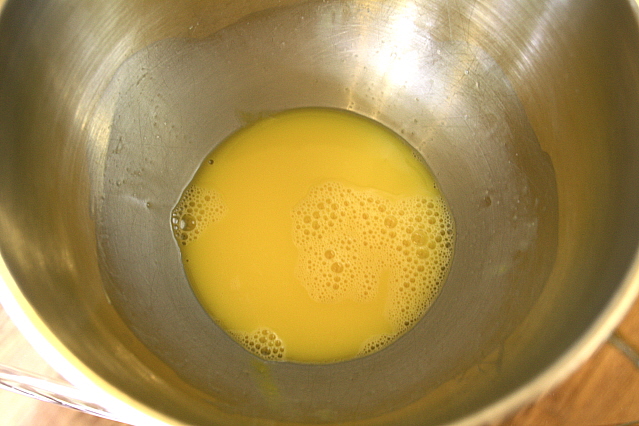 Add all other ingredients except bananas.  Mix.  (I forgot to take a picture) :)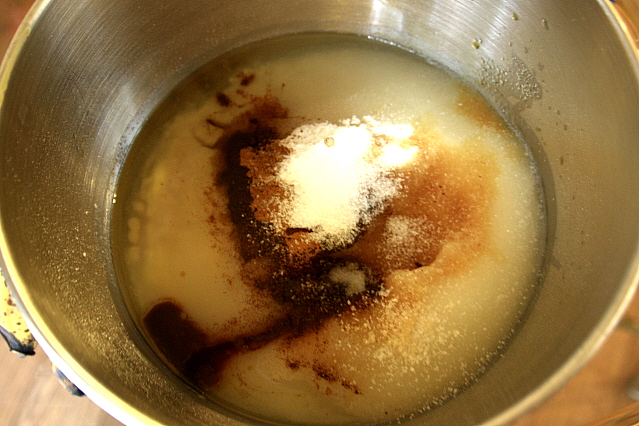 Place rotten ripe bananas on a plate.  Trim any nasty edges off, like the one on the far left banana.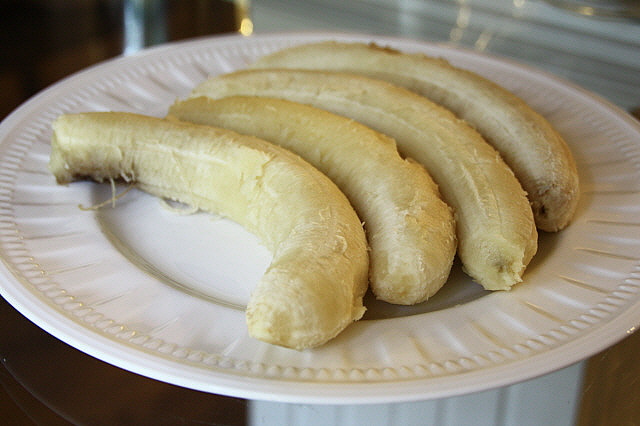 Mash the bananas with a potato masher.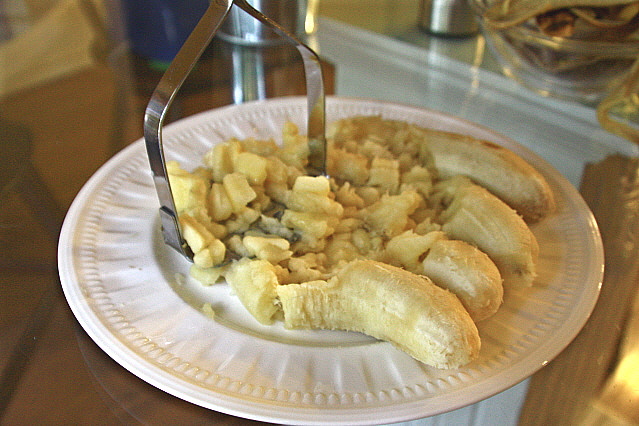 Add the bananas to the flour mixture.  Sorry, mashed bananas are not very appetizing to look at.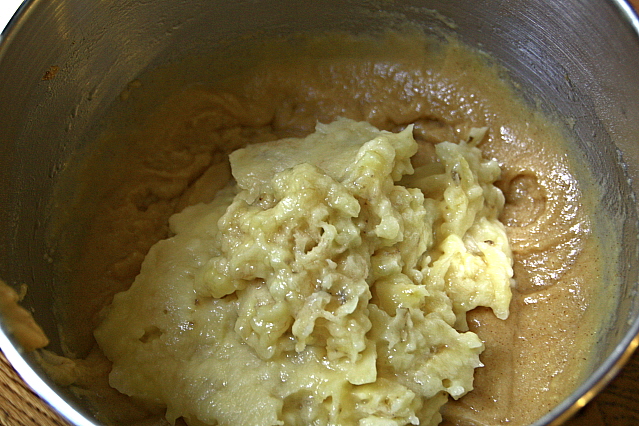 Mix well.  It should be a little soupy.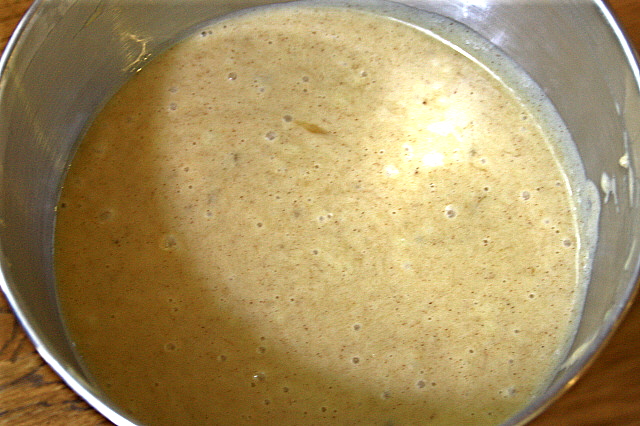 This recipe makes 2 large loaf pans, 3 small loaf pans, 6-8 mini loaf pans, or lots o' muffins.  make whatever you want.  I like to make either 2 large loaves or one large loaf and 4 mini loaves.
Instead of greasing and FLOURING the pans, I grease and SUGAR the pans.  I find that it serves the same purpose, but instead of there being a flour crust, there's a little crunchy sugar crust.  Much better! (Tip I learned from my sister)
Ideally, you should have 2 pans that are the same shape, size, and color.  I do not.  It works for me.  If your world needs 2 pans that are the same, I'm sure "the Wal-marts" has 2 you can buy.  As for me, I'm okay with 2 different sized loaves.  They both taste good.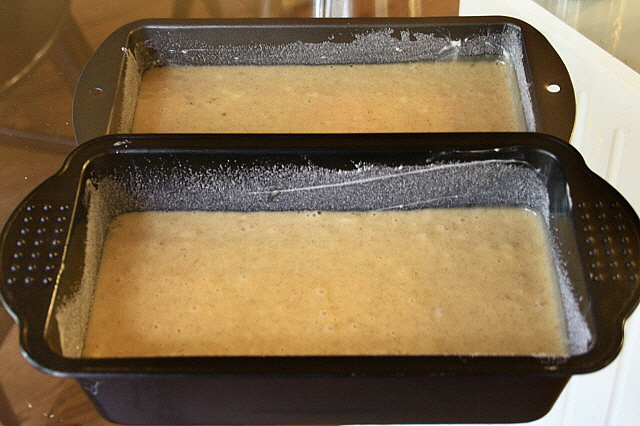 Bake at 325° for 50 minutes or until toothpick inserted comes out clean.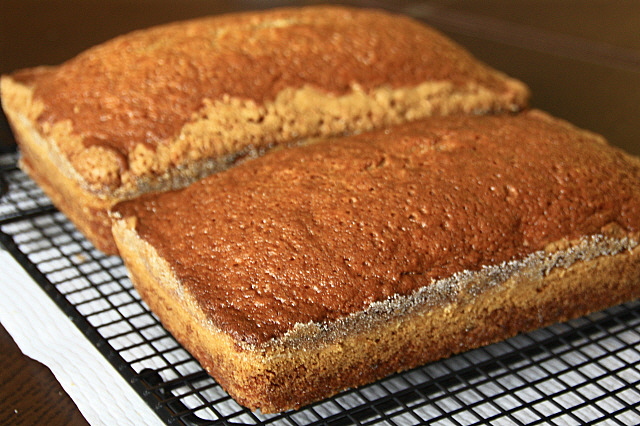 See, not the same size.  Oh well.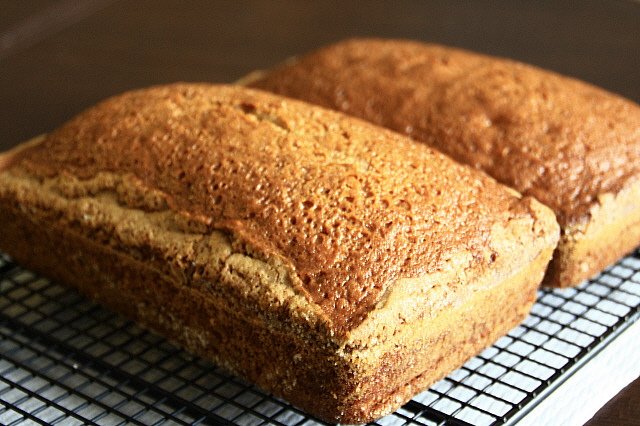 Because I LOVE sugar.  I sprinkle about a tablespoon of regular granulated sugar on top of the banana bread while it is still hot.  This just adds a special little sweet crunch to your banana bread.  Plus it's prettier, I think.
If you put a paper towel under your cooling rack it helps to catch some of the granules that fall.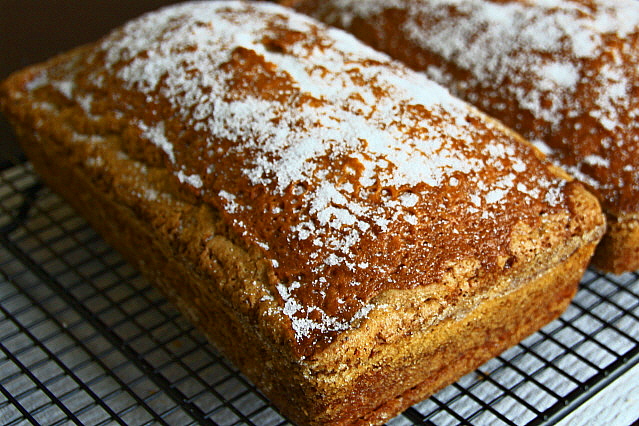 YUM-MY!
Banana Bread Recipe (or Zucchini Bread Recipe)
Ingredients:
3 Eggs
3 Cups Flour (I use about 2 3/4 cups)
2 Cups Sugar
1 Cup Vegetable Oil
1 tsp Baking Soda
1/2 tsp Baking Powder
1 tsp Salt (slightly heaping, but not too much)
1 tsp Cinnamon
2 tsp Vanilla
4 Very Ripe Bananas OR 2 cups grated, raw zucchini (DO NOT USE BOTH)
If you want to ruin your banana bread with some chopped nuts, go ahead and throw 1/2 cup in with the bananas.  I prefer to not mess with the smooth wonderful taste and texture of plain ol' banana bread.
Beat Eggs.  Combine all ingredients except bananas (or zucchini).  Mix.  Mash bananas and add to mixture.  Mix well.  Pour into 2 large greased and floured (or sugared) loaf pans.  Bake at 325° for 50 minutes*.  Sprinkle with sugar after baking.
*I bake mine around 50 minutes, but it seems that it's different every time.  The recipe says 1 hour, but I find that's too long for my oven.  Start checking it at around 40 minutes.  If it's still jiggly in the center, it's not ready.  It should be a golden brown (not burned) color.  For muffins or mini loaves, reduce time significantly.  (Don't you love how exact and calculated my recipes and instructions are?  Sorry! :)
.