Last year we made a family Thanksgiving Tree, and it was so much fun and so special to see all the sweet (and sometimes funny) things that the kids were thankful for.  We just made our Thanksgiving Tree for this year, so it's not too late for you to start this tradition with your family.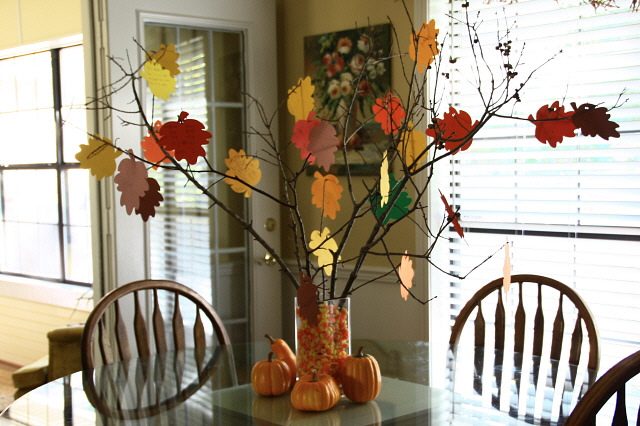 We have a wooded area near our house, so we sauntered through the woods looking for the "perfect" twigs to make our Thanksgiving Tree.  The kids love doing this.  They love any excuse to go romping though the woods.
By the way, the girls were dressed in real clothes all day.  I didn't realize LK had changed their clothes until I was ready to walk out the door.  Oh well…I think they're pretty cute as Snow White and the Princess.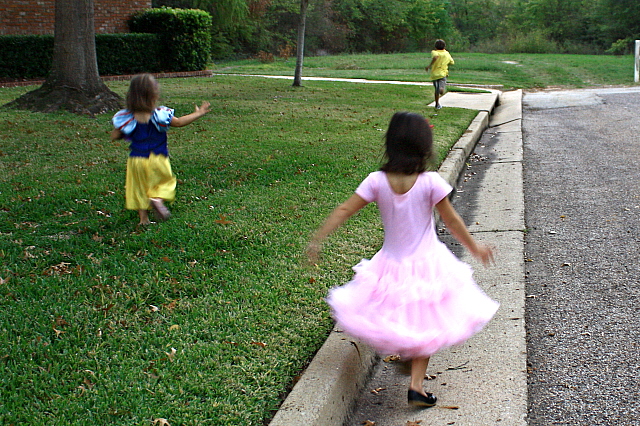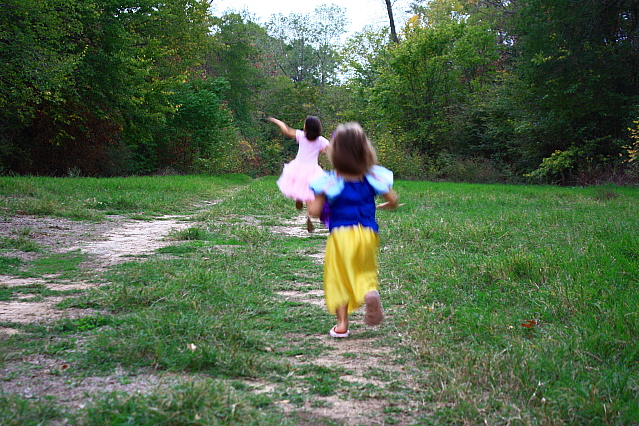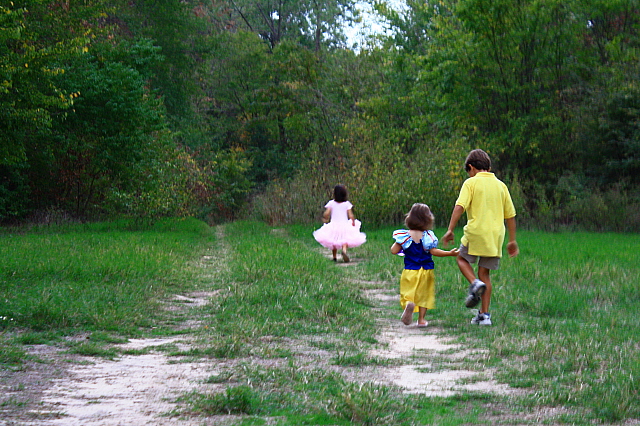 Find little limbs that have several little "branches" on which to hang leaves…like the one below.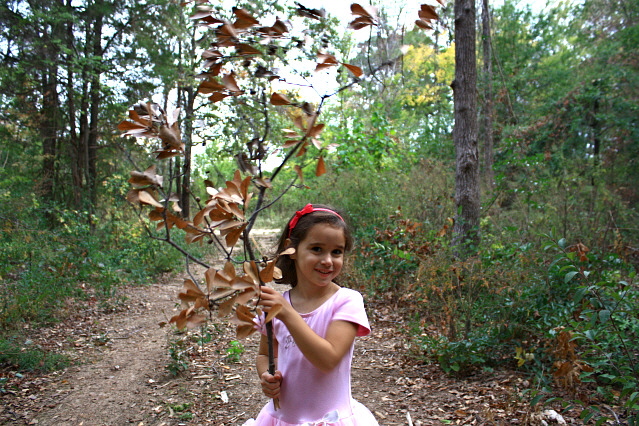 "This is a good stick, Mama!  It's like a heart so it will be good."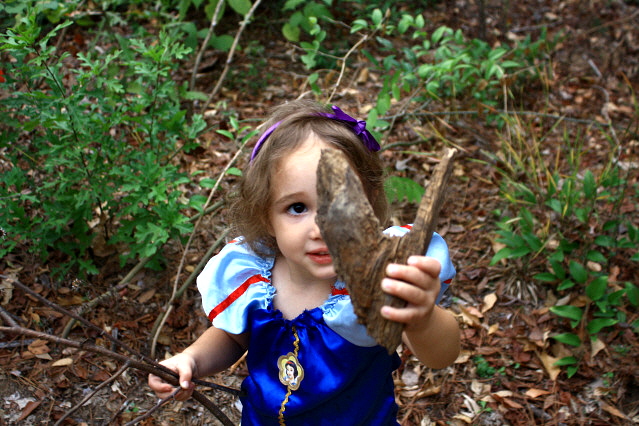 They each found 2-3 "sticks" to take home…skipping through the woods with their loot.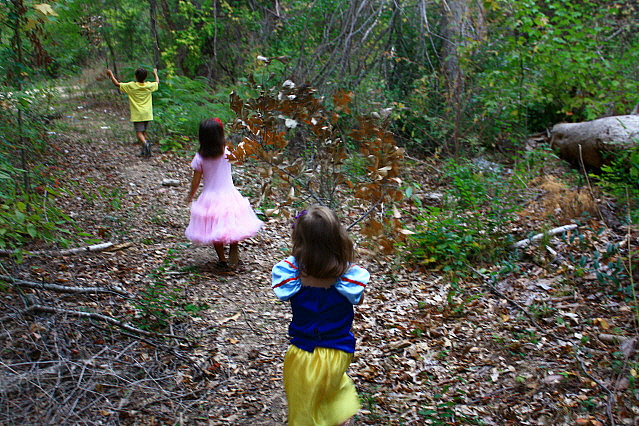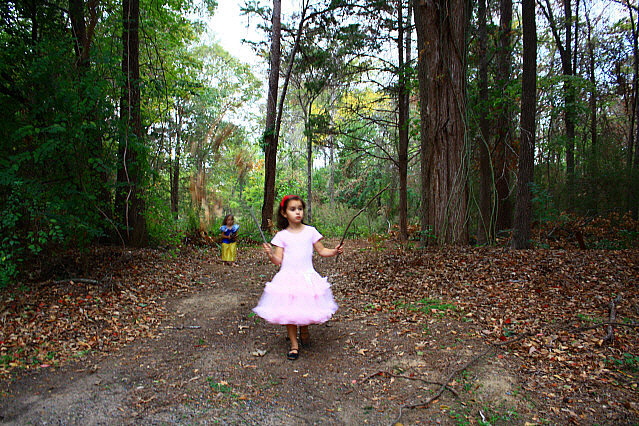 Take all the leaves off and arrange them in a vase…filled with candy corn, of course.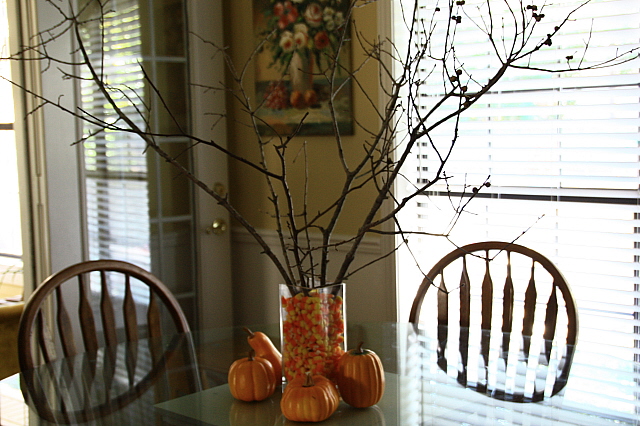 Last year I collected some really cool acorns to use in my vase.  I had them in a plastic bag in my living room.  I walked in my den and saw 4 little pieces of rice moving across my living room floor.  As I got closer I thought I was going to THROW UP!  There were worms all in my bag of acorns.  I wasn't going to sort through them to see which acorns were housing the worms.  I screamed, asked my sweet, manly husband to do something about this situation, and I vowed to never collect real acorns as decoration again!  GROSS!!!
Anyway, remove leaves and arrange your "sticks" so as to not interfere with people's heads at the dinner table.  Buy some paper leaves, use a hole punch and make a little hole in each.  I purchased mine at a teacher supply store.  However, I think that different colors of scrapbook paper cut in the shapes of leaves would be very cute.  I just wanted something fast and easy this year.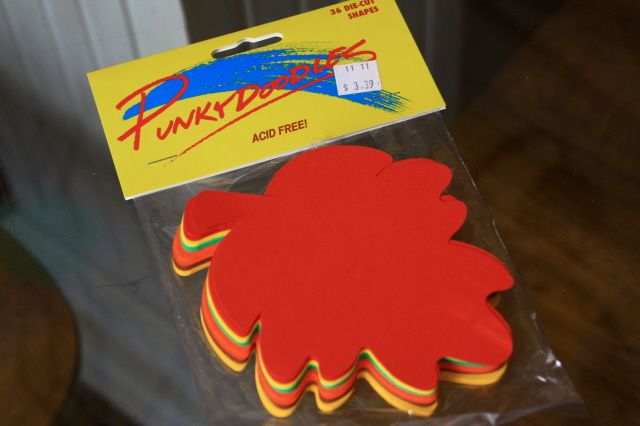 Place leaves around the vase and let your family draw pictures or write what they are thankful for. Then they get to hang their leaves on the tree.  We tried to do this every night at dinner.  We also let any company (like sweet neighbors and grandparents) that came for a visit, write on a leaf.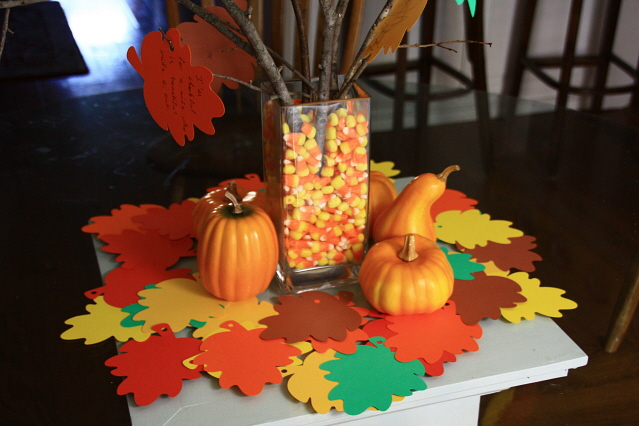 It was so much fun to see the things the maniacs would write.  Plus, it's a sweet keepsake.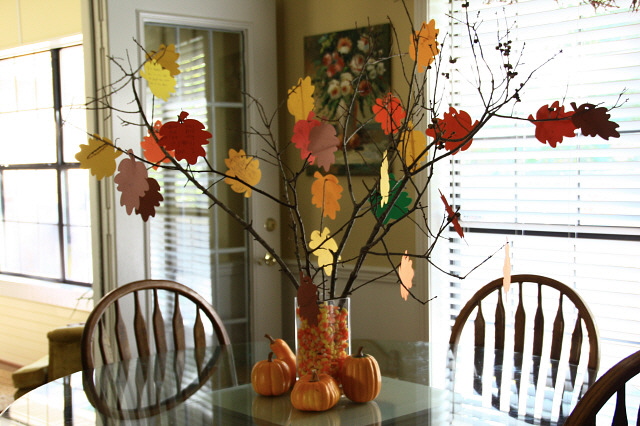 Here are some of our Thankful leaves from last year.
Preston "I am thankful for a family that loves me."
LK was thankful for Kate and Brab.  :)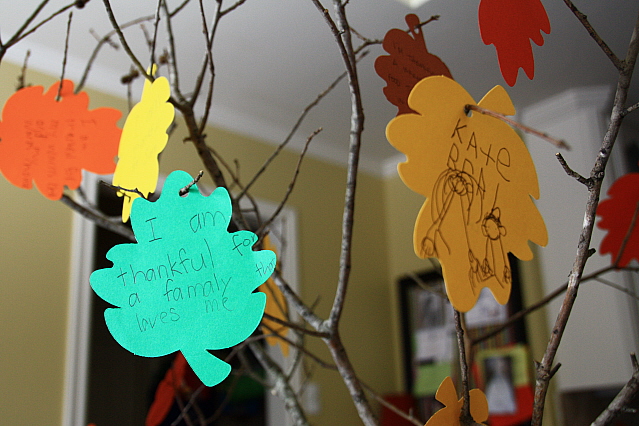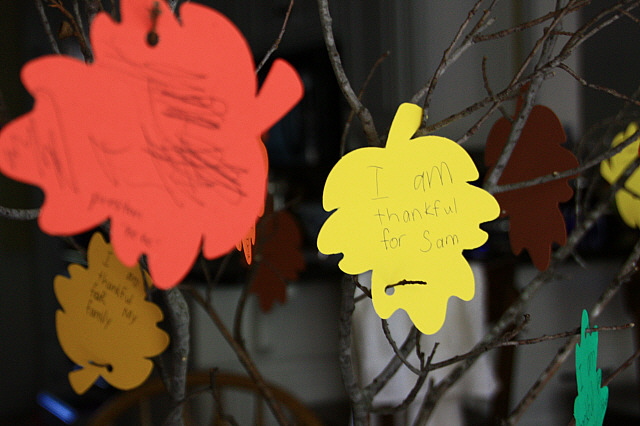 AnnaLeigh just scribbled, but this was her picture of "Be Be" (Preston).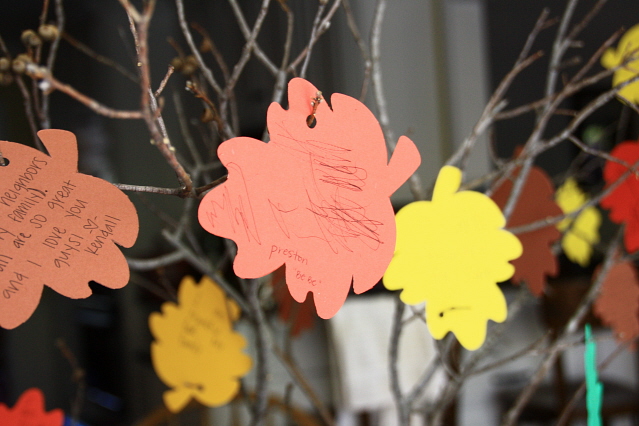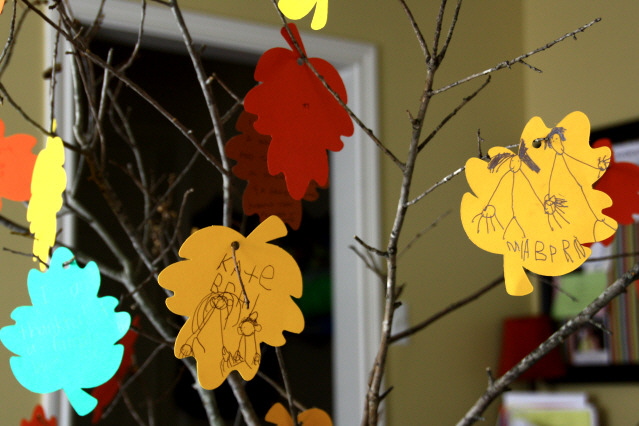 Enjoy mealtime with your family.  I know it can be sometimes be difficult, but I hope this helps make mealtime more pleasant.  Happy Thanksgiving (or at least happy giving thanks!)
-kate