I have been wanting to make homemade jelly (jam) since the kids and I made delicious homemade (home-grown) grape jelly with my Aunt Barbara and Uncle Carroll last year.  I promised the kids we would make jelly this summer and the summer slipped away from us.  The week before school started, I decided we needed to make jelly for the kids' lunches.  Lilly Katherine and I made it the same day we made Fruit Roll-Ups (Fruit Leather).
I let her choose the kind of jelly she wanted to make, and she chose Plum Jelly!  Sounded good to me.  It was EXTREMELY EASY and a quick, fun project to make with kids.  My only dilemma is that I was hoping to make a lower sugar jelly, and I found that this is NOT a lower sugar jelly.  If you have a good low sugar (possibly using fruit juice instead of sugar) recipe, please let me know.
Homemade Plum (Freezer) Jam Recipe
Ok, so you will need 3 basic ingredients.  (Tough, huh?)
Fruit, Sugar, Instant Pectin for Freezer Jam.  Oh, and you will need 2 (8 oz) straight sided Ball jars.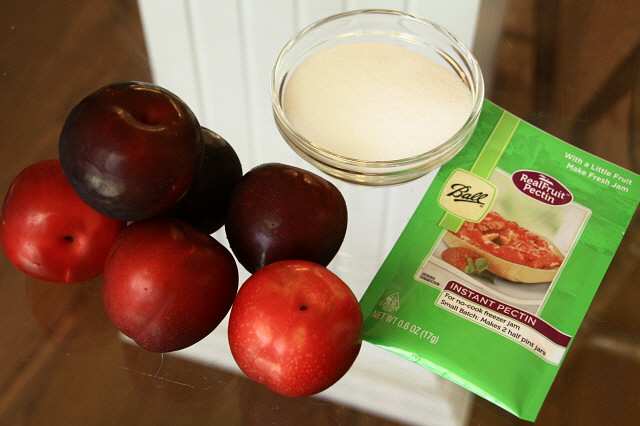 Chop plums into small pieces and place in a sauce pan with 1/2 cup of water.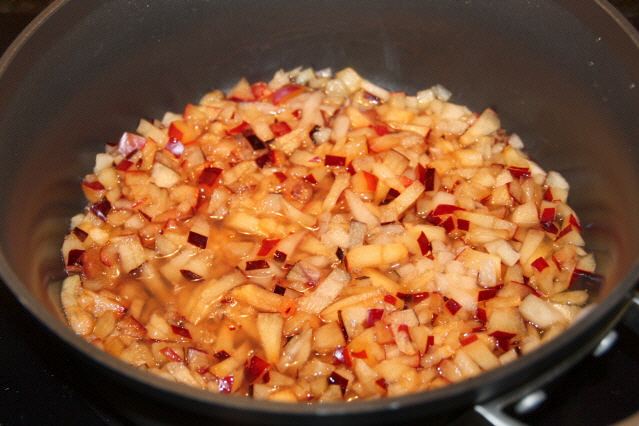 Simmer for about 5 minutes and then mash with a potato masher or fork.  You don't have to mash if your fruit is fine enough, but I wanted my plums a little smaller.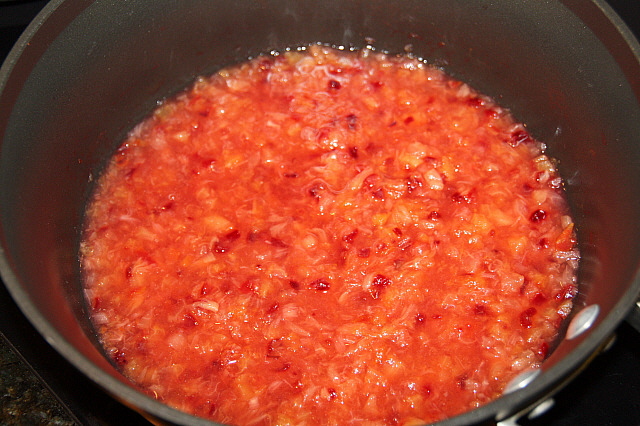 In a bowl, combine sugar and Fruit Pectin for Freezer Jam.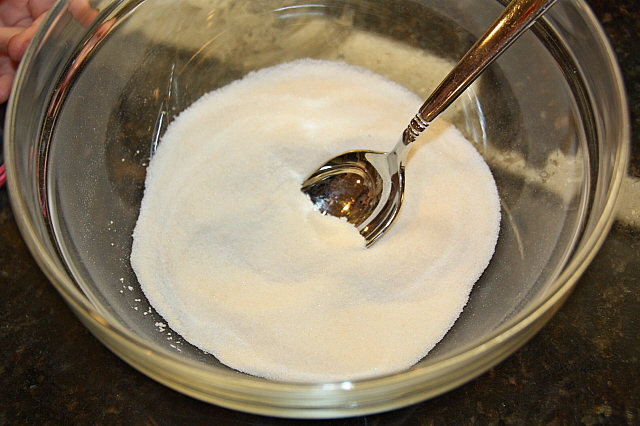 Pour fruit on top of sugar mixture and stir for 3 minutes…or have 2 little slaves precious maniacs stir it for you.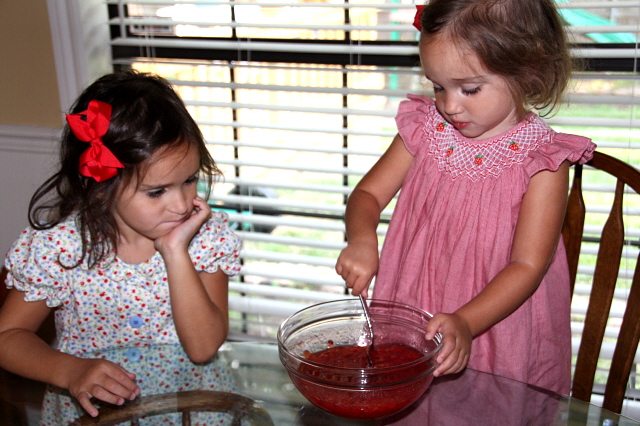 Please notice that in the picture above AnnaLeigh is stirring as Lilly Katherine is patiently waiting.  In the picture below, you can see who the "boss" is in our family!  She's small and mighty and she tells us ALL what to do and how to do it.  I love that feisty little fireball!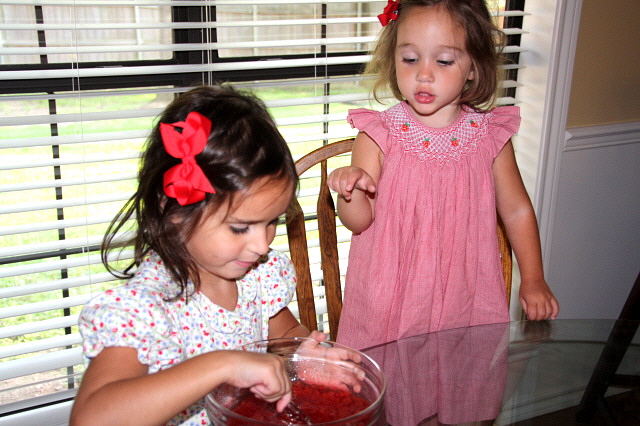 When you have finished stirring, pour or ladle mixture into 2 (8 oz) straight edge sterilized glass jars.
**Notice, I didn't read the directions before I made the jam, and I bought the wrong kind of jar.  The one I used is too large, and not the right shape.  The jam is still delicious, but I recommend the small, straight sided jars.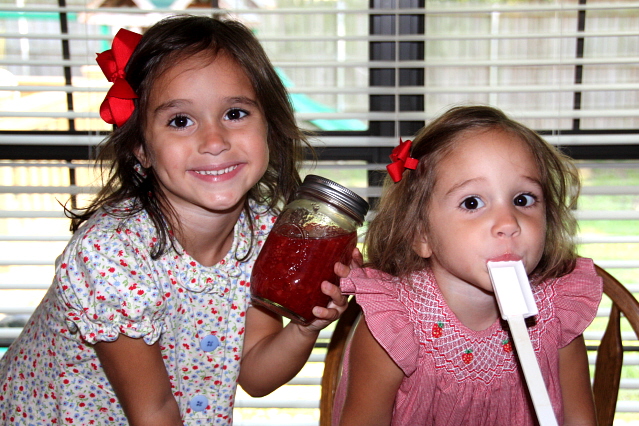 Place the lids on and let it rest for 30 minutes.  Eat immediately, refrigerate for 3 weeks, or freeze for up to 1 year.
It's that easy!
When you are ready to use your jam, remove a jar from the freezer, let it thaw in your fridge, and use it within 3-4 weeks.  (That is another reason for using smaller jars…so your jam doesn't spoil.)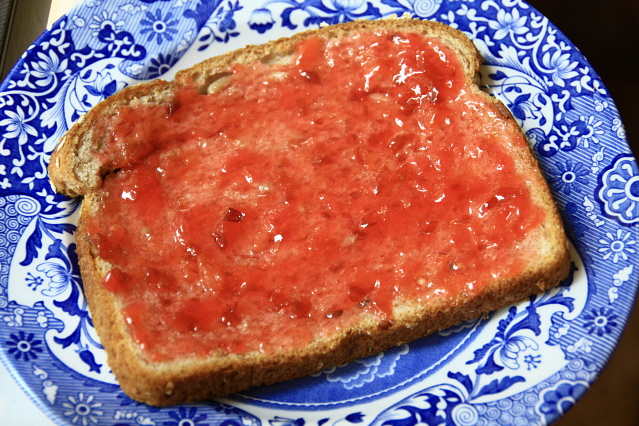 When we were finished LK wrote the instructions on a piece of paper so she would have her own recipe.  She sounded the words out and did this almost by herself.  Gotta love the little maniac…plus her "recipe" is very accurate! :)

Recipe for Homemade Plum (Freezer) Jam
Ingredients:
1 2/3 cups chopped Plums (5-6 plums)
2/3 cup Sugar
1 small package (or 2 Tbsp) of Ball Real Fruit Instant Pectin
2 (8 oz) sterilized Jelly Jars
Wash plums and dice small.  Combine with 1/2 cup water in a sauce pan and let it simmer for 5 minutes.  Mash with a potato masher or fork if desired.
Stir sugar and Instant Pectin together.  Pour fruit mixture on top of sugar mixture.  Stir constantly for 3 minutes.  Ladle jam into jars, allowing 1/2 inch of space between jam and top of jar.  Let stand 30 minutes.  Eat or freeze.
To eat at a later date, thaw jam in the refrigerator and use within 3-4 weeks.
I can't take credit for this recipe.  I didn't write it, I merely made it.  For more recipes with many different fruit options, visit this website.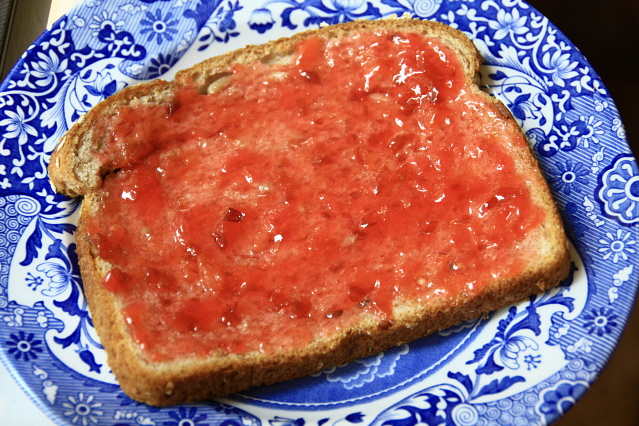 .