We had Vacation Bible School 2 weeks ago.  The first day of VBS, my friend Christi showed up with this yummy, gooey, white dip.  It was a HIT, and I managed to score the last little drop…thank goodness!  It was some of the best queso ever!
When I got home that afternoon, I was exhausted, so I decided to take a nap.  All 3 children were asleep, and it was a golden opportunity that I was NOT going to miss!  I nestled myself down in my soft light blue sheets and within moments I was in dreamland!  About 10 minutes into my nap my DOORBELL rang!  (People, do you know that it is a SIN to ring a doorbell during naptime?!?!)  Bryce, the friendly book salesman was trying to get me to purchase 6 lovely children's books for only $100, and as I stood outside sweating to death trying to politely tell him "This sale ain't gonna happen for you, buddy" all I could think of was my comfy pillow on my comfy bed in my cool house, and finally I just had to get a little stern.  No way, no how am I buying those expensive books.  So sorry.  Good luck!  Goodbye.
I finally retreated back into my house, in my cool, comfy bed, and melted back into my sheets.  Minutes passed, and i couldn't go to sleep!  All I could think about was that stinkin' queso dip!  I was having the strongest pregnancy craving ever!  I knew I was literally going to be sick if I didn't get up and do my best to make some queso.
Strange.
Pregnant women are strange!
I peeled myself from my bed and the next thing I knew I was pulling ingredients from the fridge.  I didn't have the exact ingredients Christi used, but I made it work.  I have made it 4 times in 2 weeks.  How sad is that?!?!  Don't worry, I've shared it every time. :)
Here's my version of Christi's White Queso.  For this batch, I actually only made half.  The pictures will show you a half recipe, but the recipe below gives ingredients for a FULL recipe.  I just didn't have enough sour cream for a full batch this time.
Recipe for Creamy White Queso Dip
You will need:
Cream Cheese, Pepper-Jack Velveeta, Sour Cream, Worcestershire Sauce, Green Chilies (or Jalapenos…or Rotel), Sausage, Green Onions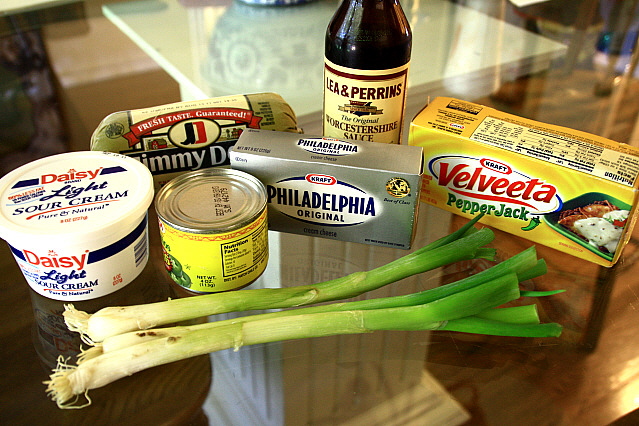 I forgot to take a picture of my sausage cooking, but go ahead and cook your sausage until no longer pink.  Drain.  As it is cooking, prepare the remaining ingredients.
In a microwave safe bowl, add the sour cream, diced cream cheese, diced Velveeta, and Worcestershire Sauce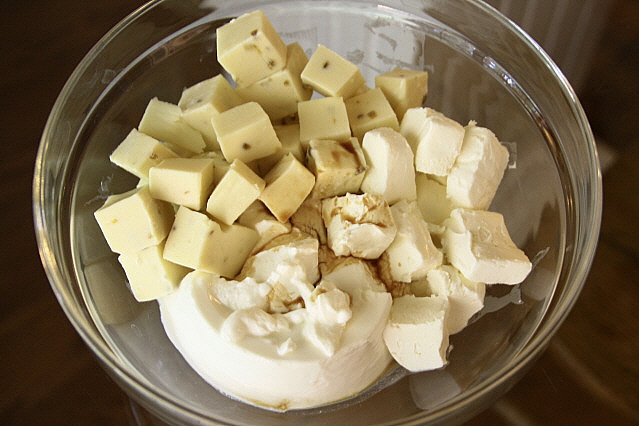 Microwave on High in one minute increments, stirring between minutes, until all ingredients are melted and smooth.
Choose your heat and add your peppers.  I chose diced green chilies this time.  I have also used a small can of diced jalapenos or a can of Rotel (drained).  I went for a milder flavor and used Green Chilies.  Use one small can of whatever pepper you like.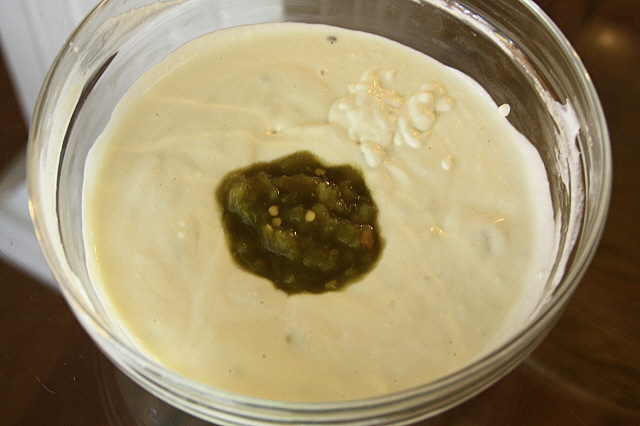 When the sausage is cooked.  Drain the excess fat, and add your diced onions for just a second.  I just like to take the edge off of onions a little before I add them to food.
If you like the edge (the crunch), then just throw 'em right on in the queso raw. :)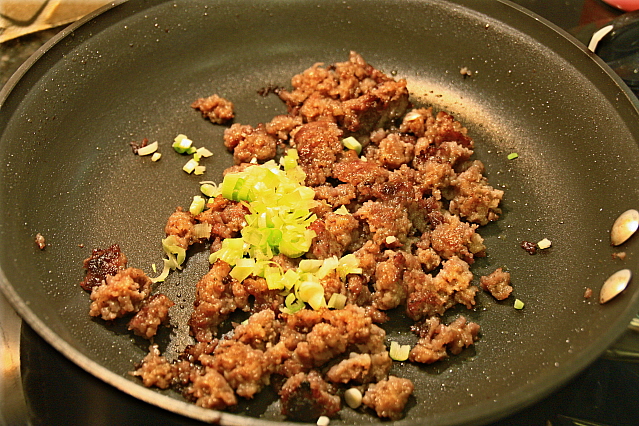 Add the sausage/onion mixture to the cheese.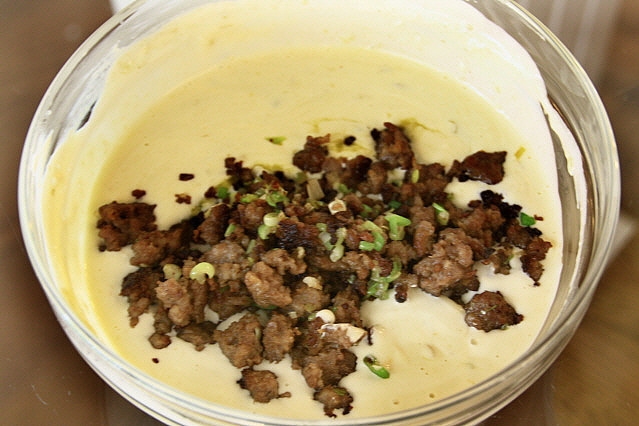 Stir and microwave 30 seconds or so and stir again to combine all ingredients and flavors.
Serve with chips!  (The best chips ever are Julio's, in case you needed a chip recommendation)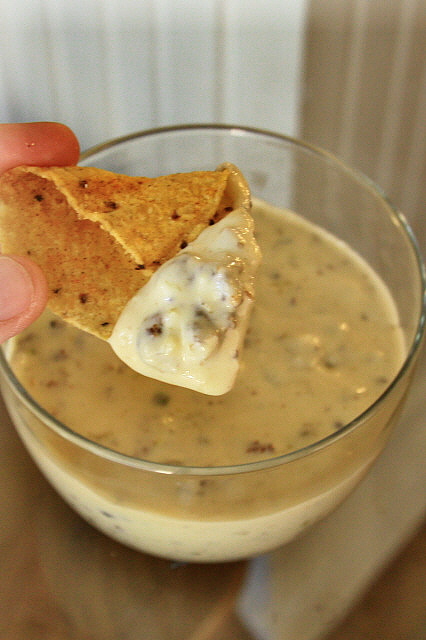 (Confession:  my fingernails are so pitiful that I tried to crop my whole hand out of this picture by making it portrait instead of landscape.  You still get a little bit of my thumb…which looks like a big toe, but it's not.  It's a finger that some out of control 32-year old still picks!  I'll work on that soon, Mom…I promise.)
Recipe For Creamy White Queso Dip
Ingredients:
1 (8 oz) Block Cream Cheese, Diced
1 lb Pepper-Jack Velveeta Cheese, Diced
1 (16 oz) Large Sour Cream (or 2 small cartons)
1 tsp Worcestershire Sauce
1 (4 oz) Can Diced Green Chilies (or Jalapenos or Rotel)  If using Rotel, drain well
1 lb Sausage
1/4 Cup chopped Green Onions
Cook sausage until no longer pink.  Drain.  As sausage is cooking, prepare remaining ingredients.
Combine Cream Cheese, Velveeta, Sour Cream, and Worcestershire Sauce in a microwave safe bowl.  Microwave on High in 1 minute increments until melted and smooth, stirring between minutes.  Add Green Chilies (or Jalapenos or Rotel).
Add Green Onions to the Sausage and heat to soften slightly.  Add Sausage/Onion mixture to the Cheese mixture.  Stir to combine and microwave 30 seconds or until hot.  Stir.  Serve with chips.
.
Now I'm starving again.  It's 12:44 pm, and I'm about to rummage through my kitchen.  Too bad I don't have any queso…yet!
.